Cadillac Margarita uses reposado Tequila and Grand Marnier. Add a squeeze of lime. Enjoy the rich smooth flavors of the classic golden cadillac drink.
Premium ingredients make this margarita a smooth mellow cocktail experience.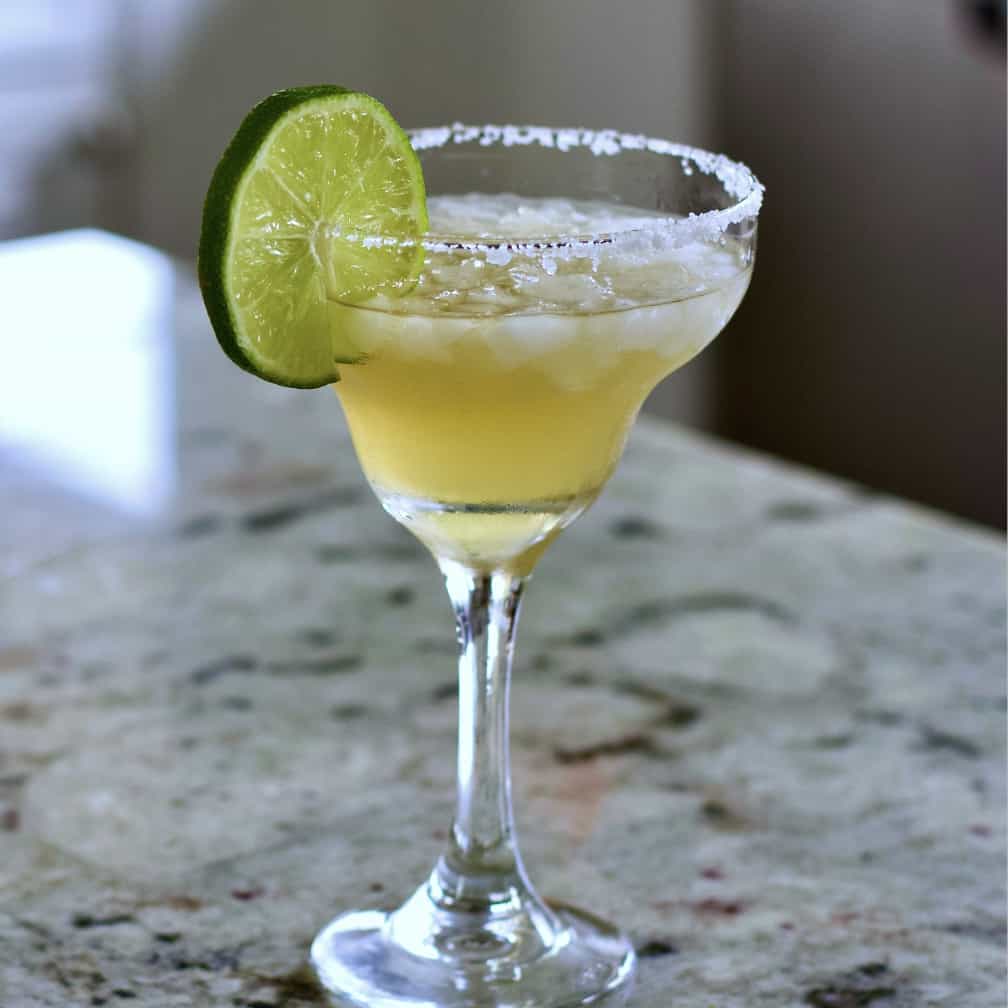 Cadillac Margarita Recipe:
The Cadillac needs premium ingredients to make it worthy of its name. The proper top shelf tequila blended with the Grand marnier is worth the extra investment.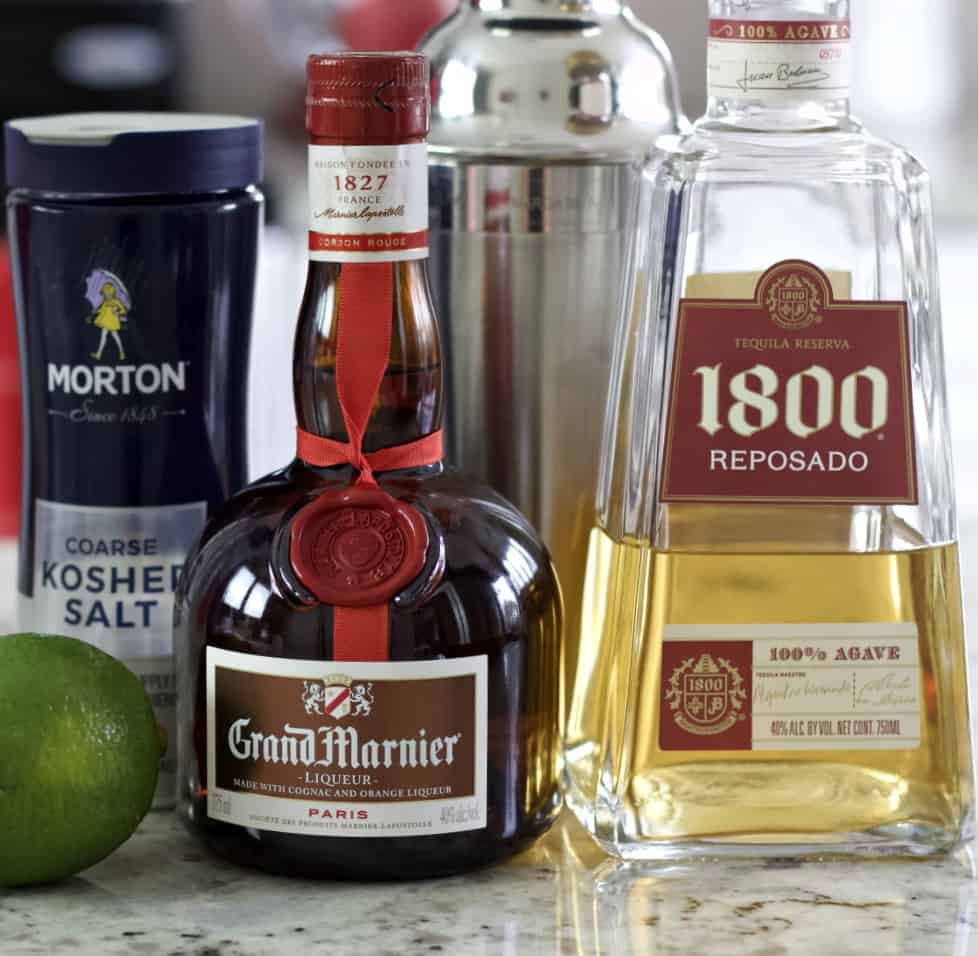 For the Cadillac you need a rich flavor blend. The ingredients matter in this recipe.
Ingredients:
Tequila:
Mixos and Silver tequilas are too harsh for this drink and not recommended.
For this margarita recipe look for a mellower Tequila. Either a good Reposado or Añejo tequila will work.
We chose 1800 reposado tequila. 1800 tequila is a good, affordable tequila label.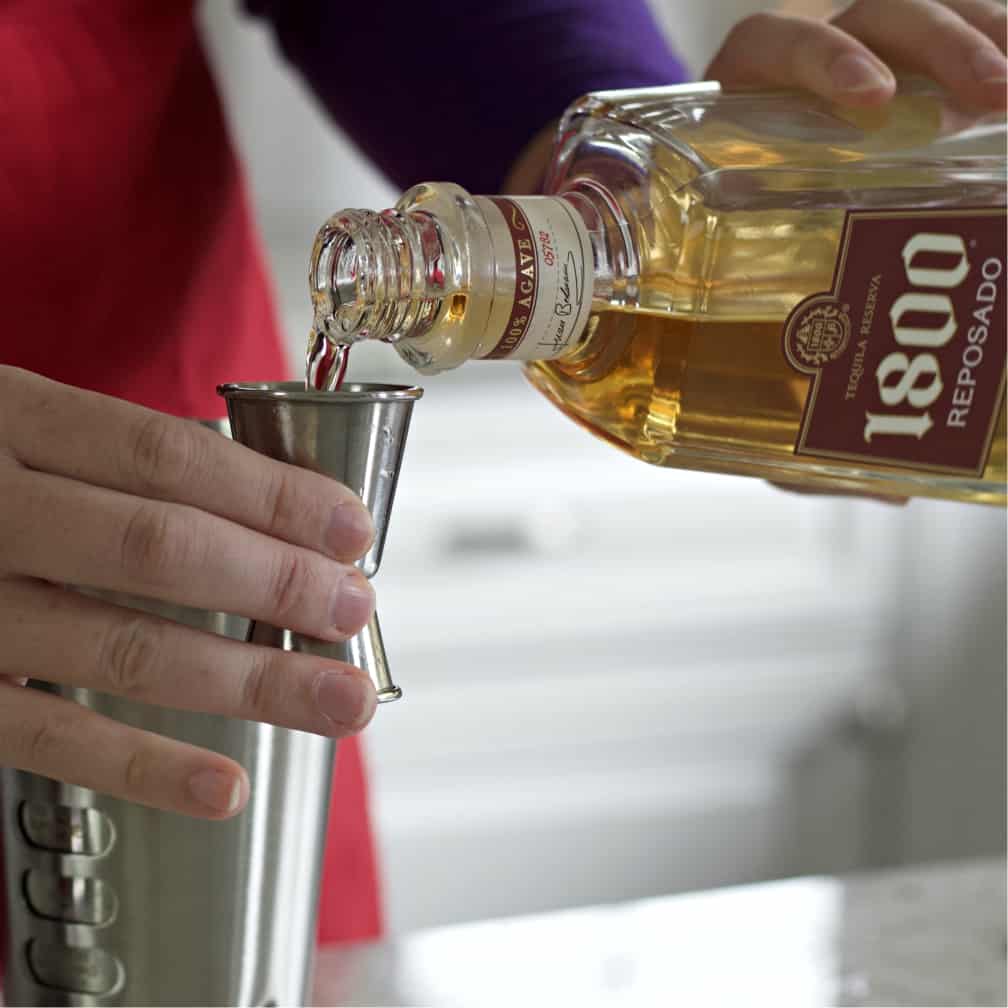 Reposado tequilas are made with 100% blue agave. The distillers age it in french or American oak barrels six months. The aging process mellows the flavors.
Añjo sipping tequilas are aged a year. That gives blue agave tequila an even deeper richer smokier flavor. Añejos are pricey. Enjoy these alone rather than mixed.
Grand Marnier:
The Cadillac Margarita is a Grand Marnier drink.
Some Cadillac margarita recipes call for cointreau or triple sec. They both have their places in Margarita recipes. But not here in my opinion.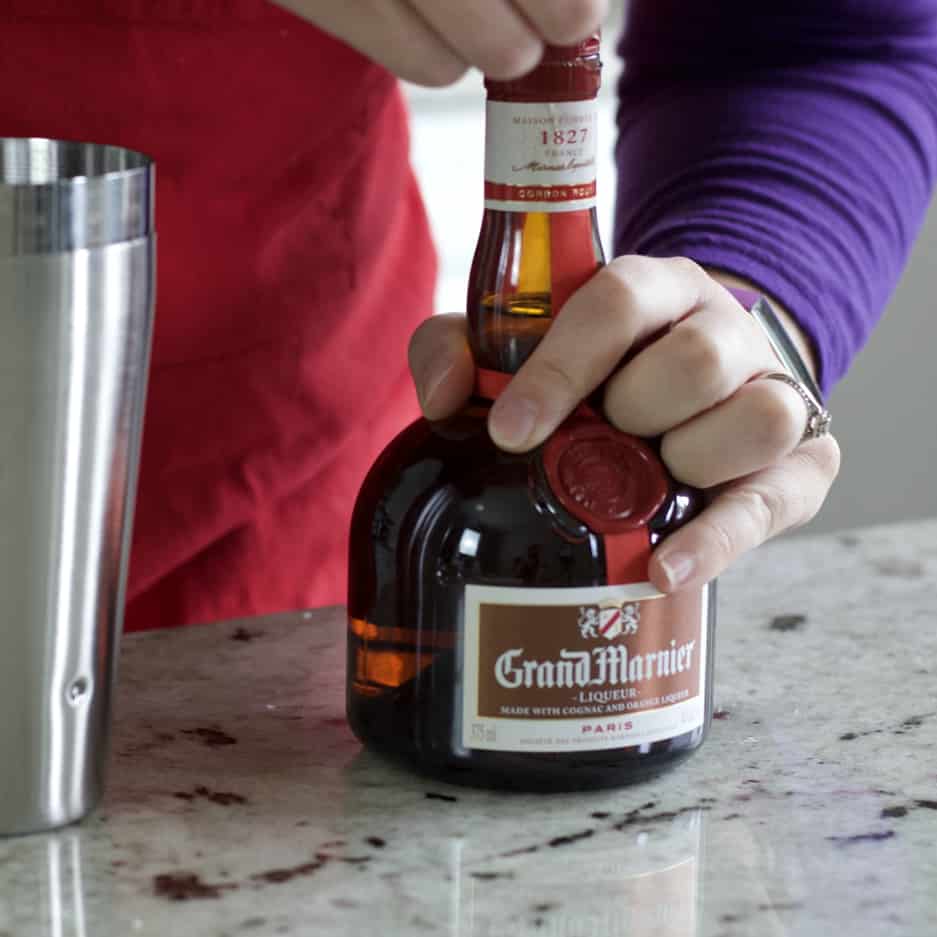 Grand Marnier has a deep cognac flavor. For the Cadillac choose Grand Marnier.
Cadillac Variations:
Pink Cadillac Margarita:
And 1/2 oz. Cranberry juice in your cocktail shaker.
Blue Cadillac Margarita:
Add 1 oz. of blue curacao.
NOTE: These variations will have an impact on flavor. You may have to adjust the sweetness to fit your taste.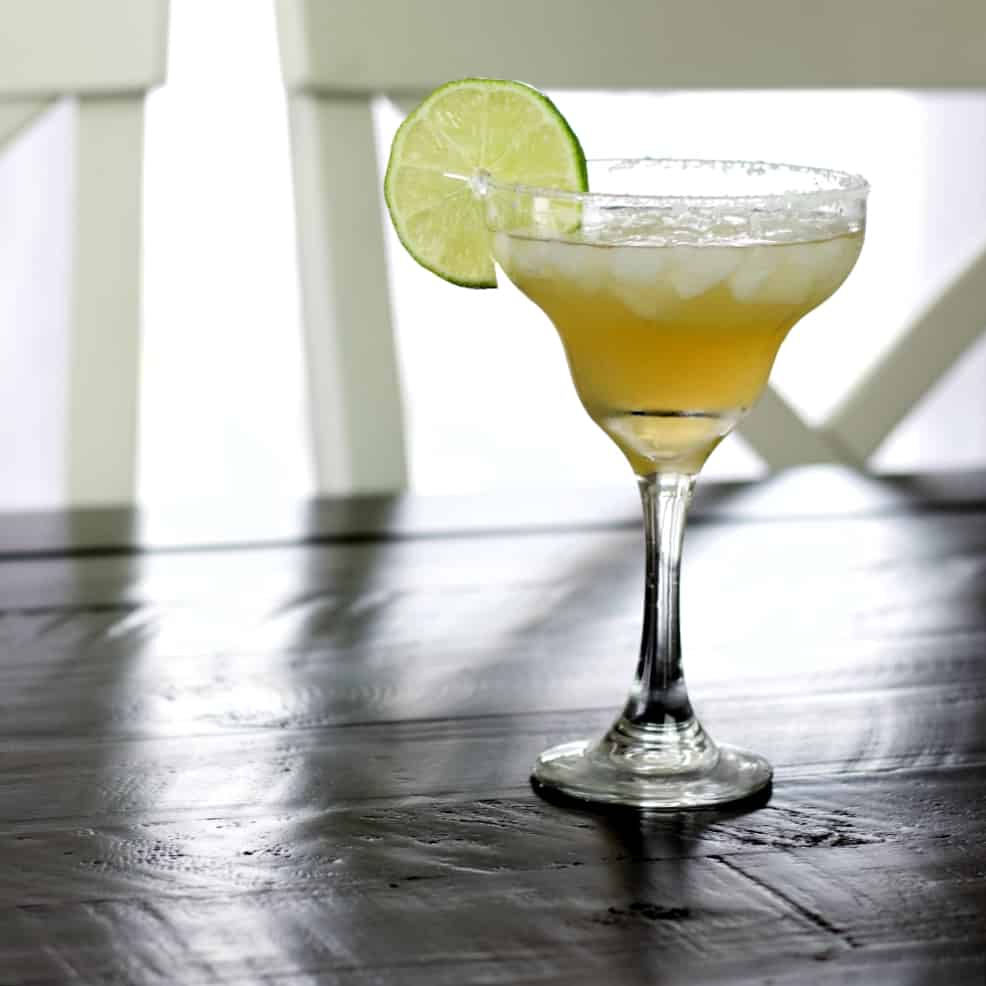 Glasses:
Here are a few good choices for this classy Margarita.
Your Printable Recipe Card:
See complete instructions in our printable recipe card below. Please watch our video recipe demonstration of this recipe.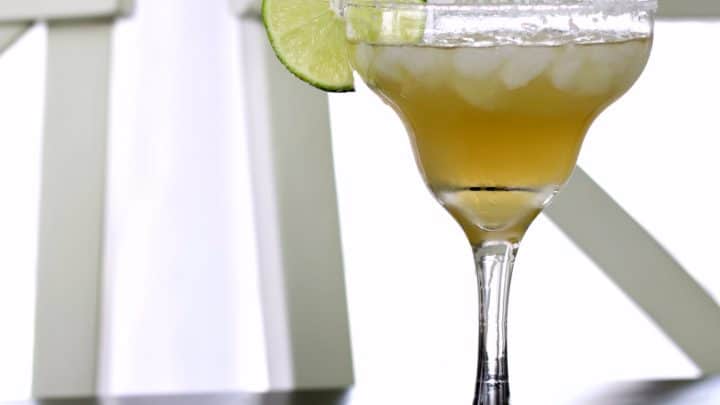 Yield:

1 Cadillac Margarita
Golden Cadillac Margarita Recipe with Grand Marnier
A beautifully smooth Margarita with your favorite top shelf reposado tequila, grand marnier and lime. Simple and delicious.
Ingredients
1 1/2 oz. Reposado Tequila (we chose 1800 tequila)
1 oz. Grand Marnier
3/4 oz. fresh lime juice
(salt for rimming the glass)
Instructions
Prep:
30 minutes ahead put a margarita glass in the fridge to chill
Slice a fresh lime in half. Set one half aside.
Slice a lime wheel from the other half. Now cut the remaining lime into a wedge.
Rim the Glass:
Pour salt onto a flat plate
Set the lime wedge onto the glass rim and wet it all around.
invert the chilled glass into the salt. Set aside.
Make the Cadillac Margarita:
Fill a cocktail shaker half full of crushed ice.
Pour in the tequila
Add Grand Marnier.
Squeeze in the lime juice.
Seal and shake the cocktail shaker vigorously until cold. Set aside.
Fill the Margarita glass with crushed ice.
Strain the Cadillac margarita over the top of the ice.
Garnish:

Set a lime wheel on the side of the glass.
Notes
Variations:

Pink Cadillac Margarita:

Add 1/2 oz. Cranberry juice into the shaker
Blue Cadillac Margarita:
Add 1 oz. of blue curacao.
Both of these variations will have an impact of flavor. You may have to adjust to fit your taste.
Nutrition Information
Yield
1
Serving Size
1
Amount Per Serving
Calories

102
Total Fat

0g
Saturated Fat

0g
Trans Fat

0g
Unsaturated Fat

0g
Cholesterol

0mg
Sodium

1mg
Carbohydrates

2g
Fiber

0g
Sugar

0g
Protein

0g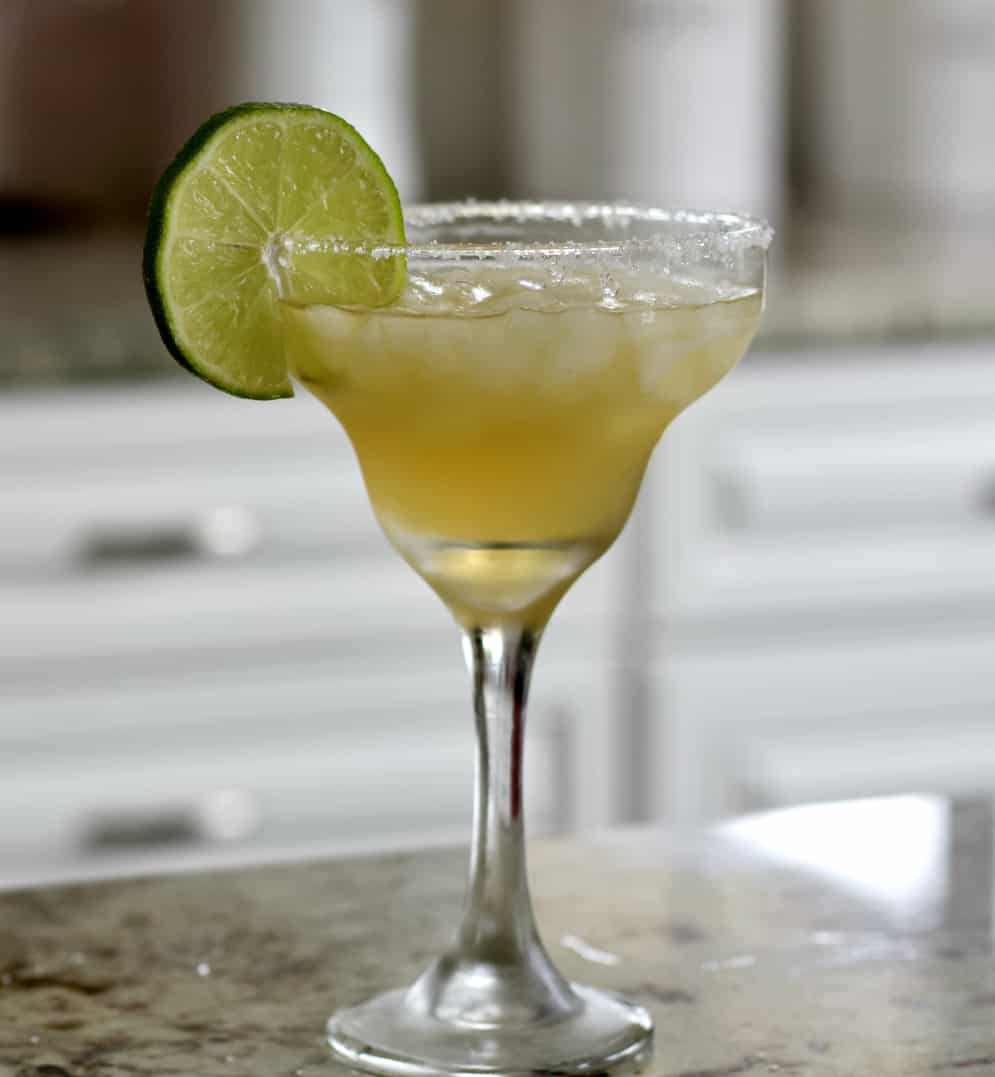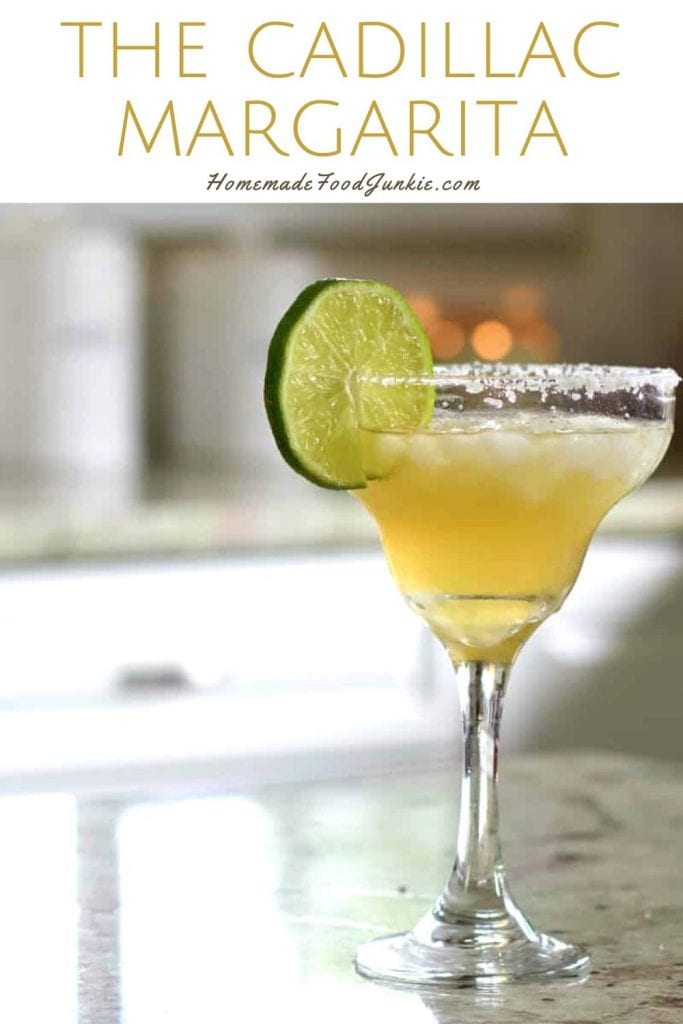 Find more tequila drinks in our Cocktail Section.
More Margarita Recipes:
Below are a few fun Margaritas to wet your whistle no matter the time of year or your budget.
Margaritas are One of America's favorite cocktails.