The gorgeous Blue margarita is a perfect beach cocktail. Be sure to add this blue curacao drink to your summer cocktail drink menu.
The Ocean Blue Margarita is a delicious blend of Blue Curacao, Cointreau, Reposado Tequila, and fresh lime juice. This margarita has a sweet citrus taste. The Curacao and the Cointreau both bring orange citrus flavors to the drink. The lime juice adds a fresh pop of citrus that counters the orange flavor. The 1800 Reposado rounds out the drink with delicious tequila flavors.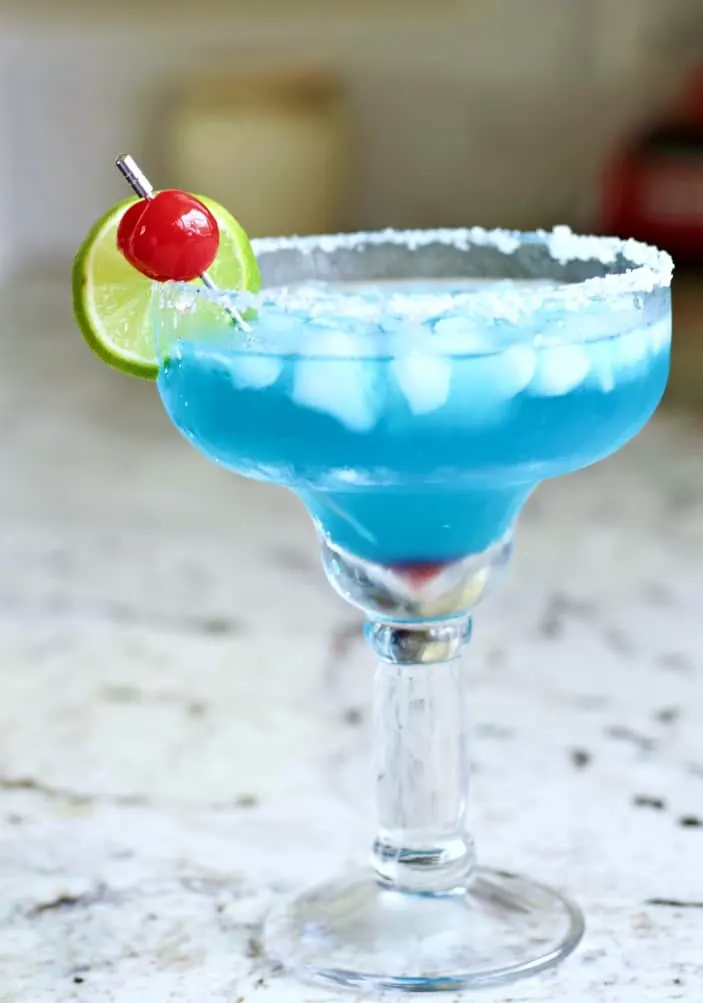 This is a delicious reposado tequila drink. Enjoy smooth tequila blended with tart and sweet citrus tones.
This simple margarita recipe takes only a few minutes to put together and it's a show stopper. What a great ice breaker. Your tequila loving guests will feel special.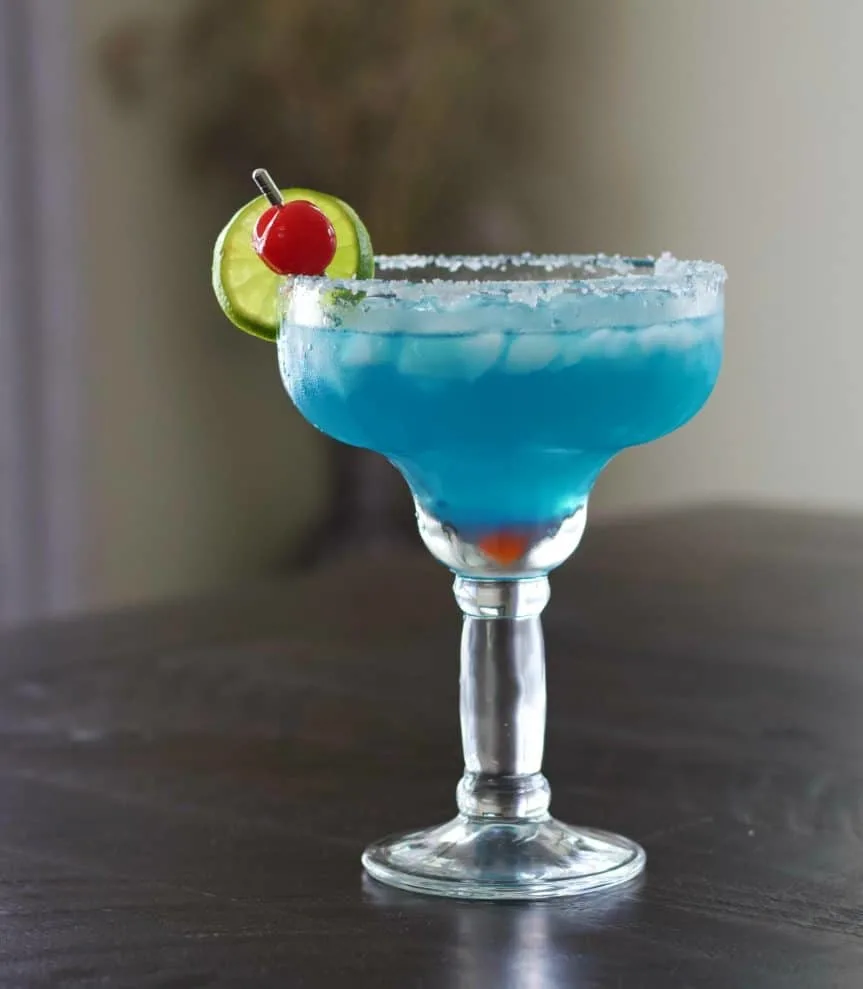 What is in a Blue Margarita?
The Blue Margarita has Blue Curacao, Cointreau, Reposado Tequila, and Fresh Lime Juice. Some of the ingredients can be substituted. The margarita should have a nice citrus flavor, balanced out by the tequila. Triple Sec can be substituted for the Cointreau, Grand Marnier is also a good orange substitute option. Rim the glass with sugar or salt for a delicious summer drink.
What is Blue Curacao?
Blue Curacao is an Orange flavored Liqueur. Blue Curacao is made with dried peels from the Lahara fruit. The Lahara fruit is a bitter orange fruit that is grown on the Island of Curacao in the Caribbean. Curacao can be produced in many different colors. Blue Curacao is artificially colored to produce the bright blue hue. The flavor of the liqueur, despite being blue is orange. Blue Curacao is smooth enough to be enjoyed straight or used in a multitude of mixed drinks.
What is Cointreau and can it be substituted?
Cointreau is a delicious orange flavored triple sec that is produced in Saint-Barthélemy-d'Anjou, France. Cointreau is made from both sweet and bitter orange peels. This delicious triple sec is popular in margaritas, The cointreau adds a smooth citrus element into any mixed drinks.
Cointreau can be substituted with a cheaper triple sec. This may affect the flavor of the drink, and present a flavor that is not quite as smooth or strong in the delicious orange flavor. Grand Marnier is also a popular substitute for Cointreau. It is a more expensive option. However, the Grand Marnier will bring a delicious bright orange flavor to the drinks.
Some of Our Best Tequila Drinks:
Add all of these delicious tequila cocktails to your drink list. Every one of them is delicious and easy to make. Enjoy!
Blue Margarita Recipe:
Ingredients: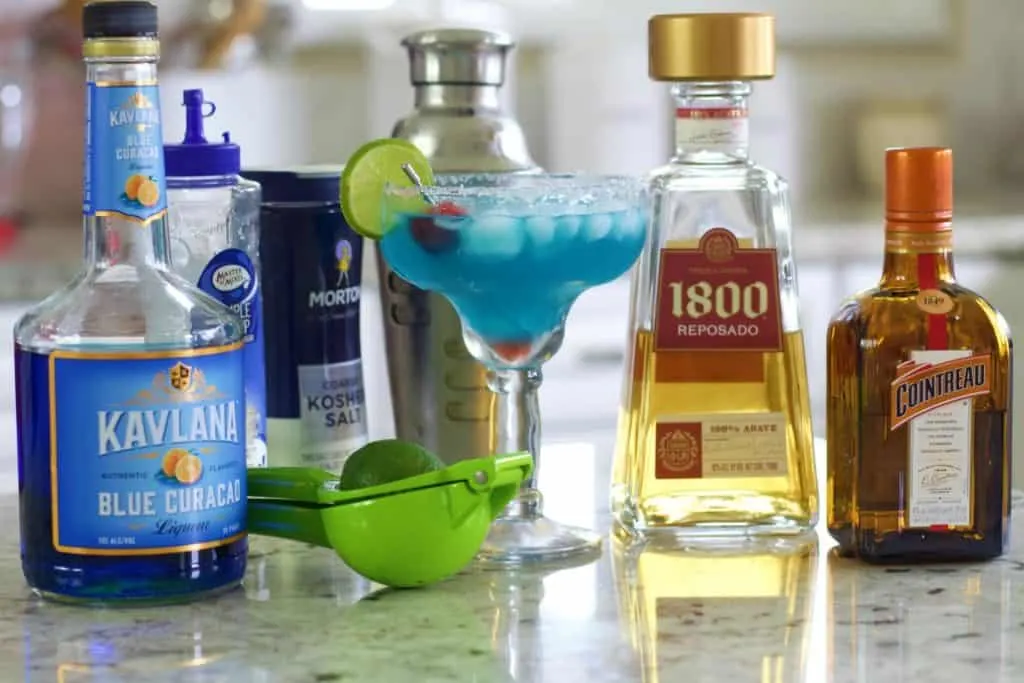 1800 reposado tequila (or your favorite reposado tequila)
Cointreau liqueur (triple sec orange liqueur MAY be substituted. But we enjoy this as a cointreau recipe best.)
orange flavored Blue Curacao liqueur (Find the original linked or buy in your local store. Look for the Blue color)
one fresh lime (for fresh lime juice and to garnish the cocktail)
How to Rim Your Margarita Glass:
Watch our video demonstration for this recipe on the sidebar or at the bottom of the printable recipe card below.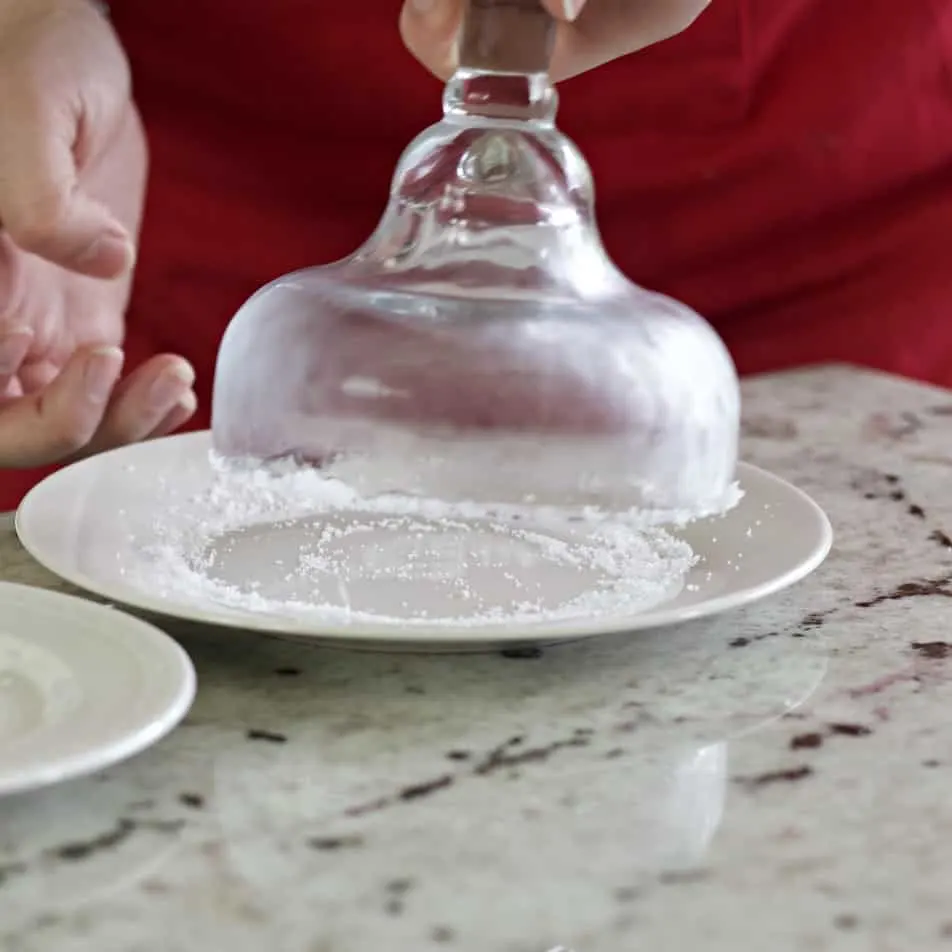 Ocean Blue Cointreau Margarita Recipe Walkthrough:
Here is a quick visual guide to the steps of this recipe.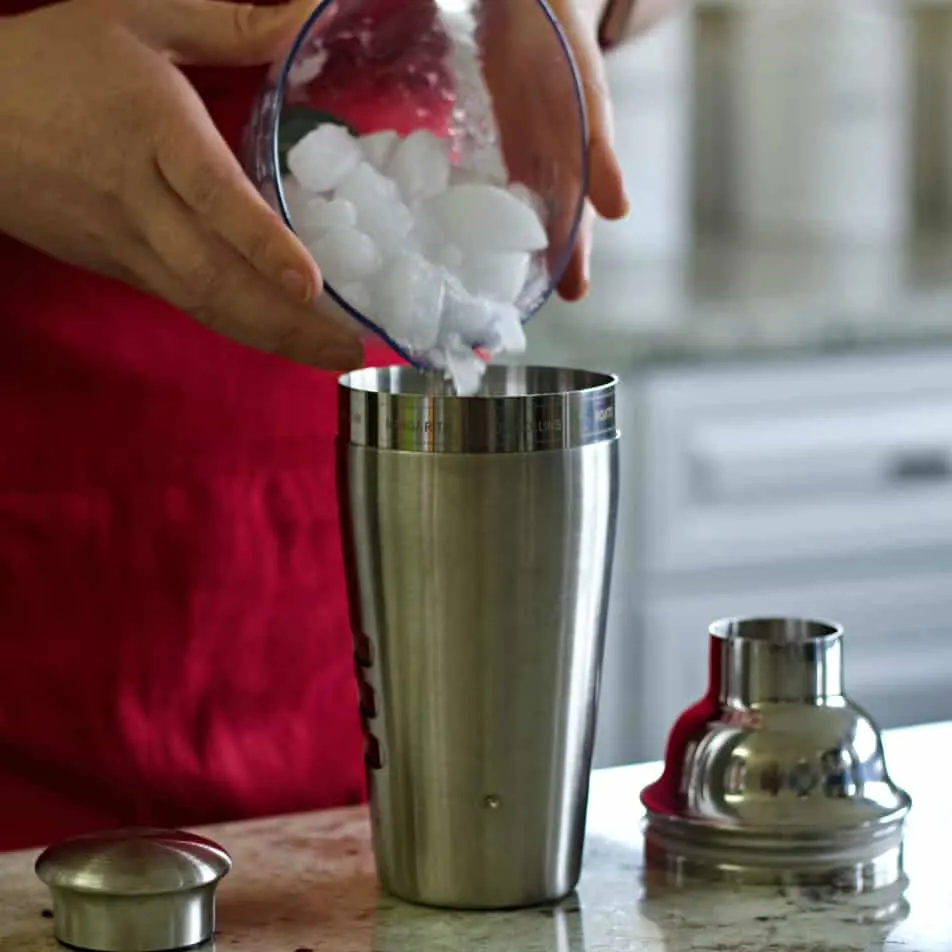 Garnish:
I really like the pop of that cherry red accent with the lime wheel for this blue drink. The salt rim is a classic touch for a Margarita recipe.
More garnishing ideas:
Use an orange wheel on the side
put three cherries on a pick
Add a sprig of fresh mint.
Have your own ideas on how to present this cocktail? We'd love to see how you make this drink recipe.
Tag us with your pictures on Instagram, comment and add pictures to the pin on pinterest, or show us on our Facebook page. We like, comment and occasionally share your stories of our recipes.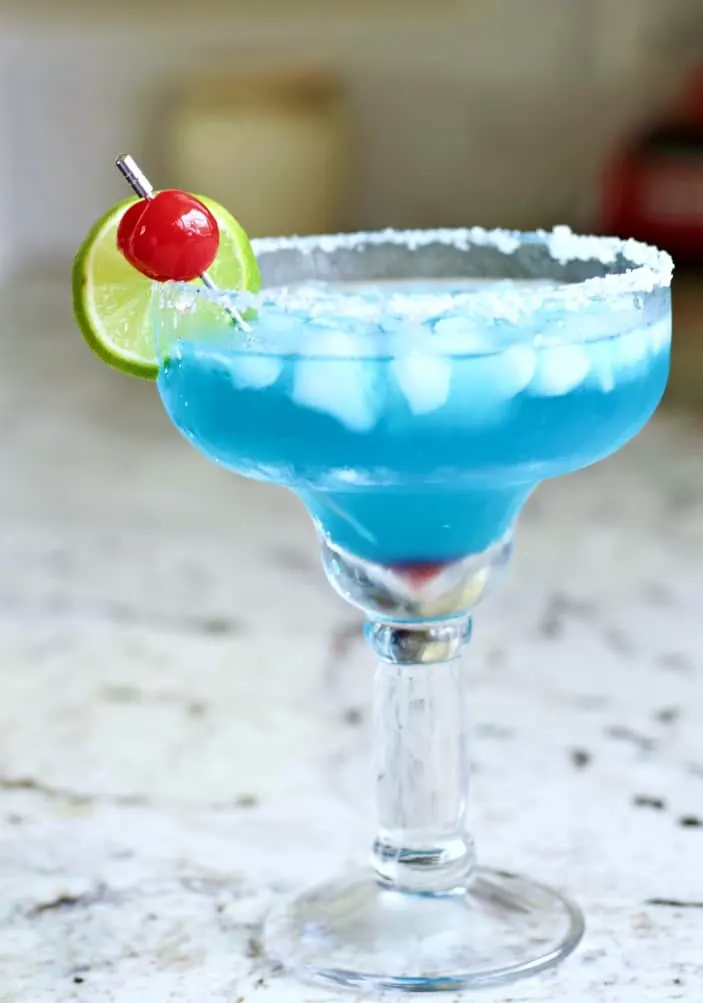 Helpful Amazon Products:
Printable Blue Margarita Curaçao Recipe: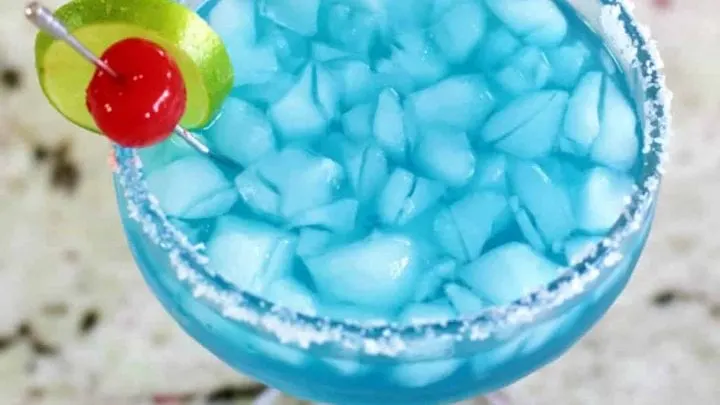 Yield:

1 Blue Margarita
Ocean Blue Margarita Recipe
Additional Time:
10 minutes
The lovely Ocean Blue margarita fits right in by the pool or on your porch. Using a reposado tequila gives you a smooth summer cocktail with citrus tones. Very refreshing. Drink curaçao cocktail to create that summertime beachy vibe.
Ingredients
2 oz. Tequila (we used 1800 Reposado tequila)
1 oz. Blue Curaçao
1 oz. Cointreau
1 oz. fresh lime juice
Instructions
Prepare the Glass:
Chill the glass ahead of time (30 minutes in the fridge or 15 minutes in your freezer).
Wet the rim of the glass with a lime wedge or rub the rim in simple syrup to really stick the salt onto the rim. (see video)
Invert the glass into kosher salt and rub it around until the wet and sticky rim absorbs the salt.
Prepare the Cocktail:
Add ice to your cocktail shaker
Measure and pour into the shaker the tequila, cointreau and blue curaçao.
Slice the fresh lime in half.
Squeeze the lime half into your margarita glass (Or a 1 oz measure to be precise.)
Shake vigorously 10 to 30 seconds until the shaker is very cold.
Strain into rimmed Margarita glass.

Garnishing the Ocean Blue Margarita:
Slice a wheel off the fresh lime.
Slice through the wheel halfway.
Set the cut lime wheel onto the salted rim of the glass.
Set a maraschino cherry on a pick and set in the glass to pop that blue color.

Notes
Substitutions:
Triple sec can be substituted for the cointreau.
Use whatever reposado tequila you have on hand. Reposado tequila gives a smoother better cocktail.
Nutrition Information
Yield
1
Serving Size
1
Amount Per Serving
Calories

223
Total Fat

0g
Saturated Fat

0g
Trans Fat

0g
Unsaturated Fat

0g
Cholesterol

0mg
Sodium

2mg
Carbohydrates

10g
Fiber

0g
Sugar

8g
Protein

0g
Follow Us:
We enjoy meeting you on our social networks. Follow us on Facebook, Pinterest, Instagram . Tag us with your pictures of our recipes and comment on how it went for you. We would love to see what you do with them.
We often like, comment and share your posts of our recipes on our daily Instagram stories.
Ask questions and rate the recipe in the comments section below. Please share what you did with this recipe. We are always looking for more and better ways to make homemade food. Other cooks love your ideas!
Recent Posts: