Chocolate Orange Margaritas make a delicious date night, holiday, or after dinner dessert drink. This unique blend of tequila, creme de cacao, cointreau, sweet and sour, and fresh orange juice creates a spectacular dance of chocolate and orange.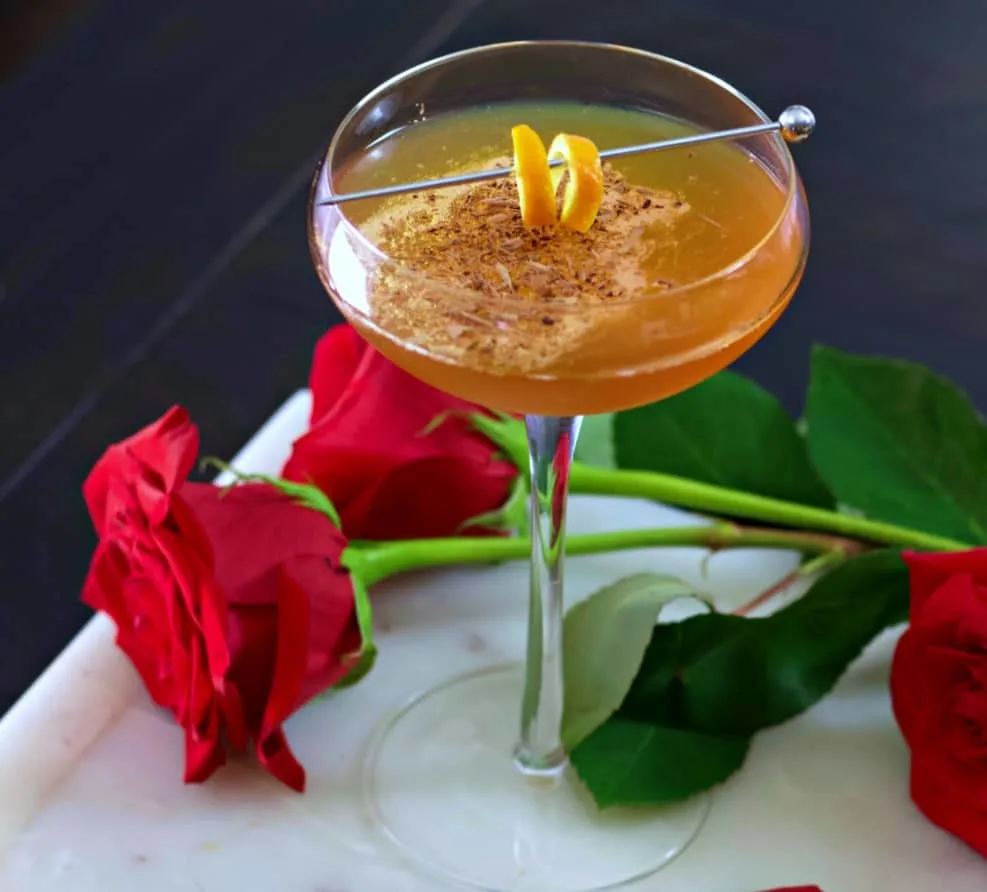 Looking for More Tequila Cocktails?
These are both very popular and delicious tequila drinks. Visit our Cocktail Section to see all of our alcoholic drinks.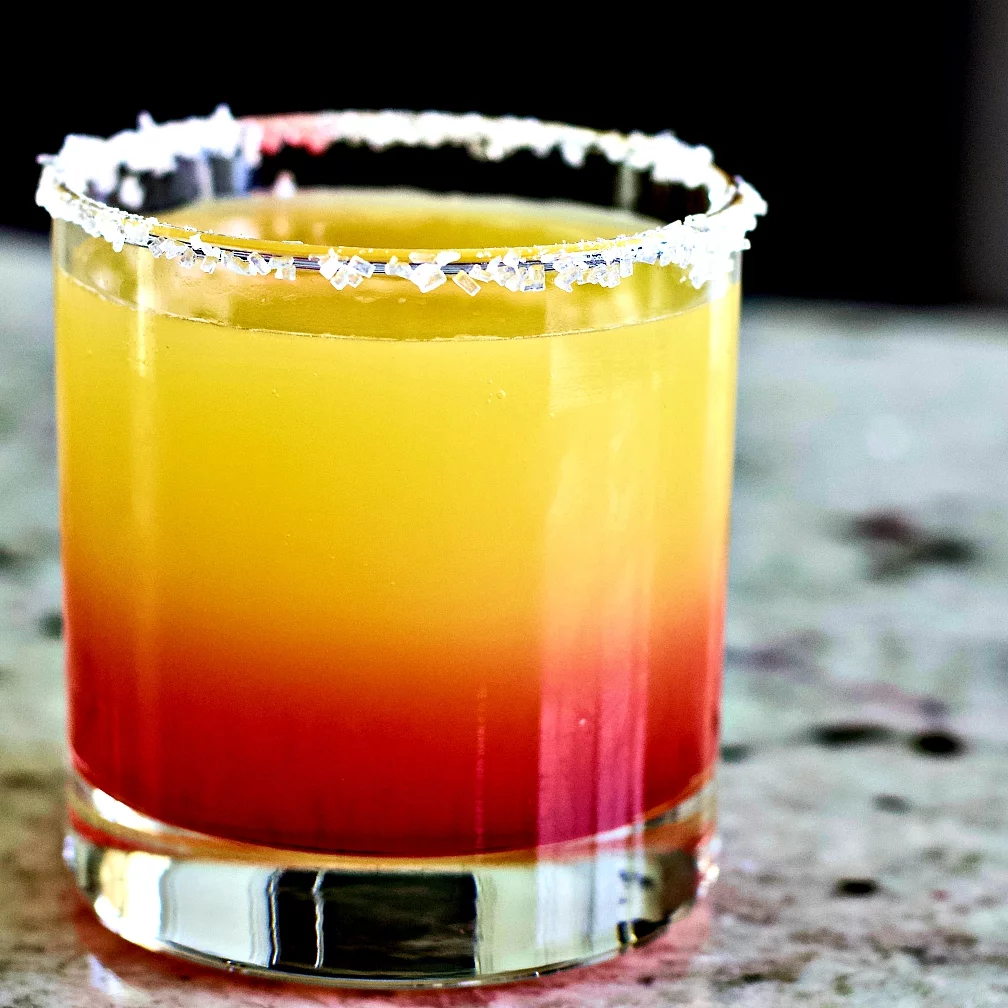 Why do you put Triple Sec in Margaritas?
Cointreau is a type of Triple Sec, and the terms are often used interchangeably. Triple Sec is an orange liqueur that gives a sweet, fruity flavor tone with slightly bitter notes. It compliments the flavors found in Margaritas, particularly this rich Chocolate Margarita.
Chocolate Orange Margarita Recipe
This Chocolate Orange Margarita, while a bit unconventional, is a divine drink that plays on the sweet and bitter balance between chocolate and orange.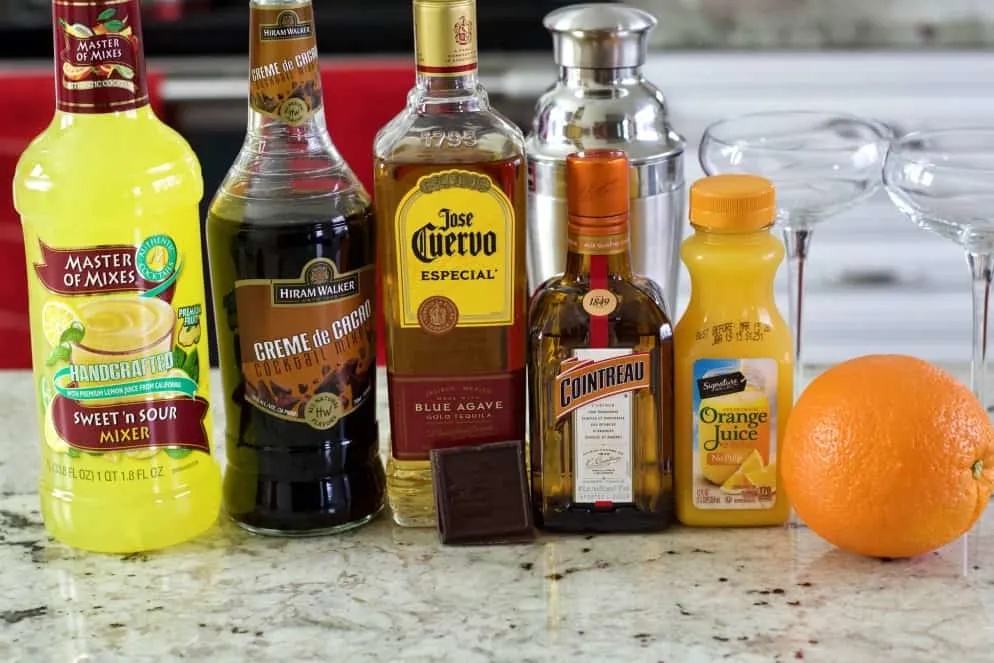 The Ingredients:
Jose.Cuervo Tequila is the best tequila for this margarita in our opinion. If you have a favorite brand of gold tequila for this recipe, feel free to use it!
Creme de Cacao-we used Hiram Walker brand. Baileys creme de cacao or other chocolate liqueur will also work fine
Cointreau orange flavored liqueur is wonderful in this recipe and we highly recommend it
Sweet and Sour Mix
Fresh Orange juice or your favorite store brand
How to make this Chocolate Orange Margarita Recipe
Here is a quick visual walkthrough of this Jose Cuervo Margarita. Please also watch our video for a complete recipe demonstration.
How do you garnish a Chocolate Margarita?
Our choice of garnish was a simple orange twist on a pick, and finished with chocolate shavings. The shavings provide a bit of extra chocolate flavor but mostly the chocolate shavings add texture and ambience. We are sharing a few more suggestions for you to try
Sugared orange twists
Chocolate rimmed glasses
Chocolate sprinkles
Serve with pirouette cookies and dark chocolate
Dust with cocoa powder
Be sure to find a long cocktail pick so you can suspend the twist over the drink. Use a good quality, authentic Mexican chocolate. Mexican chocolate has cinnamon and chili in it which adds flavor depth to the drink.
How do you serve a Chocolate Orange Margarita?
We used a Coop style glass to bring up the classic and elegant vibe of the chocolate orange cocktail. Traditional margarita glasses could also be used, as well as your favorite stemless glass.
How Many Calories in this Margarita?
Margaritas are a sweet cocktail with a high sugar content, so they do score high in the amount of calories. For most Margaritas you can expect a caloric range of 200-300 with a high amount of sugar.
We provide a printable recipe card to determine the calories in this specific recipe.
Brand of the ingredients may also affect the calorie count so be sure to read your labels if calories are your focus.
Helpful Amazon Products:
Below we have pictured the steel picks, glasses, cocktail shaker set and Mexican chocolate that will make this recipe just as you see it.
Your Printable Recipe Card:
Yield:

1 margarita
Chocolate Orange Margarita with Cointreau
Chocolate Orange Margaritas are the perfect blend of orange and chocolate. This tequila cocktail is a glorious combination of Jose Cuervo gold, cointreau, and creme de cacao. Add in the squeeze of fresh orange and sweet and sour mix .
Ingredients
1 1/2 oz. Gold Tequila
1 oz. Creme de cacao
1/2 oz. cointreau (or triple sec)
1 oz. sweet and sour mix
1/2 oz. fresh orange juice
Instructions
Fill your cocktail shaker 1/2 Full of ice.
Add the tequila, Creme de cacao, cointreau, sweet and sour mix into the shaker.
Cut an orange in quarters. (peel off two strips of the peel first if using for orange twist garnish)
Squeeze 1/4 to 1/2 oz. fresh orange juice into the shaker.
Cap the shaker and shake vigorously at least 30 seconds until the shaker is very cold.
Pour out the two margaritas and garnish as desired. (suggestions below)
Notes
Garnishing Ideas:
This pretty cocktail looks stunning and elegant with a simple orange twist suspended over it with a nice cocktail pick.
We also recommend shaving Mexican chocolate over the top of the margarita to add more texture and a bit more chocolate.
Add a shake of cinnamon to bring on a holiday vibe.
serve with an orange filled chocolate ball candy for a fun dessert.
Nutrition Information
Yield
1
Serving Size
1
Amount Per Serving
Calories

303
Total Fat

0g
Saturated Fat

0g
Trans Fat

0g
Unsaturated Fat

0g
Cholesterol

0mg
Sodium

3mg
Carbohydrates

24g
Fiber

0g
Sugar

23g
Protein

0g
Follow Us:
We enjoy meeting you on our social networks. Follow us on Facebook, Pinterest, Instagram . Tag us with your pictures of our recipes and comment on how it went for you. We would love to see what you do with them.
We often like, comment and share your posts of our recipes on our daily Instagram stories.
Ask questions and rate the recipe in the comments section below. Please share what you did with this recipe. We are always looking for more and better ways to make homemade food. Other cooks love your ideas!
Recent Posts: