This Tequila Sunrise Margarita is absolutely stunning with its sunrise tones of orange and red delicately layered in the salt and sugar rimmed glass.
Tequila Sunrise Margarita is a layered cocktail that has grenadine, tequila, triple sec, orange juice, lime juice, and grenadine. This drink is rimmed salt and garnished with a maraschino cherry and a slice of fresh lime. The tequila sunrise has been a popular drink since the 1930's.
This drink looks like a tricky drink to make, but it is incredibly easy to whip together and achieve the beautiful layers.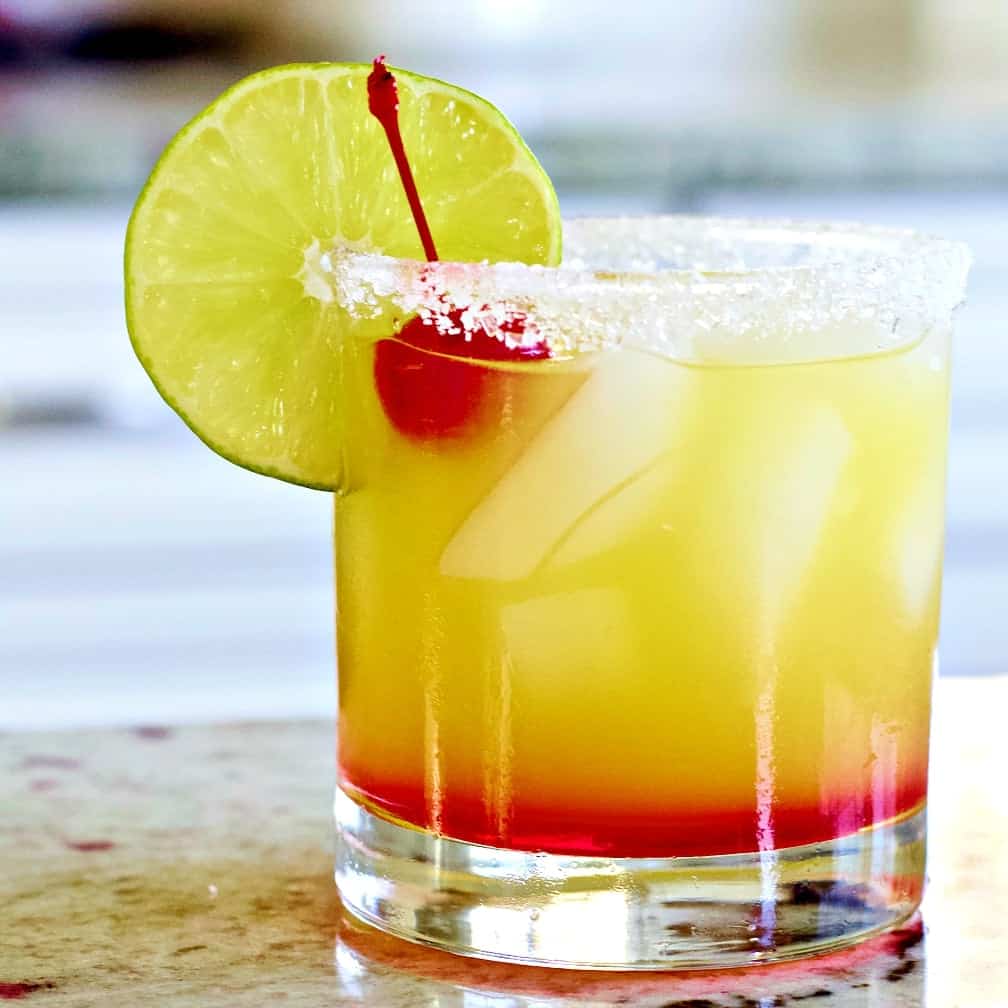 This layered tequila sunrise cocktail is a perfect margarita for a Cinco De Mayo drink (garnish with a hot pepper curl), summer beach party or outdoor grill nights.
Tequila Sunrise Margarita Video:
Can you Blend a Tequila Sunrise?
A tequila sunrise can be made as a blended drink. To make this drink blended simply pour the grenadine in the bottom of the glass first. Blend the alcohol and juices together with a cup of ice. pour the blended tequila sunrise in the cup over the grenadine. Stir very gently until the red and yellow layers start to blend. Don't stir too much or the colors will mix and the layer will be lost. Garnish with a maraschino cherry on the side.
Why is it called a Tequila Sunrise?
The tequila sunrise gets its name from the beautiful colored layers that resemble a sunrise. This drink has all the colors of a summer sunrise. The dark red of the grenadine gently blends into the yellow and orange color tones of the drink. When this drink is made properly, the layers create a stunning sunrise affect in the glass.
Is the Tequila Sunrise a strong drink?
The Tequila Sunrise has the same amount of alcohol as the average cocktail. Most cocktails contain 2-2.5 oz of alcohol. This drink has 1.5 oz of tequila and .5 oz of triple sec making it 2 oz total. Any drink containing alcohol can get you tipsy/drunk when consumed in excess. Please enjoy this drink in moderation and know your limits.
What is the best tequila for a Tequila Sunrise?
For a tequila sunrise, any silver tequila is an appropriate choice. Silver Tequila is bottled right after being distilled with no aging process. This gives the tequila a more pronounced tequila flavor and is often the top choice for margaritas. Gold tequila has been aged in barrels giving it a smoother more toned down flavor. Gold tequila is often used for tequila shots. As with most alcohol, the higher end the tequila the better the taste. Try and find a mid range silver tequila for this drink.
Ideas For this Easy Margarita Recipe
Serve this homemade Margarita at a gathering with friends like I am. Or enjoy sipping it at sunrise on your back porch. Either way it's a winner!
This tequila sunrise margarita is easy to make. We offer the following tips and tricks to make it even easier for you to create.
The Glasses:
We made this Tequila sunrise margarita in these whiskey/scotch glassesrather than a classic margarita glass because the layers are so much prettier this way.
The grenadine pools into the stem of a margarita glass. Not so bad but not the look of a sunrise either.
We love the layered look achieved. We also created this layered look in these glasses with the rum based malibu Sunset mixed drink.
This tequila sunrise margarita looks very similar and is also fruity but tastes completely different with tequila, orange juice, and lime.
If you are looking for lovely layered drinks these drink recipes would both wow your guests. You could make them party twins. Sunrise and sunset. 🙂 They are both beautiful and delicious. your guests will love them.
How to Rim The Glass
Make sure your glass is thoroughly chilled before you try and rim it with salt and sugar. A chilled glass will make the salt and sugar stick better.
Mix the kosher salt and sugars together on a flat plate. Using the coarse and fine sugars together gives the rim a rounder more filled appearance. Course crystals are fine but will give your drink a different look.
Use a lime wedge to wet the rim of your glass.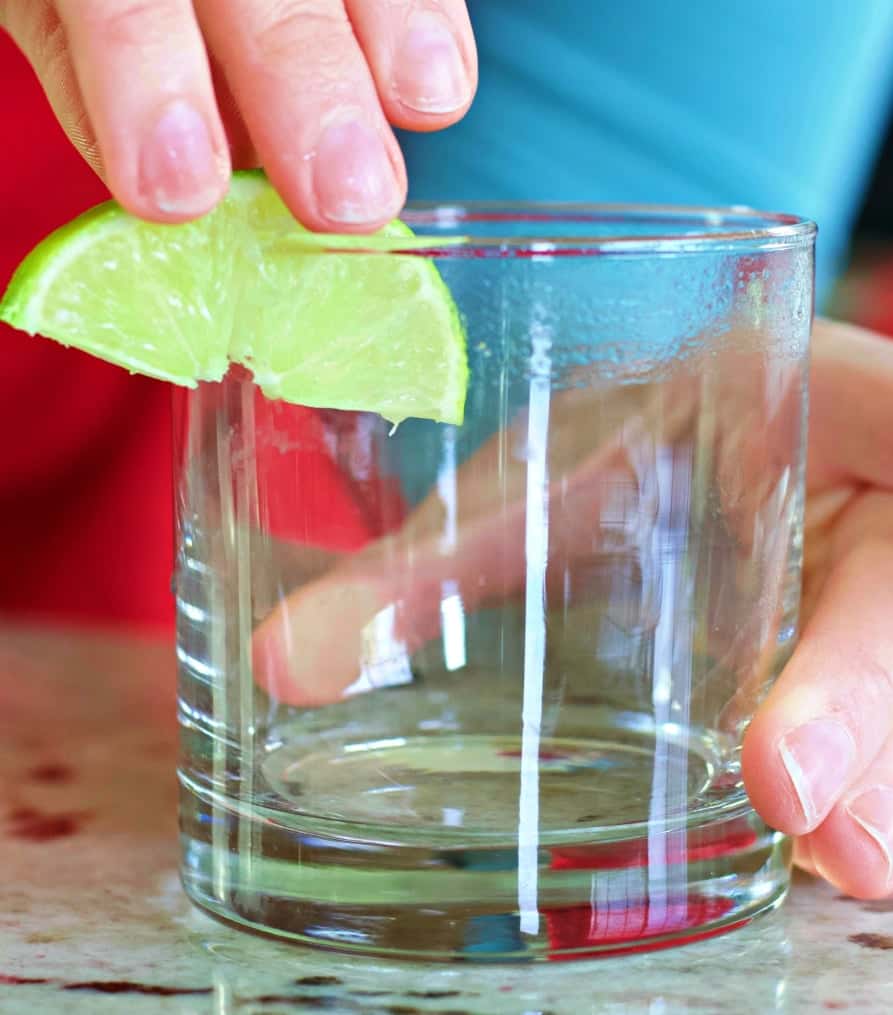 Turn the wet rimmed glass upside down on the plate and swirl it in the salt/sugar mix.
Use your fingers to push the mixture over the wet rim as desired.
And there you have your large grained kosher salt and sugar rimmed glasses ready for your margarita tequila sunrise recipe.
As you can see the glasses above have a fuller rimmed look. This is the result of using the fine sugar in with the large crystal salt and sugar.
For the large crystal rimmed look you see below just omit the fine sugar.
Tequila Sunrise Margarita mixed drink:
You can make this tequila mixed drink your own by playing around with the ingredients.
To Make this a Frozen Margarita:
You can easily make this a frozen margarita in your blender but you will lose the layers of colors.
We are making this margarita on the rocks to preserve the beautiful layered sunrise look. The frozen margarita instructions we include in the recipe card assumes you are not interested in layering this tequila sunrise mixed drink.
Best tequila for Margaritas:
100 percent agave blanco tequilas are the preferred choice for margaritas.
Don Julio offers a decent silver tequila at a good price that is 100% blue agave. You can find Don Julio brand at Target.
You can get away with the most inexpensive silver tequila you can find with this recipe if price is an issue. The strong fruity flavors of this tequila cocktail allow you to choose the cheapest Blanco tequilas if you prefer.
Reposado means rested or aged. Reposado tequilas will give you a smoother mellower taste. This is not ideal for margaritas. You want the bite the unaged silver tequilas add to a margarita.
More Tequila Drink tips and ideas:
If you want this drink to be sweeter, you can add sweetened orange juice like tropicana.
Juice Variation: Change the flavor by mixing orange juice with pineapple juice 1/1. Get creative. Just make sure you keep the color of the juice orange or yellow if you want the sunrise colored layers.
Any orange liqueur will work in this tequila cocktail. Triple sec is a popular choice but use your favorite.
Garnishes: We used maraschino cherries and a lime wheel. You can choose any garnish you prefer. Get creative. Try a pepper curl for Cinco de Mayo, blood oranges and other citrus wheels or pineapple chunks can all add a bit of flair to this South of the border mixed drink.
If you don't have a cocktail shaker with ice to thoroughly chill your ingredients make sure you pop your alcohol in the freezer for a while before you make your drinks. You want everything to be chilled for a delicious drink.
The Grenadine Pour:
The grenadine layer adds both the beautiful sunrise vibe and a sweetness to this drink that you will want. Just don't mix it in until you have thoroughly admired the lovely drink you about to sip.
The grenadine pour is the trickiest part of this drink. But it's so worth it to have those pretty layers. Just use a little care.
Use a spoon to push the ice aside so you don't have any obstructions between the grenadine and the bottom of the glass
SLOWLY Pour the grenadine to keep the layers distinct. You don't want the grenadine to splash at all into the glass.
Once that red syrup gets stirred around it will completely turn the whole drink red.
The grenadine layer can be heavy or light. You adjust it by how much grenadine you add to the glass.
Make This Tequila Mixed Drink as a Mocktail Recipe for non drinkers:
For guests that want the beautiful colors of this drinks but not the alcohol make a mocktail like this:
Replace the orange liqueur and tequila with orange juice or a 1/1 blend of orange juice and pineapple juice.
Rim the glass with sugar only.
Pour the grenadine as directed to create layers.
Viola! A gorgeous mocktail safe for children too.
Tequila Sunrise Mixed Drink Margarita Calories :
Some people wonder if a frozen margarita has a different calorie count than the 'on the rocks' version. The answer to that is it's all in the ice and your ingredient choices:
When you substitute ingredients read the nutrition labels if the carbs and calories are important to you. This is a party drink meant for sipping and creating ambiance. One glass isn't going to hurt you too much. 🙂
If you measure the ingredients with calories perfectly including the ice the calories are the same in both the frozen and on the rocks versions.
If you increase the ice (and thereby the dilution) the calories per serving will decline. but so will the flavor. So be careful with that.
More Delicious Margaritas: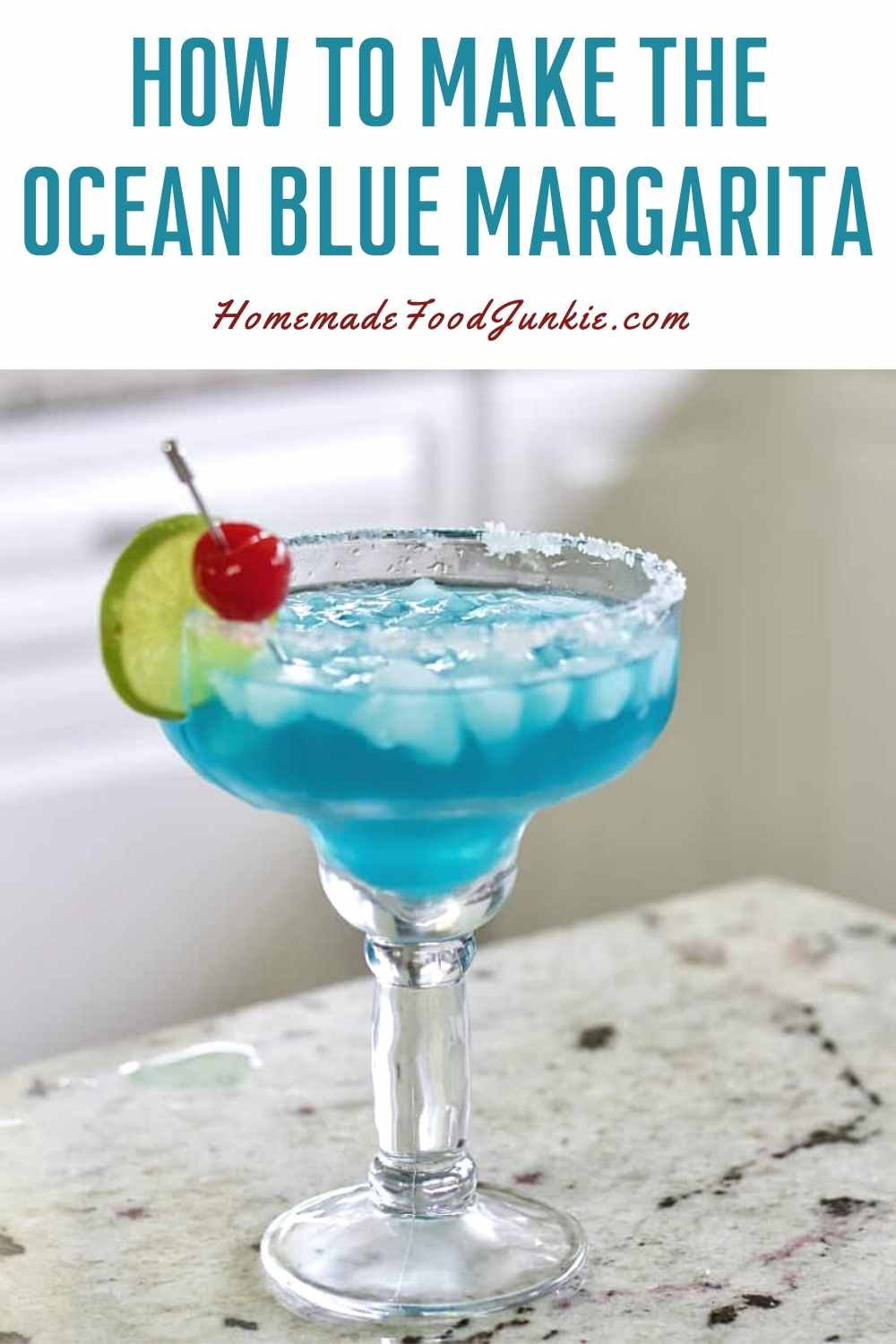 Your Printable Recipe Card: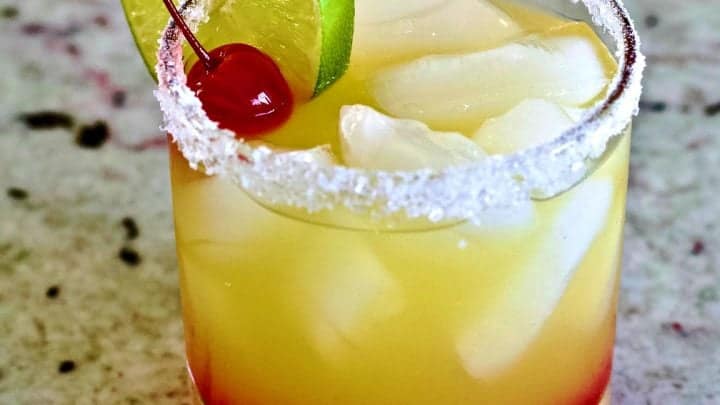 Yield:

1 cocktail
Tequila Sunrise Margarita
This Tequila Sunrise Margarita is absolutely stunning with its sunrise tones of orange and red delicately layered in the salt and sugar rimmed glass.
Ingredients
1/2 oz. grenadine
1-1/2 oz. tequila
1/2 oz. triple sec
1 oz. orange juice
1/2 oz. lime juice
1 cup ice
Garnishes:
lime wheel
Maraschino cherry
Instructions
Chill and Rim Glasses:
Chill a glass for 15 minutes before rimming
Sprinkle salt and sugar on a flat plate
rub lime around the entire rim of the glass
flip the glass upside down and rub it in the sugar/salt mixture until the rim is completely coated.
Make the margarita mix:
In a cocktail shaker filled with ice combine tequila, triple sec, orange juice, and lime juice.
Shake vigorously for 30 seconds
Fill the glasses with ice as desired and pour the margarita mixture into the rimmed glass.
Making the layer:
Use a spoon to move the ice and slowly pour grenadine down the side of the glass, being careful not to get any on the salt and sugar rim.
Garnish with a slice of lime and a maraschino cherry.
Enjoy!
Instructions for making this margarita mix in a pitcher:
Increase all ingredients in proportion to your pitcher size equally.
Add your ingredients to the pitcher (straining out any pulp from the juice) and stir.
CHILL all ingredients in your pitcher for an hour or so. You cannot make this is in a shaker so make the margarita mix ahead and chill it in the fridge. DO not mix in the grenadine if you want the layers.
At serving pour the chilled margarita mix into the chilled and rimmed glasses with ice. Leave enough headroom to add the grenadine. Make the grenadine layer as described above. Served garnished.
To make this a Frozen margarita:
You won't get the beautiful layered look but it's still a delicious drink.
Add all the ingredients into your blender and whirr them into a slush.
Pour into any rimmed margarita or other serving glass you prefer.
The Grenadine may be poured into the glass last after making the frozen margarita mix but it won't make much a layer.
Notes
To make this Margarita a mocktail:
Replace the orange liqueur and tequila with orange juice or a 1/1 blend of orange juice and pineapple juice.
Rim the glass with sugar only.
Pour the grenadine as directed to create layers.
Viola! A gorgeous mocktail safe for children too.
Nutrition Information
Yield
1
Serving Size
1 cocktail
Amount Per Serving
Calories

215
Total Fat

0g
Saturated Fat

0g
Trans Fat

0g
Unsaturated Fat

0g
Cholesterol

0mg
Sodium

9mg
Carbohydrates

27g
Fiber

2g
Sugar

16g
Protein

1g
Follow Us:
We enjoy meeting you on our social networks. Follow us on Facebook, Pinterest, Instagram . Tag us with your pictures of our recipes and comment on how it went for you. We would love to see what you do with them.
We often like, comment and share your posts of our recipes on our daily Instagram stories.
Ask questions and rate the recipe in the comments section below. Please share what you did with this recipe. We are always looking for more and better ways to make homemade food. Other cooks love your ideas!
Recent Posts:
Recipe Adapted From The Spruce Eats