Bruschetta Ham Casserole is an especially tasty noodle casserole. Marinated dried tomatoes, bruschetta spices and hot pepper flakes are baked right in.
Noodle Casserole with ham, cheeses and bruschetta seasonings.
I make this casserole when I need a leftover ham recipe. You can only make so many ham sandwiches and Hambone soup. Fortunately this recipe uses a lot of ham.
The flavors of the Italian seasonings, fresh basil and Sun Dried tomatoes add a perfect Italian twist to boring old noodle casserole. Mix this recipe all up with whatever yummy cheeses you have on hand for a really delish dish of comfort food.
Watch me make this Recipe:
One of the very best things I learned to do last summer was
dry our garden tomatoes
in my food dryer and marinate them. The flavor is so sweet and flavorful. Especially marinated in olive oil, herbs, peppers and balsamic vinegar.
I have been having a great time exploring new ways to use these delectable condiments. This leftover ham casserole is greatly enhanced by sun dried tomatoes and hot Bangkok peppers. You can use bell peppers if you don't want any spice in your casserole. We love a bit of zing.
Bruschetta or Italian spice blends emphasize the Italian twist to this ham and noodle casserole. The flavor is fantastic.
A good cheesy noodle casserole has to have a lot of cheese too. I've gone rogue and crossed a few culinary lines with this recipe. Leftover recipes are like that. So I'm gonna say use whatever cheeses you have on hand that you like with ham.
This ham casserole recipe is yummy with plain cheddar, pepper jack, Mexican blend and Mozzarella. Either alone or blended together. Use any cheese you have like Parmesan, swiss, gouda…let your taste buds be your guide.
I may just get kicked out of the Ole Mac and Cheese club. But not by my family.
This leftover ham idea is a new favorite for us. Even the grand baby loves it. Success is so sweet.
Recipe Notes for Bruschetta Ham Casserole:
I don't suppose you have your own homemade marinated dried tomatoes….? No worries. I had some Costco Oven Dried tomatoes and used those in the actual casserole recipe. They worked great (although the flavor is not as good as home dried).
Dried Red pepper flakes can be substituted for the dried chopped Bangkok peppers I used. Add them to taste and enjoy the bit of zing they contribute to your casserole.
Recipe TIPS:
This is a great recipe but it can get dry. All those noodles absorb a LOT of moisture. Make sure your sauce is thickened but not TOO thick. Add more milk as necessary.
Take a look at the video to see the consistency of the sauce as I pour it over the noodles.
In case you're wondering… I add the milk over the top of the finished casserole and seal it with tin foil before baking to ensure a nice moist casserole. It will steam as it bakes.
This is a leftover recipe. SUBSTITUTE! I have several suggestions in the recipe card.
Make it your own with what you have on hand. I hope you have sun dried tomatoes and fresh basil. They really do make a difference.
Serve peppers, extra bruschetta spice, salt and pepper and tomatoes as condiments on the side for extra yumminess.

Meal Planning with this Recipe:
This recipe makes a LOT. It will feed a large group, like 12 hungry people. The leftovers are great. We have been eating them all week and loving every bite.
However, if you want to feed a small group cut the recipe in half. It's very filling and goes a long way.
Half this recipe fits perfectly into an 8 x 8 casserole dish. If your just feeding 2 to 4 people you won't need more than this. You will still have leftovers for a night anyway.
Make Ahead Freezer Meal Prep:
Make the full batch into two 8 x 8 casseroles. Bake one for dinner and freeze the second pan.
Freeze it UNBAKED. Wrap the baking dish tightly in foil. you can double wrap it for a longer freeze time (up to 6 months).
Be sure to label the foil with the date, recipe name and baking instructions.
Now when you ask your teen or hubby to bake it, the instructions are right on the freezer wrap. This is also helpful to anyone you want to give the freezer meal to as a gift.
This freezer recipe is a good choice for a busy night.
Pull it out of the freezer and thaw it in the fridge a day ahead. And then bake it as directed.
OR
Bake it frozen still in the tinfoil wrap but add at LEAST another 45 minutes to get it baked through for the 9 x 13 sized pan.
Having casseroles like this one in the freezer all also handy for meal trains and extra help meals for your friends and loved ones.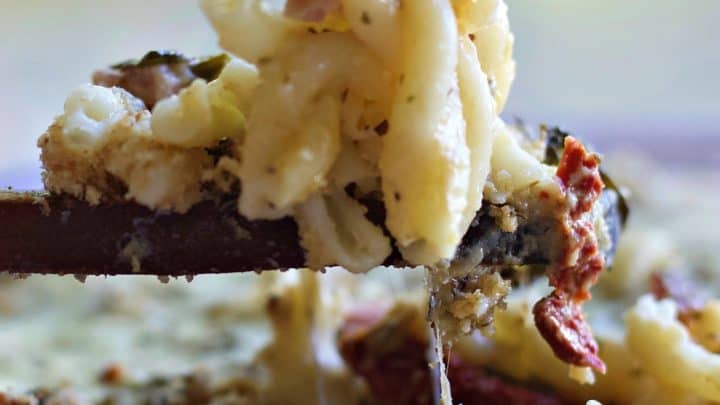 Yield:

12
Ham Noodle Casserole Italian Style
Total Time:
1 hour
5 minutes
Bruschetta Ham Casserole is an especially tasty noodle casserole. Marinated dried tomatoes, bruschetta spices and hot pepper flakes are baked right in for a wonderful Italian twist.
Ingredients
17 oz. Noodles (any pasta will be fine)
3 Cups Chopped Ham
1-1/2 Cup Sun dried Tomatoes
1 tsp. red pepper flakes (or fresh bangkok peppers)
1 Tablespoon Bruschetta Spices (Or Italian spice blend)
1/2 Cup chopped fresh basil
2 Tablespoons Flour
2 Tablespoons butter
1/2 Cup Greek Yogurt (or sour cream)
1-1/2 Cups milk ( may use chicken or vegetable broth instead)
2 Cups Cheddar Cheese-grated (use whatever cheeses you have that go with ham)
1 Cup Focaccia Croutons (or Italian style Panko Bread Crumbs)
Instructions
Grease a 9 x 13 baking dish
Preheat oven to 350 degrees
Set a large pot on to boil with a tablespoon of coconut oil in it.
When it boils add the noodles, stir them a bit and let cook until firmly done. Drain the noodles and set into a large bowl.
Meanwhile, prepare the ham and vegetables, shred the cheese, and crush the croutons.
Now in a 2 quart pot, melt the butter. Whisk in the flour and cook until it thickens.
Immediately add the milk in thirds.
Allow the sauce to thicken in between milk additions. Add the cheese and yogurt and adjust the sauce. When the consistency is saucy, rich and not too thick, remove from stove.
Pour the sauce over the noodles and stir until the noodles and sauce are well combined.
Stir in the ham, vegetables, basil and seasonings.
Pour the noodle mixture into the greased baking pan. Spread it evenly.
Sprinkle the croutons evenly over the top. Sprinkle cheese over the croutons as desired.
Pour 1/2 Cup milk or water over the croutons.
Cover with tinfoil and bake for 35 minutes. Remove the tin foil and bake another 10 minutes until the top is lightly browned.
Serve with extra Sun Dried Tomatoes and fresh basil as garnish.
Recommended Products
As an Amazon Associate and member of other affiliate programs, I earn from qualifying purchases.
Nutrition Information
Yield
12
Serving Size
1
Amount Per Serving
Calories

361
Total Fat

16g
Saturated Fat

7g
Trans Fat

0g
Unsaturated Fat

7g
Cholesterol

53mg
Sodium

760mg
Carbohydrates

35g
Fiber

3g
Sugar

4g
Protein

20g
Pin it: