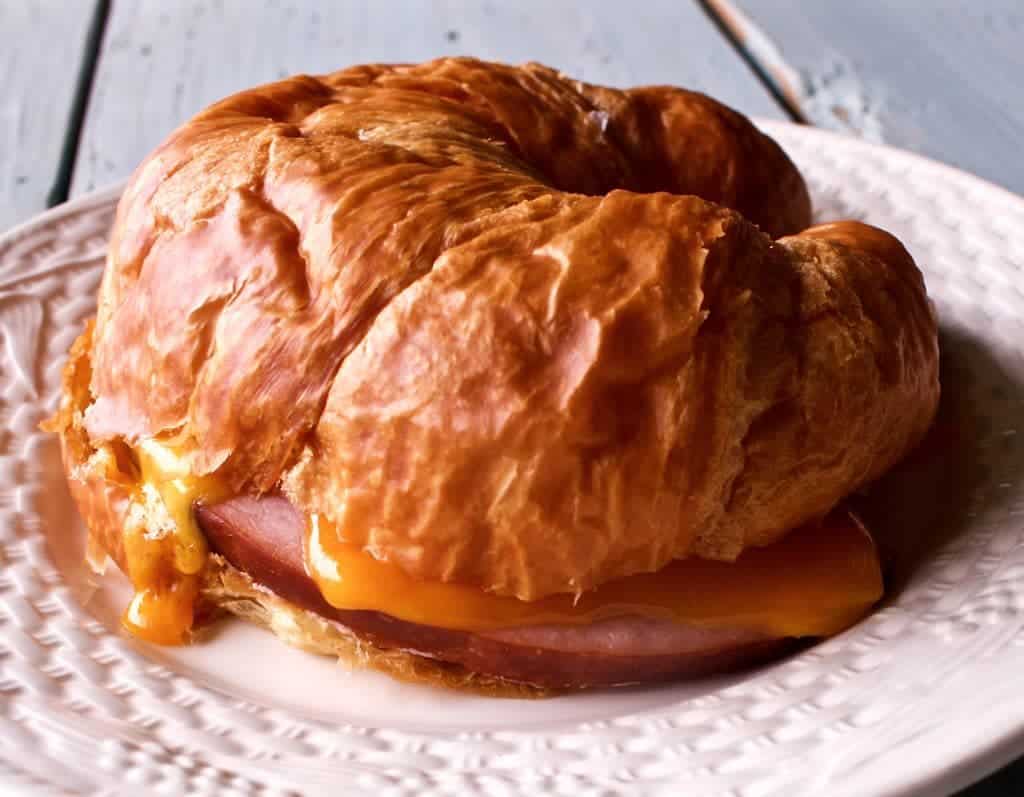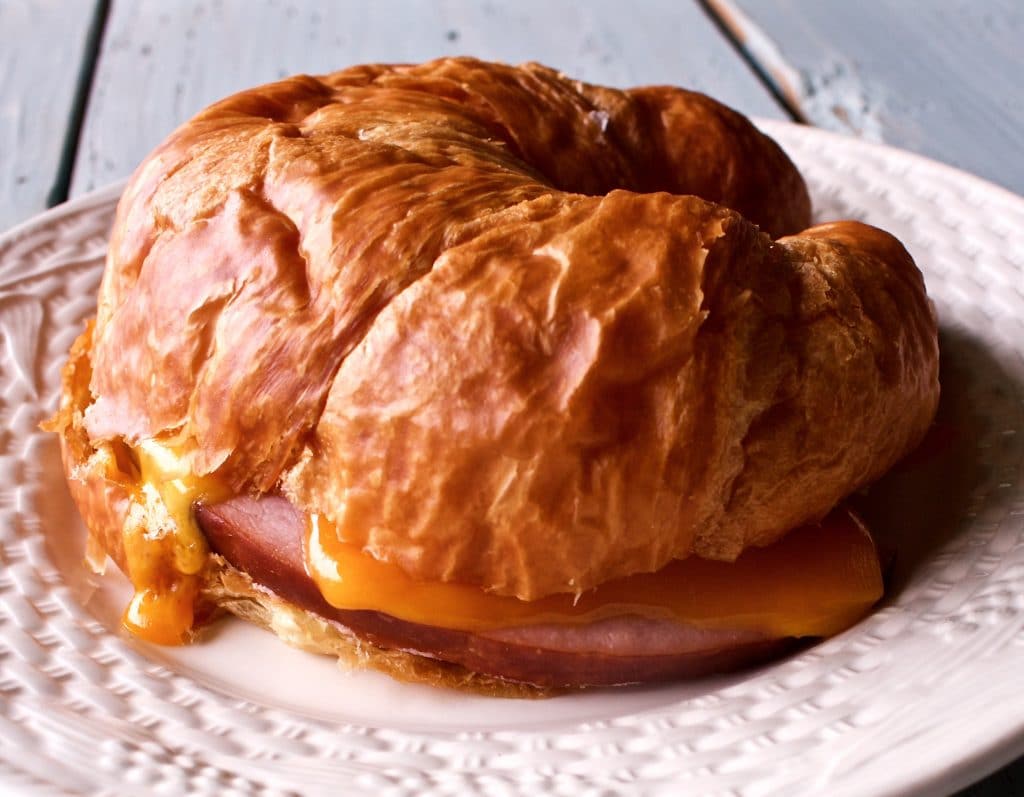 A fresh Ham and Cheese croissant filled with honey ham and cheddar cheese makes a protein rich breakfast in a hurry! For a quick, grab and go breakfast, lunch or snack, or a lazy morning indulgence, this ridiculously easy recipe is a tasty, filling start to your day.
I love a croissant with flaky layers of rich, butteriness. Adding a generous slice of honey ham and cheddar cheese made it good. Warming it in the micro wave to melt it all together brings this delicious breakfast up to wonderful. Who needs a McMuffin when you can have this? A very plain simple meal with no annoying drips from sauces. Easy quick, relativiely neat, eating and so flavorful!
For a quick, filling breakfast with a load of protein, this is a humdinger. Just grab one on the go and eat it in a hurry. Seriously, this could be car food if your running late (and no waiting in line at a drive-through). Just wrap it warm in wax paper and eat it on the run…Or, leisurely savor it all laid out on a plate with a cup of coffee and some fresh fruit.
We had the time to savor the flavors and enjoy those yummy melted, warm layers. Who doesn't like ham and cheese? And croissants? Together they feel like a decadent treat. Which this Ham and Cheese Croissant was, for us, on a busy week day. I don't often buy croissants and I have never made them from scratch. Maybe someday, but for now they seem over my baking skill level. Learning to make these decadent deliciacies brings visions of chocolate filled croissants, cream filled croissants, croissant with gravy…and that is dangerous thinking around here. So I'll just grab a box from Costco occasionally for a rare, yummy treat. We inhale these at an alarming rate! Eating them in a filling sandwich like this helps us slow down on the number of delicious croissant we devour in an hour!
Our breakfast, during the week, is usually toast and coffee. I have mentioned before I am not a morning person. I usually get whined out of bed by our big ole Dog baby, Sherman, who insists he is starving, about to perish and MUST be fed instantly. His little cohort, Charlie, concurs and I get no peace until I get up and feed all three of our dogs (Tara, our Sheltie, is a lady and waits quietly for her breakfast). So I push the button on the coffee pot and go back to bed…for a few minutes. Until I am forced out again, by my whiny babies, to let them back in the house after the morning dog patrol of the grounds. At which time the toast goes in the toaster and the coffee is served…in bed. And then one of us will get up and bring in the toast. And the dogs get on the bed and we all hang out a while before breaking contact with our warm snuggly dog pile, to finally begin our day. This is most every week day. Week ends are worse! So… we do brunch!
Making Your Ham and Cheese Croissant:
So EASY!
Slice a large croissant longwise
Slice a piece of leftover ham, or good quality natural ham lunchmeat
Slice of Cheddar cheese (or other cheese or your choice)
Assemble by laying the hame slice down on the bottom layer of the croissant, lay the cheese over the ham slice, add the crissant top
Microwave just until the cheese starts to drip down the croissant. (don't over cook it or the croissant will get hard!)
Serve on a plate as shown ,or wrap it in wax paper and eat it in hand!
Yield:

1 serving
Ham And Cheese Croissant
A fresh Ham and Cheese croissant filled with honey ham and cheddar cheese makes a protein rich breakfast in a hurry!
Ingredients
1 croissant
1 slice honey ham
1 slice cheddar cheese
Instructions
Cut the croissant in half lengthwise
Place the ham slice on the bottom half of the croissant
Layer the cheese on the ham
Put the top croissant section on the cheese
Place on a serving plate and warm in the microwave 30 seconds to one minute, until the cheese is just melted.
Serve with fresh fruit
Nutrition Information
Yield
1
Serving Size
1
Amount Per Serving
Calories

420
Total Fat

24g
Saturated Fat

13g
Trans Fat

0g
Unsaturated Fat

8g
Cholesterol

79mg
Sodium

751mg
Carbohydrates

34g
Fiber

2g
Sugar

8g
Protein

17g