A warm Ham and Cheese Croissant Sandwich makes a delicious breakfast, brunch or midday snack. Breakfast sandwiches have risen in popularity due to their convenience and versatility. Vegetarian options have stormed their way onto the scene and won the hearts of many in coffee shops and cafes, but the classics such as bacon and egg, ham and cheese, and sausage with potato hold their place at the top.
Though breakfast sandwiches can be made on an array of different pastries including bagels, English muffins and Texas toast, croissants are one of the most popular breakfast pastries and for sure our favorite.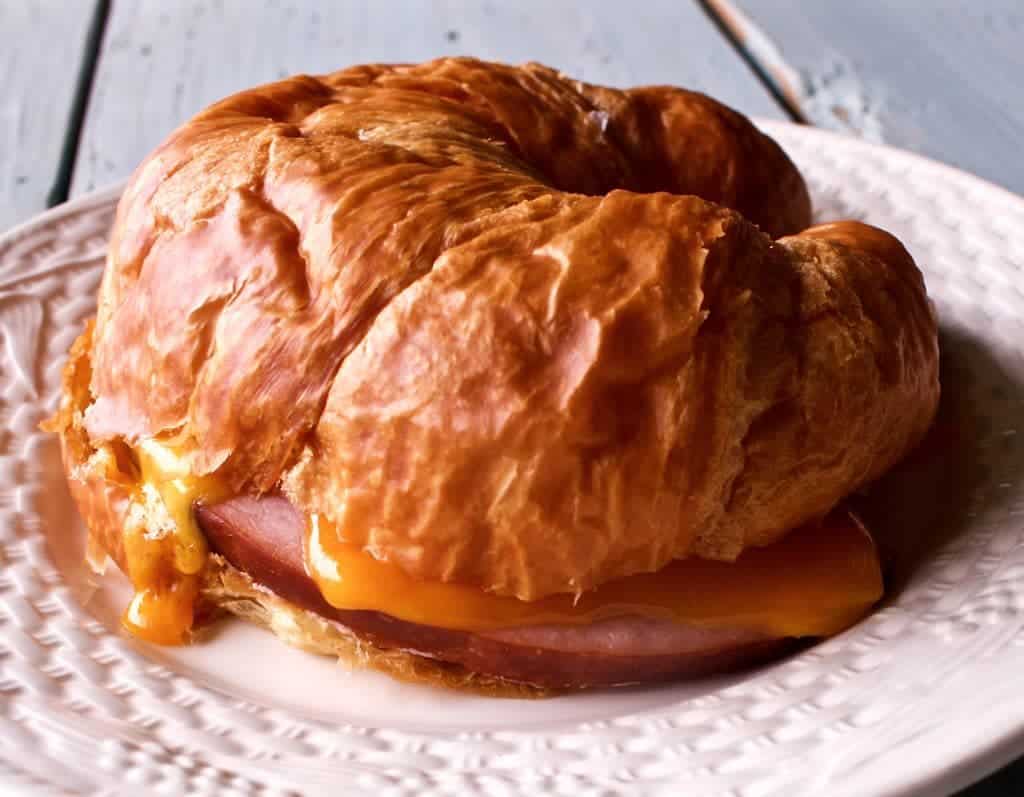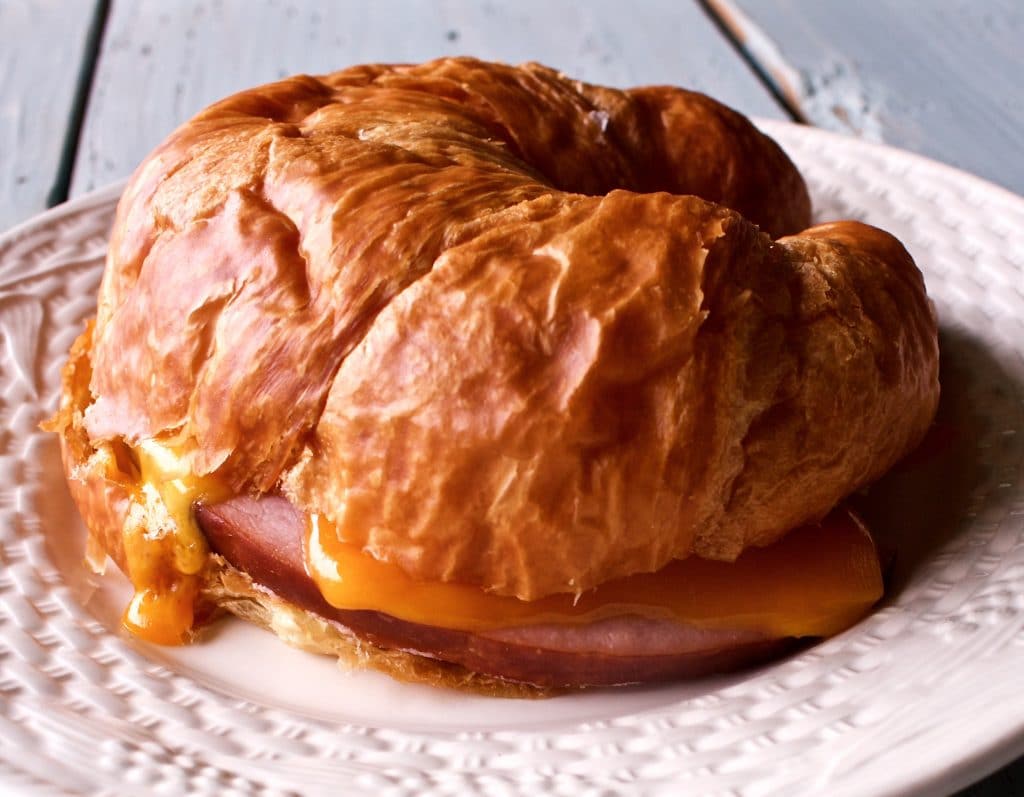 Are Ham and Cheese Croissants healthy?
Ham and Cheese Croissant Sandwiches are high in fat which is an important factor to consider. This sandwich contains roughly 24 grams of fat, 8 grams being saturated fats. It does deliver roughly 17 grams of protein which helps to balance out the fat and carbohydrates. Protein is an important macro in our diets and you definitely want to include it in your breakfast meal.
What cheese goes well with ham?
Either Swiss or cheddar cheese are the most popular choices to pair with ham due to the flavors elevating ham so well. Cheddar cheese is what we went with, and while we love the flavor combination, it doesn't melt quite as well as Swiss.
Smoked gouda or a similar cheese would be another great choice for a grown up sandwich that brings a deeper flavor.
What do you put inside a Croissant?
Croissants are wonderfully versatile and very popular pastries. They can be filled with savory or sweet fillings, dipped in creamy hot chocolate, or eaten all by themselves. We are sharing some delicious croissant filling ideas if you are looking for inspiration.
Fill with a creamy lox and pickled onion spread
Enjoy with Nutella and fresh whipped cream
Go classic with a bacon egg and cheese filling
Sprinkle with powdered sugar and enjoy with fresh fruit
Go vegetarian with a baked spinach, mushroom and tomato mozzarella filling
Make a sausage, potato and avocado breakfast sandwich
Whip together a melted brie, cranberry, bacon sandwich
Stuff with cream cheese and fresh berries
Fill with fresh bananas and a chocolate peanut butter spread
Stuff with a homemade custard and drizzle with a lemon glaze
How do you make a Ham and Cheese Croissant Sandwich?
Slice a large croissant in half length wise
Select a thin slice of leftover ham, or good quality natural ham
Prepare one slice of cheddar cheese, or other cheese or your choice
Assemble by laying the ham slice on the bottom layer of the croissant, lay the cheese over the ham slice, place the croissant top
Heat the croissant sandwich until the cheese melts, be careful not to overheat.
Yield:

1 serving
Ham And Cheese Croissant
A fresh Ham and Cheese croissant filled with honey ham and cheddar cheese makes a protein rich breakfast in a hurry!
Ingredients
1 croissant
1 slice honey ham
1 slice cheddar cheese
Instructions
Cut the croissant in half lengthwise
Place the ham slice on the bottom half of the croissant
Layer the cheese on the ham
Put the top croissant section on the cheese
Place on a serving plate and warm in the microwave 30 seconds to one minute, until the cheese is just melted.
Serve with fresh fruit
Nutrition Information
Yield
1
Serving Size
1
Amount Per Serving
Calories

420
Total Fat

24g
Saturated Fat

13g
Trans Fat

0g
Unsaturated Fat

8g
Cholesterol

79mg
Sodium

751mg
Carbohydrates

34g
Fiber

2g
Sugar

8g
Protein

17g