Our Delightful lemony limoncello prosecco drink is beautiful at any gathering. Serve this mixed drink for a bridal shower, For a champagne cocktail toast, summer dinner party refreshment or wedding drink.
Limoncello is a liqueur made from fresh lemons. Holy yumminess! It is absolutely bursting with fresh lemon flavor.
Add the sparkling Prosecco wine and your cocktail shimmers and shines with a light lemon tingle for your taste buds.
I made two of the Lemonchello drinks in this video in champagne flutes. This Prosecco cocktail for summer and a Limoncello Fellini with fresh mandarins.
These would both look stunning at a dinner party or special event. Both can also be made less formal but still beautiful in a stemless wine glass.
The Pink Lemonade Cocktail is rather fun, especially tasty and very pretty. Watch the video for instructions to make these easy cocktails.
Prosecco Limoncello recipes make gorgeous sparkling drinks. This light and bubbly mixed drink with fresh lemon flavor is an excellent summer cocktail.
It brings to mind watching an Italian sunset over the Mediterranean Sea. Fresh, vibrant and relaxing all at once.
This Limoncello drink recipe with Prosseco kind of tastes like a sparkling lemon drop candy with fresh bursts of raspberry.
I really like how fast this drink comes together. You can make it for a light drink after dinner recipe. Complete this champagne cocktail in about three minutes tops. It's only two mixed ingredients.
I will warn you. This recipe for limoncello drink with Prosecco will make you a little toasty. Limoncello has about 30 percent alcohol. Prosecco is like most wines about 12 percent.
Looking for more easy and delicious summer cocktails?
Sex on the Beach, Malibu Sunset and Tequila Sunrise Margarita and Watermelon Peach cocktail are beautiful summer drinks.
Check out our cocktail section for our complete cocktail listings.
Is Prosecco a Champagne?
No. A true champagne comes from Champagne France. Prosecco is made in the Prosecco DOC region of Italy and it uses a different method of making it sparkle.
So why use Prosecco for this Champagne style cocktail? Well it's delicious and inexpensive for two good reasons. Another reason to put Prosecco on your shopping list is it's very easy to find in stores. And Prosecco sparkling wine makes a fantastic cocktail.
Which Prosecco?
I chose Cupcake Prosecco for a good mate to limoncello in this drink recipe. And it was very delicious.
Cupcake Prosecco is described by Cupcake Vineyards this way
"Our Prosecco is light and refreshing with a nose that shows hints of white peach, grapefruit and honey-dew melon. The fine effervescence gives way to creamy flavors of ripe lemons and refined citrus notes with a toasted brioche finish. Medium froth, our Prosecco is reminiscent of lemon meringue pie."
You can substitute a comparable Champagne or other sparkling wines for the cupcake Prosecco if you prefer. Be sure you enjoy the flavor blend if you plan to switch the sparkler.
Limoncello Prosecco Drink Recipe:
We chose the Caravella brand Limoncello. Pallini limoncello is also a good choice. Limoncello cocktails have a gorgeous lemon flavor with either of these brands.
The Printable recipe is for an individual serving. It uses the 750 ml Caravella Limoncello and 750 ml Cupcake Vineyards Prosecco. (these are not affiliate links). Follow the directions in the printable for each single serving.
Glasses:
As you can see pictured in this post:
The glasses you use will make a difference in the presentation of this cocktail. limoncello can be dressed up or down. The stemless wine glass offers a less formal look but just as beautiful with more options for garnishing.
The champagne flutes are so elegant not much else is needed to show off the beautiful bubbles and light lemon color. Garnish Lightly.
Garnishes:
I topped this Prosecco cocktail with frozen raspberries. The frozen berries make this drink especially beautiful and yummy.
Garnish this drink with other fresh fruits, a lemon wheel, or mint leaves.
Whatever the color scheme of your event is I'm sure you can make this limoncello cocktails recipe fit right in.
Cooling:
This cocktail can be served at room temperature. However if you wish to serve it cooler here are some tips.
Frozen raspberries will replace ice cubes. Your drink will stay cooler for a while and not dilute.
Garnish with frozen raspberries immediately before serving to cool the drinks.
You can also chill any other fruits, fruit wheels or wedges you choose for garnish.
Chill the limoncello and Prosecco ahead of serving.
Chill the glasses if desired.
FOR small group-6 servings:
Use 1/3 bottle of limoncello to 1 bottle of Prosecco. This will yield approximately 6- 5 oz.servings.
PROPORTIONS FOR A LARGE GROUP EVENT:
We have had requests for the amounts of limoncello and prosecco for a large group. Here is what we came up with. Remember is you make this recipe too far ahead the wine will lose its sparkle.
For every 20 servings- use ONE 750 ml bottle of Limoncello to THREE 750 ml bottles of sweet Prosecco.

This will yield about 20-5 oz.servings (Champagne Flute). You will need 20 lemon slices and several frozen raspberries per glass as well.

NOTE: You can make this limoncello Prosecco punch bowl for a large group. Prosecco wine is sparkling. It will go flat if not consumed fairly quickly.
Suggestion:
Make the punch bowl up close to serving time for the best results.
Or chill the pitcher with the limoncello ahead and add the wine and garnish when you intend to serve.
Your Printable Recipe Card: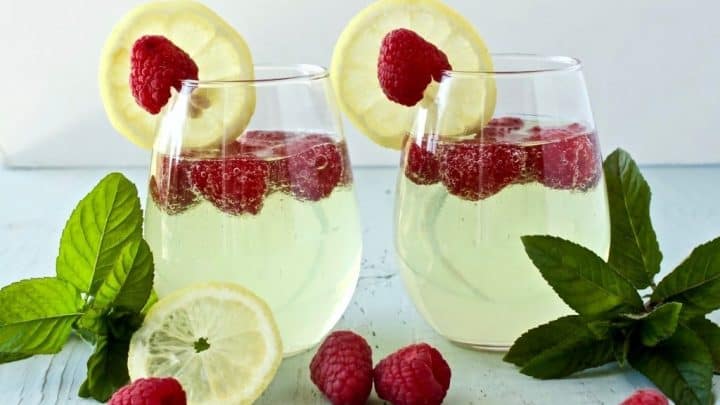 Yield:

1 -6 oz. cocktail
Limoncello Prosecco Cocktail Recipe
Our Delightful lemony limoncello prosecco drink is beautiful for any gathering. The perfect addition to a bridal shower, birthday party or wedding event!
Ingredients
5 oz.prosecco wine
1 oz. limoncello
6 raspberries (frozen)
1 lemon slice to garnish
Instructions
Freeze your fresh raspberries ahead if you want them to cool your drink.
Add in 1 oz. of limoncello to the glass. If you are making a large glass I would add another 1/2 oz.
Fill the champagne flute or wine glass with 5 oz. prosecco.
I put 4 frozen raspberries into the drink to finish it off.
Drink responsibly and Enjoy!
Notes
This cocktail is SO easy to make with only two mixed ingredients. Feel free to play with the proportions a bit to suit the glasses you choose or the look you wish to attain.
Be mind full of the flavor blend. You want to keep the bubbly in line with the lemon flavor.
Nutrition Information
Yield
1
Serving Size
6 oz.
Amount Per Serving
Calories

211
Total Fat

0g
Saturated Fat

0g
Trans Fat

0g
Unsaturated Fat

0g
Cholesterol

0mg
Sodium

1mg
Carbohydrates

31g
Fiber

1g
Sugar

14g
Protein

1g