This beautiful Lemon drop martini is a delicious vodka cocktail with Limoncello liqueur. This is a sweet drink with a bit of lemony zing.
The lemon drop martini has been around since the 70's. This delicious drink resembles a lemon drop candy and is a favorite at fancy cocktail bars. This yummy drink is not only tasty, it makes a beautiful presentation and is perfect to serve at summer gatherings.
Our version of this sweet vodka drink tastes just like a candy lemon drop. Limoncello Italian liqueur is the reason for that delicious candy taste. The fresh lemon juice is just the thing to balance the sweetness of this wonderful drink.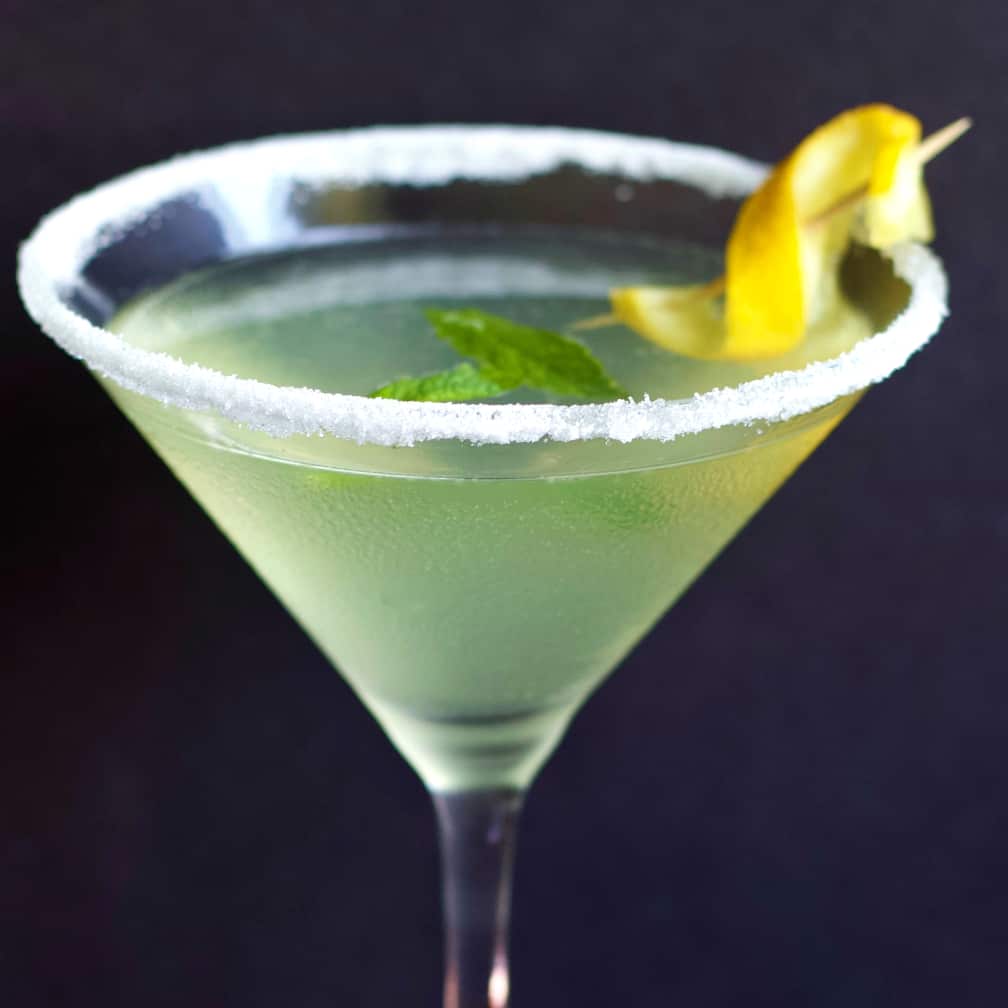 Watch me make this Lemon Drop Cocktail:
Lemon Drop History
The Lemon Drop cocktail originated in in San Francisco California. Norman Jay Hobday created this beauty for his 'Fern bar', Henry Africa's.
Fern bars were specifically designed to provide a comfortable ambience for young women. Sweet drinks are a favorite in that crowd. Norman originated the lemon drop in the 1970s for his female clientele. The Lemon Drop was strongly associated with the famous candy. This lemon flavored sweet party drink quickly ascended in fame.
It's still very popular and has been recreated into endless versions. Originally the Lemon drop was served in a cocktail glass and is still often served that way.
Over time the Martini style Glass became a popular way to drink this cocktail. A sugared rim adds an elegant touch.
This is not a martini recipe. But it does make a stunning presentation in a martini glass.
Find our complete listing of Limoncello drinks in our Cocktail Section .
Why is it called a Lemon Drop Martini?
The Lemon Drop martini is said to be named after the famous candy "Lemon Drops." These candies are delicious hard candies with a chewy center. The taste of the candy is sweet with a sour tang. This cocktail has very similar flavor profiles. The lemon drop shot also has familiar sweet and sour lemon flavors. The secret to the candy taste in the Lemon drop martini is the Limoncello. This Italian liqueur tastes just like a lemon drop candy.
What are Lemon Drop Martinis made of?
Lemon drop martinis are made with Vodka, Triple Sec (Cointreau), Limoncello, fresh lemon juice, and sugar. The goal of this drink is make it closely resemble a lemon drop candy. To achieve this the drink must have an even taste of sweet and sour. The tart flavor from the fresh lemon juice can overpower the sweetness of the limoncello. We add sugar into this drink to help balance out the tart lemon flavors. Simple syrup is also a great option to try in this drink if it is too tart.
What Does a Lemon Drop Drink taste like?
A lemon drop martini or cocktail should taste like the popular lemon drop candy. The flavor goal for this drink is the perfect mix of tart lemon and sweet sugar. None of these flavors should overpower each other. Top this drink with a sugar rim to maintain a hint of sugar in each sip of this cocktail. Adding Limoncello in a lemon drop cocktail is a great way to bring in the candied lemon flavor.
How do you make a Tequila Lemon Drop?
Lemon drops can be made with Tequila. However, the taste of tequila will significantly alter the flavor and lessen the taste of the lemons. Vodka allows for the flavors to pull through the drink better. To make this drink with Tequila follow these steps:
Fill cocktail shaker with ice
Add 1.5 oz of Silver Tequila
Add 1/2 oz of Triple Sec (cointreau works best)
Add 1 oz simple syrup
Add 3 oz fresh lemon juice
Shake really well
Strain into chilled cocktail glass
Top with club soda for an extra fizz
Garnish with lemon slice and mint
Why are Lemon Drops so strong?
Lemon Drops are fairly strong with a heavy dose of alcohol. A lemon drop martini has 3.5 oz of alcohol in it total. This makes it much stronger than a standard cocktail which normally contains 2-2.5 oz of alcohol total. To bring down the alcohol content of this drink, you can do 1.5 oz of vodka, and 1/2 oz of limoncello. This will lower the potency of the drink without altering the flavor significantly. This will make the drink less liquid volume. To top up the liquid, add club soda to the drink after shaking and straining it into a glass.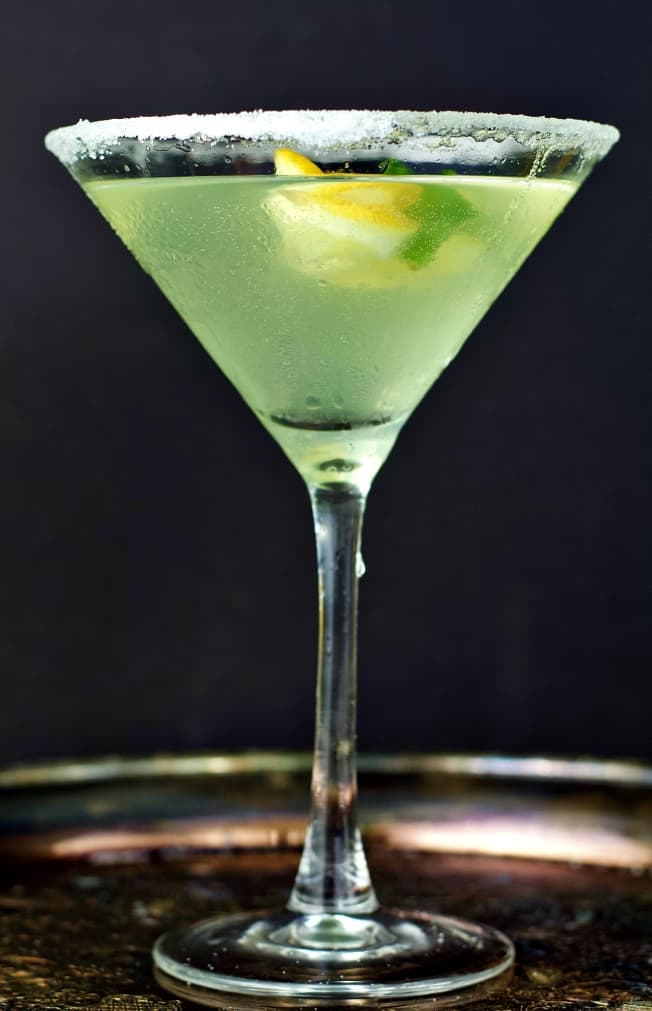 Lemon Drop Martini Ingredients
The lemon Drop martini with limoncello first caught my eye at the Farm Wife Drinks if you want to hop on over and take a look.
Limoncello:If you have tasted Lemon drop limoncello you know how perfect it is for this sweet cocktail. The fresh lemon juice and the lemon twist keep this Limoncello recipe beautifully balanced.
Triple Sec: This orange liqueur is another bit of sweet citrus to balance the lemon.
The vodka is unflavored and adds very little flavor to this Sweet alcoholic drink. But it does bring in the kick you should expect from a good lemon drop recipe .
Tip: To adjust your cocktail sweetness twist a bit of lemon oil from the garnish rind into the drink.
The Garnish:
Rimming the Glass:
Tip: Whir up your sugar in a food processor or blender if you want a finer grind. Or purchase superfine sugar.
Choose a flat plate large enough in circumference to turn your martini glass upside down flat.
Sprinkle sugar to a depth of about 1/4 inch over the plate surface.
Use a cut lemon or lime to wet the edge of your CHILLED martini glass.
Turn your prepared glass upside down on your sugared plate and turn it gently.
Scoop sugar over the wet edge until the entire edge is sugared as desired.
TIP: Non Organic Lemons have waxed rinds. For a lemon twist or to squeeze the oil of the rind into your yummy cocktail choose organic lemons for best results.
To make the lemon twist:
cut a narrow strip of rind off the lemon.
Cut some of the white pith off the strip.
Twist the strip of rind and skewer it on a toothpick as shown.
OR twist your rind around a metal cocktail pick, kabob skewer or other thin stick until the rind form a curl.
Drop over the side of your glass.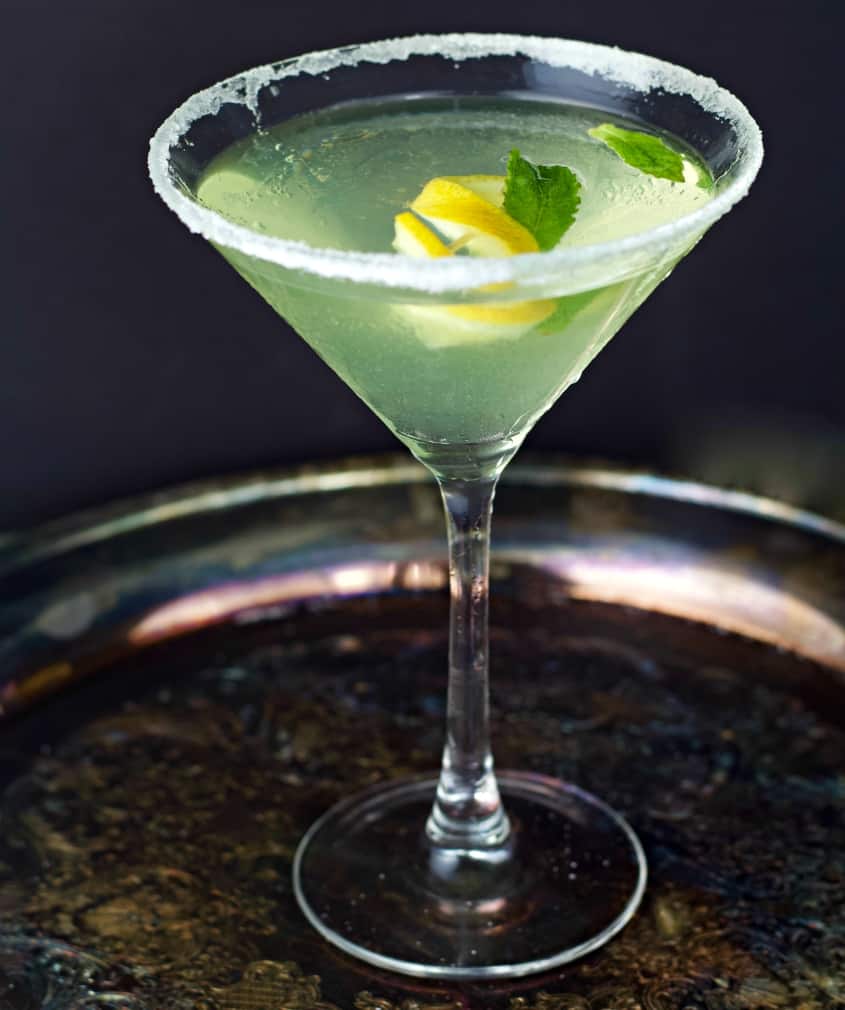 The Mint:
You will only need a leaf or two floating in your glass for a bit of green in your drink. The mint will brighten the flavors with freshness.
TIP: To increase the mint flavor. Bruise the fresh mint leaves a bit to open the pores. Now the mint flavor and smells will escape into the cocktail.
Lemon Drop Martini Recipe: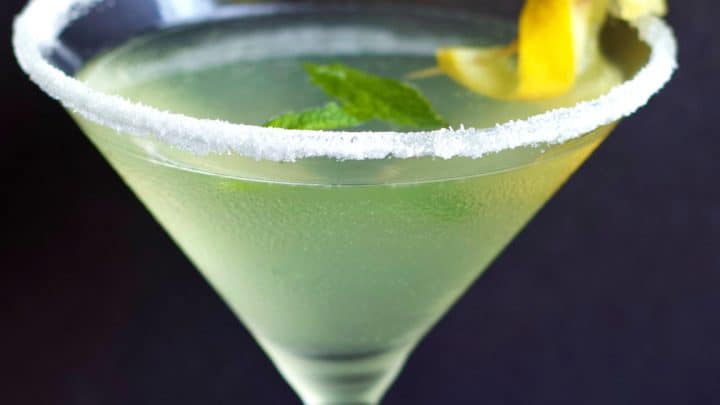 Yield:

1 lemon drop cocktail
Lemon Drop Martini with Limoncello
A beautiful blend of limoncello, vodka and Triple sec. A lovely lemon drop flavor hitting just the right sweet spot.
Ingredients
2 oz. Vodka
1 oz. Limoncello
1/2 oz. Triple Sec
1/2 Tablespoon fresh lemon juice
1/2 tsp. sugar
Garnish:
1 lemon twist
2 mint leaves
sugar as needed for rimming the glass
Instructions
Chill the glass ahead.
Rim your glass with sugar if desired as shown in video and post instructions.
Pour the vodka, Limoncello, sugar. lemon juice and triple sec into a cocktail shaker filled with ice.
Shake until the shaker is very cold.
Pour the cocktail into your chilled glass.
Garnish as desired with lemon twist and mint leaves.
Recommended Products
As an Amazon Associate and member of other affiliate programs, I earn from qualifying purchases.
Nutrition Information
Yield
1
Serving Size
1 lemon drop cocktail
Amount Per Serving
Calories

355
More Delicious Cocktails: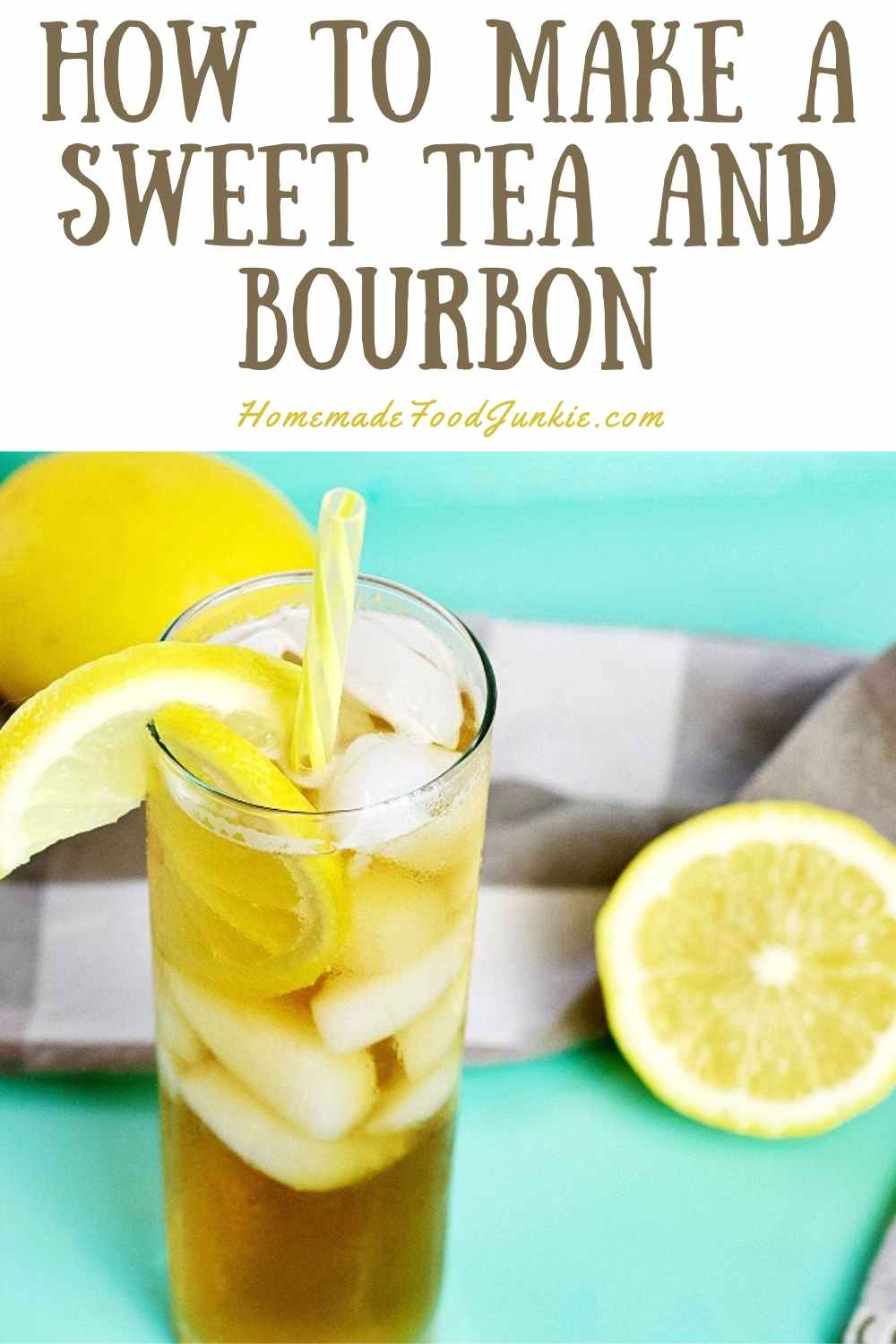 Follow Us:
We enjoy meeting you on our social networks. Follow us on Facebook, Pinterest, Instagram . Tag us with your pictures of our recipes and comment on how it went for you. We would love to see what you do with them.
We often like, comment and share your posts of our recipes on our daily Instagram stories.
Ask questions and rate the recipe in the comments section below. Please share what you did with this recipe. We are always looking for more and better ways to make homemade food. Other cooks love your ideas!
Recent Posts: