The delicious Lemon Drop Shot tastes like the iconic lemon drop candy. Vodka and lemon are two delicious ingredients that come together to make this fun, sweet and citrusy shot.
It's a quick drink to make at home and requires a just few ingredients. We are sharing how to make this famous drink, as well as suggestions for how to get the most out of this classic pairing.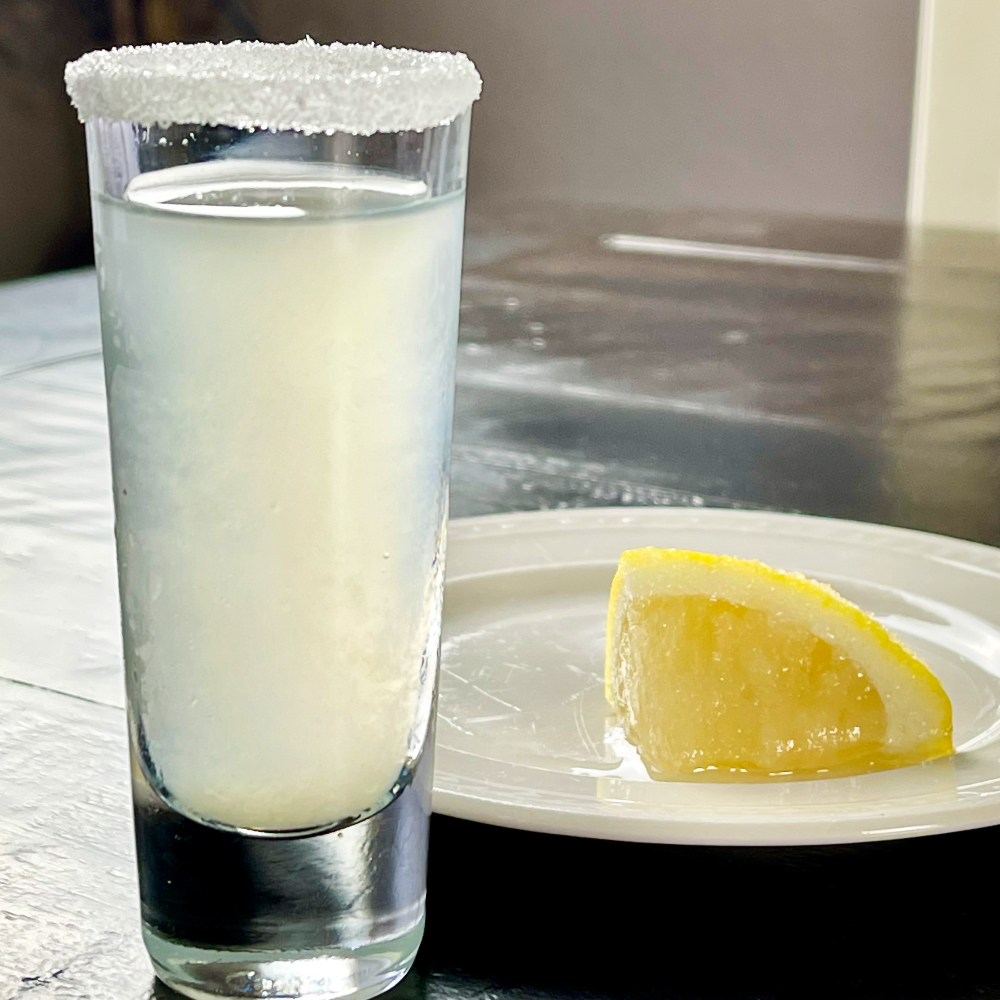 Watch our video recipe demonstration making this candy shot
More Shot Recipes
These are just a few or our fun shot recipes. Be sure to check out entire Cocktail Section to see all of our shots and cocktail recipes.
What are Lemon Drop Shots made of?
The simple Lemon Drop Shot is made with vodka and fresh lemon juice shaken together and poured into a sugar rimmed shot glass. Throw back the shot and suck on a sugared lemon wedge. There you have it! A simple shot that tastes like the lemon drop candy.
It's fun, simple and scrumptious.
Is the Lemon Drop Shot the same as the Lemon Drop Martini?
The Lemon Drop is actually not a martini. The only thing that gives this drink the title 'martini' is that it can be served in a martini glass. The shot simplifies the presentation and brings the experience into a fun, party like experience.
The martini is made with nearly the same ingredients but served as a more sophisticated drink in a martini glass with a classy lemon twist.
Lemon Drop Shot Ingredients
We highly recommend you use a fresh lemon. The flavor of fresh lemon juice cannot be beat. Cut it in half. Use 1/2 for the shot and cut the rest into a wedge for the sugared lemon.
Sprinkle sugar on the lemon wedge and set it aside. Once you have drunk the shot…
Bite the sugared lemon wedge. Lemon drop candy in a glass.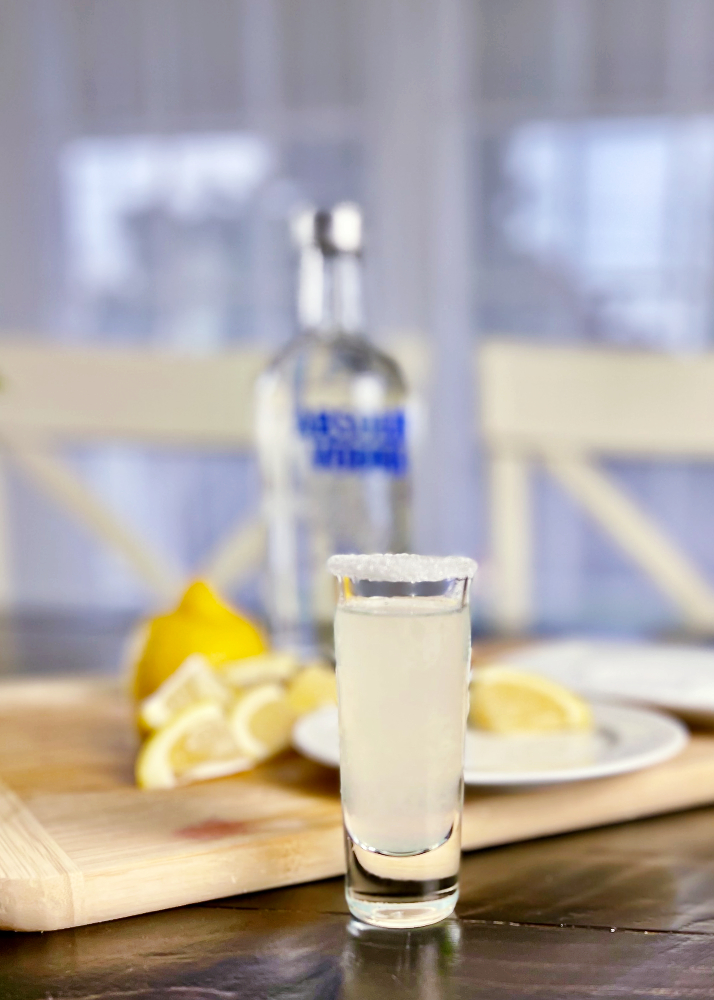 Making the shot
Vodka (we chose Absolut vodka -your favorite is fine for this shot)
Fresh squeezed lemon juice
Rimming the glass
Use simple syrup to wet the glass rim since it is sticky and holds the sugar really well.
You can also use the cut lemon to wet the rim.
The Sugared Lemon Wedge
The sugared lemon wedge is actually a part of the recipe. The lemon drop shot experience is all about that sweet lemony zing we all love in the lemon drop candy.
Like licking salt after tequila biting a sugared lemon will really bring out that final element of this fun drink.
The Shot Glass
The glass we use is the Tall Shot glass. These taller shots hold 2.25 oz.
If you use a short shot glass they will be very full and the sugared rim may not work as well for you.
Your Printable Recipe Card
Below you will find our printable recipe card and at the bottom below the notes is our video recipe demonstration.
Yield:

1 shot
Lemon Drop Shot Recipe
This easy shot tastes like lemon candy! It's a quick shot to make at home and only requires a few ingredients.
Ingredients
1 oz. Vodka
1 Fresh Lemon
Rimming Glass Ingredients:
1/4 Cup Sugar
2 Tablespoons Simple Syrup
Instructions
Rim Glass:
Set out two small flat plates
Pour a small amount of simple syrup on one plate.
Make a small pile of sugar on the other plate.
Invert the shot glass into the simple syrup.
Now set the wet rim into the sugar and twist the rim gently to evenly distribute the sugar over the simple syrup rim.
Set glass aside.
Make Lemon Drop Shot:
Pour ice into your shaker.
Add vodka to the shaker.
Squeeze 1/2 the lemon and measure out 3/4 oz. fresh lemon juice into shaker.
Shake until very cold (30 seconds or so).
Pour into rimmed shot glass.
Garnish:
Cut the remaining lemon half into wedges and rub them in the remaining sugar from the rimming process.
Serve the lemon drop shot with the sugared lemon wedge.
Suggested Drinking method:
To get the best lemon candy experience drink the shot and immediately bite down on the sugared lemon wedge.
Nutrition Information
Yield
1
Serving Size
1
Amount Per Serving
Calories

89
Total Fat

0g
Saturated Fat

0g
Trans Fat

0g
Unsaturated Fat

0g
Cholesterol

0mg
Sodium

2mg
Carbohydrates

8g
Fiber

2g
Sugar

2g
Protein

1g
Follow Us:
We enjoy meeting you on our social networks. Follow us on Facebook, Pinterest, Instagram . Tag us with your pictures of our recipes and comment on how it went for you. We would love to see what you do with them.
We often like, comment and share your posts of our recipes on our daily Instagram stories.
Ask questions and rate the recipe in the comments section below. Please share what you did with this recipe. We are always looking for more and better ways to make homemade food. Other cooks love your ideas!
Recent Posts: