Cute and yummy. Pineapple Upside Down Cake shots are a light sweet layered shot perfect for a girls night or small gathering of friends. This recipe makes two tall shots.
The upside down pineapple cake shots are a blend of vanilla vodka, pineapple juice, and sweet grenadine syrup. The shots are garnished with a maraschino cherry on the side for a pop of color. These beautiful shots are easy to make. Serve these delicious shots at any gathering.
These are easy to whip up quickly, making them perfect for a party. Just make sure you don't shake or stir them before serving. The layers can mix together quickly.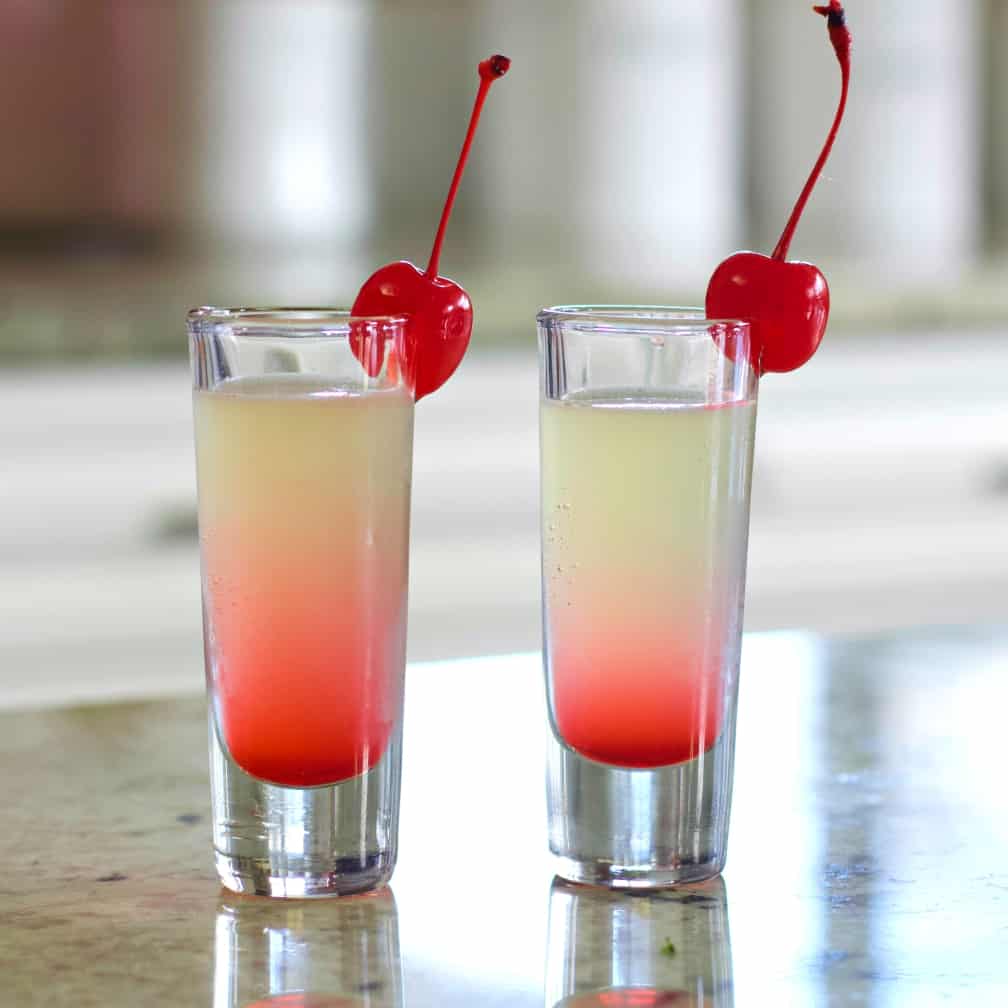 Vanilla vodka, pineapple juice and grenadine are all you need to put this sweet shot recipe together.
More Yummy Shots: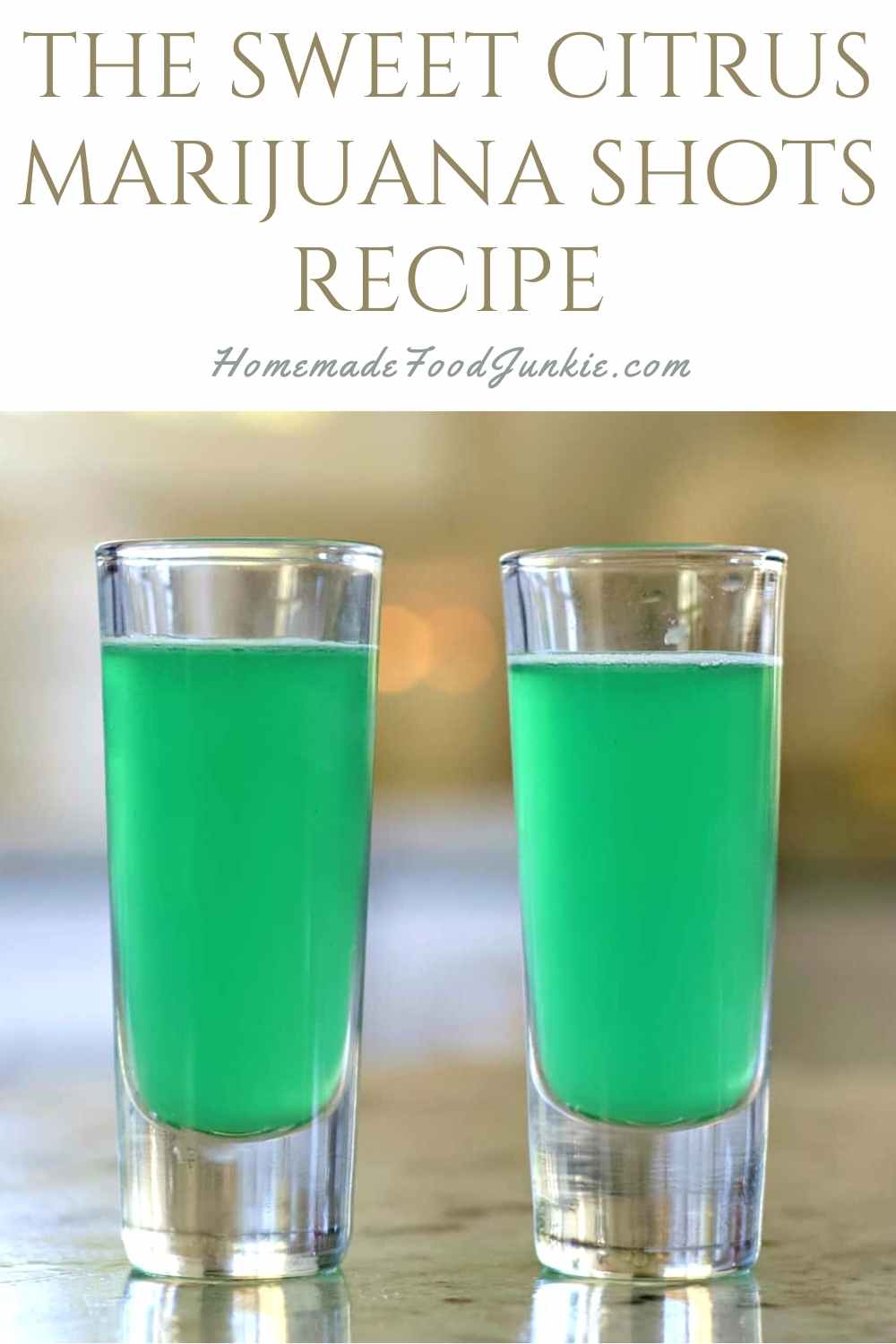 Visit our Cocktail section for a complete index of all our cocktails and shots.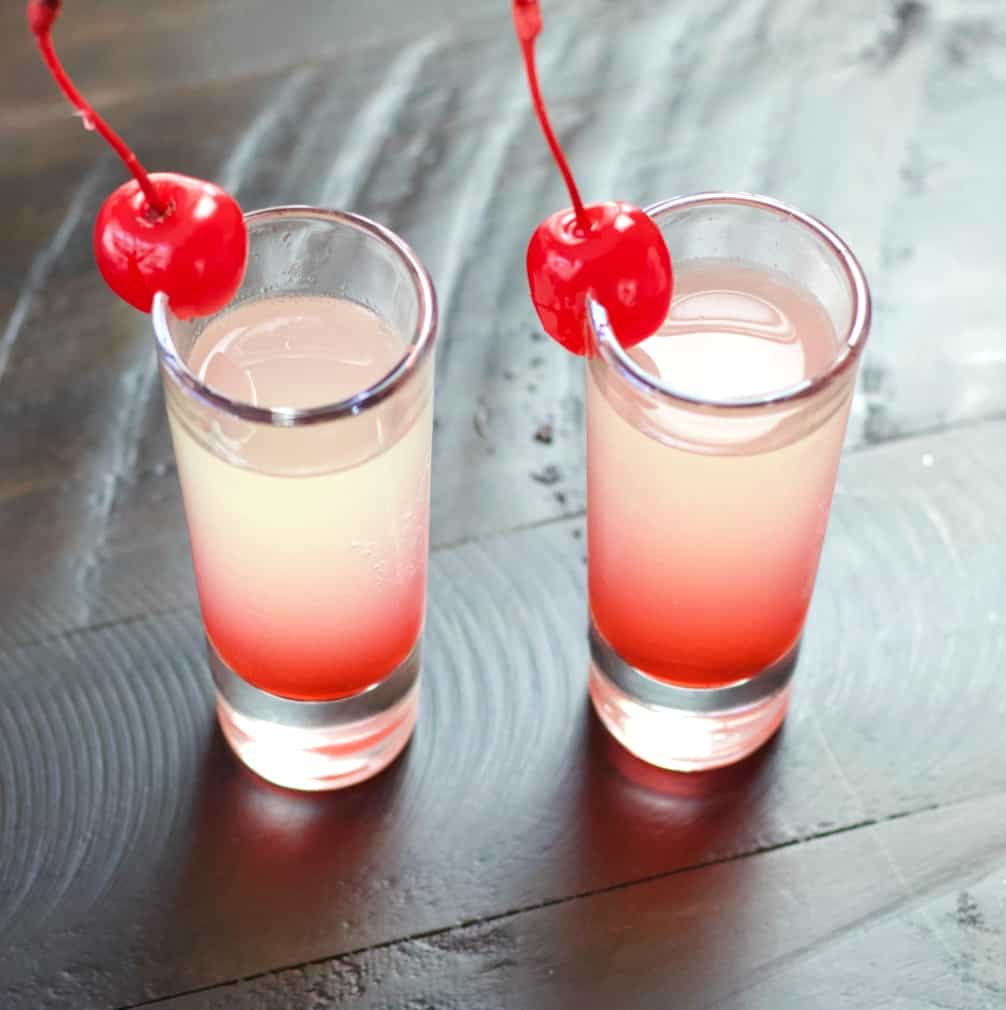 How much Alcohol is in the Pineapple Upside Down Shot?
The pineapple upside down cake shot has 1.5 oz of vodka total. The pineapple juice and grenadine syrup are both non alcoholic additions to the drink. This shot is relatively light in terms of alcohol. When split between two shot glasses, they only contain 3/4 oz of vodka each.
What is Grenadine?
Grenadine is a non alcoholic simple syrup that is made with a pomegranate base. This red syrup has been used in cocktail making for decades. Grenadine is a sweet and heavy syrup with a bright red color that makes it perfect for layering drinks. The Grenadine has a high sugar content that makes it sink to the bottom of drinks. The heavier the sugar content, the farther the liquid will sink in the glass.
For this recipe we used the grenadine to create a red layer and provide an extra sweetness to the drink. The grenadine in this recipe mimics the maraschino cherry layer in a traditional pineapple upside down cake.
Pineapple Upside Down Cake Shot:
This shot is a sweet mix of pineapple juice, vanilla vodka and grenadine. These vodka shots taste like pineapple cake.
The pineapple juice and cherry on top with the grenadine layer bring in the upside down cake vibe.
The red layer at the bottom really perks up this drink. It's sweet and stunning.
This light shot makes a great birthday cake flavored toast. Add in the Chocolate cake shot and you have two fun party drinks to celebrate those special anniversaries. Enjoy!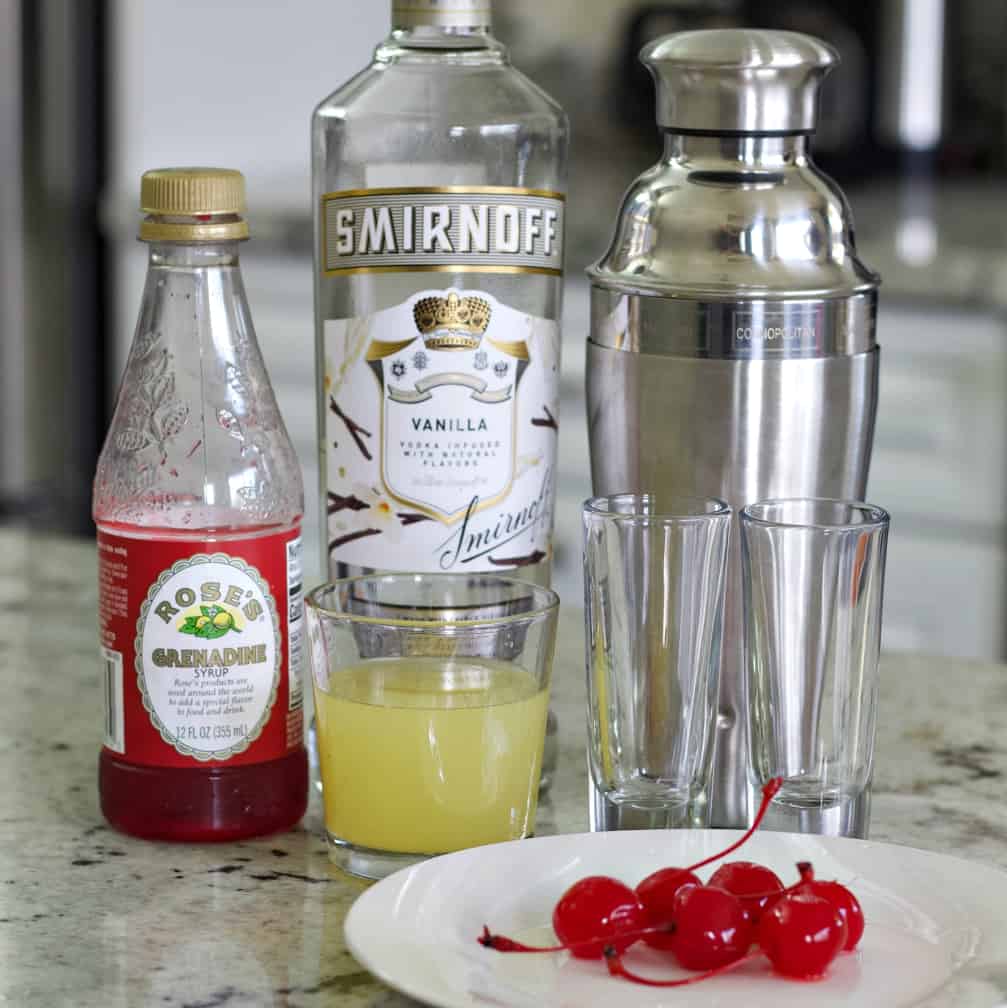 Ingredients list: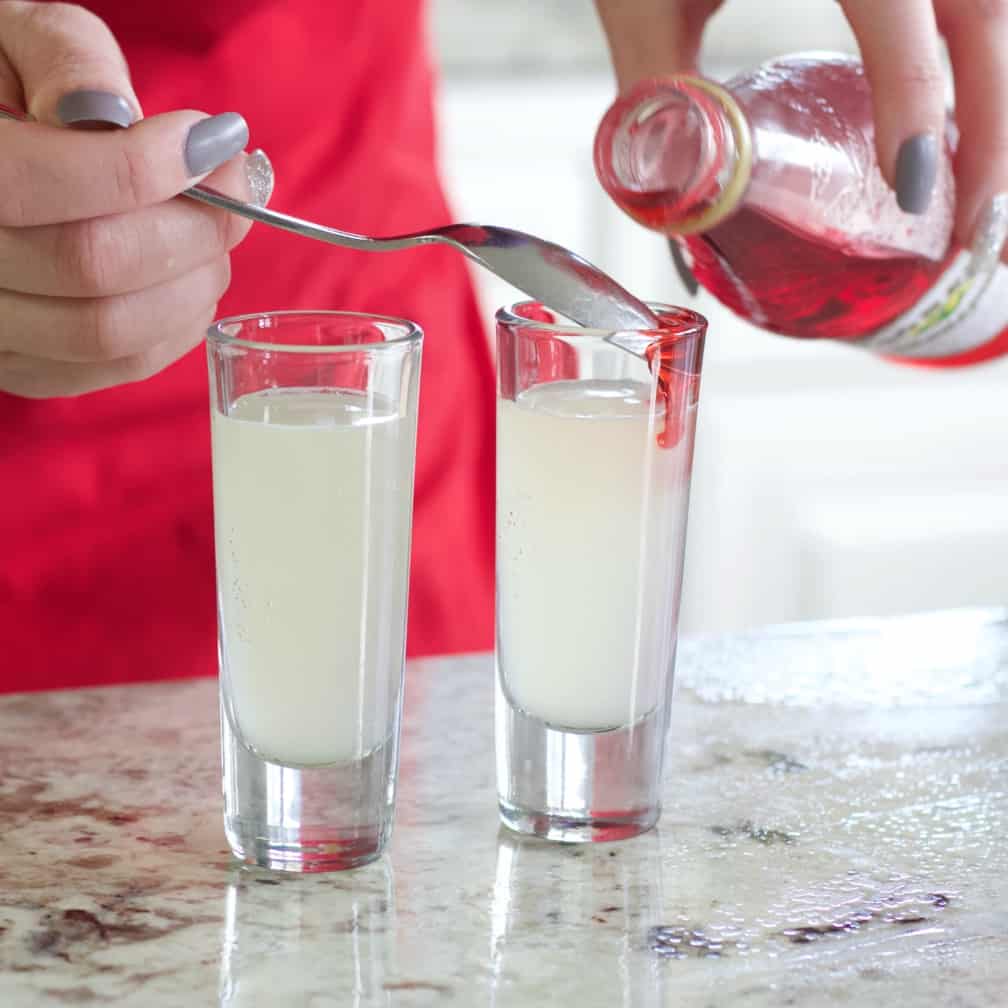 Tips For Pineapple Shots:
Choose a filtered clear pineapple juice to get the clarity of results you see here.
Shake the vodka and pineapple juice in your cocktail shaker with ice to blend the flavors, add aration and chill the shot.
Chilling the glasses is really not necessary if you shake the drink. Shots are small and will not sit for long.
Use the grenadine to add a layer of red in the bottom of the drink. Drizzle the grenadine syrup over the back of a spoon and down the side of the glass to minimize diffusion.
Use the tall shot glasses to really show off the clarity and layering.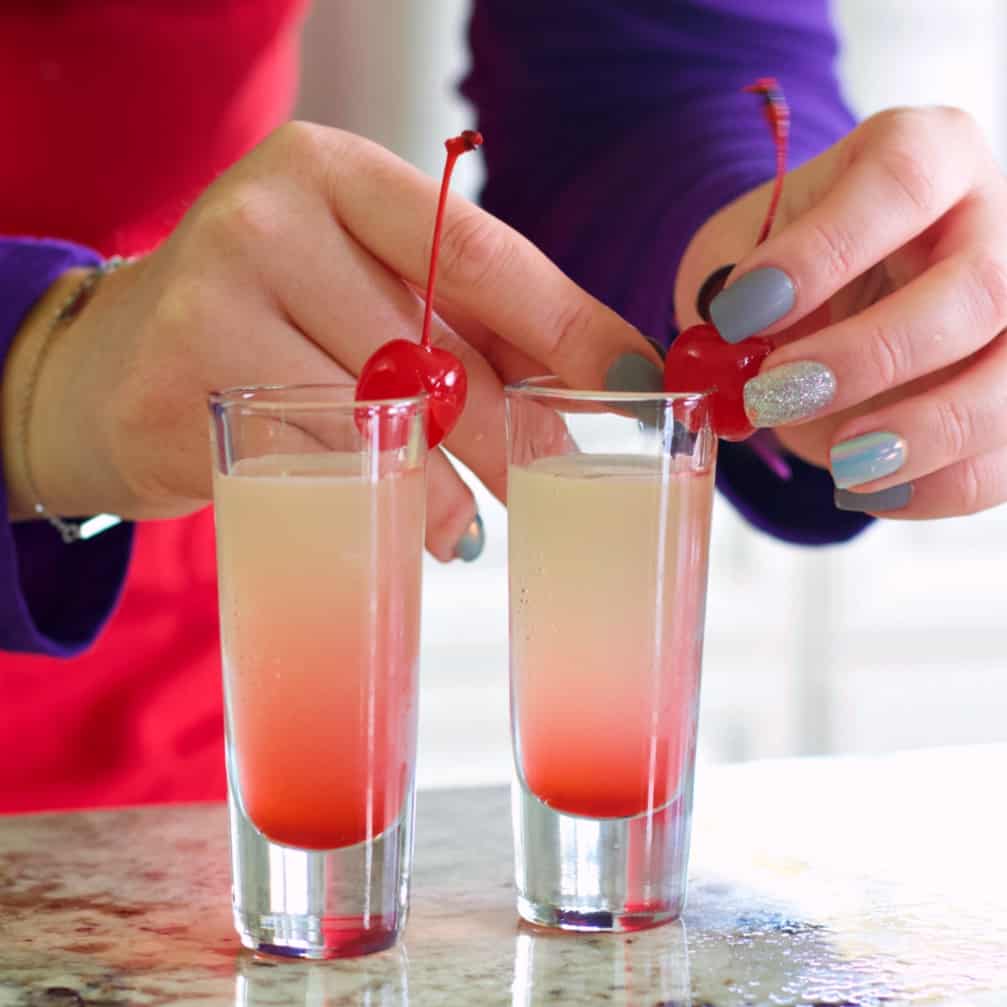 The Glasses:
We chose tall shot glasses for this pineapple upside down shot. They show off the layering in just the correct proportions. And we like the slim tall look of this shot. Here's a few links for tall shot glasses on Amazon.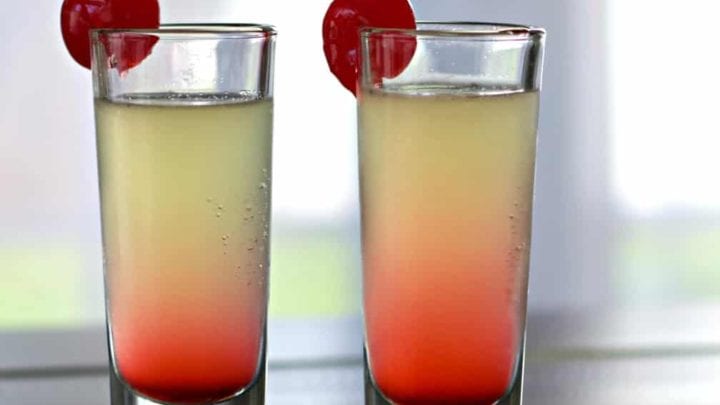 Yield:

2 shots
Pineapple Upside Down Cake Shot
Cute and yummy. Pineapple Upside Down Cake shots are a light sweet layered shot perfect for a girls night or small gathering of friends.
Ingredients
1 1/2 oz. vanilla vodka
1 1/2 oz. pineapple juice (use filtered juice for best clarity)
1/4 oz. grenadine
Instructions
Add ice to your cocktail shaker
Measure and pour the vodka and pineapple juice into the shaker.
Seal the shaker and shake vigorously for 30 seconds or until the shaker is very cold.
Pour the pineapple shot equally into two tall shot glasses.
drizzle the grenadine slowly over the back of a spoon into the shot. (see video) to create the layers.
Garnish with a cherry on the side.
Notes
Please watch the video below for a complete recipe demonstration.
Nutrition Information
Yield
2
Serving Size
1
Amount Per Serving
Calories

70
Total Fat

0g
Saturated Fat

0g
Trans Fat

0g
Unsaturated Fat

0g
Cholesterol

0mg
Sodium

2mg
Carbohydrates

6g
Fiber

0g
Sugar

5g
Protein

0g
Follow Us:
We enjoy meeting you on our social networks. Follow us on Facebook, Pinterest, Instagram . Tag us with your pictures of our recipes and comment on how it went for you. We would love to see what you do with them.
We often like, comment and share your posts of our recipes on our daily Instagram stories.
Ask questions and rate the recipe in the comments section below. Please share what you did with this recipe. We are always looking for more and better ways to make homemade food. Other cooks love your ideas!
Recent Posts: