The White Gummy Bear Shot is a sweet blend of raspberry flavored vodka and peach schnapps. Add a bit of sweet and sour to give it an edge, pour in a thimbleful of lemon lime soda for a touch of the fizz and you have a delicious shot that taste like a gummy bear candy.
These are great drinks for wedding showers, bachelorette parties, baby showers or a fun girls night. The white gummy bear shot is another perfect peachy party drink.
Watch us make the White Gummy Bear Shot
We love peach schnapps drinks like the Watermelon Peach Cocktail and our Crown Royal Peaches and Cream Drink. Like the Pink Starburst Shot this shot also uses candy for a bite of fun. This is the second in our series of candy inspired shots.
What alcohol is best for Gummy Bears?
Whether you're infusing gummy bear candies with alcohol, or creating a tasty drink to enjoy alongside these iconic candies; vodka is the best alcohol to use with gummy bears. Vodka is a neutral alcohol that won't fight with the flavors of the candy, allowing for an infusion of alcohol without muddying the experience.
What happens when you mix alcohol and gummies?
Alcohol and sugar are powerful together and can make you sicker quicker. It's important to enjoy all candy inspired and infused drinks responsibly. Nausea and vomiting can overcome you quickly because of the overload of sugars in your body's system.
That said, they are a delicious pair that create fun drinks and edibles.
How can I serve Gummy Bear Shots?
These fun, tasty shots hold their own at an event or party. The simple nature of shots lends itself to easy serving and fast enjoyment. But, if you're looking to create a fun aesthetic we are sharing some of our favorite ideas for how to dress up these shots.
Serve with a sugared rim
Serve with gummy bears on a cocktail skewer
Drop a bear or two in the bottom of the glass
Serve with a rock candy stick for more texture and visual enjoyment
Rim the shot glasses with colored sprinkles to play up the candy theme
White Gummy Bear Shot Recipe
This is a simple stirred drink. Make it in your cocktail shaker with ice and give it a swirl. Pour, garnish and enjoy.
You can choose to throw the dummies into the bottom of your glass if you like. Thats often how people drink the white gummy bear shot. We chose to garnish with a bear on a cocktail pick.
What is a Gummy Bear Shot made of?
The White Gummy Bear Shot ingredients are simple and scrumptious. A tasty raspberry vodka shot made with peach schnapps, sweet and sour, a bit of lemon lime soda, and dressed up with a sugared rim.
Sweet and Sour Mix
Lemon Lime soda
Yield:

2 shots
White Gummy Bear Shot
Ingredients
1 oz. Raspberry Vodka
1 oz. Peach Schnapps
1/2 oz. Sweet and Sour Mix
1/2 oz. lemon lime soda
2 white gummy bears
Instructions
Prep:
Rim the glasses.
Pour simple syrup on a flat plate and on another plate pour white sanding sugar.
Invert the shot glsses one at a time into the simple syrup, Then into the sanding sugar until they are both coated.
Pierce the white gummy bears on separate picks
Set aside the glasses and picks.
Make the shot:
Add ice Into a cocktail shaker.
Pour in the Vodka, schnapps, sweet and sour and the soda.
Stir with a mixing spoon.
Pour the shots equally into the rimmed glasses.
Add the picks and serve.
Notes
Gummy bear shots are often served with the bears in the bottom of the glass. The bears will soak up the drink flavors and make it sweeter!
Nutrition Information
Yield
2
Serving Size
1
Amount Per Serving
Calories

102
Total Fat

0g
Saturated Fat

0g
Trans Fat

0g
Unsaturated Fat

0g
Cholesterol

0mg
Sodium

3mg
Carbohydrates

11g
Fiber

1g
Sugar

8g
Protein

0g
Check out our Cocktail Section for all our delicious adult beverages
More Vodka Shots
We have so many delicious vodka drinks on this site. Here's a few of our favorite vodka shots your are sure to enjoy.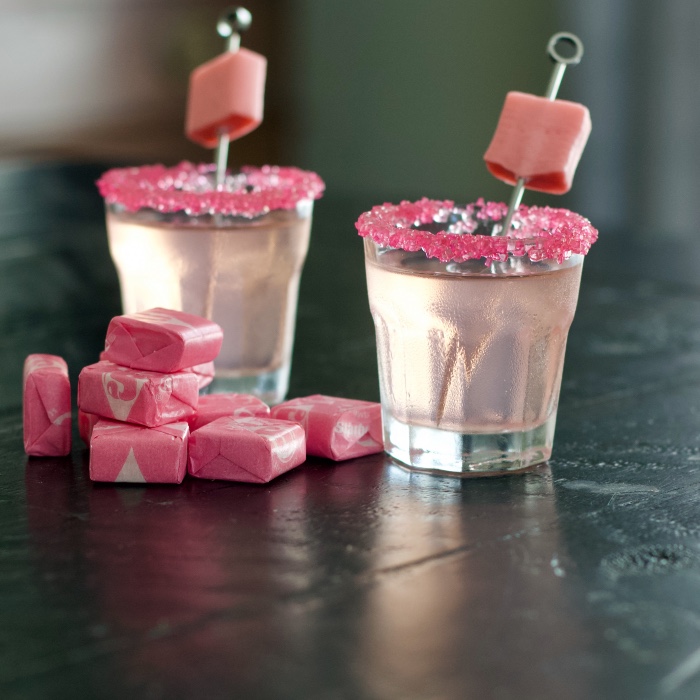 Follow Us:
We enjoy meeting you on our social networks. Follow us on Facebook, Pinterest, Instagram . Tag us with your pictures of our recipes and comment on how it went for you. We would love to see what you do with them.
We often like, comment and share your posts of our recipes on our daily Instagram stories.
Ask questions and rate the recipe in the comments section below. Please share what you did with this recipe. We are always looking for more and better ways to make homemade food. Other cooks love your ideas!
Recent Posts: