Sparkling cream soda, peach schnapps and Crown Royal Peach whiskey make a dandy peaches and cream summer cocktail. Refreshing and delicious this whiskey drink is the perfect cool down for hot summer days.
Crown Royal Peach was introduced in 2019. This delicious whiskey is a limited edition release that features light vanilla spice notes, with sweet Georgia peach flavors. This whiskey is excellent to sip all by itself, or in a delicious cocktail. Crown Royal Peach makes a fantastic base for a mixed drink, and takes whiskey drinking to a whole new level.
The peaches and cream cocktail is a tasty blend of sweet peach flavors, and cream. This cocktail is sweet enough to serve at any cocktail party and be an instant crowd pleaser. It's very easy to drink, and even easier to make.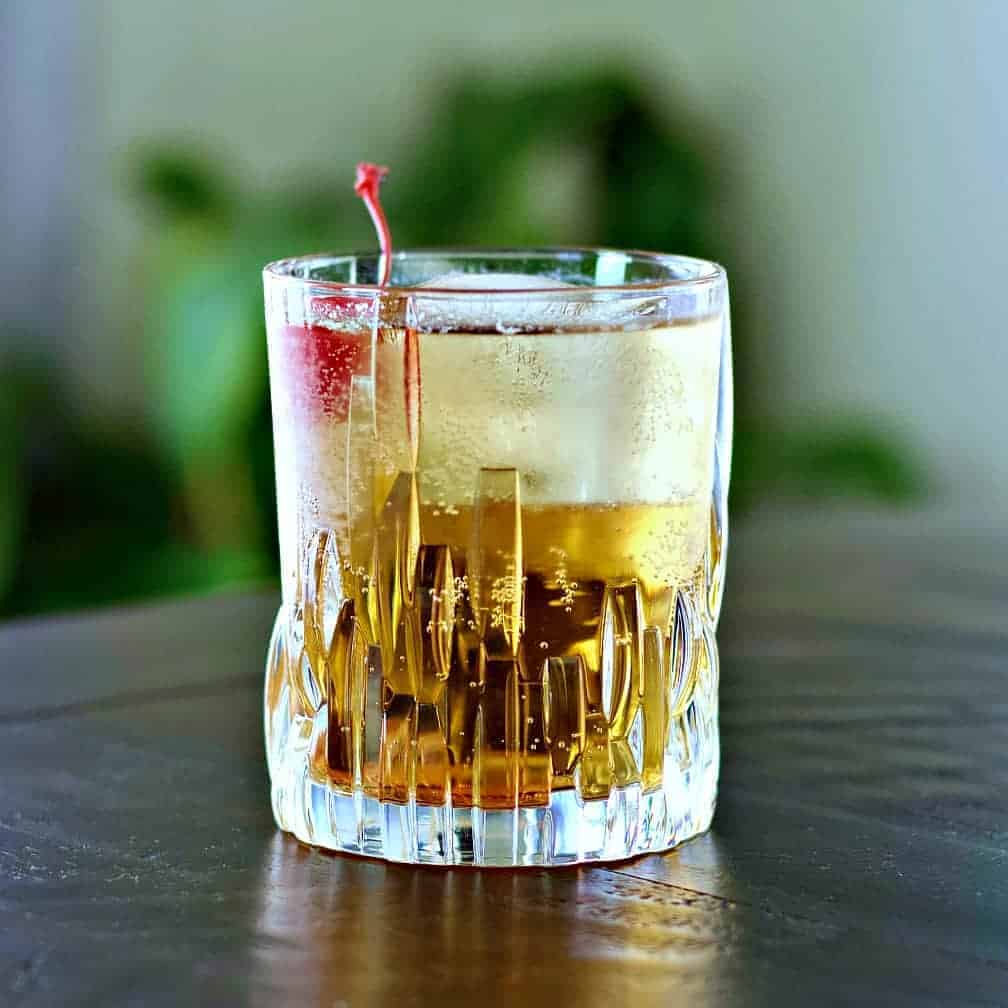 After a browsing trip at our local BevMo my husband came home with TWO bottles of Crown peach. And he splurged on a really cool whiskey glass.
We host a monthly Poker night. Crown Peach is coming to the party. 🙂
If your wondering where to buy peach crown royal BevMo is our recommendation. The staff is wonderfully helpful and knowledgeable and they have LOTS of interesting stock.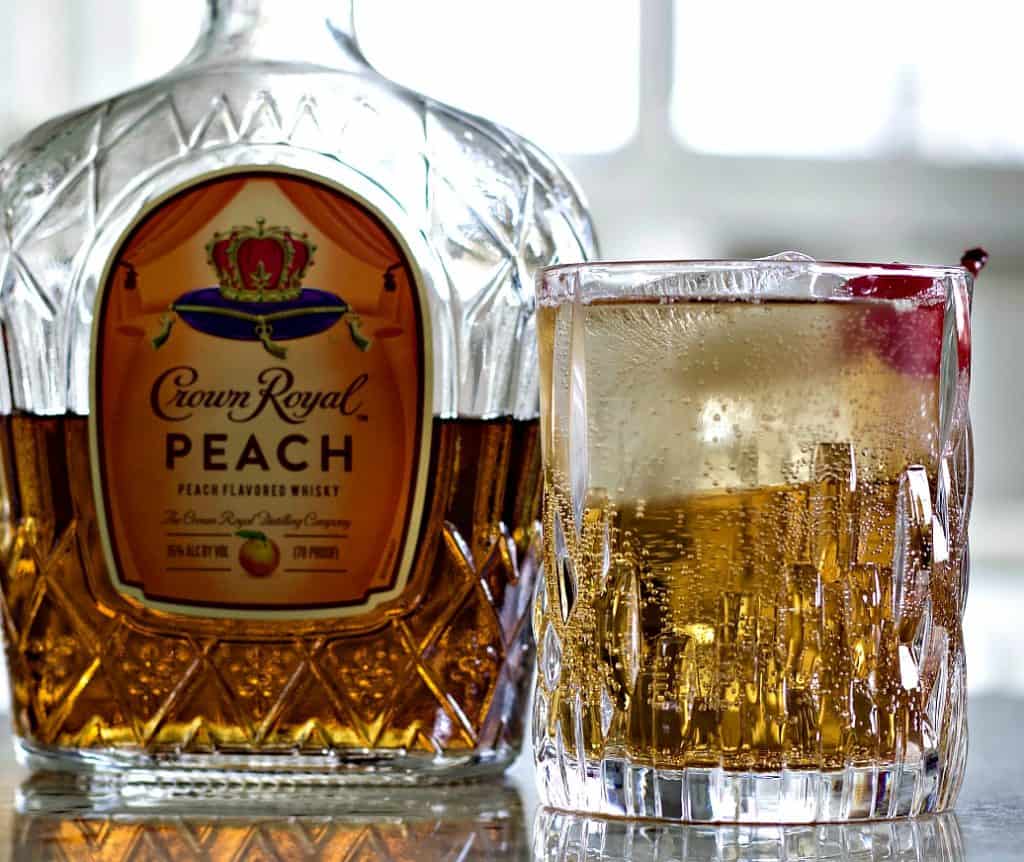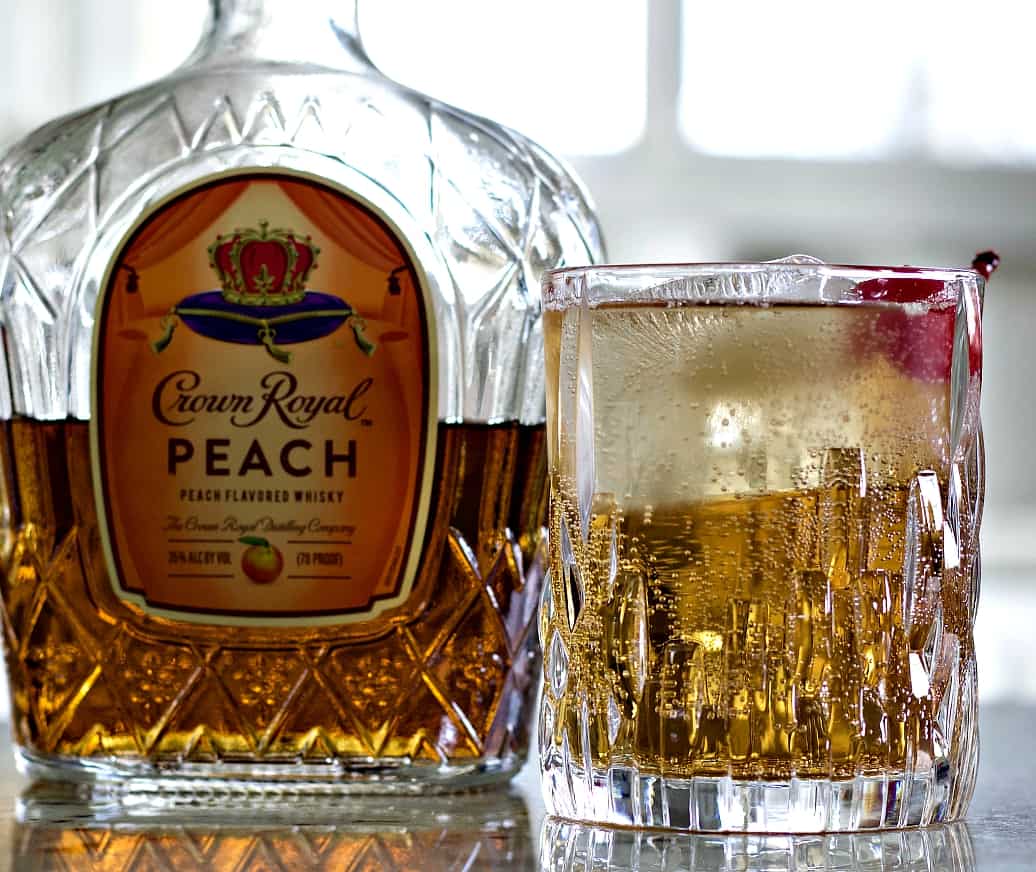 I created this Crown royal Peach recipe to celebrate this vibrantly delicious whisky bursting with the luscious flavor of peaches.
What Mixes well with Crown Peach?
Lots of flavors pair easily with peach. Here are a few ideas for different mixers to blend with the Crown Royal Peach whiskey.
Champagne
Grenadine
Peach Schnapps
Cinnamon Whiskey
Mango Juice
Pineapple Juice
Club Soda
Iced Tea
Lemonade
Sprite Zero
Ginger Ale
Choose the mixer you want according to your taste preference. Some people do not like overly sweet cocktails, for that crowd I would choose a diet soda, or zero sugar mixer. Taste the crown peach straight before deciding on a mixer for it.
What does Peach Crown Royal Taste like?
Peach crown royal tastes very similar to peach ring candy. The whiskey is pleasantly sweet with a strong peach flavor. If you are a fan of flavored whiskeys, definitely try out the Peach crown royal. It is an easy sipper for those that are new to Whiskey.
What is in Crown Royal Peach?
According to the bottle, Crown Royal Peach contains whiskey, water, sugar, natural, and artificial flavors. This is how the company describes the Crown Peach:
I'm just getting started creating Peach Crown royal drinks. This is a new whiskey flavor by our favorite Canadian whiskey brand. Crown Royal peach has been incredibly popular since its release in 2019. The smooth and sweet taste of this whiskey makes it a popular choice for both whiskey, and non whiskey fans alike.
We enjoy the smoothness of crown royal whiskies. For the price point it's a great whisky for mixed drinks. It's easy to find and has wide appeal.
Peach crown does not disappoint. Mix it or drink it neat. It's also good with iced tea stirred in.
More Whiskey Drinks:
We are big fans of crown royal apple too. If you haven't tried it pick up a bottle and make these apple whiskey drinks.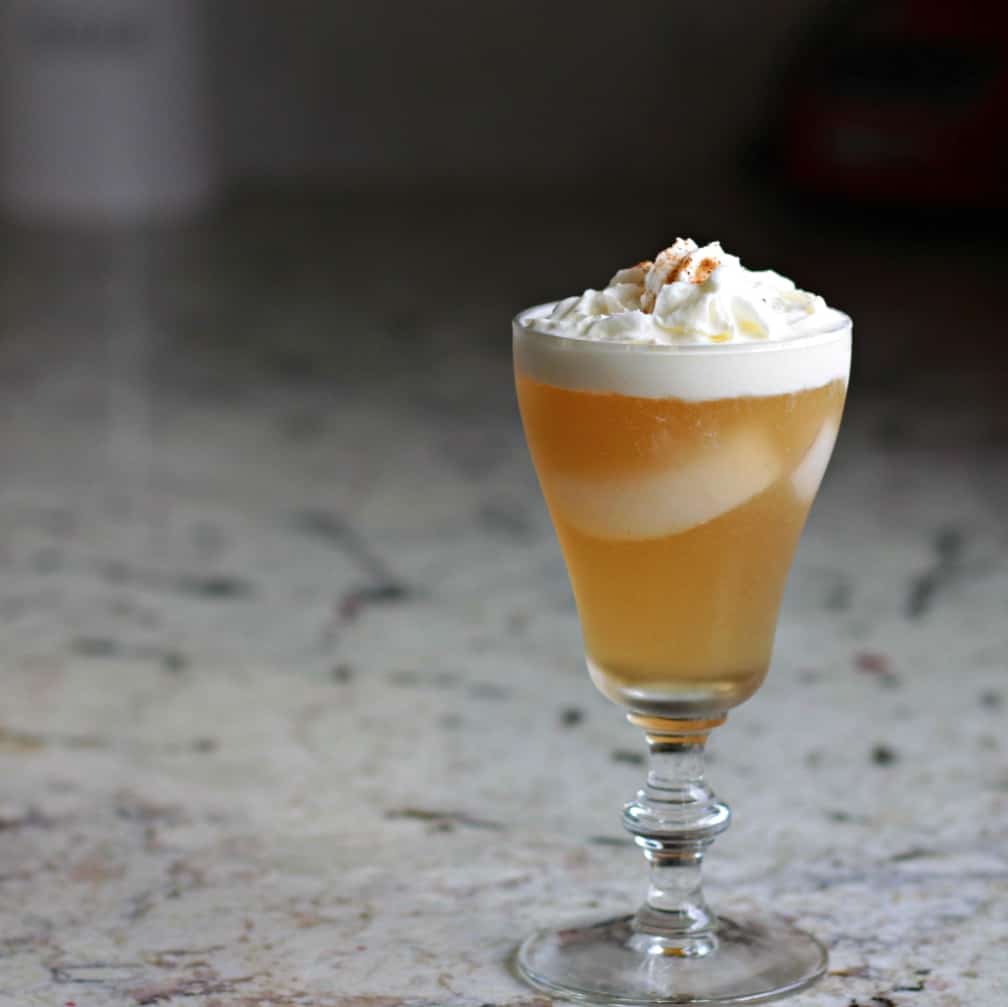 Be sure to check out all our cocktails recipes in our Cocktail section.
Crown Royal Peaches and Cream Recipe: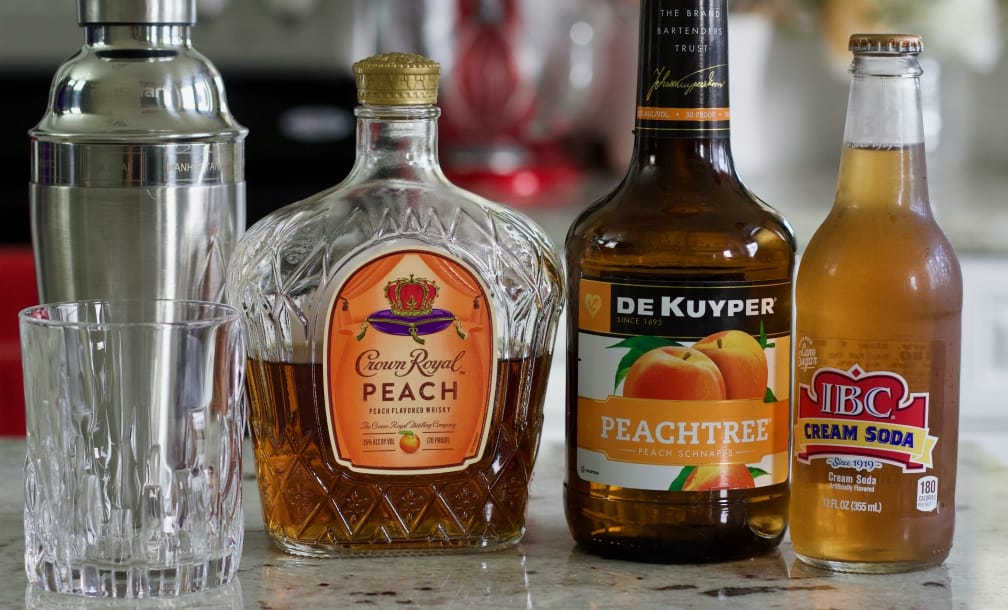 Ingredients list:
Peach Schnapps- we chose DeKuyper peachtree
Cream soda- Look for a good quality cream soda for best results
How to Make Peaches and Cream Whiskey Cocktail: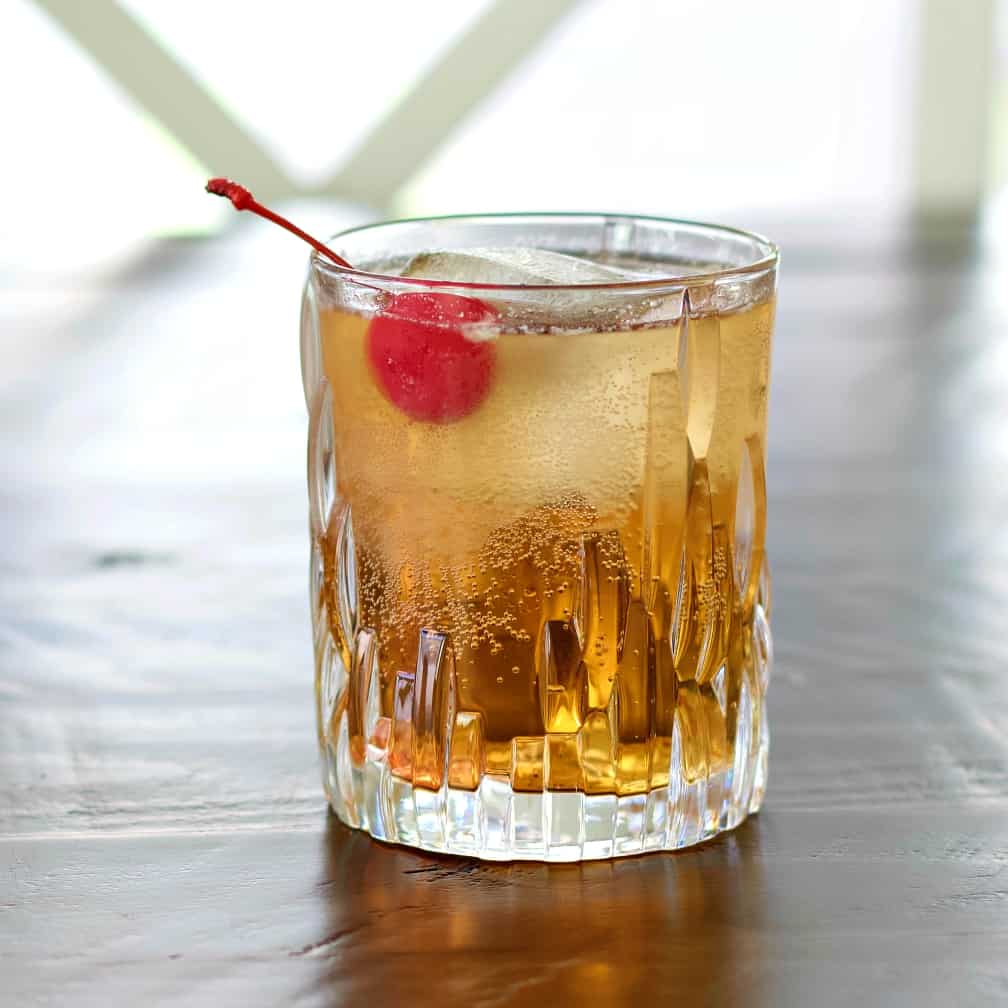 This is a simple process. here is a quick visual guide. Please also watch our video for a complete recipe demonstration for this drink.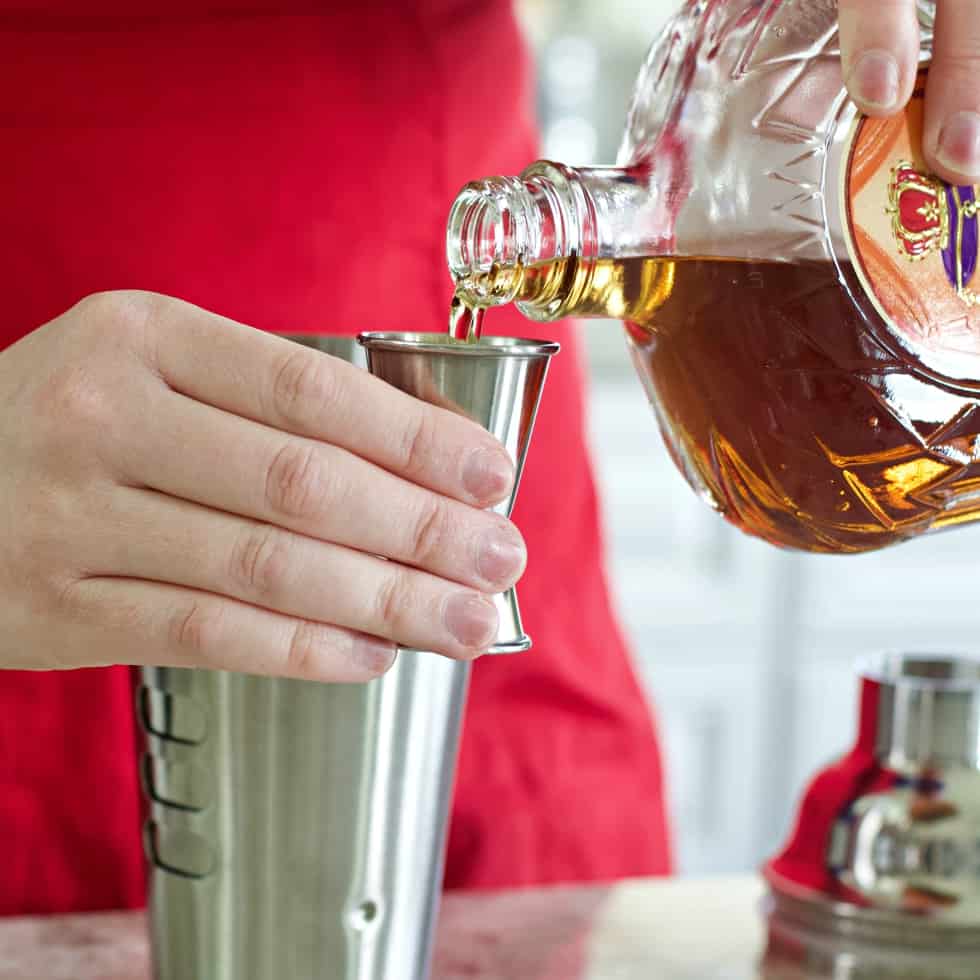 You won't find too many Crown Peach whiskey cocktails out there. Peach crown just released in 2019. I'm really pleased with this summer drink.
You'll notice in my other cocktail recipes I often load the glass with plain old refrigerator ice. That works. But for slow sipper whiskey drinks like this one the large cube last longest. I use the molds I linked below.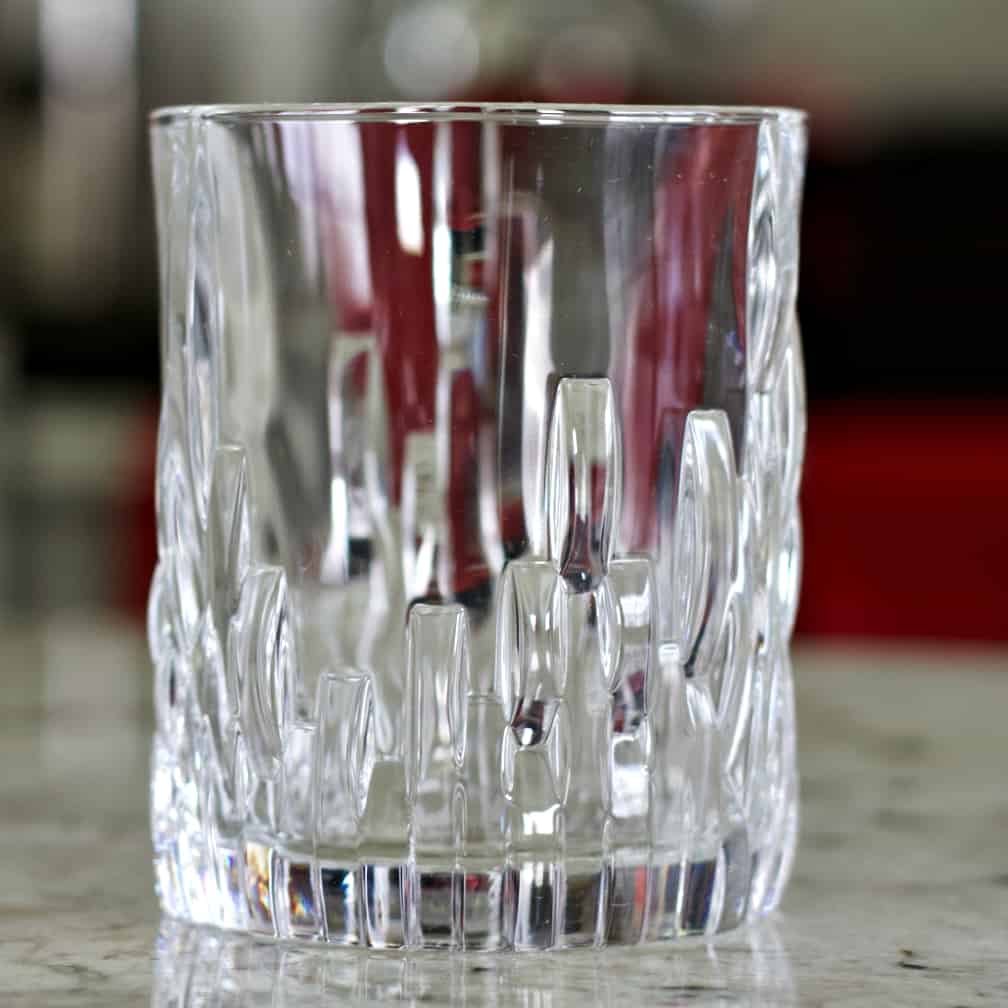 The Glass:
As noted above, we found the glass you see at our local BevMo. I have a pretty whiskey glass set linked below. For sipping drinks like this one a cool glass adds a lot to the experience.
Garnish ideas:
We are making this whiskey drink in March. Not too many ripe fresh peaches around right now but that didn't stop me.
I used a Maraschino cherry for a bit of color. Just drop it on that beautiful large chunk of ice.
In season, use a ripe and juicy slice of peach to add an infusion of that juicy flavor of peach. Add the slice on the side of the glass or use the nifty stainless picks below to suspend it over the glass. Or just shove a slice down the inside of the glass. It's all good.
A mint sprig is another way to add a flash of summer color and brighten the royal peach flavored whisky.
How are you garnishing?
Helpful Amazon Links:
Let us know how you drink peach whiskey. Did this Crown peach drink work well for you? How did you garnish it?
Your Printable Recipe Card: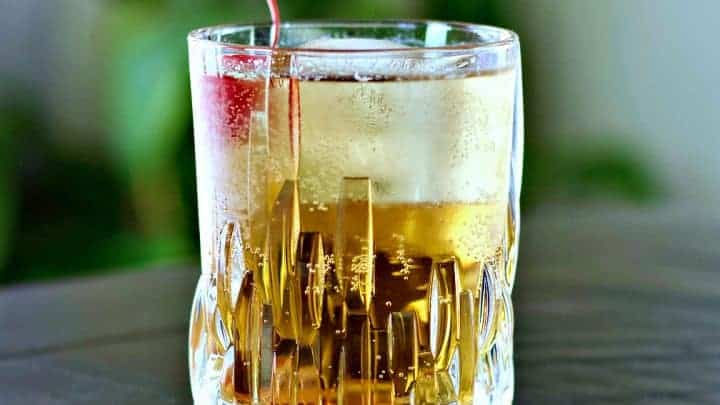 Yield:

1 whiskey cocktail
Crown Royal Peaches and Cream Cocktail
A delicious combination of Crown Royal Peach whiskey, peach schnapps and cream soda. This whiskey drink is a perfect refresher for summer.
Ingredients
1 oz. Crown Royal Peach
1 1/2 oz. Peach Schnapps
3 oz. Cream soda
Ice for shaking and the drink
Instructions
Add ice to your cocktail shaker to half full.
Pour in the peach whiskey
Add the peach schnapps
Seal and Shake the cocktail shaker vigorously at least 30 seconds until very cold.
Put ice in your glass
Strain the shaken ingredients into your glass
Fill to top with cream soda 9as desired).
Garnish and serve
Notes
Garnish Ideas:
maraschino cherry in the glass
Or put the cherry on a pick and lay it on top of the glass.
Replace the cherry with a fresh peach slice on the side of the glass ot a wedge on a pick.
Add a sprig of fresh peppermint.
Nutrition Information
Yield
1
Serving Size
1
Amount Per Serving
Calories

256
Total Fat

0g
Saturated Fat

0g
Trans Fat

0g
Unsaturated Fat

0g
Cholesterol

0mg
Sodium

13mg
Carbohydrates

40g
Fiber

3g
Sugar

38g
Protein

2g
Please comment below, on our youtube channel, Facebook page or tag us on instagram @homemadefoodjunkie.
Follow Us:
We enjoy meeting you on our social networks. Follow us on Facebook, Pinterest, Instagram . Tag us with your pictures of our recipes and comment on how it went for you. We would love to see what you do with them.
We often like, comment and share your posts of our recipes on our daily Instagram stories.
Ask questions and rate the recipe in the comments section below. Please share what you did with this recipe. We are always looking for more and better ways to make homemade food. Other cooks love your ideas!
Recent Posts: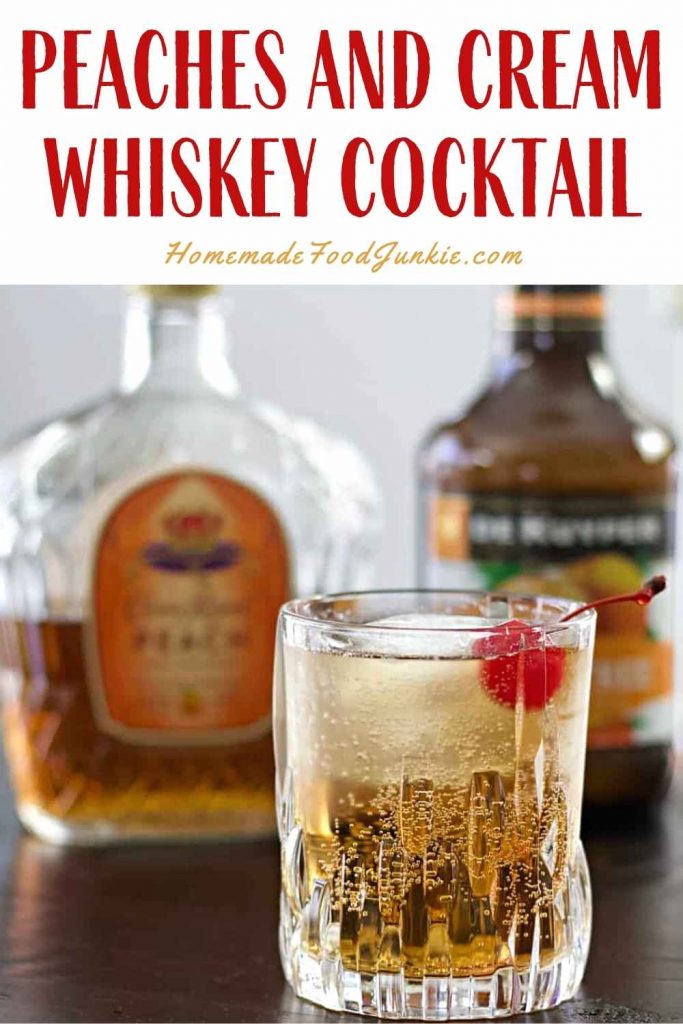 We love when you share your stories and pics of our recipes. We want to see what you do with them and our whole Homemade Food Junkie community will benefit from your tips and experience. Thanks for participating.