This Instant Pot Chicken Chili recipe has a creamy texture and delicious flavor profile combining chicken breast, chopped bacon, black beans, rotel tomatoes, creams and spices. Our recipe makes a large batch of delicious, high protein soup that is perfect for a busy weeknight dinner and holds well as leftovers.
You can enjoy this chili on its own or serve it with tortilla chips and salsa, or our Mexican Cornbread that is fluffy, sweet and slightly spicy. Made with green chilis, pepper jack cheese, creamed corn and organic stone ground cornmeal.
In this post we walk you through how to make this Chicken Chili in your Instant Pot, discussing all of the cooking methods that your Instant Pot offers. No matter the method, this is a beautiful all in one meal that is easy to prep and cleanup after.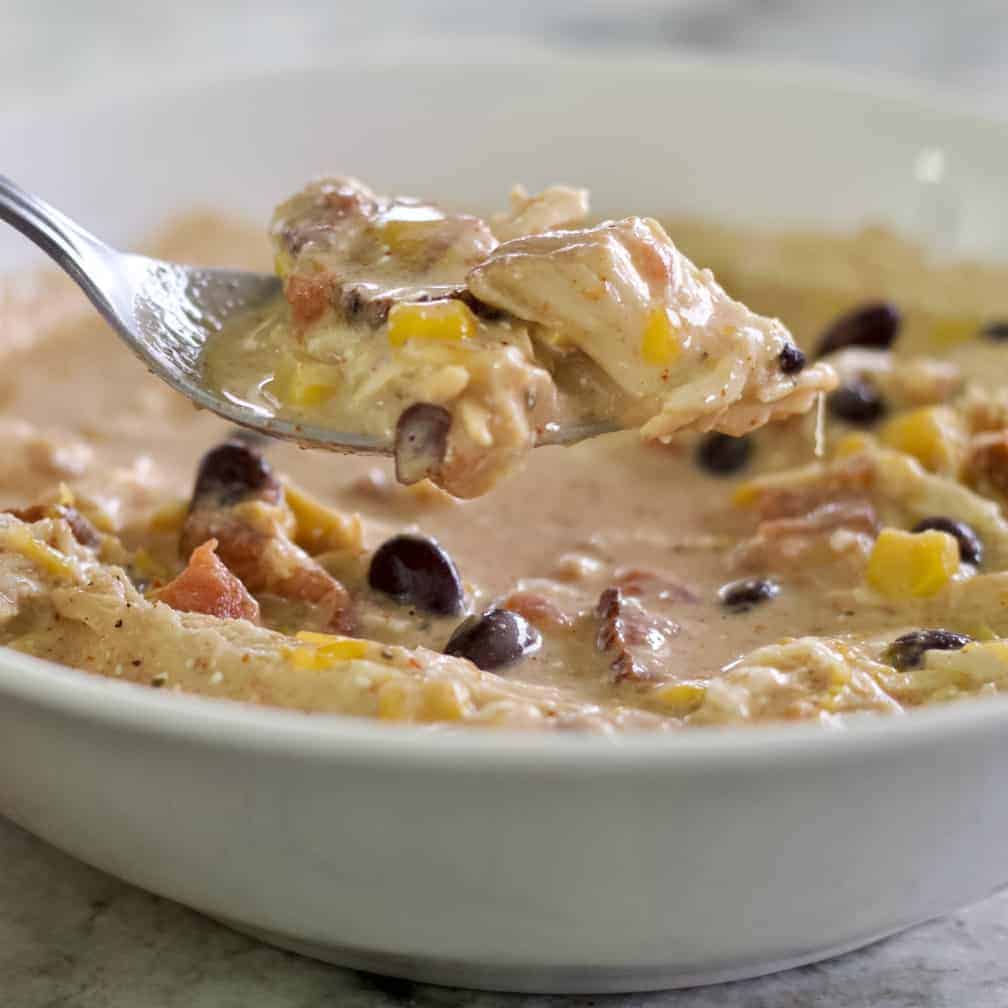 More Delicious Chicken Dinners:
Looking for more ways to cook chicken? Here are some of our favorite chicken recipes.
If you love to cook with your Instant Pot we have a large library of recipes for you to try. Find all our Instant Pot Recipes here.
What is White Chili made of?
Our Chicken Chili would qualify as a white chili even though it doesn't follow all of the traditional ingredients exactly. A white chili is made of chicken or sometimes pork meat, white beans and mild green chilis. The biggest factor in a white chili is the color of the chili and the use of a white meat as opposed to ground beef.
We loaded our chili with bacon, chicken, black beans, rotel tomatoes, corn, cream cheese and the kitchen sink! Just kidding, well…only about the kitchen sink. Everything else is found in our White Chicken Chili and it is to die for. A hearty, delicious chili that we know you will love.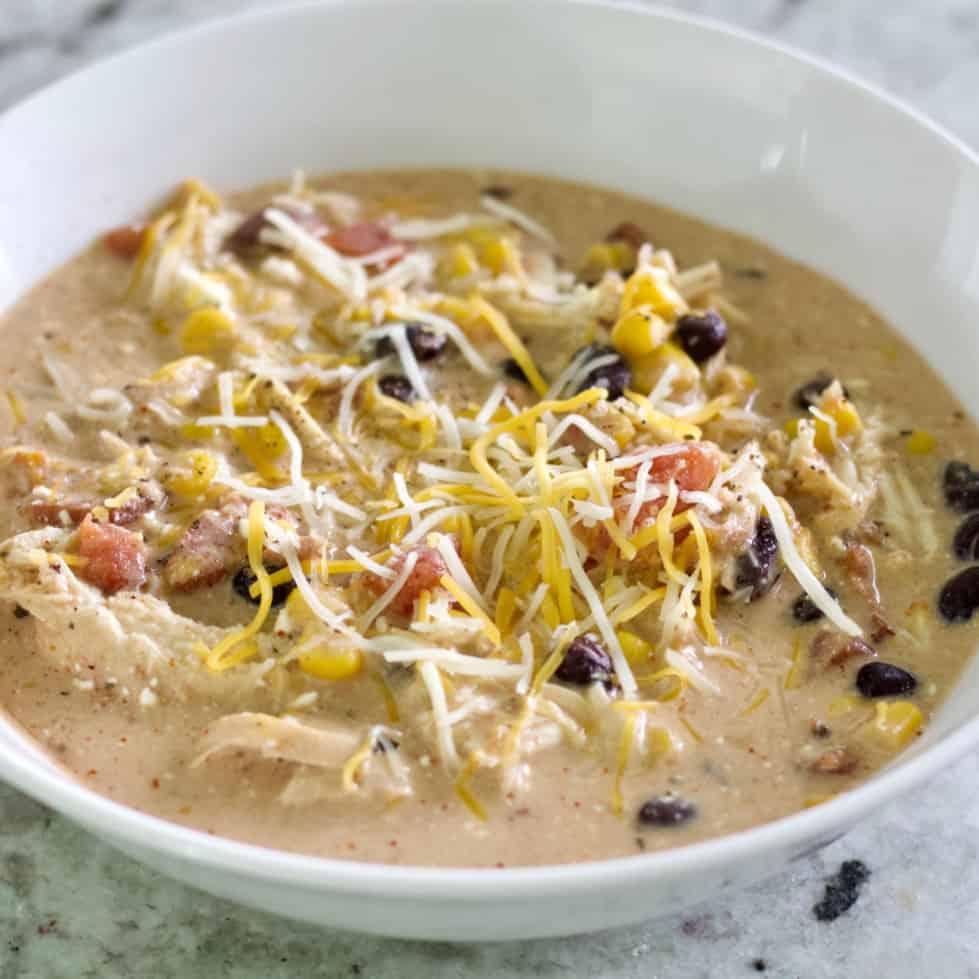 Can you use chicken beef broth in your chili?
Chili is a thick stew that traditionally cooks low and slow, allowing the meats to tenderize and the flavors to develop and marry. Because of this cooking method liquid is very important as it prevents the chili from drying out and burning. Your liquid choice can elevate the flavor of your chili as well, which is why it is a great tip to use either beef, vegetable or chicken broth depending on your type of chili.
Because this is a Chicken Chili we are using chicken broth as our liquid. It will support the flavor of our chili without watering down our other ingredients.
How do you make Chicken Chili thicker?
If you are looking to thicken up your White Chicken Chili there are various methods you could choose from. You can add a thickener such as cornstarch, arrowroot, flour and so on…or, you can add creams. Heavy creams or cream cheese will bring a wonderfully rich creaminess to your chili while also thickening it up.
We have used this method in our Chicken Chili recipe and it really bring an elevated element to the chili. This chili is thick, creamy and loaded with flavor.
The added boost of dry ranch seasoning gives this chicken dinner a rich flavor that works wonderfully with bacon. Dry ranch seasoning can be purchased in all major grocery stores, or you can make your own with just a handful of spices.
Is Chicken Chili healthy?
Well, healthy is a very broad term and means different things for everyone. However…while you definitely can make a healthier chili using lean meat like chicken, we can't claim that ours would qualify as healthy under any definition. Ours is loaded, delicious and makes a hearty family style meal that focuses on flavor.
Chicken Chili Instant Pot Recipe
Suggested substitutions and tips
Rotel tomatoes come in several options, just select whichever you prefer.
You can use canned or frozen corn.
Black beans can be traded for any canned bean you choose. Cannellini beans are very popular and we use them in our White Chili Chicken.
We used fresh chicken breasts. Frozen chicken breasts will also work in this recipe but may extend the cooking time somewhat.
Instant Pot Cooking Options
We are giving you a few methods to cook this recipe. The instant pot will slow cook this recipe beautifully and we recommend slow cooking for this recipe.
You can opt to use the Stew Function or Manual High pressure with adjustments for a quicker dinner.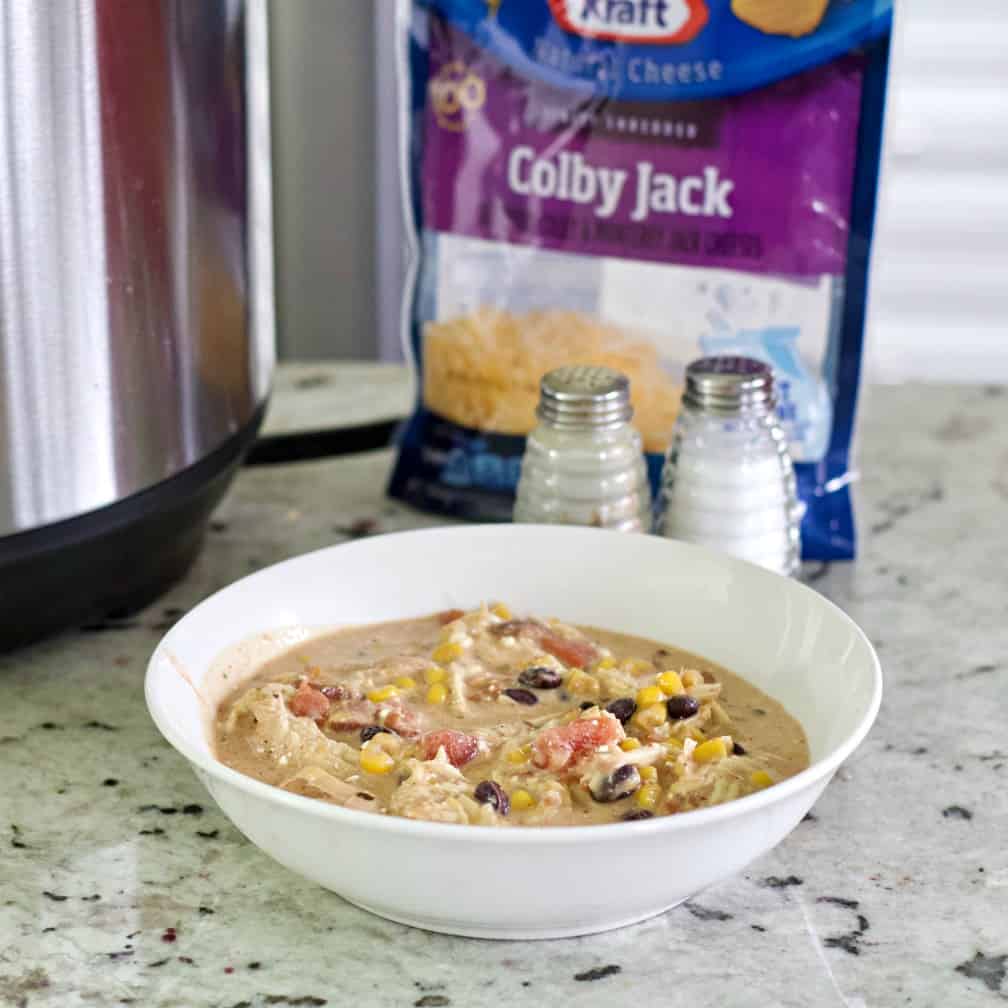 Instant Pot Slow Cooker Method
We chose to use the crockpot chicken chili method for our video. We prefer slow cooking this recipe since it has so much cheese. Cheese is best cooked at lower temperatures without pressure.
We also cooked the bacon on the stove instead of using the sautè function. Follow the video demonstration for this method. The recipe card also has complete instructions.
The only thing to remember about slow cooking in the Instant Pot is you do not lock and seal the pressure lid. Use an instant pot glass lid that fits your Instant Pot properly. You may also use other lids that fit the top of your pot.
Stew Function One Pot Method
The Stew Function is using a pressure method to hurry this chili. It's a bit harder on the dairy so we recommend you stir in the cheeses after adding back the shredded chicken for this method.
Set your instant pot to saute.
Cook bacon until done.
Remove bacon and drain it. Set aside.
Rinse the pot and follow assembly instructions as listed in recipe, picture gallery and the video.
When the chili is fully assembled set the instant pot to stew function.
Seal the lid. Quick release. (for frozen chicken natural release).
Remove chicken and shred. Return to pot with cheese.
Stir and serve.
Manual High Pressure
You can cook it under manual high pressure. You will set the time for 20 minutes and natural release if you are using frozen chicken breasts.
This method is also hard on the dairy products so we recommend you hold all the cheeses until adding the shredded chicken.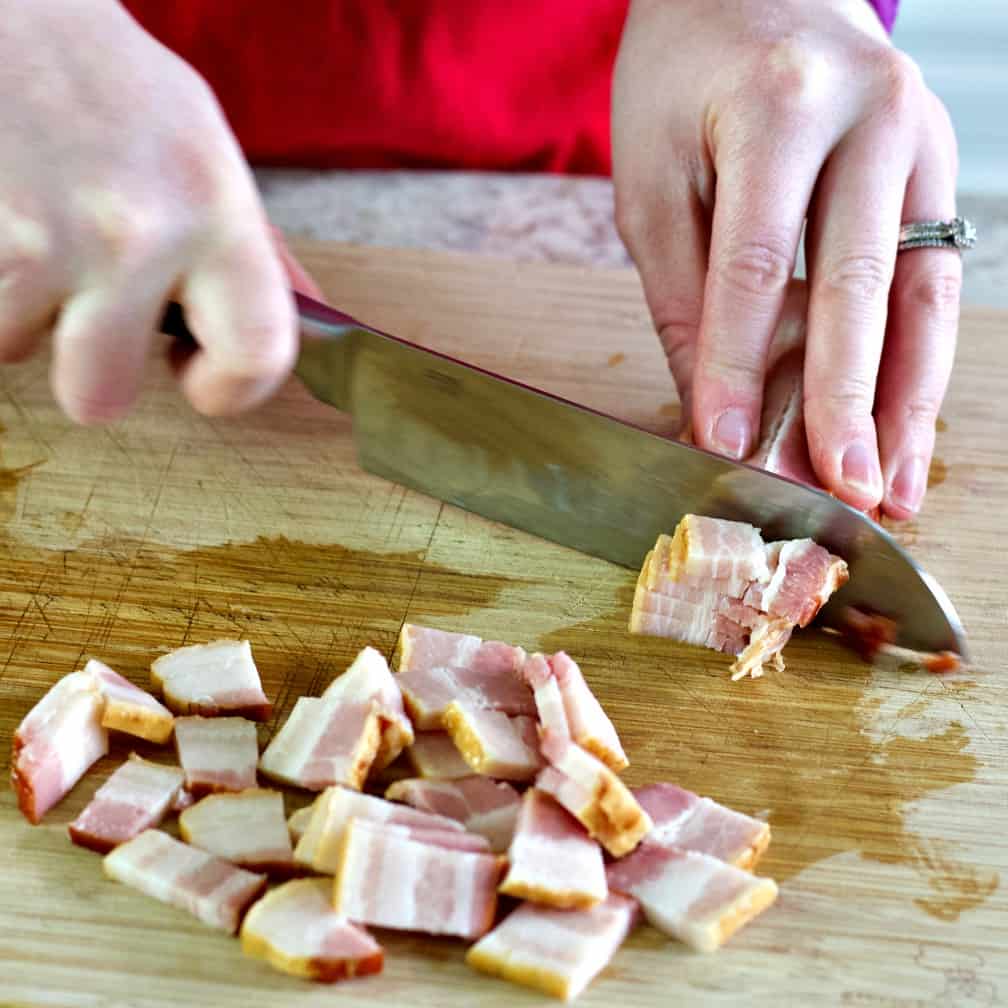 What can I serve with White Chicken Chili?
Chili is a fantastic meal as it can stand alone or pair with a variety of side dishes. It can even be used as a filling for homemade tacos and burritos! We are sharing our favorite ways to spruce up this chili, as well as our favorite sides to enjoy it with.
Make our Homemade Flour Tortillas and use this chili as a filling. It makes delicious tacos.
Prepare some rice and fold rice and chili into a tortilla for an awesome chicken burrito.
Serve it with tortilla chips and salsa on the side.
Make a batch of our Mexican Cornbread for a delicious side.
Enjoy it with a side of tortilla chips, guac and salsa
Pair it with a delicious Spanish rice.
Crush some nacho Doritos and sprinkle over the top for a delicious crunchy element.
Prepare a bowl of delicious Mexican Street Corn Salad
Helpful Amazon Products:
Your Printable Recipe Card:
Yield:

8
Instant Pot Chicken Chili Recipe
Additional Time:
10 minutes
This Instant Pot chicken chili recipe has a Mexican vibe with black beans, Rotel tomatoes and Mexican spices.
Ingredients
1 cup cooked bacon-chopped
2 boneless skinless chicken breasts
1-15 oz. can corn
1-15 oz. can black beans
1-8 oz. can Ro-Tel tomatoes (any heat)
1 tsp. cumin
1 tsp. onion powder
1 Tablespoon chili powder
1 packet of ranch dry seasoning
2 Cups low sodium Chicken broth
8 oz. cream cheese
8 oz. colby shredded cheese
Instructions
Chop bacon into one inch pieces.
Cook bacon until done. Set aside.
Add corn, black beans and Ro-tel tomatoes.
Pour in all of the spices.
Add chicken broth.
Crumble cooked bacon over all
Set the cream cheese on top.
Set the crock pot or instant pot to slow cook function for six hours.
When the time is up remove the chicken breasts to a wooden board.
Shred the chicken.
Put back in the slow cooker.
Add cheese, stir and serve.
Notes
Cooking options:
Slow cook as directed in the instructions.
Use your stew function. PUT THE CHEESE in with the shredded chicken for this method. Natural release if the chicken breasts are frozen.
Use manual high pressure for 20 minutes. Hold all the cheeses until after cooking. Add them in with the shredded chicken. Natural release if using frozen chicken breasts.



Serving Suggestions:
Make our homemade flour tortillas and use this chili as a filling. Add shredded lettuce and tomatoes. Viola. Delicious chicken tacos!
Cook some rice and fold rice and chili into a tortilla for an awesome chicken burrito.
Serve it with tortilla chips and salsa on the side.
Nutrition Information
Yield
8
Serving Size
1
Amount Per Serving
Calories

423
Total Fat

26g
Saturated Fat

13g
Trans Fat

0g
Unsaturated Fat

10g
Cholesterol

91mg
Sodium

894mg
Carbohydrates

22g
Fiber

5g
Sugar

4g
Protein

28g
Follow Us:
We enjoy meeting you on our social networks. Follow us on Facebook, Pinterest, Instagram . Tag us with your pictures of our recipes and comment on how it went for you. We would love to see what you do with them.
We often like, comment and share your posts of our recipes on our daily Instagram stories.
Ask questions and rate the recipe in the comments section below. Please share what you did with this recipe. We are always looking for more and better ways to make homemade food. Other cooks love your ideas!
Recent Posts: