Creamy low carb Chicken Alfredo loaded with steamed asparagus is a delicious gluten free family pleasing dinner and makes great leftovers for lunch.
Occasionally my husband and I go on low carb jags. We are planning a vacation this spring and… Yeah. Fat white slugs just don't cut it poolside.
We have great results losing extra inches when we combine the low carb diet and get the heart rate up with a regular workout routine. So that's what is going on at our house right now.
WATCH Me Make This Recipe on our YouTube Channel
Looking for more Low Carb Recipes?
Chicken Alfredo with Asparagus is one of our favorite low carb recipes.
Chicken and Asparagus are a wonderful combination. Adding the alfredo sauce makes a really good flavor team. You are going to love this dinner!
To Be Clear: There is NO pasta in this dinner. And you don't need it. The fat, protein and seasonings are very satisfying. Adding in the asparagus brings in even more nourishment and flavor value.
Chicken alfredo with pasta is NOT low carb. But it is delicious. So if you really want to add in the fettuccine, I'll leave that up to you. We have not found a low carb pasta. If you know of a good one Please let us know!
The Chicken:
I use chicken tenders for this recipe rather than chicken breasts. Why? Because they are thin. The meat picks up great flavor from the seasonings when pan fried. They also cook on both sides in well under 10 minutes. That makes this a very fast dinner.
We encourage you to find organic free range chicken. You'll love the improved flavor and its much better for your family and the chickens.
The asparagus:
Use VERY fresh asparagus. This is one vegetable you don't want to forget in your fridge. Asparagus has a fast respire rate. Which means asparagus loses nutrients very fast when stored. So plan to make this the day you shop if possible.
The Chicken Alfredo Sauce options:
Easy Chicken alfredo often means using a bottled sauce from the store. Since making your own requires a bit more time, effort and planning. I'm all about eliminating steps if there are good options. There are! I found a TON of alfredo sauces on the market in many flavor variations. Most of them have about 3 grams of carbs per serving.
Our homemade alfredo sauce is excellent. but it is thickened with flour. If you want to make it low carb and gluten free omit the flour in the recipe. The sauce will be thinner but still flavorful and rich.
This is an EASY gluten free chicken alfredo recipe If you use gluten free store bought sauce.
We found these options if you don't want to make your own alfredo sauce. (Affiliate links)
Classico Alfredo sauce is gluten free and low carb.
Low carb Easy Chicken Alfredo Recipe with asparagus:
This meal is a 30 minute wonder. I love dinners that don't take a lot of prep. This one hits my sweet spot.
One thing we haven't discussed are the seasonings. You may expect an Italian seasoning to go with the Italian alfredo vibes in this recipe. I'm veering off that course. This recipe is a CAJUN chicken alfredo. And it's good!!!
I have fallen in love with cajun seasonings lately. I love it on my roasted vegetables and all kinds of ways. Pan fried chicken is GREAT with some cajun seasoning on it. And so is this chicken alfredo.
Method:
You will need two pots. One for cooking the chicken and One for steaming the asparagus. And you'll need one more if you choose to make your own sauce. So we can't really call a one pan dinner. However, steaming asparagus creates an almost clean pot that is really easy to rinse out so don't mind that extra pot. You won't spend much time after dinner cleaning the kitchen.
Set out the chicken tenders on a work surface.
Season with salt and pepper and the cajun seasoning.
Preheat your skillet to medium high heat.
Set the steam water pot to high.
Cook the chicken in the skillet covered
Throw the chopped asparagus into the steamer. Cover while it steams.
After the chicken is cooked on both sides add the asparagus.
Stir the sauce to the skillet.
Sprinkle your parmesan cheese and parsley on top.
Serve straight from the skillet. Enjoy!
Your Printable Recipe Card:
Yield:

6
Low Carb Chicken Alfredo
Creamy and richly satisfying Chicken Alfredo made low carb. This 30 minute dinner is easily made on your stovetop without pasta. Gluten free sauce options included. Watch the video demonstration!
Ingredients
1 tablespoon olive oil
1 lb of chicken tenders
1 bundle of fresh asparagus
1-15 oz. jar of alfredo sauce (OR equivalent amount of homemade sauce)
2 teaspoons salt
2 teaspoons pepper
2 teaspoons Cajun seasonings
1/8 Cup grated fresh parmesan cheese
2 Tablespoons chopped Italian parsley
Instructions
Set a skillet on medium high heat
Pour oil in the skillet and let warm
Lay the chicken tenders on a work surface and season evenly on both sides with the salt, pepper and cajun seasonings.
Lay the chicken tenders in the heated oil.
Cook five minutes.
Meanwhile set a pot on to boil with one inch of water in the bottom.
Cut the asparagus into one to 1 1/2 inch long pieces.
Set a steamer in the big pot. Lay the asparagus pieces in it and cover.
Turn the chicken pieces over and cook 3 to 5 minutes more until golden brown. Remove from heat and drain off excess oil as necessary.
When the asparagus boils and steams boldly turn it to medium high and cook until asparagus it tender.
Add the steamed and drained asparagus to the chicken in the cooking skillet. Pour the alfredo sauce over the chicken and asparagus and stir until thoroughly mixed.
Sprinkle the parmesan cheese and parsley over the top.
Serve in the skillet.
Notes
You can add however much alfredo sauce your family enjoys. The recipe requires 15 oz. of sauce. But feel free to add more if you like. It will up the calories but the recipe will remain low carb since the sauce is.
Recommended Products
As an Amazon Associate and member of other affiliate programs, I earn from qualifying purchases.
Nutrition Information
Yield
6
Serving Size
1 1/2 cups
Amount Per Serving
Calories

356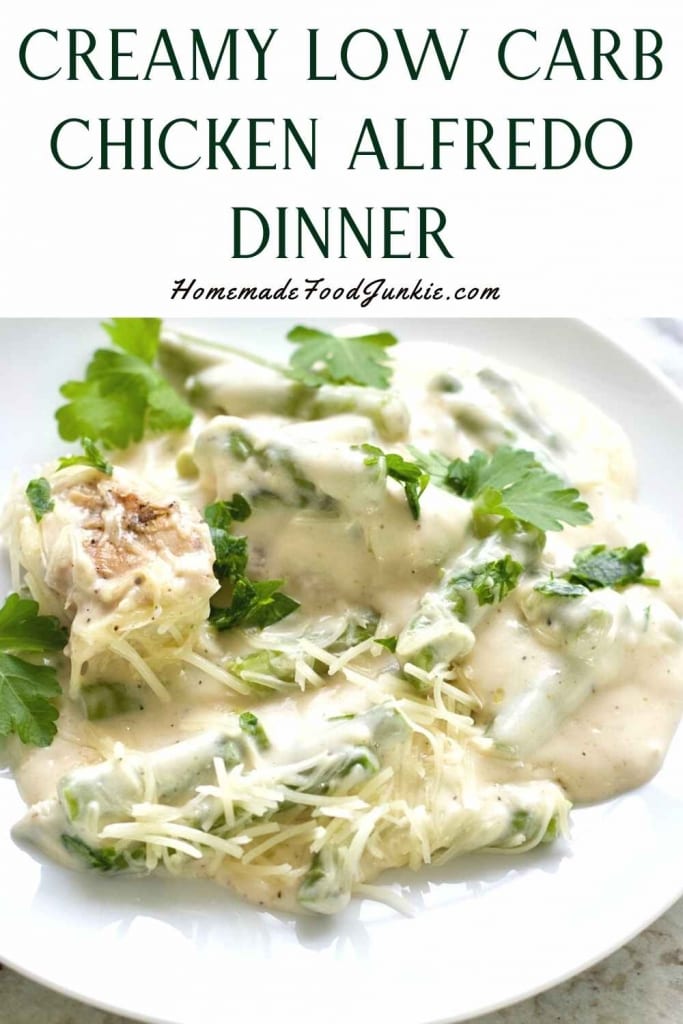 Recipe Source- LowCarb-ology