This Keto approved Chicken Bacon Ranch Skillet dinner is a tasty low carb meal that we know you will love. It is easy to make and definitely delivers on the flavor with a creamy cheese based sauce that is high in protein and healthy fats.
Combining high quality chicken, bacon, fresh broccoli and cheese; all seared and simmered in a heavy cream sauce with ranch seasoning, this meal is great for anyone looking to increase fats and proteins in their diet while cutting down on pastas and refined carbs.
Chicken dinners can be quick and simple by utilizing pre-made ranch seasonings, creams and shredded cheeses; or you can opt to make your own homemade ranch seasoning mix and reach for healthier, fresh cheeses and cream sourced from a local dairy.
How many carbs are in a keto chicken bacon ranch dinner?
The amount of carbs in every meal is always the first question for anyone following a keto or low carb diet. These diets choose to focus on good quality meats, dairy, low carb veggies and fruits while limiting or cutting out refined carbs and starches.
This keto bacon ranch chicken dinner is a fantastic option for anyone following a keto diet because the macros are fantastic. For a single serving of this dinner you will get 47 grams of protein and only 2 grams of net carbs, making it an awesome keto meal.
Can I have ranch dressing on the keto diet?
Traditional ranch dressing is not a good option if you're following a strict keto diet because most contain added sugars as well as many low quality fillers and preservatives. You can absolutely make your own ranch dressing which is always the best option. This will give your control over what goes into it, and prevent the extras that mainstream brands add in.
Making your own dry ranch seasoning is very easy and requires very few ingredients. All you need is dill, parsley, onion powder, garlic powder, salt and pepper and chives. It is handy to have in your kitchen and can be used for many different chicken dinners.
If you are looking for a scrumptious keto dessert, check out these KETO Approved Peanut Butter Bars. They are creamy and very satisfying. We also love our KETO coconut chocolate fat bombs.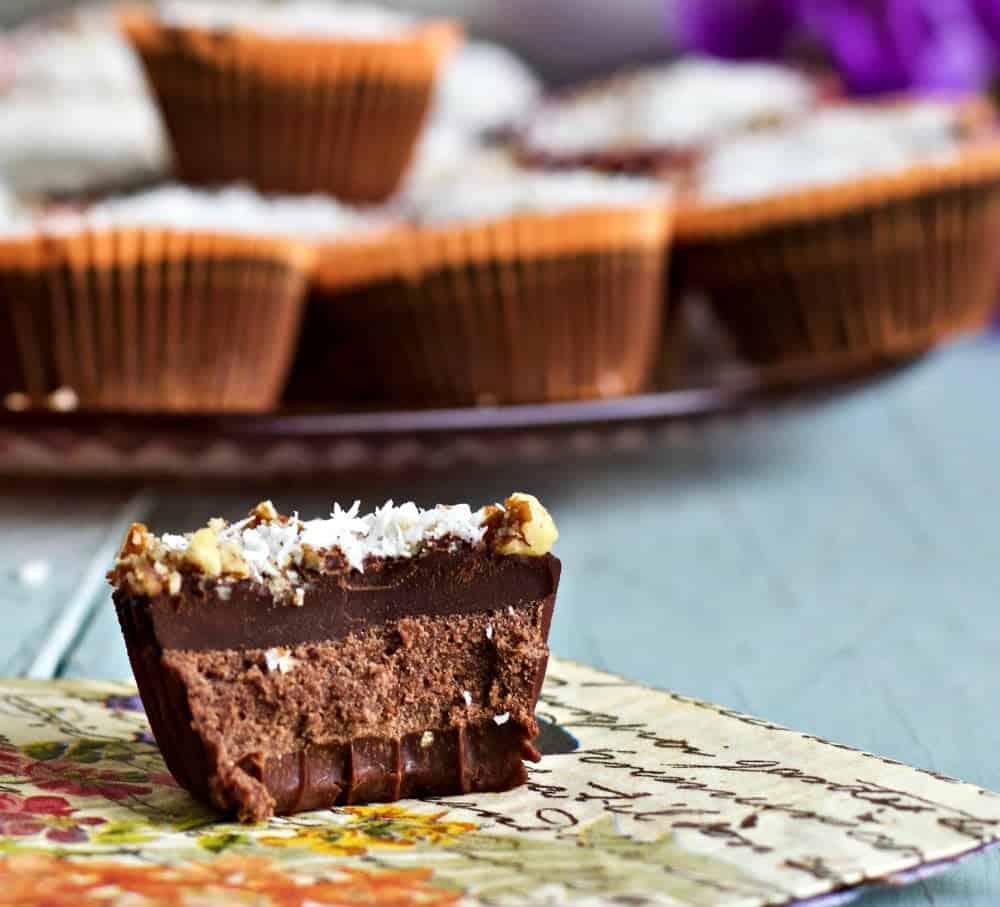 We have other healthy dessert options that while they aren't Keto approved, they use natural sweeteners and minimal ingredients. Check out our Greek yogurt pancakes that don't use any added sugars; or our apple yogurt salad that uses natural sweeteners.
Is bacon keto?
Bacon is considered keto approved because it is low carb and has a high amount of fats and protein. It can be cooked up and used for snacking and added to chicken dinners for increased fat and flavor. Do be careful to consume good quality bacon that is low in added sodium, nitrate free, and ethically sourced.
Bacon is not generally considered a healthy meat option because of the extra ingredients and chemicals often found in it, so it is important to prioritize brand quality.
How many net carbs are in broccoli?
The keto diet requires a very low net carb consumption and many vegetables are higher in carbohydrates than most expect, but broccoli is a great veggie to include in your keto diet. Broccoli is high in fiber which makes the total net carb count low. In 1 cup of cooked broccoli there are only 2 net carbs!
We have added broccoli to this chicken dinner because the broccoli brings fiber and texture to the dish, while keeping the net carbs low and manageable for the keto diet.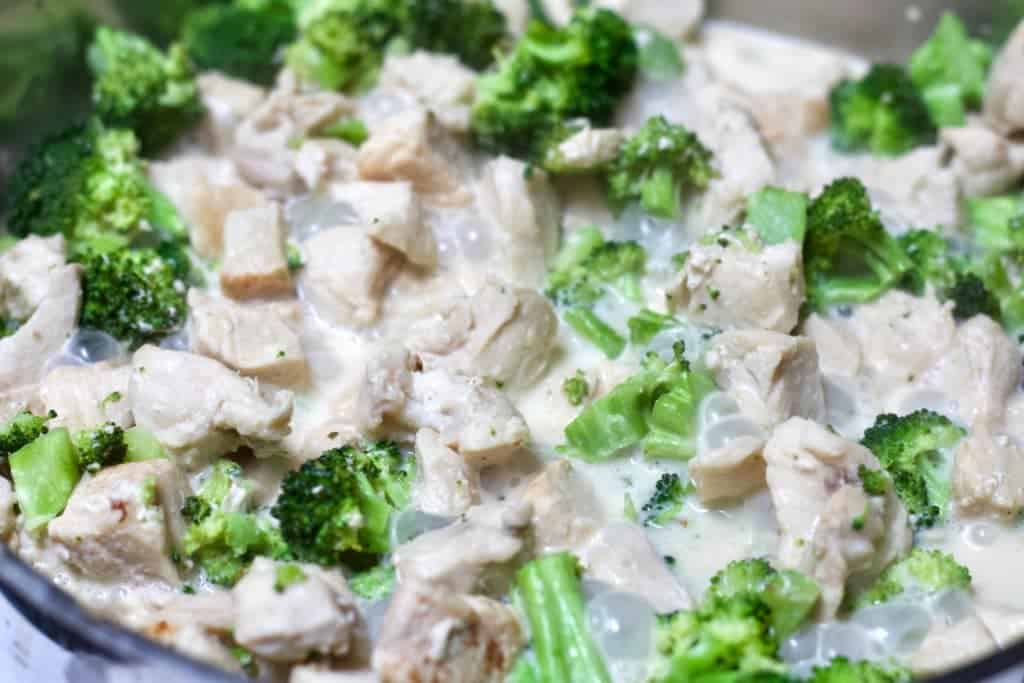 Making a keto cream sauce
Keto is all about utilizing your bodies fat stores as fuel, and this is accomplished by consuming healthy fats as a large portion of your diet. This is especially important if you are eating a lot of chicken dinners because chicken is such a lean meat.
Cream based sauces are a great way to get extra fat into your keto diet. Heavy cream, greek yogurts, sour cream, and cream cheeses are all used as the base for sauces in this diet.
Each of these ingredients contain a good portion of fat, a decent amount of protein, and are low to no sugar making them idea choices. Store bought pasteurized milk is not ideal on the keto diet because of the amount of sugars, so you would not want to use it unless absolutely necessary.
Recipe Notes
Whenever possible, it is bet to prioritize good quality ingredients into your diet. For any chicken dinner, we suggest sourcing locally whenever possible from farms, farmers markets, food co-ops and community gardens. This is a great way to support your local economy while ensuring that you are getting the freshest ingredients and foods possible.
If it is not possible for your to source locally, look for organic grass fed and free range meats, nitrate free bacon, high quality dairy products and pasture raised eggs. It is always best to create your own seasoning mixtures, as this will prevent extra sodium and low quality additives from sneaking into your diet.
Instructions
Preheat the oven to 425 degrees F (if you are wanting to finish this dish in the oven)
Heat your 12 inch skillet on medium heat.
Lay four slices of bacon in the bottom of the skillet and cook thoroughly.
While the bacon is cooking, dice your chicken breast.
Remove bacon from pan but leave the drippings. Crumble the cooled bacon and set aside.
Add your diced chicken to the pan and cook in the bacon drippings.
Once your diced chicken is cooked, add your cream cheese, heavy cream and dry ranch seasoning to the skillet.
Allow to simmer until everything is cooked down and combined.
Add the broccoli to the skillet.
Sprinkle the crumbled bacon and some shredded cheese on top. Finish in the oven if desired.
What are some keto side dishes?
While the keto diet focuses on main meals with lots of high quality fats and proteins, it's always fun to add some accompanying dishes every now and then. We have a list of scrumptious side dishes that you can enjoy without breaking out of your keto diet.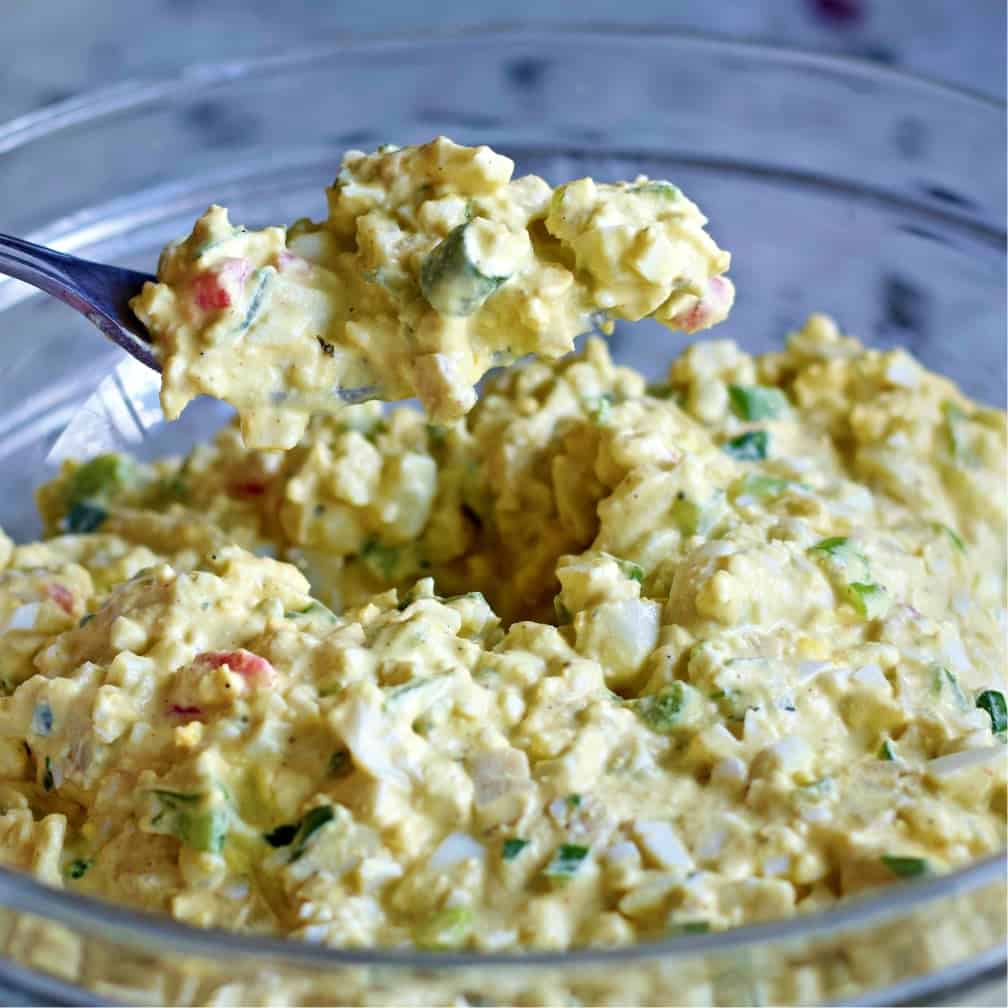 What are the best Keto chicken dinners?
Chicken is king in the meat world for its low fat, high protein, nutritious qualities. In the keto world, chicken dinners can be enjoyed with other high fat foods for a tasty meal that will keep you in ketosis. Here are some of our favorite recipes
For a few other fantastic keto dinners try our sheet pan shrimp and veggies, sausage keto soup, instant pot chili verde, fathead pizza dough, and our stuffed tomatoes.
Your Printable Recipe Card: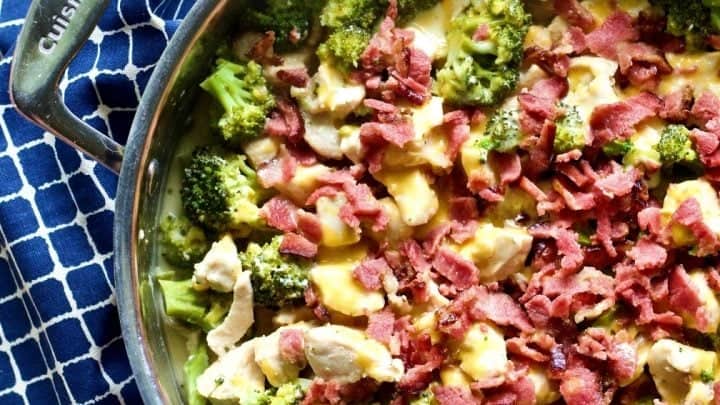 Yield:

4 servings
Ranch Bacon Broccoli Chicken Dinner
A quick KETO meal brimming with satisfying flavor and fats. Loaded with healthy protein and WAY low on carbs. This chicken dinner recipe makes a great weeknight or lazy day meal. Even kids will enjoy this one skillet dinner. And the clean up is so EASY.
Ingredients
22.5 oz. Boneless Skinless Chicken Breast cut into 1 inch cubes, (OR pulled rotisserie chicken)
4 oz cream cheese, room temperature
4 Tablespoons Heavy Cream
2 tsp. Original Ranch dry mix
2 Cups chopped fresh (or frozen) broccoli
4 strips smoked bacon
1 Cup Colby and Monterey Jack kraft Mexican cheese Mix , or 1/2 cup of colby and 1/2 cup of Jack shredded together.
Instructions
Preheat the oven to 425 (optional)
On the Stovetop:
Set a 12 inch skillet on medium heat.
Lay four slices of bacon in the skillet and cook thoroughly.
Remove the cooked bacon from pan but leave the drippings.
Crumble the cooled bacon and set aside.
Put the diced chicken into the skillet with bacon drippings on medium heat and fully cook.
Add cream cheese, heavy cream and dry ranch mix. Stir until fully melted and cooked down. About five minutes.
Add 2 cups of chopped broccoli (raw or frozen) and cook covered until broccoli is tender.
Sprinkle the crumbled bacon and shredded cheese on top. Set in the preheated oven for about 5 minutes until cheese is melted.
Notes
Using your stove to finish this recipe is optional. You can cover your skillet and let the cheese melt on the stove top if you prefer.
Nutrition Information
Yield
6
Serving Size
1
Amount Per Serving
Calories

473
Total Fat

30g
Saturated Fat

16g
Trans Fat

0g
Unsaturated Fat

11g
Cholesterol

166mg
Sodium

514mg
Carbohydrates

2g
Fiber

0g
Sugar

1g
Protein

47g
Follow Us:
We enjoy meeting you on our social networks. Follow us on Facebook, Pinterest, Instagram . Tag us with your pictures of our recipes and comment on how it went for you. We would love to see what you do with them.
We often like, comment and share your posts of our recipes on our daily Instagram stories.
Ask questions and rate the recipe in the comments section below. Please share what you did with this recipe. We are always looking for more and better ways to make homemade food. Other cooks love your ideas!
Recent Posts:
Recipe adapted from Fabulously Frugal
Keto Resources: