Crisp Cucumber Salsa is a crunchy, bright, slightly spicy dip that is perfect for your next party or bbq. Using fresh cucumbers, onion, cilantro, jalapeno, and finely diced tomato. Finish with garlic, lemon and lime juices, sour cream, and a touch of cumin for a rich, flavor filled salsa.
Cucumber salsa can be a wonderful snack, an addition to a healthy wrap, or served with chips as a crunchy side. You can play around with the ingredients to suite your preferences while still keeping the satisfying texture and flavor.
If you prefer cucumber salsa no tomatoes they can easily be omitted to allow the cucumber to shine and reduce the amount of liquid. On the flip side, if you love cucumber salsa with rotel tomatoes to increase the heat they make a fantastic salsa with crisp cucumbers.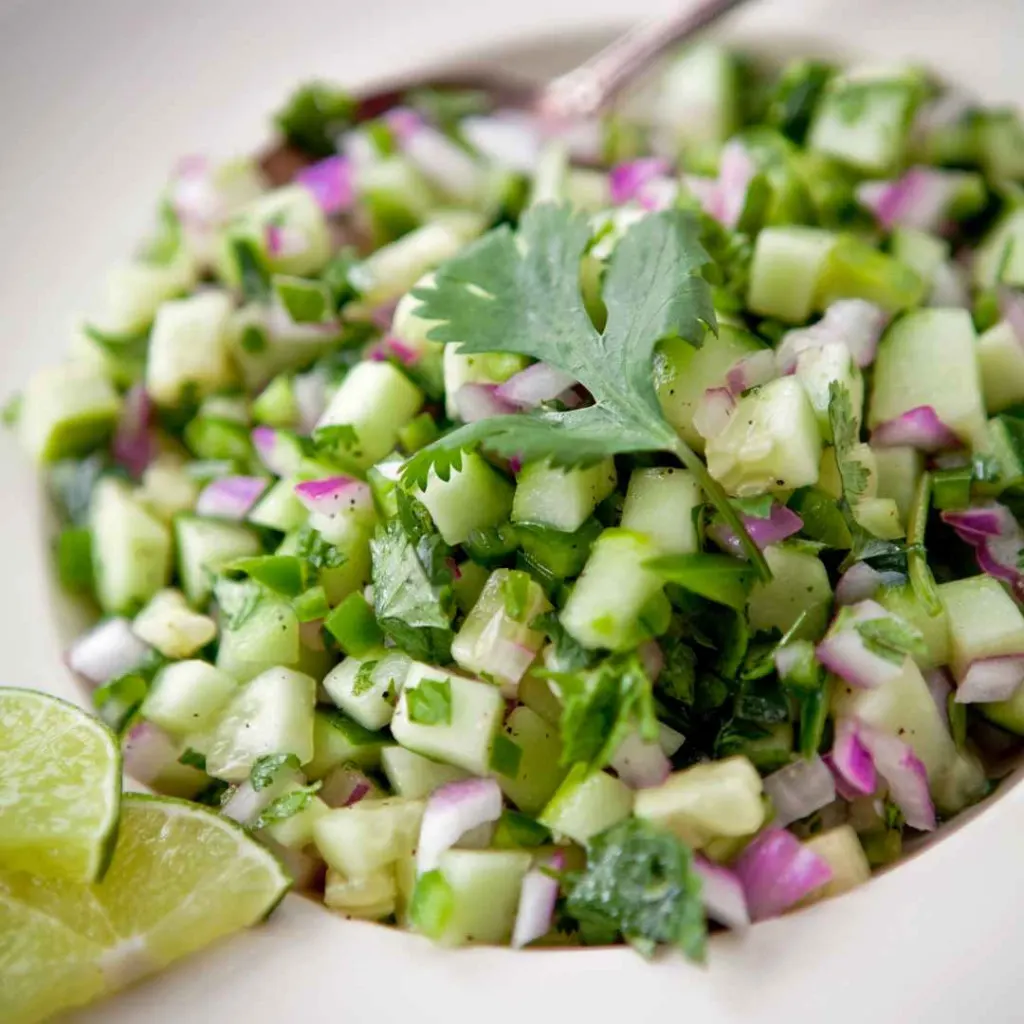 Fresh, garden grown veggies are always the best choice when making fresh recipes like salsa, salads, and any other meal where the vegetables are the main ingredients. We have gardened for years and always recommend utilizing organic, garden produce.
If you have never had veggies other than store bought and don't have the opportunity to grow your own, try a farmers market or your local food co-op. It's an entirely different experience when you're making recipes like this one with the freshest organic produce.
How do you make a Green Cucumber Salsa?
The best cucumber salsa recipe is made with fresh ingredients that balance flavor while delivering a crisp bite. It's a refreshing salsa similar to pico de gallo with bright spices, citrus juice, and spicy heat if you want it.
The basic recipe for this salsa is cucumber, onion, lime juice, cilantro, and a bit of fresh jalapeno peppers. Chop the veggies into bite sized pieces and dress with salt and pepper. Our recipe uses a bit of sour cream to balance out the flavors, bring a creamy element, and tone down the citrus.
Recipe Tips
You can use either corinto cucumbers or similar type. English cucumbers are firmer and also work but will give you a slightly different texture. We recommend seeding the cucumber to reduce the juices.
To reduce prep time use your food processor to chop the veggies. This will change the appearance of the salsa but it will taste just fine.
For the prettiest restaurant style salsa presentation hand chopping is recommended. Once you get the veggies prepped this is a ten minute recipe.
If you really love some heat in your salsa you may want a more powerful pepper. We love this recipe exactly this way. But go ahead and experiment with the green chiles or hotter peppers.
The Process
In a large bowl combine the prepared cucumber, tomato, onion, parsley, jalapeno, cilantro and garlic.
In a small bowl, combine the sour cream, lemon juice, lime juice, cumin and seasoned salt.
Pour over cucumber mixture and toss gently to coat.
Serve immediately or refrigerate covered.
How long can you store cucumber salsa?
Because this is a firmer salsa with larger pieces as opposed to a blended salsa, we recommend serving immediately. The salsa will break down as it sits and the juices will pool. If necessary it can be stored in the fridge for a few hours, but be sure it is covered to preserve the flavor and freshness.
Fresh, raw salsa are difficult to store for extended periods because they will break down and lose flavor. For example, canning cucumber salsa is not recommended because the canning process will introduce heat. This salsa is best prepared and served fresh.
Your Printable Recipe Card
Yield:

10 people
Crisp Cucumber Salsa Recipe
Crunchy, fresh, spicy flavor poised on a chip! Add this invigorating, Crisp Cucumber salsa to your next party event. Treat your family at home, our crowd devours this refreshing Low-Sodium, Low-Sugar, Vegetarian, Gluten-Free salsa.
Ingredients
2 cups cucumber, seeded and finely chopped
1 cup tomato, finely chopped and seeded
1/4 cup onion, red or white preferred-chopped small
2 tablespoons fresh parsley-minced
1 large Jalapeno pepper, seeded and chopped
4-1/2 teaspoons fresh cilantro, minced
1 garlic clove, minced
1/4 cup sour cream
2 Tablespoons lemon juice, juice of one lemon-strained
1 Tablespoon lime juice, juice of one lime
1/4 teaspoon ground cumin
1/4 teaspoon sea salt
Instructions
Prepare the veggies by chopping by hand OR use your food processor for a quicker method.
In a medium sized bowl, combine the prepared cucumber, tomato, onion, parsley, jalapeno, cilantro and garlic.
In a small bowl, whisk together the sour cream, lemon juice, lime juice, cumin and seasoned salt.
Pour over cucumber mixture and toss gently to coat.
Serve immediately with Tortilla chips or refrigerate
Notes
Using your food processor to chop the veggies works great and speeds up the prep time a lot. It WILL make your salsa a bit less beautiful but it will taste great.
Recommended Products
As an Amazon Associate and member of other affiliate programs, I earn from qualifying purchases.
Nutrition Information
Yield
10
Serving Size
1
Amount Per Serving
Calories

24
Total Fat

1g
Saturated Fat

1g
Trans Fat

0g
Unsaturated Fat

0g
Cholesterol

3mg
Sodium

58mg
Carbohydrates

3g
Fiber

1g
Sugar

2g
Protein

1g
Follow Us:
We enjoy meeting you on our social networks. Follow us on Facebook, Pinterest, Instagram . Tag us with your pictures of our recipes and comment on how it went for you. We would love to see what you do with them.
We often like, comment and share your posts of our recipes on our daily Instagram stories.
Ask questions and rate the recipe in the comments section below. Please share what you did with this recipe. We are always looking for more and better ways to make homemade food. Other cooks love your ideas!
Recent Posts: