Low Carb instant pot Tuscan Soup is a beautiful keto soup recipe rich with spinach, cream and Italian flavors.
Make it in your instant pot in about a half hour.
Add this yummy low carb soup to your meal plan.
This healthy instant pot soup recipe is perfect for a busy weeknight dinner .
More Low Carb Recipes:
We have lots more great low carb recipes. Explore these all of delicious recipes for healthy low carb eating.
And don't forget to check out our Fat Head Pizza Dough recipe and Cauliflower Pizza crust. Homemade Pizza is a great way to use up leftovers. These two pizza crusts will keep it healthy.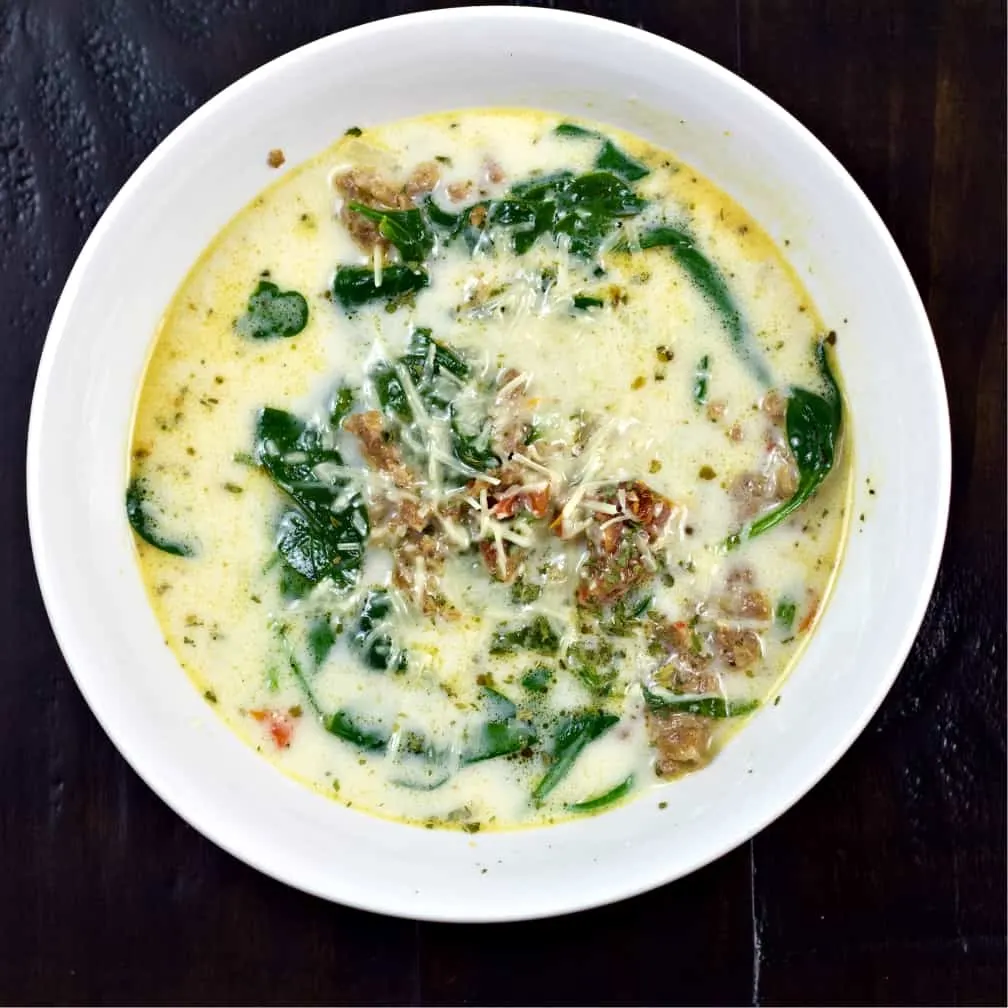 Italian Sausage KETO Soup Recipe:
This sausage spinach soup is a good choice for a keto diet recipe. As written this recipe contains only 10 net carbs.
That's on the high side of the carb count for intentional Keto dieters. But this keto instant pot recipe still qualifies as KETO friendly. You may have to adjust the carbs to meet your personal goals.
I include some ideas to bring the carb count down even further in the ingredient section below.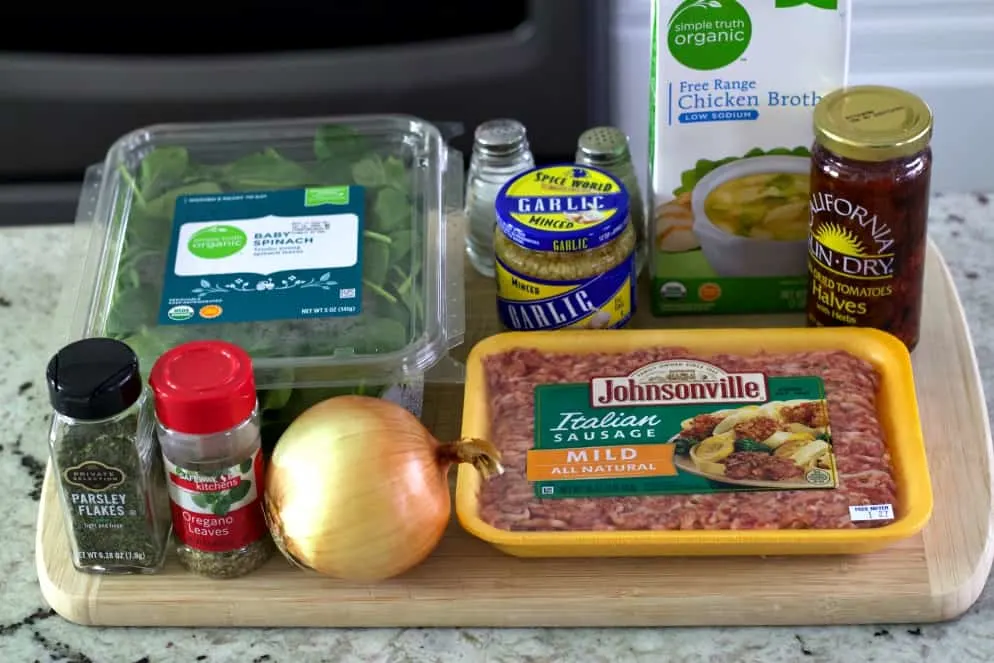 Ingredients and Substitutions:
For KETO dieters it all about staying in Ketosis. To learn more about what that means check out this article on the signs of ketosis to make sure you truly attain your goals.
Sun Dried Tomatoes:
If you need to get your daily carb total down further and you need to cut the carbs even more… eliminate the sun dried tomatoes. That brings the total net carbs down to 9 carbs per serving.
However, those wonderfully sweet marinated dried tomatoes add a LOT of flavor to this low carb soup recipe. (I make my own and show you how in my homemade Sun Dried tomatoes post).
That delicious extra tomato carb is worth it in my opinion. But if you really need to bring the net carb count per serving to 10…chuck em.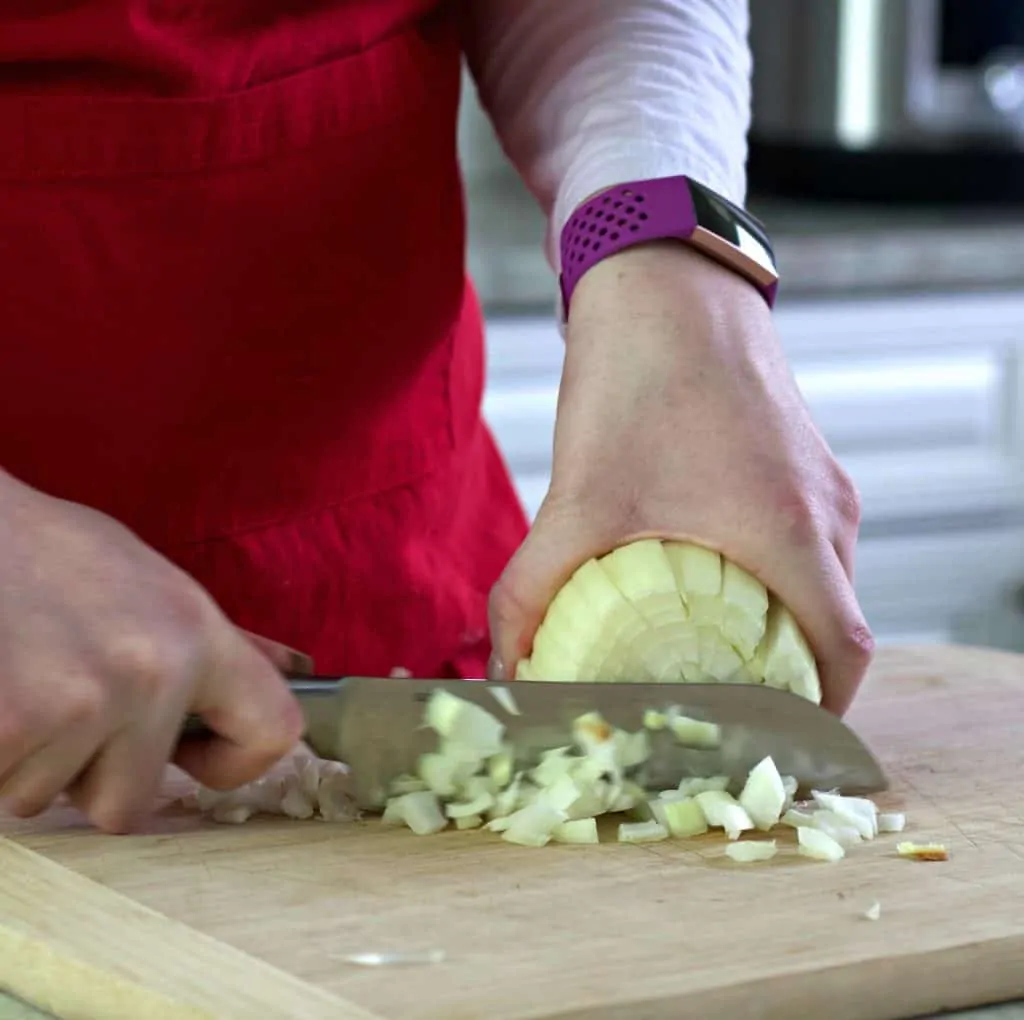 Onion:
For our KETO dieters onions are a bit problematic. They are on the higher carbs veggie list.
You can further reduce the carbs in this soup by one carb per serving by simple removing the onion from this recipe. Or cut it in half.
If you do that you make want to make a hot sausage choice to keep the flavors interesting.
Italian Sausage:
Try a hot spicy sausage rather than the mild if you prefer. The extra spice is welcome and satisfying if you are not feeding young children or bland eaters.
Have extra bacon laying around? You can add up to 8 slices of bacon to the pot when you sauté the sausage for even more fat and flavor.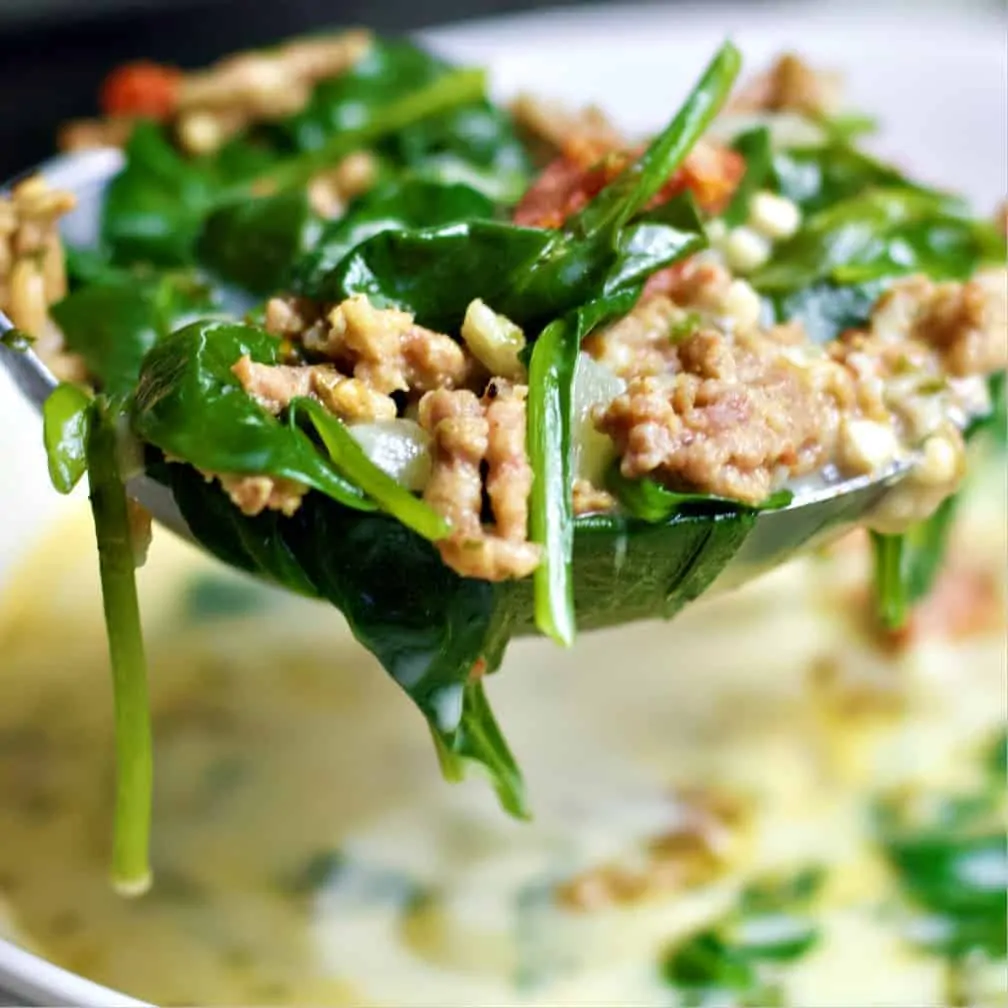 The Spinach:
We chose pre washed baby spinach to keep this beautiful soup really quick and easy. Washing spinach bunches can become a lengthy tiresome process.
Also if you are choosing a mature spinach leaf it will have to be cut to make it manageable on a spoon.
Eliminate all the bother by purchasing a pre washed baby spinach. Tender and small. Just dump several handfuls in the soup pot. Much easier and so tasty.
Kale for spinach:
Kale is a nutritious substitute for spinach. If you have it on hand it's a great choice for this keto friendly recipe.
I LOVE kale in my homemade Lentil Soup with sausage.
Soup with kale is very nutritious and kale holds up well under heat.
You can cook this soup under pressure with the kale in it. I would not do that to spinach.
With kale you can also make this on your slow cooker function and let it simmer all day. Kale will hold up to that just fine.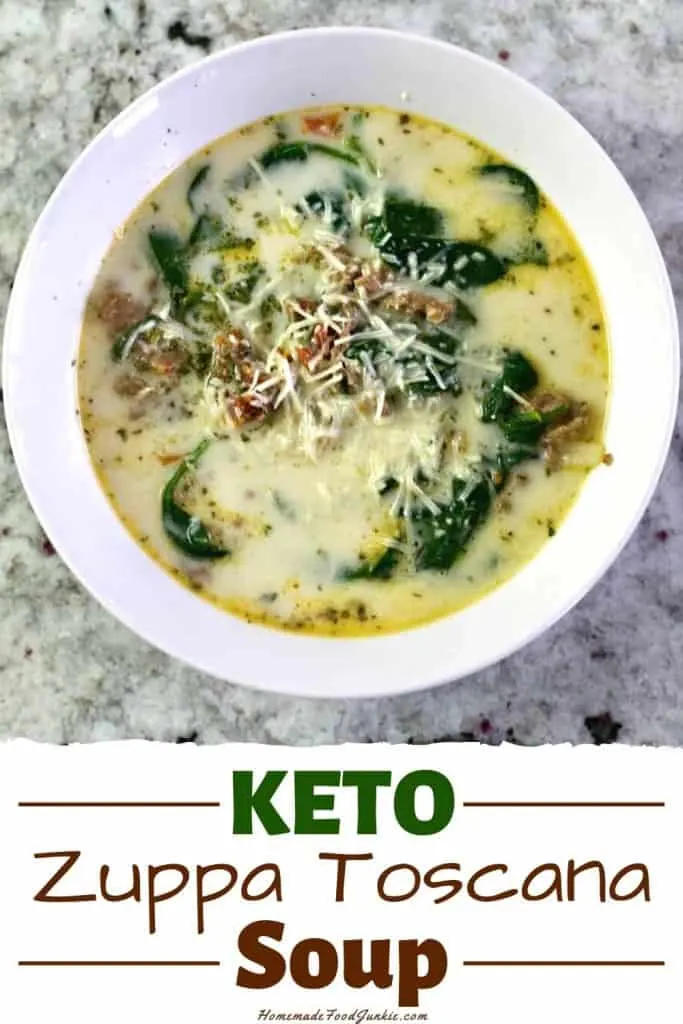 Low Carb Tuscan Soup-The Process:
Here is a quick visual guide to this recipe. Please also watch our video for a complete demonstration of this recipe.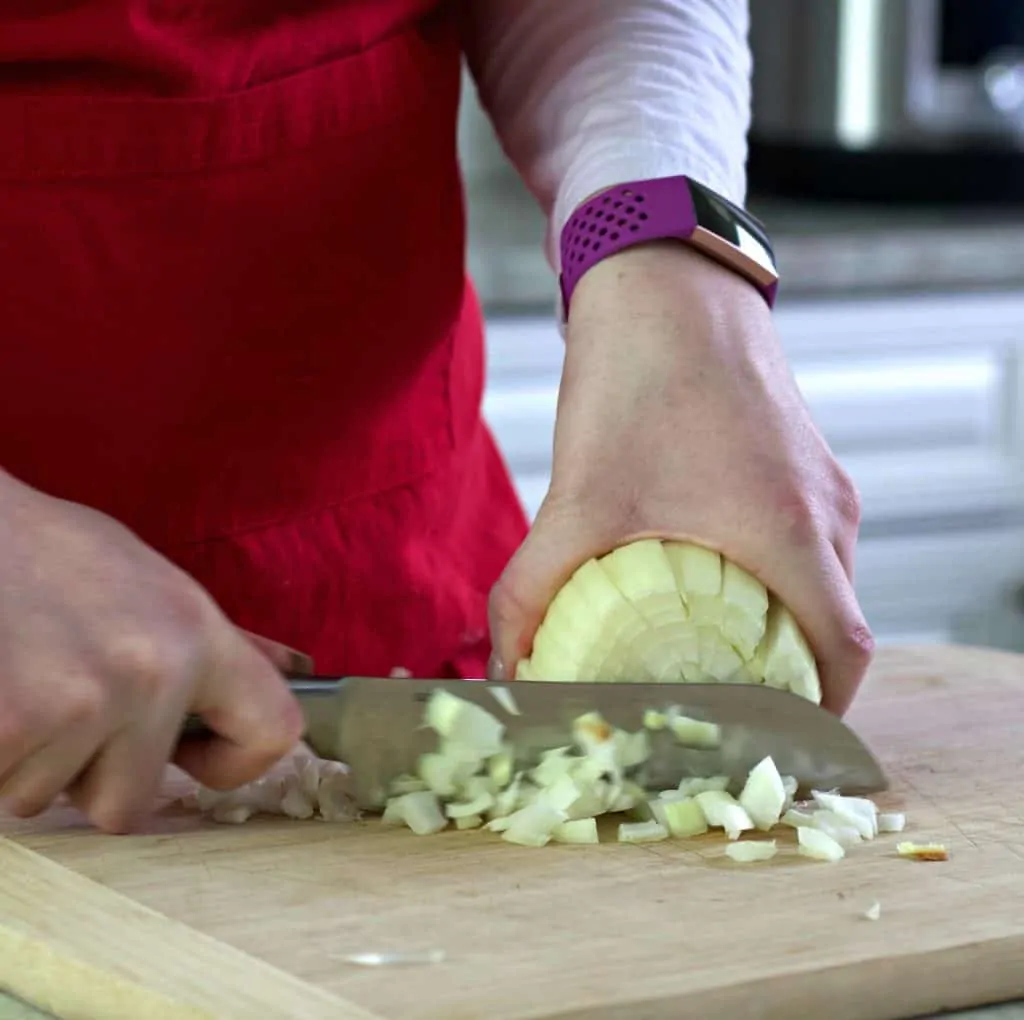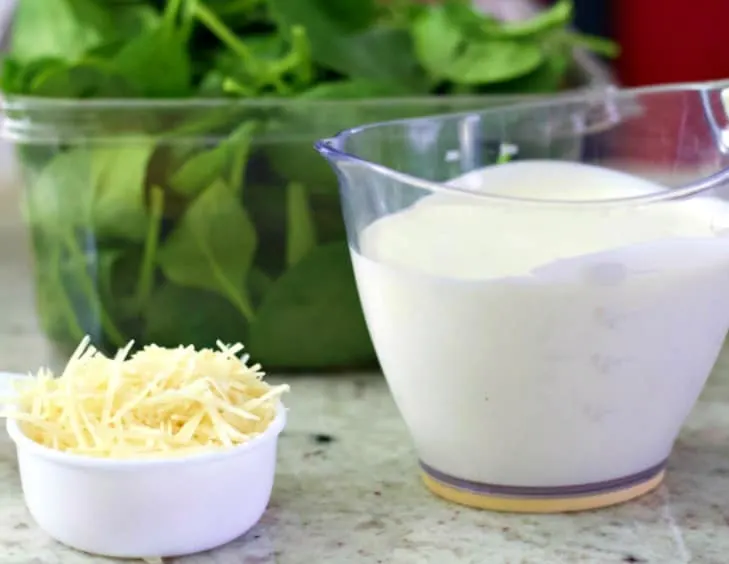 For best results in this recipe hold the cream, cheese and spinach back until after your instant pot is quick released. Then stir them in and serve.
The Instant Pot:
We used the 8 quart instant pot Ultra (linked below) for this soup recipe. A six quart instant pot will also work but be careful not to fill the stainless pot over the fill line or your pot won't want to come to pressure.
Any brand electric pressure cooker or type of 6 quart or larger instant pot can be used to make this recipe. Just follow your manual instructions and use high pressure for five minutes.
Helpful Amazon Products:
Your Printable Recipe Card: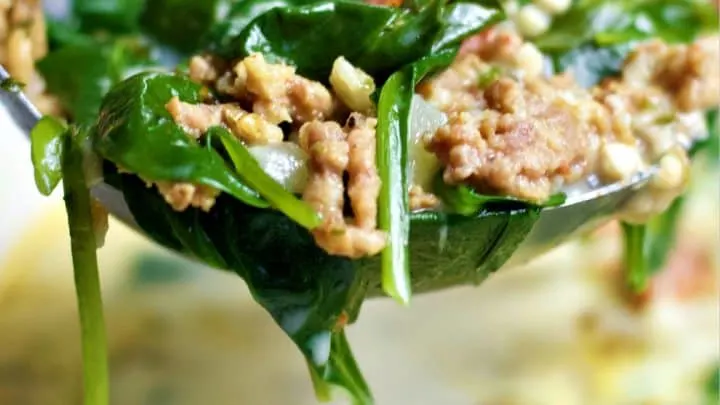 Yield:

10 servings
Instant Pot Tuscan Keto Soup Recipe
Additional Time:
10 minutes
A very quick and easy low carb recipe. This is a delicious and satisfying sausage soup with spinach, cheese and a cream base.
Ingredients
2 Tablespoons extra virgin olive oil
1 lb. italian sausage (any heat will work)
1 large white onion
1 tsp. salt
1 tsp. pepper
3 tsp. minced garlic
1 1/2 tsp. oregano
1/4 Cup sun dried tomatoes
6 Cups chicken stock
5 oz. baby spinach leaves
3/4 Cup heavy cream
1 1/2 Cups shredded parmesan cheese
Instructions
Set the instant pot to saute function.
Finely dice the onion
add the oil and sausage to the instant pot.
Lightly sprinkle half the salt and pepper over the sausage.
Brown the sausage about halfway.
Add in the onion, garlic and oregano.
Pat the tomatoes dry and chop them fine.
Add the chopped tomatoes to the browned sausage.
Pour in the chicken stock and the remaining salt and pepper.
Lock the lid and set the pot to manual function on high pressure for five minutes.
Quick release the instant pot (see video)
Remove the lid.
Add the spinach, cream and parmesan cheese to the soup.
Stir and serve.
Notes
TIPS:
For children and those with a mild palate mild italian sausage is preferred.
spicy hot sausage with wake up the flavor of this Tuscan soup and please the adult palate.
Add up to 8 slices of bacon into brown with the sausage for even more fat and flavor.
KETO:

Eliminate the sun dried tomatoes or onion to bring the carbs down to 9 net carbs per serving.
READ THE WHOLE POST FOR MORE TIPS AND IDEAS ON THIS RECIPE:
Nutrition Information
Yield
10
Serving Size
1
Amount Per Serving
Calories

357
Total Fat

27g
Saturated Fat

12g
Trans Fat

0g
Unsaturated Fat

16g
Cholesterol

59mg
Sodium

996mg
Carbohydrates

11g
Fiber

1g
Sugar

5g
Protein

18g