Coconut Chocolate Fat Bombs are delicious keto snacks. Keep them in your fridge or freezer for a quick, high energy pick me up!
My sister Susie gave me this keto friendly snack recipe. She received it from her friend Carol.
I made them with some trepidation. Fat Bombs??? Really??? Hmmm. Who needs goodies called fat bombs???
Well I'm a convert now. Fat Bombs are "A THING". Fat bombs (what a name) put them on your keto snack list.
Want to see these little dreams made in action? Click the Link to WATCH Amanda make these Chocolate Coconut Fat Bombs.
Amanda shows you how to make these keto diet snacks. She also offers tips on keeping them KETO compliant.
If you're looking for more keto recipes try Ranch Chicken Bacon Broccoli Skillet Dinner,
Fat Head Pizza, and Keto Approved Peanut Butter bars.
After I made these keto bombs, I realized how delicious, satisfying and filling Fat Bombs are. Thank you Carol, for this great recipe. I have made these a few different ways now. This version has a lot going for it so I'm sharing it with you.
What's in these Fat Bombs?
The secret to the nutritional success of this recipe is good, healthy fat. Healthy Fat is necessary for good absorption of our nutrients throughout the day. The health benefits of a keto diet relies on excellent quality fats.
Flavorless Avocado oil is also one of our favorite heart healthy fats. High quality olive oils will also work for this recipe. However, it may add a flavor you don't want. I like coconut oil in this recipe since it adds a good flavor and stays solid at cold temps and cooler room temps.
More healthy ingredients:
Organic, unsweetened Peanut butter gives this recipe a bit of protein and yummy flavor; also satisfying.
The unsweetened coconut fines and Walnuts provide a texture enhancement. So you actually chew. Also satisfying when hungry.
And the only sweetener in this recipe is healthy pure organic Maple syrup. To make this recipe sugar free use an organic sugar free Maple Syrup.
I used unsweetened 100 percent dark chocolate as the top layer. I thought it would be too bitter. It's Not. The coconut and walnuts on top are wonderful counterpoints.
Use high quality organic nut butters, high fat coconut oil, avocado oil, walnuts and Dark chocolate for loads of nutrition along with the fat. Make the healthy, high calorie snack bites worth every bit of it.
Fat Bombs one of the best keto snacks. They make a good mid day pick me up, office snack, lunch box or busy day take a long.
That makes it a great fit for my family. I hope you love these too. Just keep them cold with an ice pack or fridge so they don't melt.
Chocolate Coconut Fat Bombs Recipe Notes:
To make these low carb snacks part of a ketogenic diet:
Use a sugar free Maple Syrup.
unsweetened chocolate
unsweetened coconut shreds.
This keep the carbs way down. Amazingly even sugar free these treats are really good. The fat keeps your tummy happy too so your cravings are also satisfied if you're suffering a case of the munchies. You won't miss the carbs with these Fat Bombs for fun food.
Fat Bombs were created to satisfy hunger and provide a low carb snack on a ketosis diet. They are great for anyone looking to pop a hundred or so calories of low carb energy.
Keep them in your fridge or freezer. Yes you can eat just one or two of these tasty, satisfying little snacks. And then stick them back in the fridge so you can't see them and they won't melt.
These little treats will last for a LONG time in the freezer or fridge. Such a handy after school treat. Or, "I don't have time for a full meal" treat. Or, "I just need healthy calories" treat.
Fat Bombs will work for camping, hikes and the lunchbox if you can keep them cold. What a great high energy kick to keep you going through the day. No candy bars needed.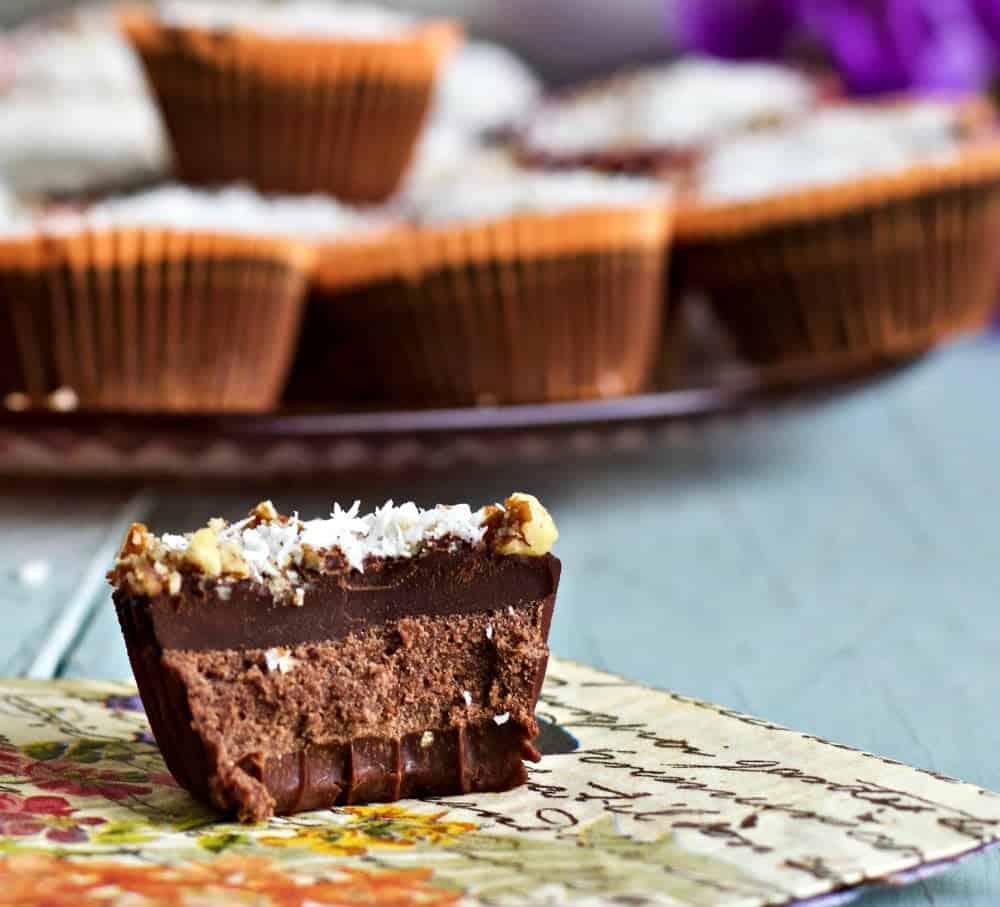 Your Printable Recipe Card:
Yield:

24
Chocolate Coconut Fat Bombs
chilling time:
30 minutes
Chocolate Coconut Fat Bombs. These delicious little treats are Low-Carb, sugar free, KETO, Low-Sodium, Vegan and Gluten-Free! Keep them in your fridge or freezer for a quick, high energy pick me up.
Ingredients
Bottom layer:
½ Cup Coconut Oil
½ Cup Peanut butter, sugar free organic or natural brand
½ Cup Cocoa Powder, 100 percent sugar free Dutch process
¼ Cup sugar free Maple Syrup, pure organic
1 tsp Vanilla
Toppings:
1/8 Cup Unsweetened Coconut , – finely shredded
1/8 Cup walnuts, -finely chopped
6 oz unsweetened bakers Chocolate, 100 percent sugar free
Instructions
Bottom layer instructions:
Melt coconut oil and nut butter in sauce pan on low heat until liquid.
Add maple syrup, vanilla and cocoa powder; stir until all mixed. (Try coconut shreds for extra texture)
Pour into mini-muffin pan lined with mini cupcake papers (approximately 1 Tablespoon each).
Place in freezer until set. about 30 minutes..
Top Layer instructions:
Melt dark chocolate in microwave or on the stove in small sauce pan.
Remove muffin pan from freezer.
Place the fat bombs on a wire rack and pour or spoon dark chocolate over the tops (a thin layer).
Sprinkle with coconut shreds and walnuts as desired.
Place in freezer or refrigerator to set. Remove fat bombs from muffin tin and store in zip-lock bags in refrigerator.
Nutrition Information
Yield
24
Serving Size
1 fat bomb
Amount Per Serving
Calories

128
These Fat Bombs are featured in
NutritionYouCanUse.com 33 Keto Fat Bomb Recipes collection
: If you are looking for more fat bombs check it out!
SaveSave
SaveSave