Spicy hummus dip is Loaded with ChickPeas, hot peppers, sesame oil, garlic and fresh squeezed lemon juice. This dip is amazingly healthy! Nutritionally Balanced, High-Fiber, Low-Sugar, Vegan, Vegetarian,Dairy-Free, Gluten-Free! Grab a spoon or a chip!
Several years ago My husband found Hummus Dip in a huge container at Costco. He brought it home and it was devoured THAT NIGHT! That became our family favorite dip for quite a while. We eventually tried about every version we could find. And there are many!
Now I make my own hummus. It's so easy to blend up a batch. We will be eating homemade hummus dip versions from now on! It's very easy to make and it's so good and SO healthy!
The way I made it today is best for an adult palate that craves pepper heat! Of course, it's easy to tone down all that fire in the mouth. Just change out the peppers to something milder (but you're going to want at least a LITTLE zing)!
Having a party? Look for appetizers here. Other spicy dips with COMPLETELY different flavor profiles include our Crockpot Buffalo Chicken Dip , Quick N Easy Queso Dip and Spicy Tomatillo Chip Dip Recipe. Party food comes in lots of choices!
Dave grew some hot little Bangkok peppers last year. A LOT of them! My freezer is full of bags of lovely whole Bangkok peppers. Time to get using them. He is starting a new crop of peppers in the greenhouse. In a few months, I'll be awash in peppers again. (although he cut back the number he is growing this year rather drastically!)
Bangkok peppers are a bit high on the Spice O Meter. In Dave's Seed Catalogs they are a number 4. Compared to many other peppers, like the Ghost pepper, they are mild. These are the hottest peppers Dave has grown and they are plenty hot enough for us!
I love Bangkoks in my Peanut Sauce. And I have used them in several crock pots where the spice is distributed a bit. Today that hot pepper flavor is going on the front line! This is one spicy dip! Amazingly, I like it! A Lot! Dave does too. Neither of us have a history of infatuation with hot spice….maybe our taste buds have muted a bit with age…it happens!
As a child, I really hated garbanzo beans and avoided them! The salads they were in… were not my favorites. I blamed the chickpeas. Maybe unfairly. Lately, I'm learning to love chickpeas for their
nutritional benefits
AND their flavor! As a legume, chickpeas are very high in fiber and support digestive health. There are lots of reasons to fall in love with garbanzo beans!
I set about exploring homemade hummus because my family members really do love the stuff. I don't usually like spice in big quantities. But I do like this dip!
Spicy Hummus Dip Recipe:
So easy to make. Just chuck it all in your blender and pulse until smooth! Serve at once, or store it in the fridge in an airtight container. It will hold several days, maybe a week or more (ours never lasts that long). This dip is so healthy you can just eat it with a spoon. Dip it in veggies. Spread it over flat bread. This is good for a light lunch, appetizer, or snack (my oldest daughter LIVED on hummus all through her pregnancies)! Letting it sit in the fridge overnight actually improves the blend of flavors. So this is a great make ahead recipe!
Squeeze fresh lemon juice for a fresh, citrus taste. I tried it with lime…stick with the lemon juice 🙂
INSTRUCTIONS:
In a food processor, blend chickpeas, lemon juice, and 4 Tbsp. of olive oil. Use a rubber spatula in between pulses to keep it blending.
Add the garlic, jalapeno, spices, and sesame oil and blend to a smooth paste. I prefer a bit of texture; so I left some texture.
Add optional ingredients if using and blend.(Let me know what you like!)
If mixture is too dry, add the remaining tablespoon of olive oil a little at a time until desired creaminess is reached.
Serve right away, or chill for later(mine didn't make it to the fridge, until much later)
Easily whip up this flavorful concoction of healthy ingredients. Turn your chips and veggies into a special, healthy treat. We tried it as a spread on cucumber slices too. Very good! Let me know how you like it.
If you purchase items from our affiliate links we may receive a small commision at no extra charge to you. Thank you for supporting Homemade Food junkie.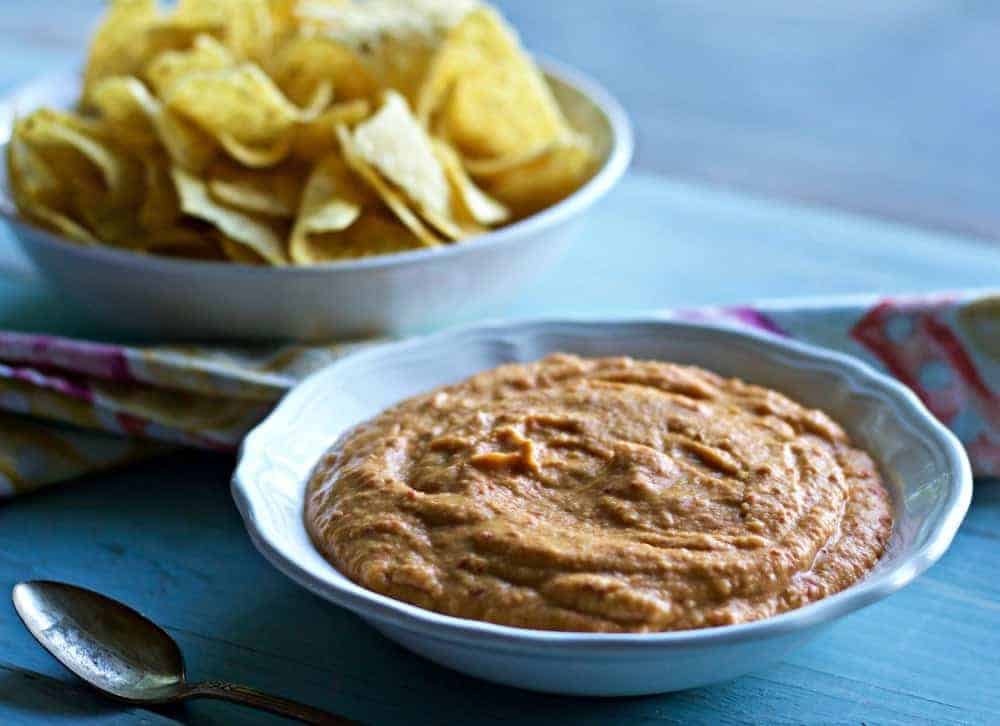 Yield:

16 servings
Spicy Hummus Dip Recipe
Spicy hummus dip is Loaded with ChickPeas, hot peppers, sesame oil, garlic and fresh squeezed lemon juice. This dip is amazingly healthy!
Ingredients
2 Cups garbanzo beans
3 Tablespoons lemon juice
3 Tablespoons olive oil
2 tsp. garlic, minced
1 minced jalapeno with seeds if desired (I used 4 bangkok peppers)
1 tsp. cumin
1 tsp. salt
1/2 tsp. black pepper
1/2 tsp. smoked paprika
3 Tablespoons sesame oil
Instructions
Put it all in a blender and blend until smooth

Serve immediately, or store overnight to blend the flavors

This dip holds well in the fridge if stored in an airtight container
Nutrition Information
Yield
16
Serving Size
1
Amount Per Serving
Calories

81
Total Fat

6g
Saturated Fat

1g
Trans Fat

0g
Unsaturated Fat

5g
Cholesterol

0mg
Sodium

148mg
Carbohydrates

6g
Fiber

2g
Sugar

1g
Protein

2g
Pin it: