Our scratch made Spicy Hummus Dip is loaded with chickpeas, hot peppers, sesame oil, garlic and fresh squeezed lemon juice. Hummus is a fantastic dip for breads, crackers, and veggies; it also works beautifully as a spread in wraps.
Hummus is traditional in Middle Eastern and Mediterranean cuisine. The creamy base is made from pureed chickpeas or garbanzo beans, providing a healthy dose of protein and carbohydrates. Eastern spices like tahini, fresh herbs, and lemon juice are incorporated to bring the majority of flavor and olive oil is drizzled on top.
Hummus can be made in a variety of ways with a wide range of ingredients, making it versatile in flavor and nutrition. We love the addition of hot peppers like and the heat that they bring.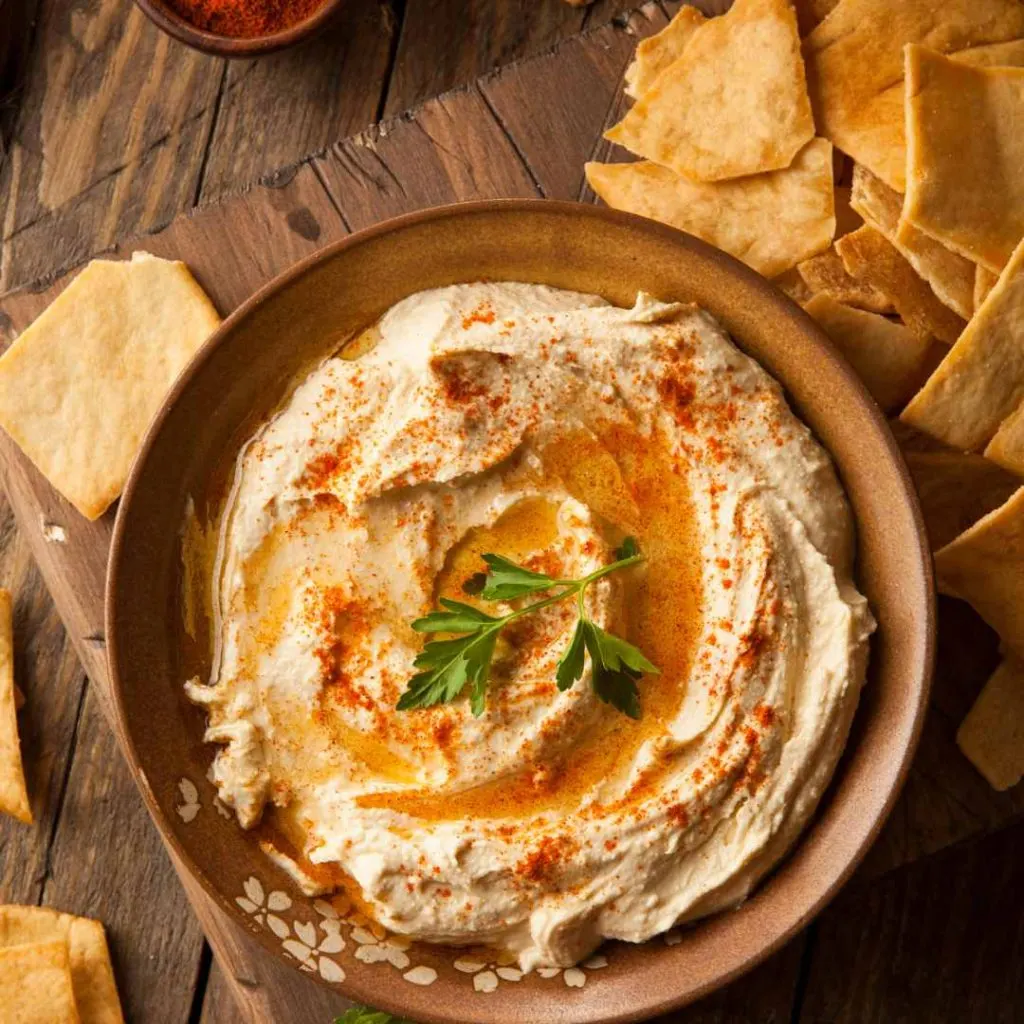 Hot and cold dips are always popular at events and gatherings, if you are looking for more recipes check out our roasted corn dip, 7 layer bean dip, crockpot buffalo chicken dip, or the spicy tomatillo dip.
We also have some fantastic salsa including our fresh tomato salsa, crisp cucumber salsa, and this spicy pepper salsa.
How do you spice up Hummus Dip?
While traditional hummus does not include a spicy element, many modern recipes have been embraced because the addition of heat is pleasing and interesting to this creamy dip. An authentic spicy hummus recipe can be made using diced peppers, fresh chopped green onions, chives, even hot sauce and cayenne pepper have been used to bring the heat in this recipe.
We have added Bangkok peppers to our spicy hummus dip, but you can also use jalapeno peppers with the seeds. The flavor will change slightly depending on the type of pepper used, but fresh peppers are definitely our choice because they add crunch, heat, and their own unique flavor profile.
What can you serve with Spicy Hummus Dip?
In the states, hummus is usually a dip served with pita bread or chips and raw veggies. if you are looking for more ways to enjoy a spicy garlic hummus recipe here are some ideas to get you going
Serve with roasted cauliflower
Enjoy with tortilla chips
The traditional way to eat hummus in Israel is with raw onion slices
Use as a spread for your favorite wraps
Enjoy alongside a dish of mixed olives
Serve with your favorite whole grain crackers
Enjoy with sliced sourdough bread
Dip sliced chicken breast into your hummus
Serve a platter of hummus stuffed peppers
Can I make Spicy Hummus Dip ahead?
Yes, hummus dip holds well for several days in the fridge and can easily be stored if you need to make it ahead of when you plan to serve it. Make the hummus dip as directed by the recipe and transfer it to an airtight container. The dip can be kept in the fridge overnight to allow the flavors to infuse and intensify, or longer if necessary.
Hummus is usually served cold or at room temperature so there is no need to warm it. If slight separation has occurred give it a quick stir, top it with olive oil and any diced fresh herbs that you desire.
How spicy is too spicy?
We love Bangkoks in our homemade peanut sauce, and chose to use them for this spicy hummus dip. They bring a moderate level of heat making this is one spicy dip! Bangkok peppers rate at a 4 on the heat index, so using these or similar peppers will bring a noticeable level. Cayenne pepper, red pepper flakes, and various hot sauces will also hold considerable heat in this dip.
If you are looking for a milder spicy hummus dip, we recommend jalapeno peppers, green onions, or red onions. Each of these will introduce a spicy heat to the dip without the risk of overpowering the flavors and herbs of the dip.
What are the most popular ways to make Spicy Hummus Dip?
Spicy hummus ingredients vary depending on the desired flavor profile and can range from traditional Eastern spices to Mediterranean flavors like feta and olive. Below we are sharing some of the most popular ways to make a spicy hummus dip.
Classic Hummus Sabra
The company Sabra is a Middle Eastern brand that manufactures some of the most popular hummus dips found in stores. Their classic recipe is at the top of the list and is made from chickpeas, tahini, lemon juice, garlic, cumin, olive oil, hot sauce, and garnished with pine nuts.
Roasted Red Pepper Hummus
As the title suggests, red peppers are the star of this dip. A slightly smoky flavor is present along with garlic, cumin, and the rest of the classic ingredients found in this dip.
Roasted Garlic Hummus
Where garlic is king and the dip pairs well with any food. The traditional recipe gets a high does of the aromatic spice, and ranks hight in popularity
Indian Spiced Hummus
A spicy hummus recipe Indian style is another popular one. The flavors are bold and incorporate tomato paste, turmeric, ginger, and cilantro for a well rounded dip that delivers depth and heat.
Supremely Spicy Hummus Sabra
The Sabra spicy hummus recipe rounds out the most popular spicy hummus dip recipes. This one includes bold ingredients like cayenne pepper, a healthy dose of hot pepper sauce, and cumin along with traditional spices.
Hummus offers a wonderfully versatile side dish, dip, or spread for a variety of occasions and meals. This recipe can be used as a base starting point, and changed to suite your preferences by using different seasonings and add-ins.
Our recipe is simple to make and stores well in the fridge for a few days without compromising flavor or texture. It makes a wonderful addition to potlucks, picnics, or games nights; and is a wonderfully healthy option to have on hand for spreads and a healthy dip to enjoy for lunches.
Yield:

16 servings
Spicy Hummus Dip Recipe
Spicy hummus dip is Loaded with ChickPeas, hot peppers, sesame oil, garlic and fresh squeezed lemon juice. This dip is amazingly healthy!
Ingredients
2 Cups garbanzo beans
3 Tablespoons lemon juice
3 Tablespoons olive oil
2 tsp. garlic, minced
1 minced jalapeno with seeds if desired (I used 4 bangkok peppers)
1 tsp. cumin
1 tsp. salt
1/2 tsp. black pepper
1/2 tsp. smoked paprika
3 Tablespoons sesame oil
Instructions
Put it all in a blender and blend until smooth

Serve immediately, or store overnight to blend the flavors

This dip holds well in the fridge if stored in an airtight container
Nutrition Information
Yield
16
Serving Size
1
Amount Per Serving
Calories

81
Total Fat

6g
Saturated Fat

1g
Trans Fat

0g
Unsaturated Fat

5g
Cholesterol

0mg
Sodium

148mg
Carbohydrates

6g
Fiber

2g
Sugar

1g
Protein

2g
Follow Us:
We enjoy meeting you on our social networks. Follow us on Facebook, Pinterest, Instagram . Tag us with your pictures of our recipes and comment on how it went for you. We would love to see what you do with them.
We often like, comment and share your posts of our recipes on our daily Instagram stories.
Ask questions and rate the recipe in the comments section below. Please share what you did with this recipe. We are always looking for more and better ways to make homemade food. Other cooks love your ideas!
Recent Posts: