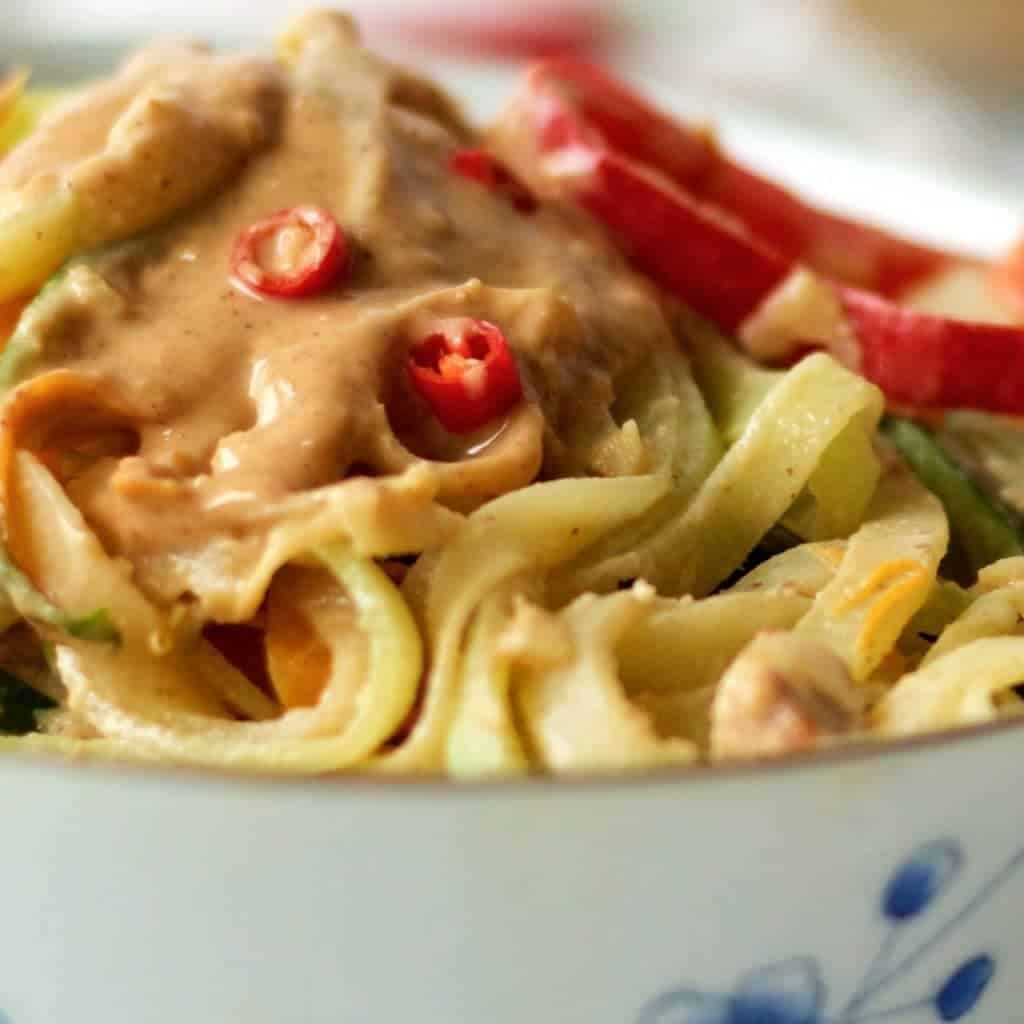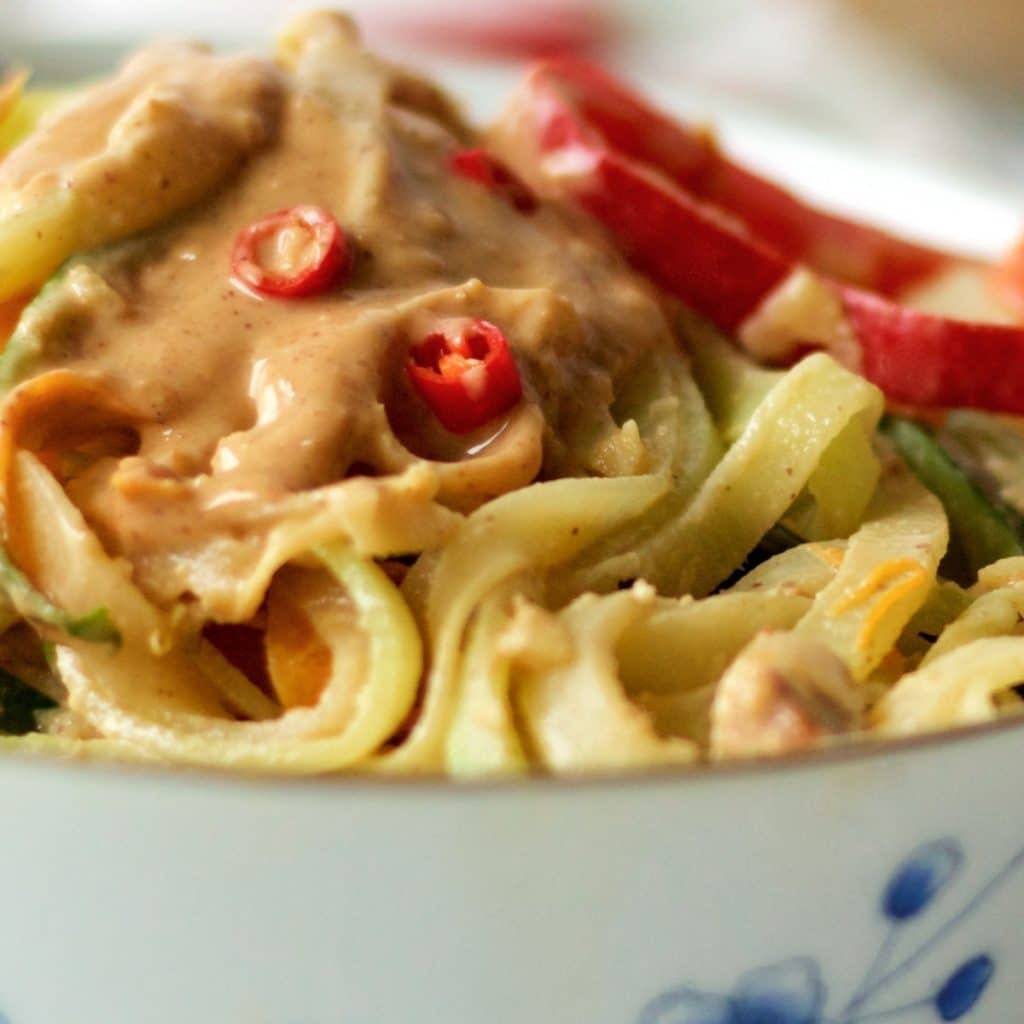 Peanut Sauce over Thai Zoodles uses up your overload of harvest veggies deliciously and bang bang quick! Making veggies into spirals of delicious noodles is a very healthy, easy way to enjoy your veggies. Add this finger licking peanut sauce and hot Thai peppers for an impressive High-​Fiber, Vegetarian, Dairy-​Free meal in a hurry!
Forever ago I thought about making Thai food. My husband decided he wanted to grow Bankok peppers this year… so this is that recipe!
The problem is…we don't like spicy HOT peppers,(or he would have grown ghost peppers which he thinks are really cool). So all summer our other peppers came ripe, one after the other, sweet Carmens, roasting peppers, and red flame peppers which can pack a bit of heat, but not as much as Bangkok! We froze, dried and ate peppers in all sorts of recipes, and still are! I made the most delicious peach pepper tart! Finally, last but by no means least, the Bangkoks are ripening. We want to love all our peppers, but we were a bit afraid of these.
Thai peppers need to go into a Thai recipe. But we have never eaten at a Thai restaurant. So…the internet was the obvious place for an answer. This post is a concoction of several idea places. I didn't know what peanut sauce is, Epicurus had the answer. I had a BUNCH of veggies loading up my fridge. I found a really cool video by the White on Rice Couple showing a spiralizer at work, transforming huge quantities of veggies into amazing zoodles. I HAD to have one and so I did. They made a dime on me, and I had my Paderno spiralizer; and the means to make an acre of garden veg into good food, really fast! Good Deal!

I'm loving it by the way. Entire zucchinis, parsnips, kohlrabi and carrots change into these incredibly fun noodly spirals. The imagination runs wild! make them round, kinky, or straight , fat or thin with the three different blades.
My first Experience with my Spiralizer making Zoodles!:
I had fun playing with all three blades on the spiralizer and trying out several different veggies in it. We ate them that first night with a hodgepodge of asian oils, vinegar and spice and strewn with sesame seeds. Tasty indeed! I can see a solution to the veggies crammed into my fridge!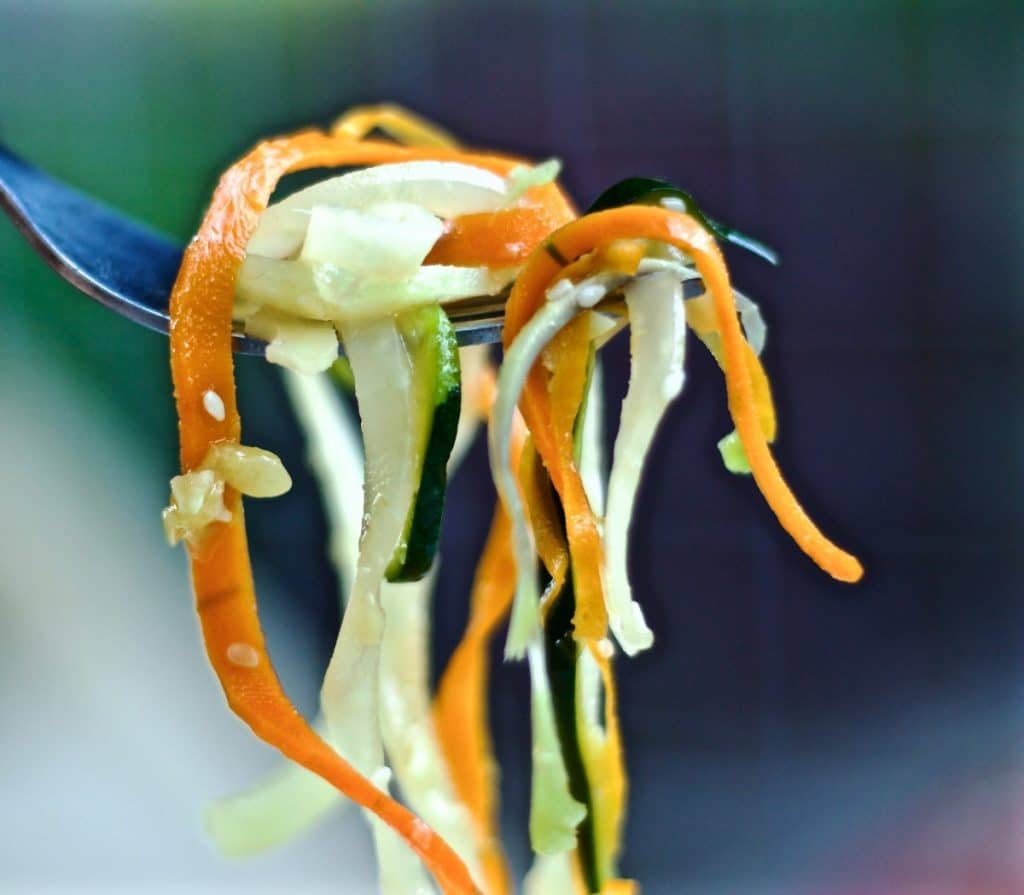 Time for Peanut Sauce over Thai Zoodles:
But I wanted peanut sauce! And the bangkoks had to be used! I had my new peanut sauce recipe and spiralizer, and huge load of garden veggies. so I went to work.
The problem with not knowing what a sauce is supposed to taste like when you make it; is you never know if you get it right! Fortunately, we had a Thai food loving friend over the night I made this recipe, He gave his opinion. He missed the carby noodles (but we didn't!), and he suggested an ingredient or two to make it taste authentic. So, This recipe is going to have more flavor now, and be terrific! If it's not, you can comment to Mathis!
I thoroughly enjoyed the whole dinner. It was creative and easy to make, and loads of fun to eat! Best news of all is…we loved the Bangkok peppers in this dish! The heat of the peppers creates a lovely zing factor in this meal without overpowering the other flavors. Suit your own tastebuds, but we recommend you do it up a bit with the peppers. Yum!
Yield:

8 servings
Peanut Sauce Over Thai Zoodles
Additional Time:
20 minutes
Total Time:
1 hour
40 minutes
Peanut Sauce over Thai Zoodles uses up your overload of harvest veggies deliciously and bang bang quick! Making veggies into spirals of delicious noodles is a very healthy, easy way to enjoy your veggies.
Ingredients
1 large zucchini
1 large carrot
1 large parsnip
1 Kohrabi
2 garlic cloves
1 small onion
1 inch ginger root
1 sweet pepper
1 hot red Thai peppers
1 Cup roasted peanuts
1 Tablespoon sesame oil
2 Tablespoons avocado oil
3 Tablespoon soy sauce
2 eggs
Peanut sauce ingredients:
1 Cup creamy peanut butter
2 Tablespoons soy sauce
1 inch piece of ginger
1 peeled garlic clove
1 tablespoon lime juice
1 Tablespoon rice vinegar
1 tsp. brown sugar (or honey)
1/2 tsp. red chili flakes
1 Bankok pepper (hot thai chili pepper) minced.( Add as desired for hot spicy result.)
2/3 Cup water
Instructions
Preparation:
Toast the peanuts on a baking sheet in your oven for 25 minutes at 350 degrees F.
Wash and dry the zucchini, carrot, parsnip and kohlrabi veggies and make into noodles using whatever means you like
Set zoodles aside until needed
Make the peanut sauce in a blender or food processor:
Start the blender and drop in the ginger, and garlic and chop fine. Add in the remaining ingredients and blend until smooth. Adjust the water to your desired consistency
Set sauce aside in a serving dish
Reheat a large saute' pan or wok to medium high heat, add the avocado and peanut oil
Immediately add the zoodles, and soy sauce. Cook about three minutes, stirring often until the zoodles are firmly soft. Remove to a strainer and let drain
Add the zoodles back into the pan with more soy sauce to taste
Whisk the eggs and pour them into the zoodles. Stir until the eggs are cooked
Serve On a large plate with tongs and chop sticks!
Serve with the peanut sauce and toasted peanuts in dishes on the side
Garnish with the minced pepper as desired
Nutrition Information
Yield
8
Serving Size
1
Amount Per Serving
Calories

407
Total Fat

32g
Saturated Fat

6g
Trans Fat

0g
Unsaturated Fat

22g
Cholesterol

47mg
Sodium

832mg
Carbohydrates

21g
Fiber

5g
Sugar

7g
Protein

15g
This recipe was linked up to the a Hearth and Soul Blog Hop
This recipe was featured on Saucy Saturdays Link Party!