Peanut Sauce over Thai Zoodles is a flavorful vegetarian dinner that is made with a homemade peanut sauce and an easy homemade zoodles recipe. Thai zucchini noodles are made by spiralizing fresh, uncooked zucchini and cooking in the same fashion as pasta noodles. This method makes a wonderfully nutritious option for many dishes including this one.
Zucchini noodles are very easy to make, and we are walking you through the process, and sharing all of our best tips and tricks for cooking delicious zoodles. Our scratch made sauce is made from peanut butter, fresh ginger and garlic, soy sauce, and rice vinegar for a robust flavor profile. It is finished with red pepper flakes for a spicy finish, making these the best zucchini noodles with spicy peanut sauce.
There is some freedom with the ingredients for peanut sauce over Thai zoodles, so don't be afraid to use your favorite veggies. You can also add your favorite meat or protein to make this a hearty all in one meal. Chicken, pork, chopped peanuts, or tofu would all be excellent additions to the recipe.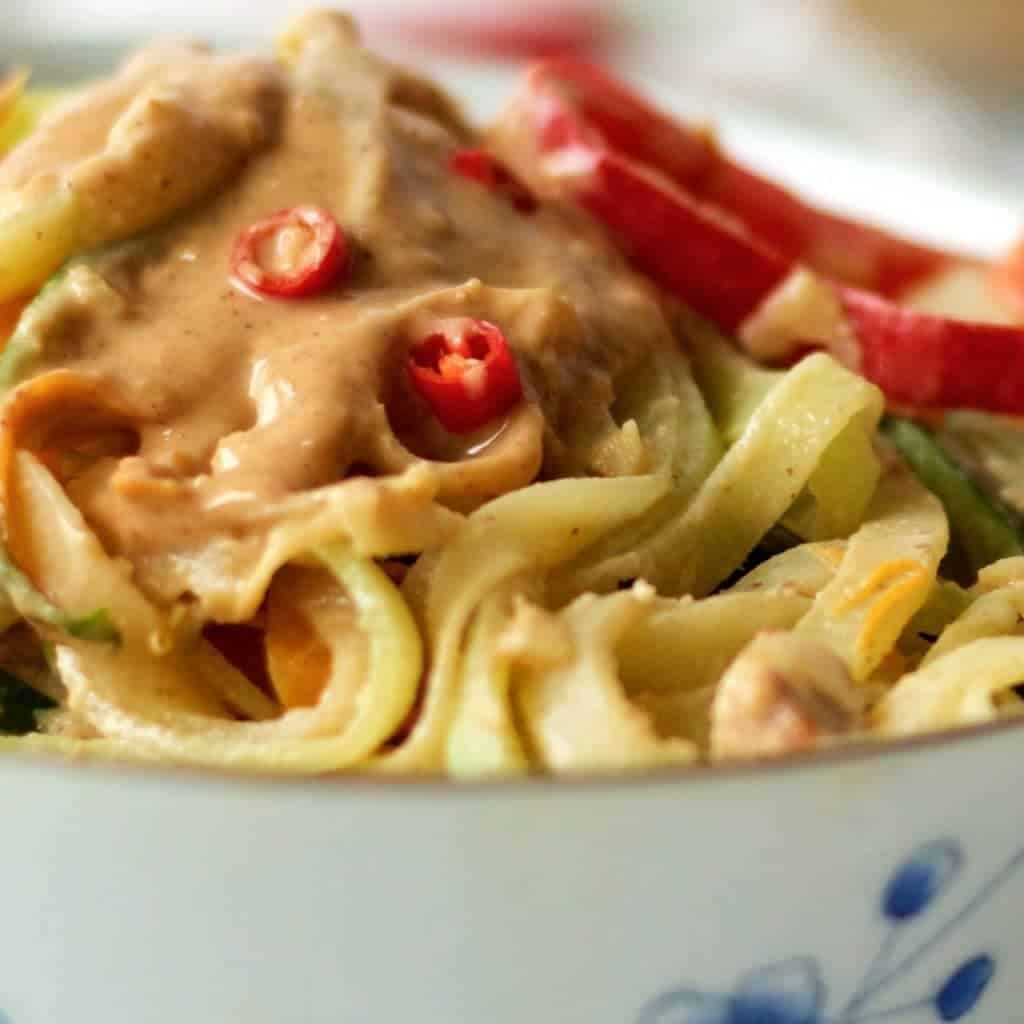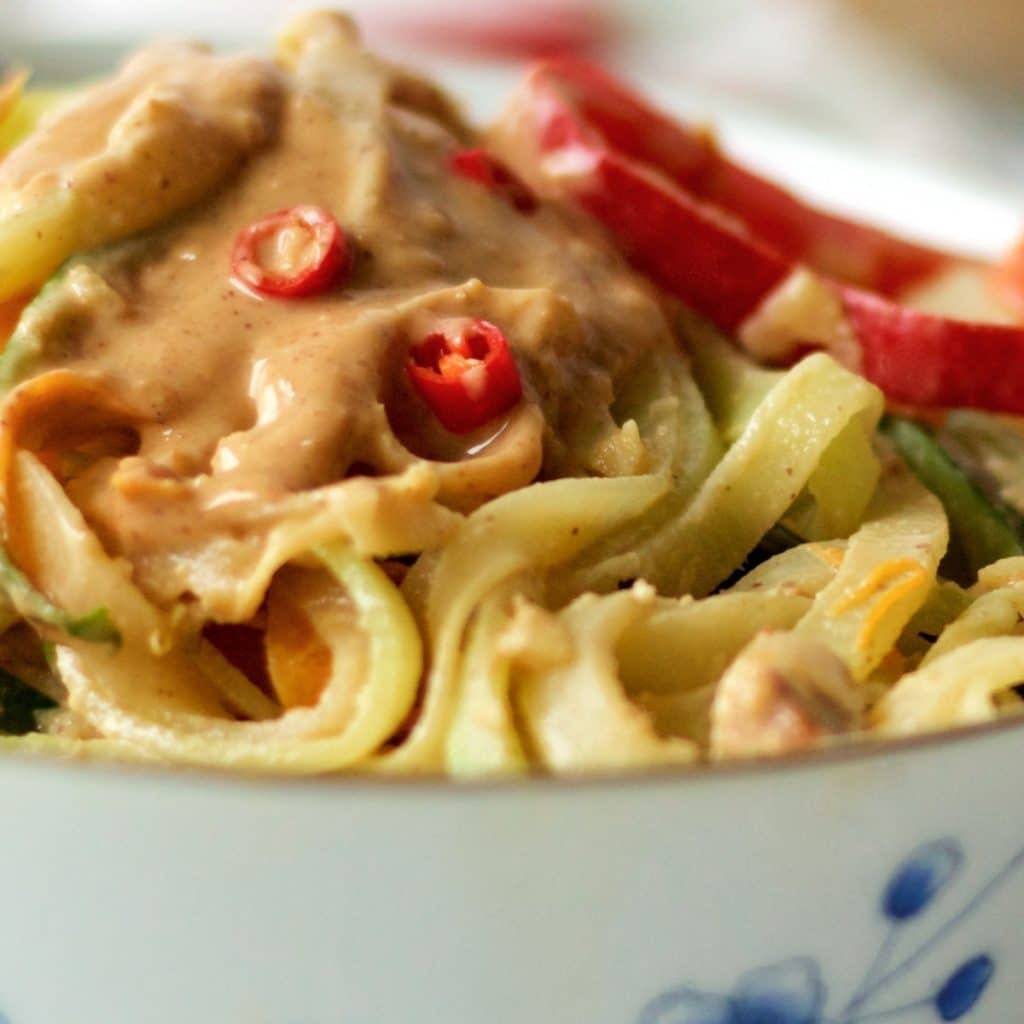 How to you make zucchini noodles not soggy?
Zucchini noodles, or zoodles as they are loosely known, are made using fresh zucchini. Because of the moisture content that is in zucchini they can become soggy or mushy when you spiralize and cook them. Here are some tips for how to prep your zucchini so that it cooks well, and you don't end up with a plate fully of soft, gooey zucchini strings for your peanut sauce over Thai zoodles dinner.
Spiralize the zucchini into thin strings to maximize even cooking
Pat the spiralized zucchini noodles dry with a paper towel to soak up any excess liquid
Lightly salt the zucchini and cover with a paper towel allowing it to sit for about 30 minutes. The salt will draw even more moisture out the zoodles which will help the cooking process
Cook your zucchini noodles over medium high heat
Don't cover the noodles while they are cooking. The trapped moisture will make them soft and mushy
Cook the zucchini noodles in batches if necessary, it is important not to over crowd the pan as this will result in uneven cooking
Use a good quality heat conducting pan
Be careful not to overcook the zoodles. Over cooking will result in mushy, wilted zucchini strings
Because our peanut sauce over Thai zoodles combines the zucchini with parsnip, kohlrabi, and carrots that are spiralized as well, the cooking time may be a bit longer than would be usual. Follow the recipe as directed and keep your eye on the pan and you should not have any issues.
How do you make a peanut sauce?
Making your own peanut sauce is well worth the effort, and will result in a rich, full bodied sauce without the added ingredients found in pre-bottled brands. Whenever possible we love to make our sauces from scratch, and we use as many garden fresh ingredients as possible.
To make your own peanut sauce be sure to choose fresh, high quality for optimal flavor. Unsweetened peanut butter is the base of peanut sauces, along with soy sauce and rice vinegar which give you the familiar flavors that we all recognize.
Fresh lime juice, ginger, and garlic are the aromatics used in peanut sauce; while brown sugar or honey are used to bring a sweet balance. Infused the sauce with minced chili peppers and you have yourself a spicy peanut sauce that everyone will love.
What peppers are best for Thai cooking?
Bankok peppers were one of the peppers in our garden recently, and it turned out to be the perfect addition to this spicy peanut sauce over Thai zoodles dinner. You can select your favorite variety of peppers for this dinner, just go with one that will give you the right amount of heat.
Some of the best peppers for Thai cooking include bird's eye chili, spur chili, karen chili, serrano chili, and sweet pepper. These are all recognized in the circle of Thai cooking and will deliver heat and flavor to your Thai peanut zucchini noodles.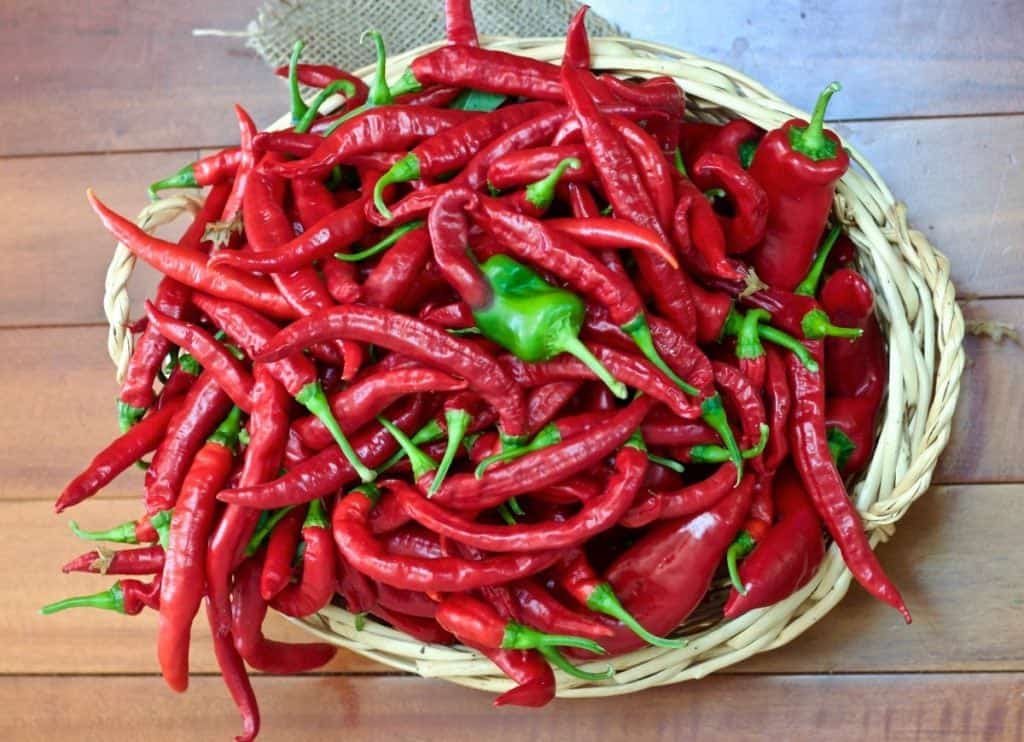 What are the best veggies to use in Thai cooking?
Thai cooking includes are variety of leafy, crunchy, and root vegetables in its dishes. The most common include Chinese broccoli which can be substituted with broccolini or rapini to give a fresh green option. Cabbage sprouts, mustard greens and asparagus are also found in Thai food.
Bamboo shoots, water chestnuts, and bitter melon are common and bring a welcomed crunch that is familiar to recipes like Thai peanut noodles. Tomato and cucumber are also included in more traditional Thai dishes.
Some of the veggies that we as Americans enjoy include thinly sliced carrots, parsnips, squash, and snow peas. Red cabbage, green onions, and cilantro are also enjoyed in the American culture for recipes like Asian noodles and stir fry.
They may not be part of the traditional Thai cuisine, but they do add flavor and texture that is pleasant and satisfying. We love changing up the veggies in our peanut sauce over Thai zoodles.
Substitutions you can make in this recipe
Meals like peanut sauce over Thai zoodles have room for a lot of personal adaptations and preferences. Always feel free to use this recipe as inspiration and use what you have on hand, as well as what ingredients you enjoy best. Here are some substitutions you can make in this recipe for the ingredients we used.
Coconut aminos or liquid aminos can be used in place of traditional soy sauce
The peppers can be changed up to suite your personal preferences
You can use your favorite unsweetened peanut butter, either crunchy or creamy, but we do recommend a peanut butter that does not have added oil or sugars
Almond butter can be used in place of peanut butter but will change the flavor of the sauce
If you do not wish to roast your own peanuts, you can purchase dry roasted peanuts
Pre made zucchini noodles can be purchased if you prefer
How do you use a veggie spiralizer?
Veggie spiralizers have grown in popularity and there are now a wide variety of different options to choose from. Some are hand held while others are large and sit on your counter, and there are of course attachments that you can affix to kitchen tools like your Kitchen Aid making dinners like this peanut sauce over Thai zoodles quick and easy to prepare.
Whatever style of spiralizer you have, here is a general method to follow for spiralizing all sorts of veggies.
Wash your veggies and cut off both ends to create a flat and even veggie to work with
Place one of the flat ends on the prongs of the spiralizer, making sure it is inserted far enough it won't fall or break off
Select the size of spiral that you want for your veggies, thin is always best
Use any protective tools that are included with your spiralizer to protect your fingers while you work
Gently crank the spiralizer to make thin sliced veggies strings until all of the vegetable is processed
What can I serve with Thai zoodles?
Peanut sauce over Thai zoodles can absolutely be enjoyed as a full meal all on its own, but if you are looking to add some sides, or create an array of delicious options to go with it; here are some ideas to get you going.
Thai steamed dumplings
A side of cilantro lime rice
Fish, crab, or clam fritters made with Thai seasonings
Spicy beef or chicken skewers
Chili garlic prawns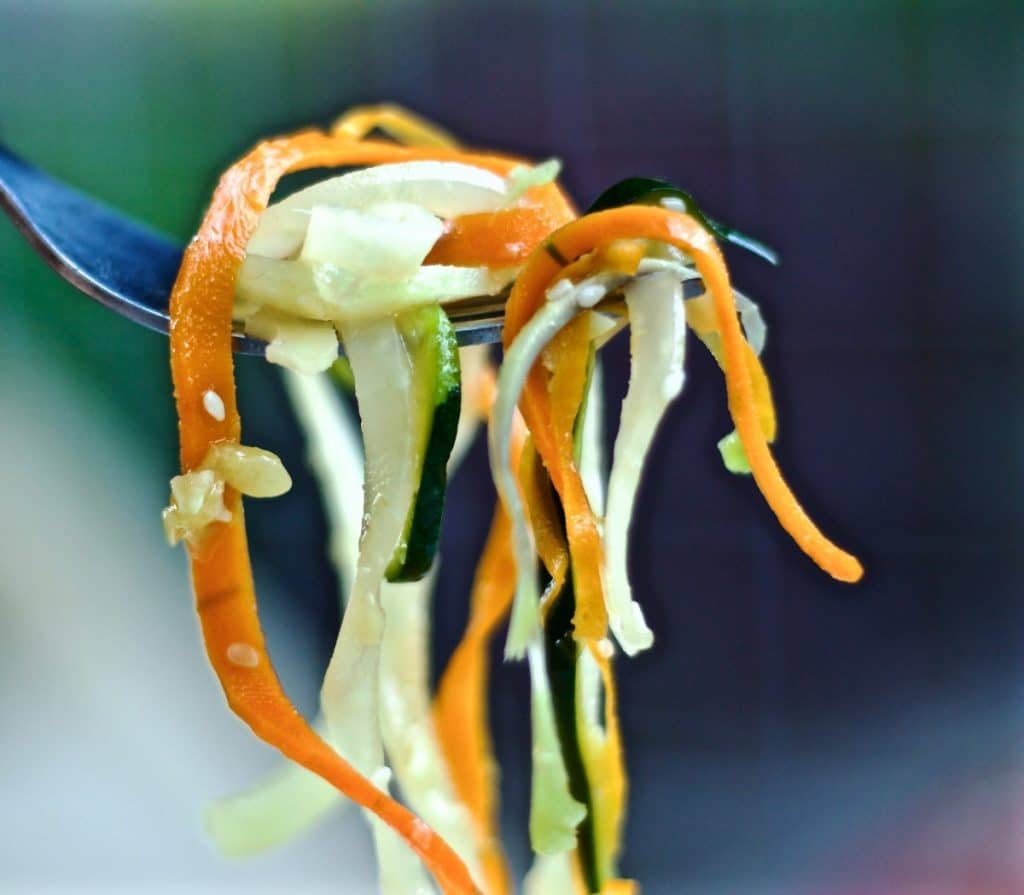 Recipe notes
Our peanut sauce over Thai zoodles can be as simple as you want it, or you can make it all from scratch as we have done. It's definitely worth the effort to make this dinner from scratch, and it has become a favorite when our family is looking for a delicious vegetarian meal.
If you want to increase the protein add some diced chicken thighs or beef tips to make a hearty meal that is rich and sustaining. Use this recipe as inspiration and make it your own. The veggies can be swapped out, the peppers can be omitted to cut down on the heat, and you can enjoy it alongside your favorite Thai sides and appetizers.
Yield:

8 servings
Peanut Sauce Over Thai Zoodles
Additional Time:
20 minutes
Total Time:
1 hour
40 minutes
Peanut Sauce over Thai Zoodles uses up your overload of harvest veggies deliciously and bang bang quick! Making veggies into spirals of delicious noodles is a very healthy, easy way to enjoy your veggies.
Ingredients
1 large zucchini
1 large carrot
1 large parsnip
1 Kohrabi
2 garlic cloves
1 small onion
1 inch ginger root
1 sweet pepper
1 hot red Thai peppers
1 Cup roasted peanuts
1 Tablespoon sesame oil
2 Tablespoons avocado oil
3 Tablespoon soy sauce
2 eggs
Peanut sauce ingredients:
1 Cup creamy peanut butter
2 Tablespoons soy sauce
1 inch piece of ginger
1 peeled garlic clove
1 tablespoon lime juice
1 Tablespoon rice vinegar
1 tsp. brown sugar (or honey)
1/2 tsp. red chili flakes
1 Bankok pepper (hot thai chili pepper) minced.( Add as desired for hot spicy result.)
2/3 Cup water
Instructions
Preparation:
Toast the peanuts on a baking sheet in your oven for 25 minutes at 350 degrees F.
Wash and dry the zucchini, carrot, parsnip and kohlrabi veggies and make into noodles using whatever means you like
Set zoodles aside until needed
Make the peanut sauce in a blender or food processor:
Start the blender and drop in the ginger, and garlic and chop fine. Add in the remaining ingredients and blend until smooth. Adjust the water to your desired consistency
Set sauce aside in a serving dish
Reheat a large saute' pan or wok to medium high heat, add the avocado and peanut oil
Immediately add the zoodles, and soy sauce. Cook about three minutes, stirring often until the zoodles are firmly soft. Remove to a strainer and let drain
Add the zoodles back into the pan with more soy sauce to taste
Whisk the eggs and pour them into the zoodles. Stir until the eggs are cooked
Serve On a large plate with tongs and chop sticks!
Serve with the peanut sauce and toasted peanuts in dishes on the side
Garnish with the minced pepper as desired
Nutrition Information
Yield
8
Serving Size
1
Amount Per Serving
Calories

407
Total Fat

32g
Saturated Fat

6g
Trans Fat

0g
Unsaturated Fat

22g
Cholesterol

47mg
Sodium

832mg
Carbohydrates

21g
Fiber

5g
Sugar

7g
Protein

15g
Click on any of the pictures below to explore these recipes too
Follow Us:
We enjoy meeting you on our social networks. Follow us on Facebook, Pinterest, Instagram . Tag us with your pictures of our recipes and comment on how it went for you. We would love to see what you do with them.
We often like, comment and share your posts of our recipes on our daily Instagram stories.
Ask questions and rate the recipe in the comments section below. Please share what you did with this recipe. We are always looking for more and better ways to make homemade food. Other cooks love your ideas!
Recent Posts: