A homemade Bacon And Egg Croissant Sandwich is a delicious, filling breakfast that we all love. Full of protein, healthy fats and scrumptious carbs this delicious sandwich makes the perfect meal that you can enjoy any time of the day.
We use flaky Costco croissants, farm fresh eggs, a good quality bacon and high quality organic coconut oil. This recipe can be made to suite your personal preferences which is one more reason we love it so much. Homemade croissants can be a tall order, but they are well worth it if you prefer to make your own, you can switch out the meat protein, use butter in place of coconut oil, and add extras to your breakfast croissant if you wish!
We walk you through our way of making this delicious morning meal, and also share our tips for cooking the absolute best over easy egg for an even cook with that warm, runny yolk that we all crave.
Is a bacon egg croissant healthy?
We all love breakfast sandwiches, and when they are made with buttery croissants and bacon they are quickly added to the favorites list. But are they a healthy breakfast option? First off, it's important to remember that the term healthy can mean many different things and largely depends on what you're looking for in healthy.
A bacon egg croissant breakfast sandwich can be made using good quality, fresh ingredients which will cut down on extra fillers, additives, preservatives and other low quality extras that are often found in our foods these days. This sandwich has a good amount of protein from both the bacon and the egg, roughly 16 grams. Sodium and fats will be high because of the bacon, the egg and the croissant pastry.
It is important to remember that the quality of fats, protein and carbs is of higher consideration than the amount for most of us. When you are filling your diet with high quality, naturally sourced macros you are eating a healthy, balanced diet. Croissants are not 'healthy' but there is nothing wrong with a little indulgence from time to time, especially when it comes to pastries.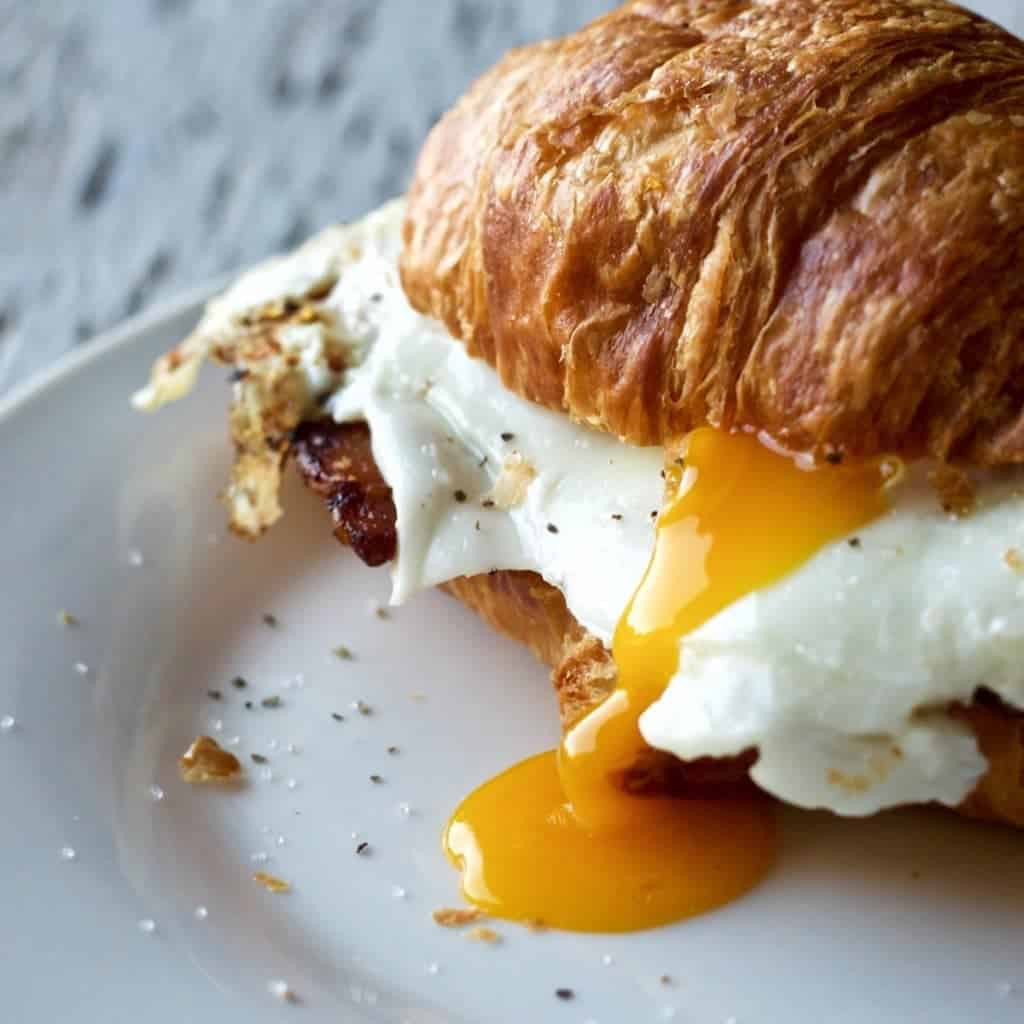 How do you cook a perfect over easy egg?
Cooking a perfect over easy egg is simple once you learn the technique. This is something that we all want to master because there is nothing better than an evenly cooked egg with a warm, runny yolk.
Cooking an egg over easy starts with the pan, select a non stick or stainless steel pan with a thick base to ensure even cooking and that your eggs won't stick and fall apart. Heat the pan slowly to medium low and place a dollop of butter or coconut oil to the pan allowing it to melt.
Carefully crack your egg into the pan over the melted butter or oil, taking care not to break the yolk in the process. Allow the egg to cook until the whites are no longer runny, and have a noticeable edge developed. To finish the egg with a steam and cook the remaining top portion of the egg, pour a bit of water into the pan and cover the egg with a small lid. This will steam the top of the yolk, warm it through, and cook any remaining whites around the yolk that may still be runny and uncooked.
Using a spatula gently lift the egg out of the pan and place on your lightly toasted croissant or bread slice.
Choose Healthy Organic Eggs:
Nutrition wise, pasture grown organic eggs are amazingly good for you. WHFoods is an excellent source of well-researched information on all sorts of food. I highly recommend you click the link and go see all the amazing benefits of adding the pasture grown, organic, eggs into your diet.
We do raise our own chickens. We love the high-quality eggs they add to our diet. Bacon is just a wonderful morning treat and you can easily find nitrate free in most grocery stores.
We choose natural Hempler ham.
What can I add to a bacon egg croissant sandwich?
This breakfast sandwich is full of flavor and we usually enjoy it simple and sweet; just the croissant, bacon and egg. You can absolutely change up what fillings you use, and even add some more if you want! Here is a list of options to consider or extras that we know you will love.
Swap out the bacon with turkey sausage or ham
Add a slice of your favorite cheese, we love smoked gouda
Spread avocado on your croissant for extra healthy fats
Add tomato and/or fresh spinach
Finish with a simple hot sauce or Everything But The Bagel seasoning
Omit the meats altogether and make it vegetarian
Enjoy with a side of fresh fruit
Breakfast sandwiches can be made using all kinds of different breads and pastries, if you are wanting to swap out the croissant try some of our sourdough recipes such as our Sourdough Bagels, Simple Sourdough Sandwich Bread or our sensational Crusty Jalapeno Sourdough Bread
Enjoy your breakfast!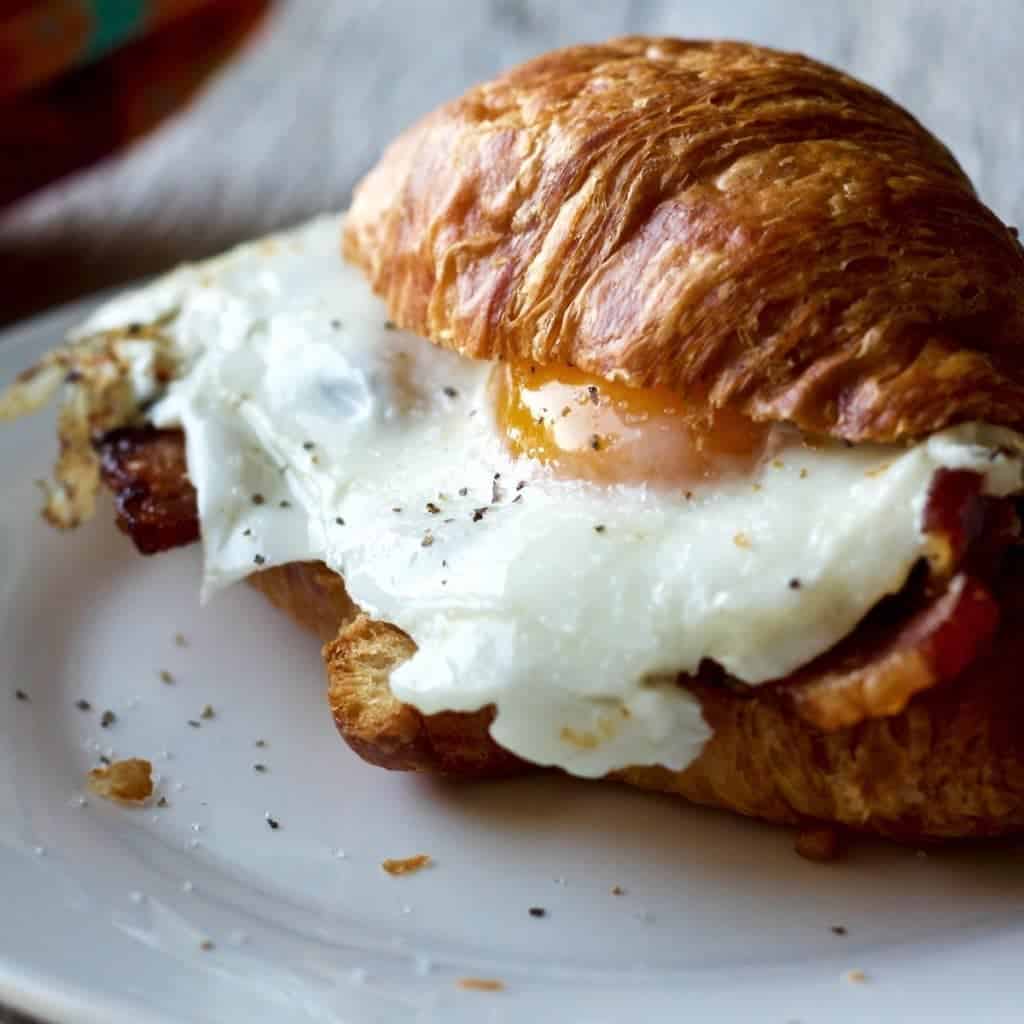 Yield:

1 serving
Bacon And Egg Croissant Sandwich
Bacon And Egg Croissant Sandwich is a 'make it in a hurry' filling breakfast. Full of protein and high in energy, this delicious Sandwich will stay with you in the best way, throughout your busy morning!
Ingredients
1 strip bacon
1 egg
1 croissant
1 Tablespoon coconut oil
Instructions
Cut the bacon strip in half and cook the bacon until medium crispy (to taste) on medium heat in a covered skillet
Make the egg over easy with a runny yolk as follows:
Put a separate 6 to inch skillet on med low and melt coconut oil or bacon fat if desired
Break the egg carefully into the skillet so you don't break the yolk
Add a Tablespoon of water into the skillet and cover
Cook until egg white is just solid, yolk should be runny
Cut the croissant and lightly toast it.
Assemble the croissant by laying each half open on a plate
Layer the bacon two half strips on the croissant bottom
Lay the cooked egg carefully onto the bacon
Top with the croissant topper
Serve with a knife and fork or eat by hand over a plate to catch the drips
Nutrition Information
Yield
1
Serving Size
1
Amount Per Serving
Calories

518
Total Fat

36g
Saturated Fat

22g
Trans Fat

0g
Unsaturated Fat

11g
Cholesterol

242mg
Sodium

578mg
Carbohydrates

31g
Fiber

2g
Sugar

8g
Protein

16g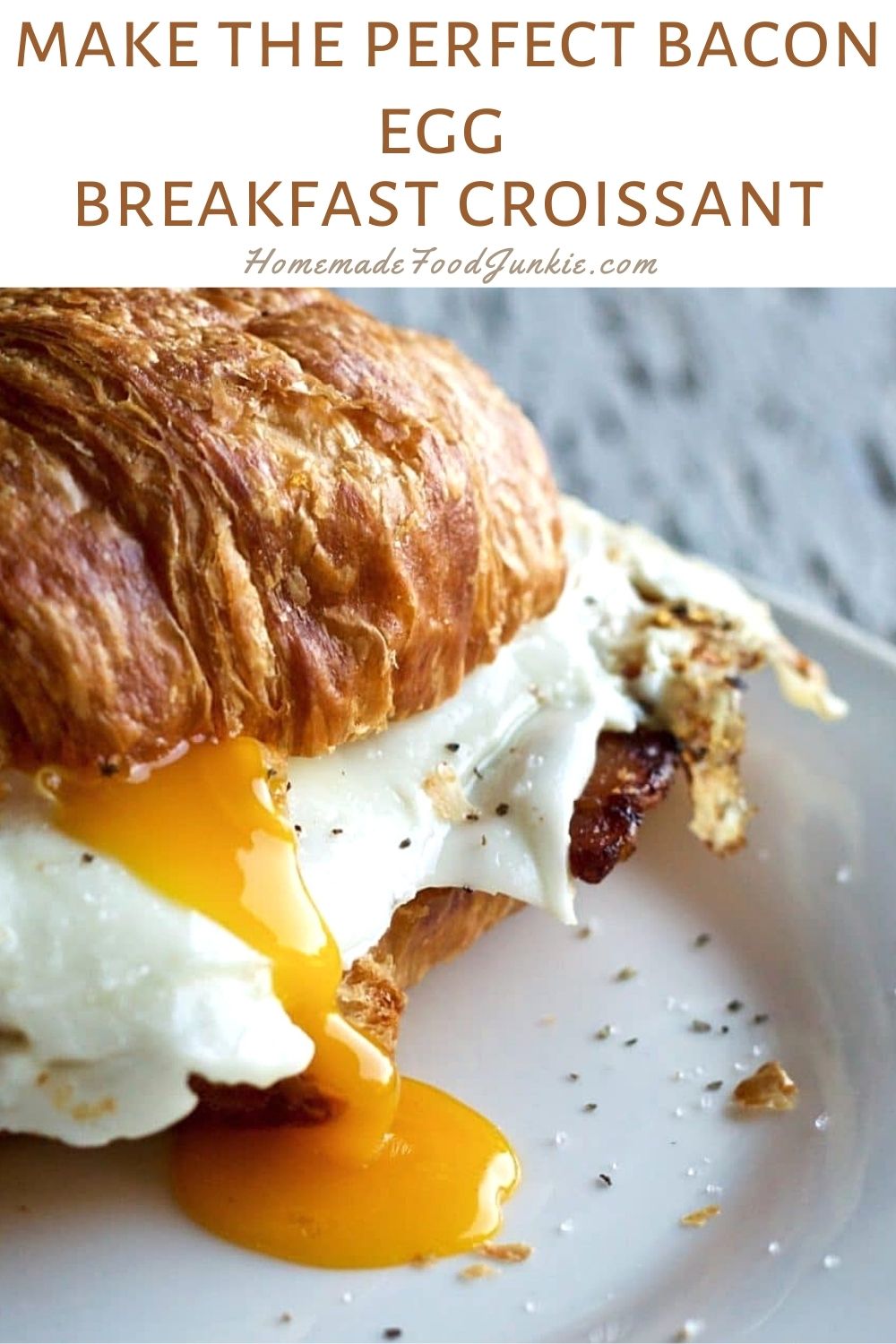 Follow Us:
We enjoy meeting you on our social networks. Follow us on Facebook, Pinterest, Instagram . Tag us with your pictures of our recipes and comment on how it went for you. We would love to see what you do with them.
We often like, comment and share your posts of our recipes on our daily Instagram stories.
Ask questions and rate the recipe in the comments section below. Please share what you did with this recipe. We are always looking for more and better ways to make homemade food. Other cooks love your ideas!
Recent Posts:
This sandwich is featured in the Eat Healthy Breakfast Sandwich Recipes roundup by Greatist.com