Add some delicious spice to your life with this lively sourdough Jalapeño Cheese bread. You'll enjoy the deep tangy flavor sourdough adds to this bread. The peppers and cheese are perfect flavor friends. Deep rich spicy, flavor you are going to love.
This artisan sourdough Jalapeño Cheese Bread has a crunchy crust with a creamy open crumb. Just what you expect from a good artisan style sourdough. The peppers and cheese embedded in the loaf add pops of interesting flavors and textures. And it's so easy to do!
How do you add peppers and cheese into bread dough? Add them in at the second stretch and fold. Flatten the dough, sprinkle the cheese and peppers on top and roll the loaf. The peppers and cheese are further mixed in at the next two stretch and folds.
This spicy, cheesy bread is great sliced and eaten plain or with butter, Dip it in soup, serve this bread as a side to your favorite meats. It also makes AWESOME sandwiches. Grilled or not. And fantastic toast.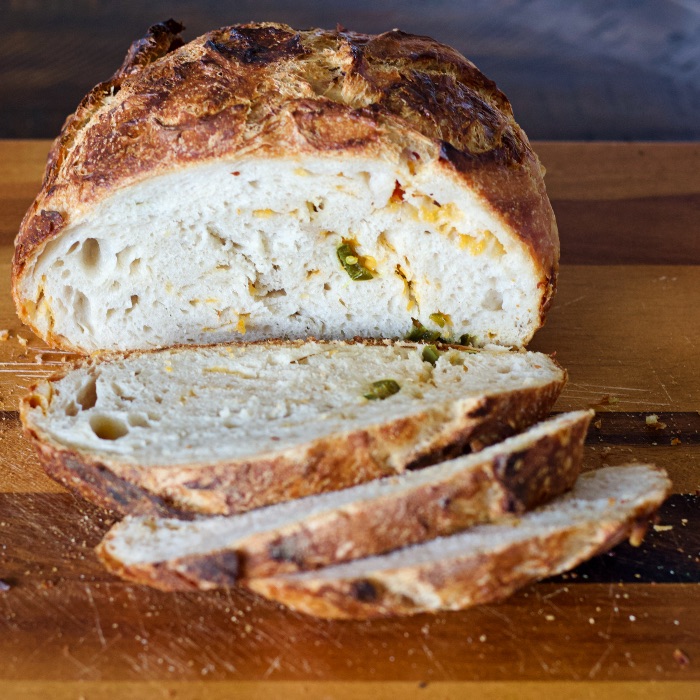 How did this bread recipe come to be? This spicy bread, is a version of our beginner Artisan Sourdough bread recipe. It's such a good basic artisan bread using only flour, water and salt. Over the years this recipe has gained a large following of devoted bakers.
Some of those bakers asked how to add peppers and cheese to the recipe. Adding the peppers and cheese to this recipe transformed the bread into something completely delicious, new and unique.
We garden and have for decades. Dave loves his peppers and always grow more than we need. This year Dave had a landslide crop of Jalapeño peppers in his greenhouse. The Harvest was overwhelming. I gave away several bags of fresh jalapeños. And still had scads of them.
I made several batches of candied jalapeños- Our friend gave me her recipe for Sweet and Spicy Candied Jalapeños. They are so good. And HOT. If you have a load of peppers to harvest, I highly recommend them.
I also roasted and froze several bags full of different peppers. Here is how I roast peppers and freeze them.
Since I had both roasted and pickled peppers I made the two loaves of bread differently. One has the candied jalapeños and the other uses the roasted frozen peppers. Both ways are very good.
If you are purchasing peppers from the store, any good Jarred medium hot roasted pepper will work or you can buy fresh jalapeños and roast them at home. It only takes about 10 minutes.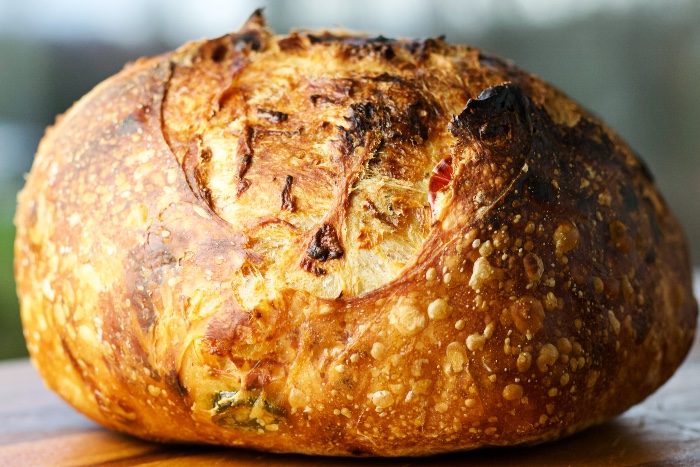 I give you the process of roasting fresh peppers down below in case you go that route.
What Types of Peppers Can I Add to Bread Dough?
Fresh out of Jalapeño peppers? Or maybe you like it REALLY hot? Or not
You can add ANY roasted, sautéed, jarred or even fresh raw peppers to bread dough. Be sure they are well drained if they are jarred or cooked.
Caution: Watch how much oil you are adding into the recipe with jarred or cooked peppers. It can impact the dough development. Best to drain and pat dry peppers before adding them into developing bread dough.
What Kinds of Cheese are Good For Bread ?
If you want to change up the cheese in this recipe go for harder cheeses like pepper jack, parmesan, gouda and Colby . Many other hard cheeses like Jarlsburg will also work great baked in bread.
Bottom line: If you can you grate it, you can put cheese into bread dough and bake it. Soft cheeses like cream cheese are not good choices for bread baking. The cheese will stay in yucky gooey clumps in the finished bread.
Sourdough Jalapeño Cheese Bread Recipe:
If you need some help with the process of creating this bread we've included our video for the original artisan bread for you. And great instructions and pictures on how to add peppers and cheese during the stretch and fold stages.
For best flavor, I recommend using either candied, pickled jalapeños or roasting fresh jalapeños in the oven.
Any peppers stored in juices should be well drained before using as an add in. Dripping Wetness from the peppers can affect the bread dough. Juices as they mix into the dough can make it harder to work with. And compromise the dough texture.
How To Roast Jalapeño Peppers:
Pro Tips:
Wear plastic surgical gloves for this. Jalapeño peppers are around a 4 on the pepper heat scale. This is hot enough to require some precautions. Hot peppers have oils that are irritating and can burn.
Do NOT touch your face, eyes or mouth when working with hot peppers. OUCH!
Work with peppers in a dry sink. When you wash the pepper seeds down the drain STEP back and hold your breathe. This avoids the pepper oils blow back into your face and nose.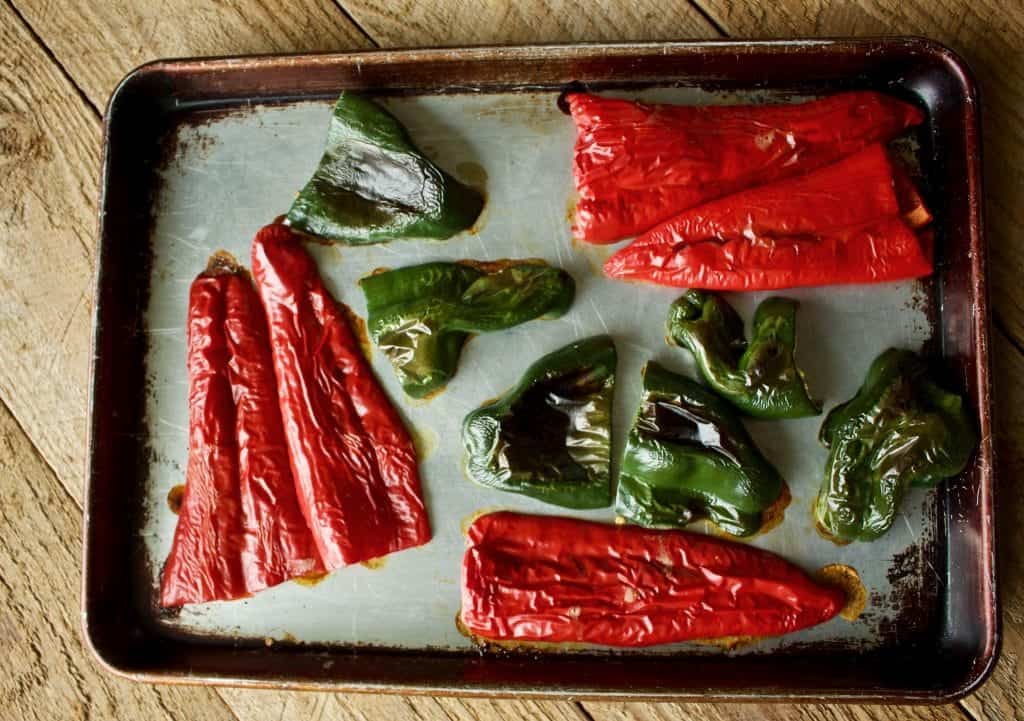 Roasting Peppers:
Preheat oven to 425 degrees F.
Cut the peppers in half long wise.
Deseed them (unless you enjoy a LOT of spice in your bread)
Set the peppers on an oiled baking sheet.
Place the pan in a preheated oven for 10 minutes or until lightly charred.
Remove from heat to cool.
Chop peppers into small pieces to use as a bread dough add in.
Adding peppers and cheese to this bread recipe is very simple. As I mentioned at the top. Just flatten the dough after the second stretch and fold. Lay the add ins on top. And roll up the dough. You'll completely mix in the add ins as you finish the recipe.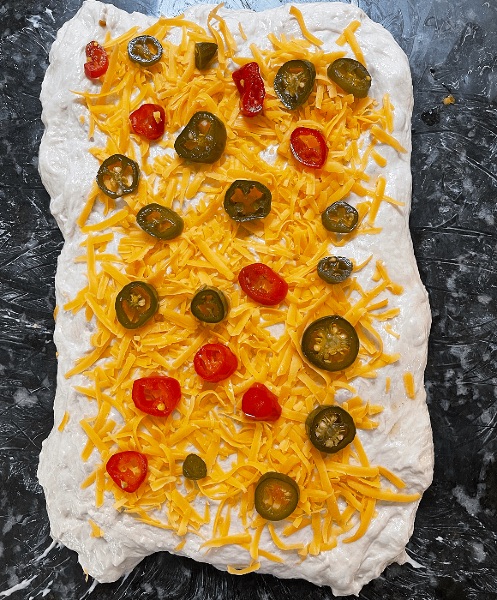 As you complete the recipe the peppers and cheese will further incorporate into the bread dough. Just keep pulling the dough around and poking the fillings back into the dough.
Can You Freeze Jalapeño Cheese Bread?
You can easily freeze this Jalapeño Cheese bread up to two months. Put it in a plastic bag (I reuse thin plastic grocery bags for this) and suck out the air. Close the bag with a twist tie. Now double wrap it with Saran Wrap or another plastic bag. Label the bag and freeze.
Double wrapping protects the loaf from freezer burn. Freezer burn is when the loaf dries out and may pick up distasteful flavors from the freezer.
Single wrap is fine for freezing just a week or so. Just make sure there is no air getting to the loaf of sourdough.
Thaw sourdough on the counter at room temperature and it's ready to slice and serve.
Yield:

2 1000 gram boules
Jalapeño Cheesy Sourdough Bread
Total Time:
1 day
40 minutes
Add some delicious spice to your life with this lively sourdough Jalapeño Cheese bread. You'll enjoy the deep tangy flavor sourdough adds to this bread. The peppers and cheese are perfect flavor friends. Deep rich spicy, flavor you are going to love.
Ingredients
300 grams Sourdough starter
725 grams water (110 degrees F.)
1000 grams flour (high protein flour-5 grams)
20 grams salt
2/3 Cup roasted or pickled Jalapeños (to taste)
2 Cups shredded cheddar cheese
Instructions
TIP: Watch our video on the basice techniques described and used in this process before beginning if you are unfamiliar with them. Refer back to the video as needed for clarification.
Set a large mixing bowl on a digital scale. Set tare weight to zero.
Measure and Pour in water and starter. Mix them together into a cloudy water.
Add flour and mix well by hand (I use a swedish whisk)
Autolyse 60 minutes (let dough rest covered to hydrate)
Add salt and drive it into the dough firmly with fingers.
Begin stretch and folds:
Stretch the dough by pulling it straight up and over the dough. Shift bowl one quarter turn and repeat. Continue to turn bowl and stretch dough until all four sides of the sough are stretched and folded. This is the FIRST stretch and fold.
Set timer to 30 minutes. Repeat stretch and folds for second stretch and folds.
ADD INS:
Stretch the dough out onto your work surface into a rectangle. The dough will be sticky so use wet hands and tools.
Sprinkle the shredded cheese evenly over the dough.
Set the pepper slices evenly around on the cheese leaving space around the peppers (UNLESS you prefer a LOT of heat).
Roll the dough up from either end..
Now roll the dough up from the opposite end of the roll so it forms a ball.
Pull the dough toward you so the top is tighter and the ball will hold together.
Set it back into your bowl. Cover and set the timer for 30 minutes.
Finish stretch and folds:
NOTE: When the timer goes off you are ready for the third stretch and fold. At this point your dough has had a chance to relax around the cheese and peppers.
When you continue the stretch and folds you will see areas where the add ins have not fully immersed into the dough.
As you do the third and fourth stretch and folds, Gently tuck the dough around the peppers and cheese and pull the dough to insert the cheese and peppers more deeply into it.
When the timer goes off do the third round of stretch and folds.
Set the timer for 30 minutes and then do the forth and last stretch and fold.
At this point the dough should be resilient and stretch so it passes the window paine test. If not, add another stretch and fold.
Bulk Rise:
Allow the dough to sit covered at counter temperature for 60 minutes:
Long Cold Rise:
For a deeply flavorful well developed sourdough Artisan bread like this a long cold rise will benefit the texture and flavor enormously.
Set the bowl of dough into your fridge and allow it to process 12 to 24 hours. This is flexible. Make it work for your schedule. The dough can cold rise up to 36 hours if you need it too. Just make sure it does not over proof. The dough pictured here was LCR for 19 hours.
Bench Rest:
Divide the dough into two equal pieces.
For each piece follow the video to see how to form the dough for the bench rest. Basically you make two tight balls of dough and let them sit. (watch video for technique I use)
Bench rest for 45 minutes or so.
Final Rise:
When bench rest is complete form the dough into boules and set them into your floured bannetons. Or form the dough for your 9 x 5 inch bread pans and counter rise until the dough comes to the top of the pans (about 4 hours).
OPTIONAL STEP: For best rise-If making as boules and bannetons, Chill the dough for around 4 hours. (*see notes)
Preheat oven to 500 Degrees F. WITH dutch oven in it so both are cold and then heated together (this prevents damage to the dutch oven but be SURE your dutch oven can withstand 500 degree heat. If not preheat to 450). Preheat about an hour.
Remove one banneton from fridge, invert dough onto a parchment paper.
Score the loaves
Set the parchment with dough into HOT dutch oven.
Baking:
Bake 35 minutes COVERED.
Remove dutch oven from heat and pull off the lid.
Return to heated oven.
Bake 25 minutes or until the bread is done.
Internal temperature of finished bread is 206 Degrees F.
For Bread Pans:
We have to use a different baking process here UNLESS you can fit your pans into a large tightly lidded dutch oven (I have one that works for this). If baking in a dutch oven follow directions for scoring and baking above.
If you need to bake the bread in pans uncovered:
Set a water bath in the next rack UNDER the baking pans.
Reduce heat to 400 Degrees F. and preheat oven and water bath.
Set pans in middle rack.
Bake 40 minutes or until the internal temperature reaches 206 degrees F.
Cooling:
Cool Bread to room temperature before cutting into it.
The bread will bake and the crumb will set up while the cooling process happens. Cutting bread when too hot will cause a compressed mushy crumb.
Notes
NOTES
on The Add ins:
Feel free to adjust the amount or type of peppers you use in this bread, I tried both roasted and frozen peppers and also my Candied Jalapeños. Any pepper of any type are fine in this recipe as long as you completely drain them before adding them into the dough. If you want to add juices from a jarred pepper (roasted or candied) replace some of the water with the juice and add it in at the mixing stage. Which is Step one.
To roast your own Jalapeño peppers:
Preheat oven to 425 degrees F.
Cut the peppers in half long wise.
Deseed them (unless you enjoy a LOT of spice in your bread)
Set the peppers on an oiled baking sheet.
Place the pan in a preheated oven for 10 minutes or until lightly charred.
Remove from heat to cool.
Chop peppers into small pieces to use as a bread dough add in.
The Timing:
I hope you can see the long cold rise is a MAJOR contributor to the dough development in this recipe. (and all the no knead sourdough breads).
I used a 19 hour LCR. The dough rose about double. Yours may not rise that high but the time of slow dough development pays back in texture and flavor of this bread.
*I baked the loaves you see pictured here without the final cold rise in the fridge. SINCE THE RISE from the LCR was great. Also the bench rest showed me good structural dough support. If your bench rested dough is not holding shape. Reform and bench rest again and use the final chill as well to bring the dough to best rise.
The video below is for our basic artisan bread recipe. All the steps and the process are identicla to this bread recipe. Except the add ins.
Nutrition Information
Yield
24
Serving Size
1
Amount Per Serving
Calories

213
Total Fat

4g
Saturated Fat

2g
Trans Fat

0g
Unsaturated Fat

1g
Cholesterol

9mg
Sodium

443mg
Carbohydrates

37g
Fiber

2g
Sugar

0g
Protein

7g
This all depends on how large the slice is. This is just an average for bother loaves evenly sliced and divided into equal volumes.
We'd love to hear from you. Ask your questions below or share your experience with this recipe. Did you enjoy this bread? How did you make it your own?
Follow Us:
We enjoy meeting you on our social networks. Follow us on Facebook, Pinterest, Instagram . Tag us with your pictures of our recipes and comment on how it went for you. We would love to see what you do with them.
We often like, comment and share your posts of our recipes on our daily Instagram stories.
Ask questions and rate the recipe in the comments section below. Please share what you did with this recipe. We are always looking for more and better ways to make homemade food. Other cooks love your ideas!
Recent Posts: