Homemade hearty Multigrain bread recipe is full of flavor and nutrition. Blending different grain flours into bread dough creates new and interesting breads with widely different flavors, densities, textures, nutrients and uses in your diet.
Multi grain breads are leavened with either sourdough starter or a commercial yeast. Our bread recipe here is made with sourdough starter.
If you just want the recipe, please click the jump to recipe button at the top of the page. It will take you directly to the recipe. For more information on whole grains and multigrain breads, read on.
This Wheat and Rye Sourdough multi grain bread uses a simple no knead method. This process is very easy to do. But does take some time.
The advantage to the long cold rise sourdough method is that it breaks down the glutens in the flours as it ferments and develops. The result is a highly flavorful, digestible, delicious, and fibrous bread.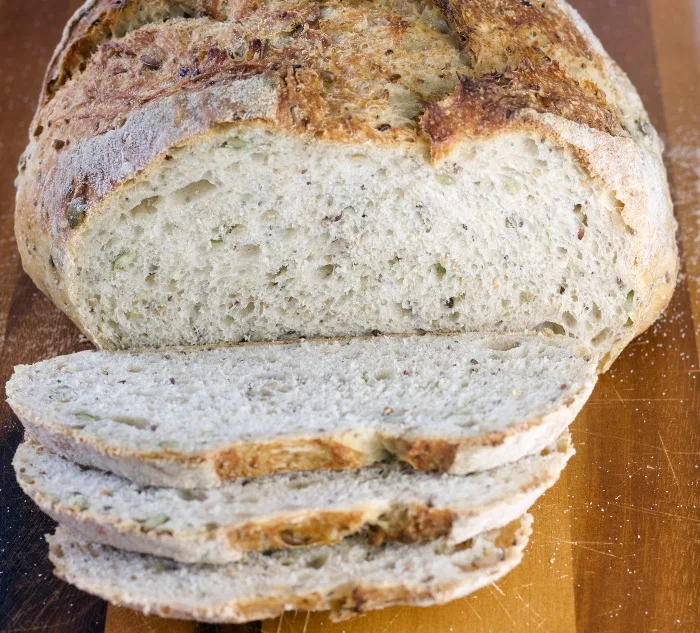 This naturally fermented multi-grain bread recipe includes a variety of seeds that add even more terrific flavors and nutrients for your family's diet.
What is a Multigrain Bread?
Multi-grain breads may be made from two or more different grains in one loaf of bread. Popular grains for multi-grain breads Include wheat, rye, teff, einkorn, semolina, oats, corn, amaranth, and others. Mixed grain cereal blends can be cooked and added into breads as part of the grain blend as well as grains ground into flours.
Grains and flours can be blended into many different combinations. This creates unique flavorful breads you can be proud of. All grains add their own unique flavors, textures and nutrients to your bread.
Homemade multigrain breads allow you to blend as many different grain flours combinations together as you want.
But remember, each grain has it's own properties and flavors. You need to learn how these grain flours affect your bread making experience before rushing into this. Our simple sourdough multigrain loaf is a good recipe to start baking multi grain breads.
MultiGrain VS. Whole Grain:
What is the Difference Between Multi grain and Whole Grain Bread?
Multigrain bread is made from a mixture of grains, such as wheat, oats, barley, and rye. Whole grain bread is made from the entire grain, including the bran, germ, and endosperm.
Whole grain bread typically has more fiber, vitamins, and minerals than multigrain bread. However, this is not true if all your grains are home milled from the grain berries. Fresh whole grain flours mixed together into a bread recipe are going to increase the nutrients since they can compliment each others health benefits in many ways.
Complimentary proteins are just one example of how blending whole grains into bread can have a multiplier affect on your health.
What is Multigrain bread Technically Speaking? To be a Multigrain bread. A bread must have a blend of two or more grains baked into bread.
They do NOT have to be whole grains to be part of the blend. All purpose flours or milled bread flours have parts of the grain missing and these are often part of multigrain recipes.
For the highest nutrients the Best multigrain bread recipe is made with Whole grain berries or (kernels). These grains have all the parts of the grain- the endosperm, bran and germ. All the grain parts are going into your recipe.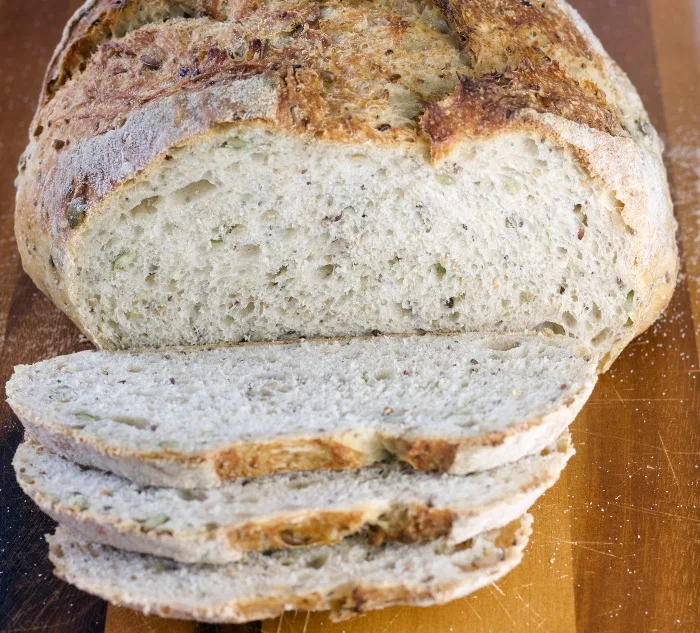 Buy whole grains and either cook them on the stove into hot cereals, like oatmeal for example, and then include the cooked grains into your bread dough. Or grind dry whole grains into flours in your home grain mill to make your breads. When we grind our own flours at home from whole grains, we can make our own unique recipe multigrain bread. From the very freshest nutrient rich flours.
Some cooks also make sprouted multigrain breads. With this method of whole grain baking, you sprout the grains and use them to make bread. This allows even more nutrients to develop as the sprouts form.
Is Multigrain Bread Healthy?
Multigrain breads of all types add nutrients from each grain used into the recipe. You get the nutritional benefit of all the grains in the bread. Choose only fresh whole grain flours for the highest concentration of nutrients in your bread.
What are the Health Benefits of Multigrain Bread?
Multi-grain bread is made from a mixture of different types of grains, such as wheat, oats, barley, and rye. This means that it contains a variety of nutrients, fibers, vitamins and minerals. Some benefits of multigrain bread include:
Fiber: Many multi grain breads are high in fiber, which can help promote regular bowel movements, lower cholesterol levels, and control blood sugar.
Nutrients: Multi grain bread contains a variety of vitamins and minerals, such as B vitamins, iron, and zinc, which are important for overall health.
Variety: Eating a variety of grains can provide different health benefits and help you to get more nutrients in your diet.
Taste: Many people find multi grain bread to be more flavorful than white bread, as the combination of different grains can provide a more complex taste.
Baking Bread with Whole grains:
Baking bread with 100% whole grains creates intensely flavorful hearty breads with a dense crumb. But these bread doughs can be tricky to work with.
Our sourdough whole wheat bread includes a tutorial on how to work with the dough and keep it manageable. We also have a yeast risen whole wheat bread recipe if you prefer.
Sourcing whole grains may require some exploration. your local food co-op will carry whole grains, or you may find a good local mill that sources organic whole grains (and flours).
You may find whole grains in the bulk section of your local grocer but be careful here. Make sure the grain is fresh and insect free.
We found Palouse Mills on Eastern Washington sells whole grains on Amazon. I have purchased several types of grain from them with good results. I have also sourced whole grains from a local flour mill, Azure Standard and Pleasant Hill Grains Company.
Most Grains can be purchased as flour or brought home as whole grains (berries or kernels) and ground in a home flour mill. Whole grains will stay fresh a long time when properly stored in an airtight container.
Grinding the grains just prior to baking is the best way to keep the flour fresh. Once you get used to working with whole grains and grinding your own flour, a whole new world of baking will open to you.
Whole Grains TIP:
Whole grains have natural oils and enzymes in them that oxidize when ground into flour. Keeping whole grains in one berries and grinding them into flour just prior to baking protects the nutrients.
If you do grind the grains ahead store the flour in airtight containers. Oxygen exposure will degrade nutrients out of your whole grain flour and they can also go rancid.
Well stored, freshly ground whole grain flours give you the highest fiber, flavor and nutrients from the grains you use.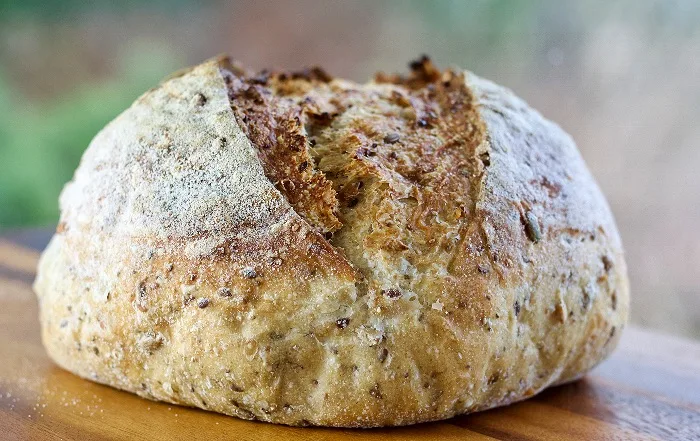 Sourdough Multigrain Bread Recipe:
The recipe we are featuring here is a simple two grain no knead Sourdough bread. This is tried and true simple method of making sourdough breads. The length of time is mostly the dough just sitting and developing that gorgeous flavor only sourdough can offer. And the texture is amazing too.
This two grain bread has a lot of fiber, protein and other health giving nutrients from the rye and wheat and the 5 seed blend. You can use whatever seeds you have on hand. We used Germs Super 5 seed blend. you can get Gerbs seeds here on amazon,(they also have other seed mixes)
I ground the rye berries into flour for this recipe with my KoMo Mio grain mill-if you need a mill. Read our review of this mill here.
The wheat flour is not whole grain. So this loaf is lighter than it would be with a 100%whole wheat flour. And the result is a dough that is much easier to work with.
Rye flour has almost no gluten. It is a sticky flour and it won't raise the bread much on it's own. Blending rye with wheat flour adds heartiness, texture and depth of flavor without sacrificing the softer more pliable crumb this loaf has.
This bread also has a multi seed blend to add even more character and heartiness. The extra nutty flavor and chew are satisfying and appealing.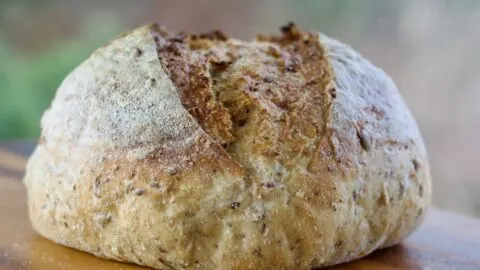 Yield:

24 slices (2-1 kg. boules)
Sourdough MultiGrain Bread
Total Time:
1 day
1 hour
40 minutes
A flavorful sourdough multigrain bread made with rye and wheat flours with a 5 seed blend. This bread has a soft yet heavy crumb that slices easily and makes fantastic sandwiches, toast, or just eat it plain.
Ingredients
900 grams white bread flour
100 grams rye flour
200 grams 5 (or 7) seed mix
300 grams starter
750 grams water
20 grams salt
Instructions
Mix together flours and seed mix in large bowl.
Add starter and water to flour mixture.
Mix together.
Autolyse (allow ro rest) 60 minutes
Add salt and mix in by driving the salt into the dough with fingers until well blended.
Do Four stretch and folds 30 minutes apart (see video) until dough passes the window pane test.
Bulk rise covered 60 minutes
Long cold rise 12 to 24 hours
Remove the dough from the fridge
Warm 60 minutes at room temperature
Divide dough into two equal pieces.
Shape into balls and tighten dough surface.(see video)
Bench rest 45 minutes.
OPTIONAL: Roll the bench rested and shaped dough into your seed blend for even more texture.
Shape into boules and set in floured banneton (or bowl)
Set the bannetons in plastic bags and Rise in fridge 2 to 4 hours
Set empty cold dutch oven into middle rack of oven.
Preheat oven to 500 degrees F. for 60 minutes.
Remove one banneton from fridge invert dough onto parchment paper.
Score the dough deeply (for best rise)
Pick up the dough in parchment paper and drop it into the
HOT dutch oven.
Reduce heat to 450 Degrees F.
Bake covered for 20 minutes.
Remove lid and bake uncovered for 20 minutes (or until internal dough temperature reacts 206 degrees F)
Remove form heat and invert loaf onto cooling rack.
Repeat bake with the second loaf.
Cool to room temperature before cutting loaves (1 to 3 hours)ORthe final loaf rolled in seeds.
Notes
Use any seed mix you prefer for this bread.We used Gerbs seeds.
To familiarize yourself with all the processes and techniques for this recipe please watch the video below.
Nutrition Information
Yield
24
Serving Size
1
Amount Per Serving
Calories

150
Total Fat

1g
Saturated Fat

0g
Trans Fat

0g
Unsaturated Fat

0g
Cholesterol

0mg
Sodium

325mg
Carbohydrates

30g
Fiber

1g
Sugar

0g
Protein

5g
Slices sizes will vary so the calorie count is approximate.
Related Content:
We have SO many Sourdough breads and sourdough discard recipes for you.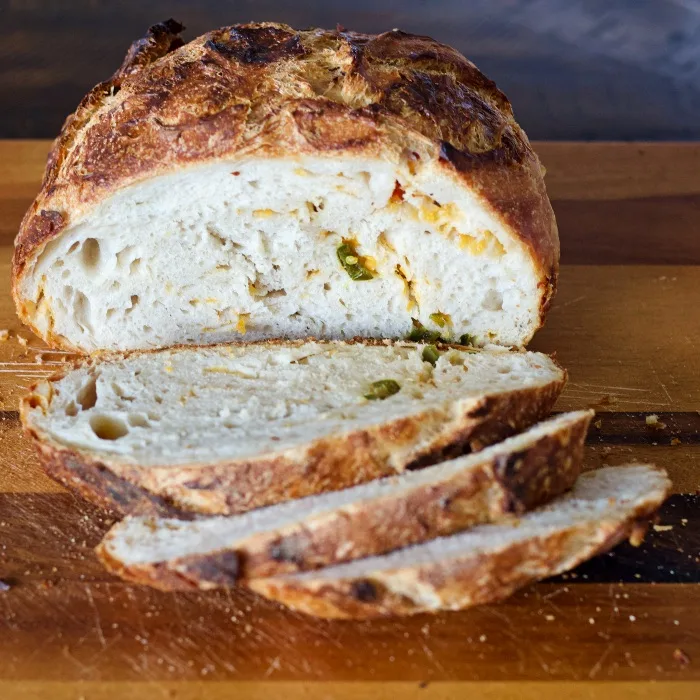 Be sure to also try these sourdough recipes.
Follow Us:
We enjoy meeting you on our social networks. Follow us on Facebook, Pinterest, Instagram . Tag us with your pictures of our recipes and comment on how it went for you. We would love to see what you do with them.
We often like, comment and share your posts of our recipes on our daily Instagram stories.
Ask questions and rate the recipe in the comments section below. Please share what you did with this recipe. We are always looking for more and better ways to make homemade food. Other cooks love your ideas!
Recent Posts: