Sourdough Pizza crust, like other sourdough baked goods, has a deeper, richer, tangier flavor than traditional yeasted pizza dough. Wild yeast Sourdough starter makes a crispy pizza crust your family will love.
It makes sense for home bakers to plan their weekly pizza dinners around the sourdough feeding clock. Use up sourdough discard with this sourdough discard pizza crust and feed your family well. Sourdough makes a more a healthy, digestible pizza crust with a delicious tang that adds a lot to the pizza experience. Yum.
There are SO many ways to change it up to suit your family. You'll always have new ways to use up sourdough discard with pizza.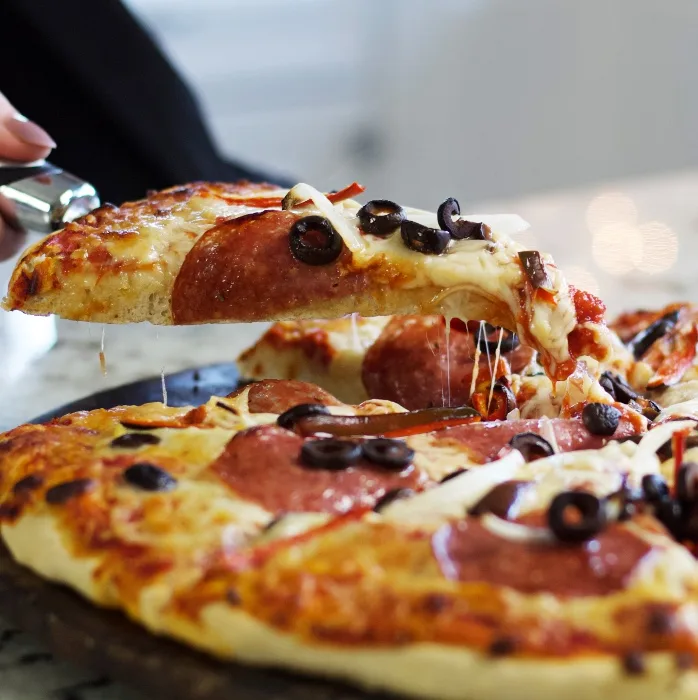 Sourdough Pizza Crust Questions:
How Fed Should the Sourdough Discard Be? The Amount of "fed' your sourdough discard has, is up to you. Read our post on how to feed your starter here.
If you want a pillowy soft crust with lots of air pockets for a thick deep dish pizza, use a well fed starter (ready for baking bread). Allow the dough to cold rise for one to three days before making it into pizza.
This is the process we use for our Artisan Sourdough bread and as you see below it makes an excellent pizza crust with lots of crispy crunch, texture and flavor.
For a thinner crust with lots of sourdough tang, a hungry starter is ideal. But the crust will be flatter and more thin.
What is Par Baking?
Par baking is a shortened term for partial baking. When baking raw pizza dough par-baking the pizza dough for five to ten minutes before loading it with toppings ensures an evenly baked crust.
When you bake raw pizza after it is loaded with sauces, toppings and cheeses, the center of the crust is often still raw once the toppings are perfectly baked.
We Par bake the raw pizza dough to allow the middle of the raw crust to get baked. This ensures we don't over cook the pizza crust edge once the pizza is loaded and baked.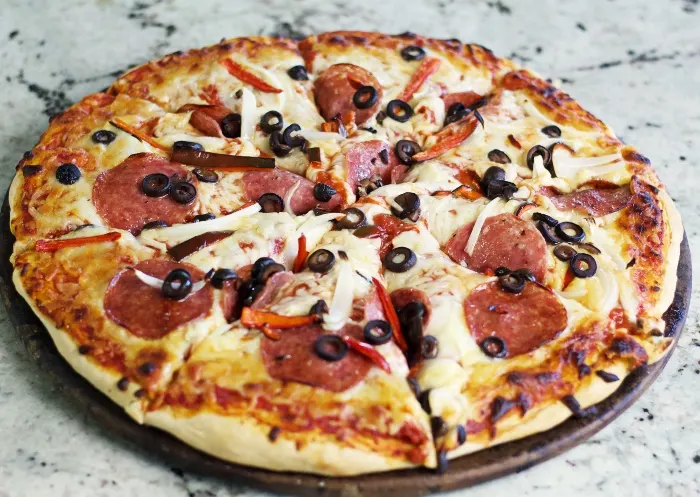 Freezing Pizza and Dough:
You CAN freeze raw pizza dough after it goes through the first rise. Just wrap it it tightly in plastic wrap and then double wrap it in a ziplock freezer bag. Freezes well up to two months.
HOWEVER, the resulting pizza crust is often tough and won't rise well. If you like chewy, thin crust pizzas this may work great for you and your family.
But not so much if your looking for a soft pillowy pizza crust. Rather than freeze the raw dough, You can store raw dough in the fridge several days and actually improve the sourdough flavor and texture.
Freeze PAR baked crusts for best results. It works better to par bake the crusts once the recipe is finished and then freeze the crust well wrapped for several weeks.
Can you make and freeze a whole topped pizza? Yes. But you must par bake the raw pizza dough first. Once the crust is par baked you can top it and freeze it tightly wrapped for several weeks.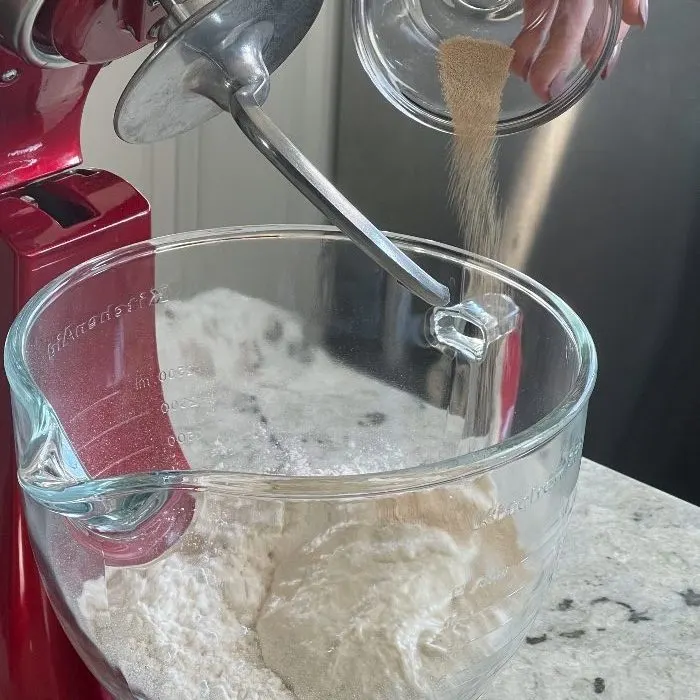 Why Yeast?
Adding yeast to this sourdough pizza crust is optional. But it is a good idea if you are using very weak, hungry starter. Yeast has no benefit to the recipe other than hurrying up the rising time. The starter, however, will add delicious tangy sourdough flavor and texture to your pizza experience.
Sourdough discard can be very hungry and tangy. (You will see hooch forming on the top of hungry starter). This hungry starter makes the most sour sourdough but it will not rise well since it needs food and time to eat it. Adding yeast will give you that sour flavor and also provide the rise for the dough.
If your starter is well fed and bubbly, you don't need yeast unless you are really in a hurry. The very best sourdough pizza crust will spend a day in your fridge to really develop the pizza dough. Forget the yeast if you are doing the long cold rise.
Substitute Diastastic malt for yeast. Diastastic malt powder is another choice for leavener. It contains the enzyme amylase. This enzyme consumes starches and makes them into sugars. This creates more food for the hungry yeasts (both wild and commercial). The result is better rise and more even browning of the crust. The general rule of thumb is use 1 tsp. per cup of flour.
Pizza Change Ups:
This is basic pizza crust recipe has no added seasonings or dough conditioners. If you want to tweak your pizza crust with different flavors and textures here are some ideas that have been tested with this recipe.
Add ins for pizza dough:
The add ins below are going to make a softer, more bread like crust.
Oils (13g -suggest olive oil or avocado oil)
honey (about 10 grams)
Mix of flours. Half bread four and half all purpose flour to improve texture.
Whole wheat flours will add fiber and nutrition but make a firmer denser crust.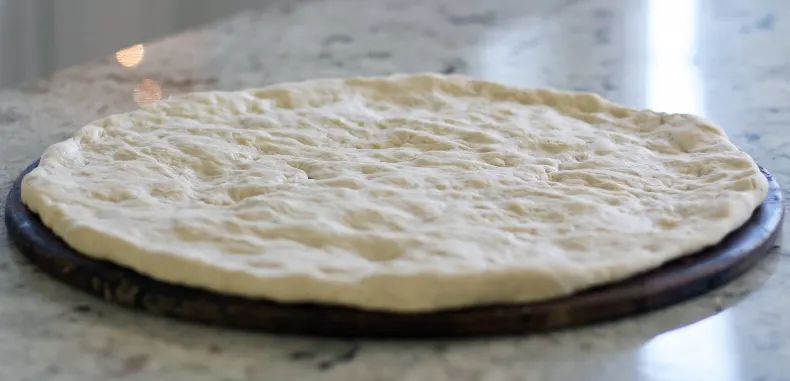 This pizza crust has a lot of possibilities. Make it your way.
Pizza Topping Ideas:
Pizza topping ideas are endless and SO fun to experiment with. Pizza never has to be boring with a little imagination. Throw some of these seasonings right into your sourdough pizza dough to compliment your toppings for even more pizza flavor.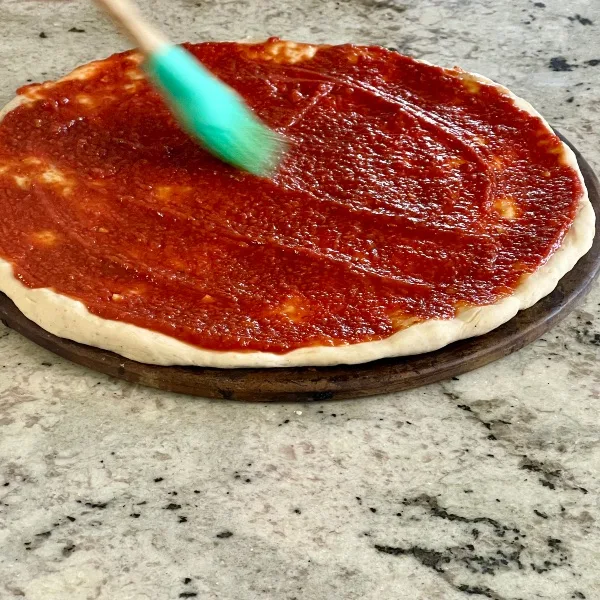 Mix and match these pizza toppings and see what you like best. We also have a list of popular pizza topping cheeses under this table. Enjoy!
| | | | | |
| --- | --- | --- | --- | --- |
| MEATS: | SEASONING | SAUCES | VEGETABLES | Fresh HERBS |
| Hamburger | Creole | Red pizza sauce | onions | basil |
| Sausage | Taco | Pestos | tomatoes | oregano |
| Pepperoni | Italian | BBQ sauce | fresh/roasted peppers | thyme |
| Chicken | onion powder | Alfredo sauce | sun dried tomatoes | Aurgula |
| Bacon | garlic powder | | kapers | parsley |
| Ham | | | black olives | |
| Jumbo Shrimp | | | kalamata olives | |
| | | | mushrooms | |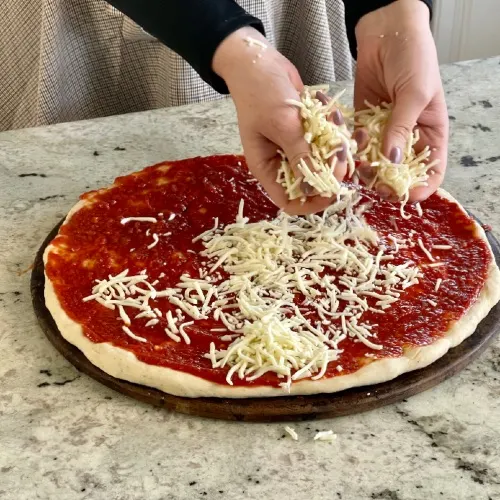 All of these cheeses make good toppings for pizza with the right companion ingredients.
mozzarella
goat cheese
blue cheese
Mexican blend cheese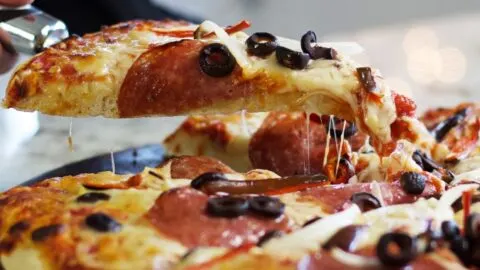 Yield:

16 slices
Sourdough Pizza Crust Recipe
Crispy discard sourdough pizza crust is easy to make and full of flavor. Load it with your favorite toppings and enjoy a meal of full bodied, tangy sourdough pizza. Delicious!
Ingredients
1 Cup About 227 grams) sourdough discard (fed or unfed is fine)
1/2 Cup warm water (plus extra as needed)
2 1/2 Cups all purpose flour (bread flour makes a puffier crust)
1 teaspoon salt
(1/2 teaspoon dry active or instant yeast (optional-use for faster rise)
seasonings as desired (rosemary, thyme, oregano, garlic and onion powders recommended)
Instructions
Pour the starter into a stand mixer with a dough hook or large mixing bowl.
Pour the dry ingredients and 1/2 Cup water over the starter.
Knead the dough in the mixer or by hand about seven minutes or until the dough forms a relisient ball. The dough should clear the sides of the bowl.
Place the dough in a oiled container and allow to double in size. The amount of time required for this is all about your starter. If it is recently fed and you use yeast, it will take about 2 to 4 hours. *(see notes)
Once the dough is doubled in size, flatten the dough to remove air.
Divide the dough into two for two small 12 inch pizzas using a small oiled pizza pan or baking stone. For one large pizza use an oiled 9 x 13 inch baking sheet.
Press the dough inot the oiled pan. It will tend to shrink away from the pan edge.
Allow the dough to relax about 15 minutes and then again form the dough into the corners or the oiled pan.
Cover the raw pizza dough and let it rise until you are happy with the crust height.
Preheat oven to 450 degrees F.
-Par Bake RAW thin crust pizza 5 minutes.
Remove from heat and spread on sauce and toppings. Bake Unil toppings are sizzling and the crust is browned. About another 8 minutes.
-Par Bake RAW thick crust pizza 10 minutes.
Top with sauces and toppings and bake another 8 to 10 minutes or until the crust is evenly browned and the toppings are bubbling and browned.
Notes
* Rising Times:
Yeast and starter discard are both leaveners that rise bread by creating bubbles in the dough. A stronger, more recently fed starter will rise dough more quickly than a hungry starter (fed more than a week ago).
If you want to wait for the dough to develop a much deeper and better flavor, set the risen dough into your fridge covered for one to five days before baking.
Why Add Yeast?:
The sole purpose of yeast in this recipe is to quicken your timeline from mixing to getting the pizza on the table. To really hurry up the rise time you can double the yeast.
By eliminating the yeast your depending on the starter to do the rising. A well fed starter will have no trouble with this but it will take longer than with yeast.
An unfed starter will need added yeast to boost the timeline. Otherwise do a long cold rise overnight (up to five days) in the fridge to develop the pizza dough.
Dough Add ins:
The add ins below are going to make a softer, more bread like crust.
Oils (13g -suggest olive oil or avocado oil)
honey (about 10 grams)
Mix of flours. Half bread four and half all purpose flour to improve texture.
Whole wheat flours will add fiber and nutrition but make a firmer denser crust.
Baking Pizza in an Air Fryer:
For a larger air fryer baking a whole pizza works well.
Set temp to 375 Degrees F.
Par Bake pizza crust for 3 minutes.
Remove from heat.
Add Toppings and bake for 7 min.
Nutrition Information
Yield
8
Serving Size
16
Amount Per Serving
Calories

82
Total Fat

44g
Saturated Fat

10g
Trans Fat

0g
Unsaturated Fat

22g
Cholesterol

0mg
Sodium

145mg
Carbohydrates

972g
Fiber

41g
Sugar

84g
Protein

199g
Many sourdough bakers use their sourdough discard for recipes. We have a whole lot of them in our sourdough section for you.
Sourdough lovers enjoy this rich crispy sourdough pizza crust. Try this pizza crust with the Mediterranean toppings we use on our flatbread recipe below. Use up your discard with these yummy pretzels and bagels. Happy Baking!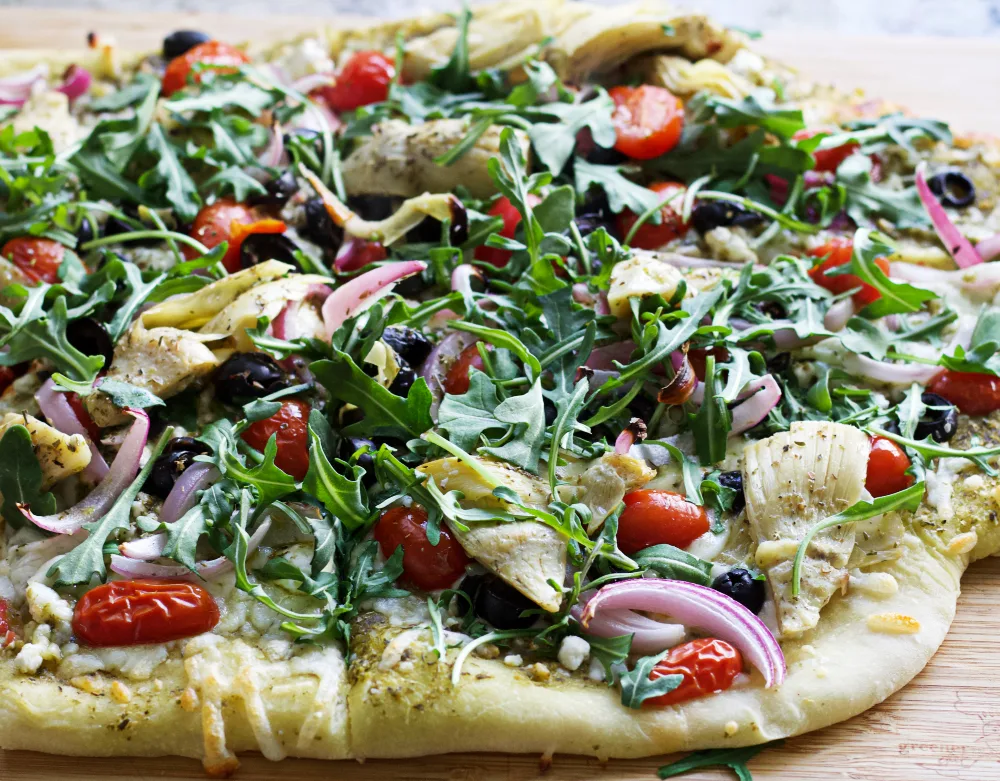 Sourdough Breads You May Enjoy:
If you are a sourdough baker we have so many delicious breads for you to try. Take a look at these!
Follow Us:
We enjoy meeting you on our social networks. Follow us on Facebook, Pinterest, Instagram . Tag us with your pictures of our recipes and comment on how it went for you. We would love to see what you do with them.
We often like, comment and share your posts of our recipes on our daily Instagram stories.
Ask questions and rate the recipe in the comments section below. Please share what you did with this recipe. We are always looking for more and better ways to make homemade food. Other cooks love your ideas!
Recent Posts: