Homemade Sourdough bread is a worthy journey into Artisan bread making. The adventure begins with wild yeast starter and continues into the vast and rich history of naturally fermented bread baking.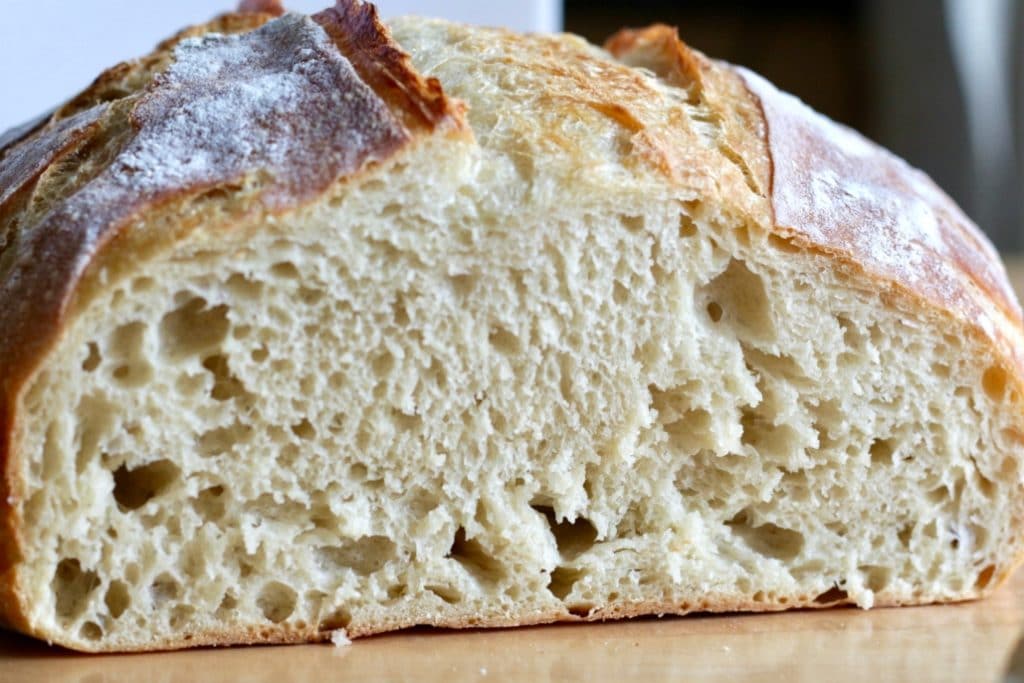 This is a simple sourdough bread recipe. The tartine bread recipe method I use here gives great results. It's a long process. But EASY and SO worth the effort to make a great sour dough recipe.
Beginner Artisan sourdough bread recipie uses the long cold rise method. Bake Fabulous Sourdough bread recipes right in your own dutch oven at home. This is the place to start.
Learning how to make sourdough Artisan bread is a lot to take in. We made a video of the ENTIRE process of making this recipe for you.
It's under six minutes and will REALLY help you see the techniques I use.
This video compresses the 24 hours it takes to complete this recipe into about 6 minutes. There is really no need to panic. You can accomplish this basic sourdough recipe. And your family will love you for it.
I have had a LARGE number of readers on our various social networks and email me pics of their wonderful results. Making sourdough bread in dutch oven gives excellent results.
Learn the techniques used in this sour dough bread recipe. Take every step in order and make this beautiful sourdough bread. Let us know in the comments if it helps you out.
This is a lean bread. Very crusty with a tender, creamy well developed crumb. And only THREE ingredients. Flour water and salt. You can afford to learn this beginner sourdough bread recipe. It will pay you back every time you DON'T buy an artisan loaf from the bakery.
Artisan bread making is a HUGE subject. I will gloss over the top a bit here with resources for you (and, yes an in depth recipe). Even so, you may need a cup of coffee and some pondering time as you go through this post. It will take some time…

FYI, I am NOT a novice to bread making. I made many, many yeast breads for my family for years.
Sourdough artisan recipes with the stretch and fold method and long cold rise are a whole different class of bread. Learn the methods to make these breads and you will be a bread baking star in your foodie circle.
The long cold rise and the stretch and fold method and my Le Creuset Dutch Oven make a bread I have LONGED to make…forever.
These gorgeous dutch oven sourdough breads are so flavorful and crusty. Dave is lobbying me to stay on the trail of new and delicious wild yeast sourdough recipes. And so I shall…
WHY Bake Bread in a DUTCH OVEN?
Baking sourdough loaves in your dutch oven provides them a way to STEAM and form a crusty loaf with a tender moist center that is the Hallmark of The sourdough bread recipe dutch oven method.
Without the dutch oven you will need to find another way to capture steam around your bread while it's baking. If you have a large roasting pan you may try that. And if all else fails try a cookie sheet with a roasting pan lid over it.
The point is you need to create steam. Most ovens do not have a great seal. So spritzing the bread and oven as it bakes is less than ideal. For the best crust and texture you need steam.
That shattered crust and open tender crumb is the homemade food junkie sourdough bread goal. Learn this method. There is no going back. And you can do SO many varieties with this recipe.
Supplies Needed to help with Sourdough Bread Baking:
If you make loaves like this for a while you will get MUCH better results from a few purchases. The loaves are so good and will pay you back. All you need is flour and salt and a few supplies to bake some pretty amazing breads.
Supplies that Make your bread baking life easier and for best results:
Beginners Artisan Sourdough Bread is a complete tutorial on how to make your own beautiful dutch oven sourdough loaf. It's easy. Just follow the directions!
How to Bake Sourdough Bread:
If you are interested in baking 100 percent whole wheat sourdough bread hop over to our post on Beginners Whole Wheat Artisan Sourdough Bread .
I put helps, tips and information into the sourdough whole wheat bread post specific to working with whole wheat flour.
This is a basic sourdough dutch oven bread recipe from a wild yeast starter. It uses the long cold rise and the stretch and fold technique we have discussed.
Once you learn how to make Sourdough bread a whole new baking world will open for you. You will be able to make sourdough porridge breads and Add nuts, cheese, peppers or dried fruits to change it up. Or Use different flours in your starter and breads for endlessly different textures and flavor combinations.
Then there is the art of scoring bread and learning stenciling too. A very creative world indeed. And fun!
TIPS to Keep in Mind for this Artisan Bread Recipe:
When I started making sourdough I used my all purpose flour. The bread was delicious BUT it did not give me the form or the rise I prefer.
I was schooled on this by our contributor Sasha Hunter our bread baker extraordinaire friend. Sasha taught me a LOT and recommended these flours in the process of learning her Milk and Honey Sourdough Sandwich bread recipe. Thank you Sasha!
Expect the dough to be sticky:
WET HANDS really help when handling this dough. The stretch and fold process transforms the dough from a sticky shaggy mess to a workable dough. But it will always be slightly sticky with 100 percent white flour and High hydration.
MEASURE YOUR INGREDIENTS BY WEIGHT FOR BEST RESULTS:
Your climate, flour type, season of the year…all sorts of stuff changes the way a bread baking recipe works. This is especially true of this type of bread.
High hydration loaves can be tricky. Help yourself out and weigh the ingredients. WEIGHING is best for consistent results.
Begin with a healthy leaven (your wild starter) that bubbles and floats in a cup of water. (More on that below.)
Autolyse (resting stage):
At least an hour. it's Important for complete dough hydration and good fermentation- you can rest the dough up to four hours. Do NOT skip this step.
REMEMBER Temperature affects ferment rate.
Keep the dough at around 80 degrees for the quickest bulk rise. HOWEVER, Some flours are easy to over ferment (Like Whole Wheat flour) and other flours need a warmer temp (Not too warm though) to get properly fermented. Learn your dough as you handle it. Watch it go through the stages. If it gets slack and won't rise the dough might be over fermented. (pizza!)
It should pass the windowpane test. Which means when you stretch the dough it's pliable and stretches thin enough you can see light through it. I demonstrate this in the video after the final stretch and fold.
The Final Rise. I have had the best luck with an overnight rise in my fridge.
Cold temperature (55 degrees F) and long rise (12 to 15 hours) give the dough a chance to develop better texture and flavor in the final rise. I have made this bread with a four hour final rise too. I do notice an improvement with the overnight rise.
NOTE: When I cheat on this recipe (and I have many times) by fudging the rise times or reducing the other steps. Life happens 🙂
However, The results DO vary. For best results FOLLOW the directions and keep to the timetable for every step. As you gain experience with this recipe your hands will learn the dough. Then you can play around with it and still get good results.
Learning how to properly form your dough into loaves is one KEY to building the rise in your loaves.
It's all about keeping the dough arated while you work it and building tension in the surface of the dough. Practice makes perfect!
TIP: Please watch the video and look at how I pull the loaves around to keep the tension on the surface of the loaf. This is key to building a good rise.
And yes! you CAN make this dutch oven sourdough bread recipe in bread pans if you prefer.
IF your dutch oven is large enough. Mine is. So I just put the loaf pan right in the dutch oven and cover it. Works great!
I use two 9 x 4 oiled bread pans. After the final rise just gently shape the loaves into sausage shaped loaves and set in your bread pans Seam Side Down. Now set them in the fridge and follow the recipe instructions. You may not need quite the length of time to bake them so watch them and do the thump test to make sure they are done.
Sourdough Bread Recipe with Starter is very different from other yeast bread recipes.
Start with a very active the wild yeast starter. Why Wild?
Wild yeast starters provide a much Better, Fuller, more Complex….AMAZING flavor and texture than commercial yeasts can. You can easily build your own wild yeast starter. But plan ahead.
Give yourself about a week to get it ripe and bubbly. And all the sourdough discard you will create? I have several sourdough discard recipes.
Sourdough recipes with starter require a VERY active Starter. You can use any starter recipe you prefer IF it can pass the float test. MOST important for a good rise in your loaf.
After the starter is active like this one, (and floats firmly in a cup of water) it's time to build the leaven for the bread.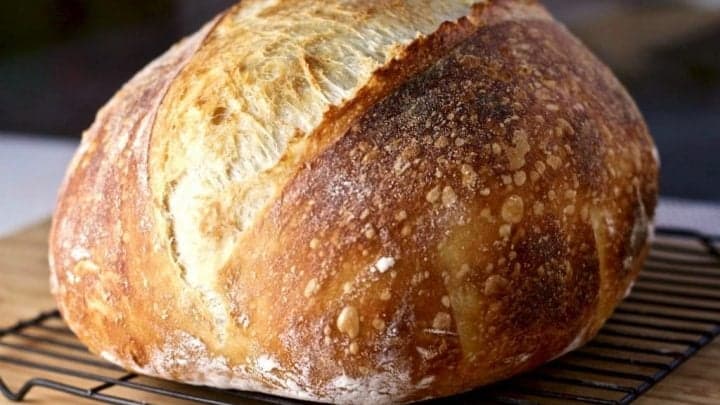 Yield:

24 slices
Beginners Artisan Sourdough Bread Recipe
Total Time:
1 days
1 hour
40 minutes
Make your own delicious bakery quality artisan sourdough breads at home. This recipe is a good start for new sourdough bakers. It's a long process but an easy one. These breads are so worth it!
Ingredients
For the Dough:
525 grams water-80 degree F. -NO chlorine, 2.22 Cups
20 grams salt, 1 Tablespoon
200 grams Very active starter - make sure it floats , 1 + Cup
700 grams All purpose Flour (or bread flour), 5 1/2 Cups
Instructions
MAKE THE STARTER
Make the STARTER AHEAD (This can take up to a week or more) AND DO NOT USE UNTIL IT IS ACTIVE ENOUGH TO FLOAT A TEASPOON ON A CUP OF WATER. Continue the recipe
MAKE THE DOUGH
Pour the water into a large bowl.
Add the ripe starter to the water and mix thoroughly with a whisk or by hand until the floating cloud of starter is mixed completely into the water
Add the flour to the leavened water and mix with the dough bowl scraper or other spatula. At the end use wet hands to form a shaggy dough ball.
AUTOLYSE
Let it rest (autolyse stage) about an hour. This stage can be extended without worry up to four hours.
After autolyse, add the salt to the bread dough. Use your hands to pinch and stretch the dough gently until the salt is mixed into the dough.
Stretch and Fold
Using your wet hands pull the dough from under the dough ball up and stretch it gently as you pull it over the dough ball top. Release. Repeat this process as you give the bowl quarter turns until the dough is stretched and pulled from each quarter of the bowl.
Over the next 2 1/2 hours repeat the stretch and fold every 30 minutes for a total of FOUR times. The dough will change from a slimy ropy mass to a billowy dough with many air pockets and definite body as you stretch and fold it. DO NOT PUNCH DOWN THE DOUGH AT ANY TIME. Those air bubbles create the excellent crumb and flavor.
The dough should become an elastic resilient dough that passes the window pane test. IF your dough is still breaking before it goes transparent when pulled. Do ANOTHER stretch and fold.
BULK RISE:
Allow the dough to bulk rise IN THE BOWL at room temperature an hour or SO until it rises by 30 percent or so.
Cover the bowl of dough with a plastic bag and set it in the fridge for 12 to 15 hours (Or overnight). It should continue to rise slowly so give it room in the bowl.
Remove the dough from the fridge and let it sit on the counter in the bowl for two hours or until the dough reaches room temperature (or pretty close). The dough will soften and gently rise (a tiny bit) as it warms.
DIVIDE AND BENCH REST THE DOUGH:
On a clean unfloured counter pour out the dough into a large mass. Flour the top of the dough lightly but evenly.
BEING CAREFUL NOT TO OVERWORK THE DOUGH-Form each half into a dough ball. The most efficient way to do this is to use the counter as your pivot point. Scrape in a circle around the dough (leave it unturned, flour side up). The unfloured counter will hold the dough center and create tension as you circle the dough with the scraper forming a ball. Repeat to form two dough balls. The DOUGH edge should be round and the dough ball should have some form and resilience to it.
Let the dough balls rest for 20 to 30 minutes. They will spread out but should not fall off at the edge of the pancake. If they do, reform the loaves and bench rest them again to build the structure of the dough better.
FINAL SHAPE AND RISE:
Gently slide the dough scraper under one of your dough balls and flip it over so it rests on the floured side.
Now gently stretch and pull the dough over from the bottom to 1/3 up the loaf. Stretch and pull the dough from the sides to the dough middle. For the final stretch take the dough from the top of the ball and pull it all the way down to the bottom. Form a seam. Pinching the seam as necessary. (view the video for help here)
Place the dough seam side up in your rice floured, cloth lined banneton or bowl.
Rise in the fridge 2 to four hours.
Baking Instructions:
Set a baking stone (if you have one) on your oven bottom rack. Set your dutch oven with it's lid on next rack up (lower third of oven). PREHEAT oven to 450 degrees F. for at least 30 minutes.
Keep the formed loaf in your banneton in the fridge until you actually need to place it in your preheated dutch oven. Cold dough will aide the oven spring.
Remove one banneton from the fridge. Place the dough in your preheated dutch oven. I do this by flipping it into the dutch oven as gently as possible seam side down.
Alternate method: Place high heat safe parchment paper over the banneton. Turn the banneton upside down so the dough falls gently onto the parchment paper.
Score the loaf with your lame knife or a razor blade or sharp scissors. Scoring helps the dough rise better.
Now pick up the scored loaf with the edges of the parchment paper, if using, and gently and carefully place it into your VERY hot dutch oven.
Put the lid on the dutch oven and return it covered to your preheated oven.
Bake 30 minutes at 450 degrees.
Now REMOVE the lid (and parchment paper if using). Steam should come out. Hopefully the bread is a light golden color with a nice rise and set crust. Bake an additional 10 minutes UNCOVERED or until the loaf thumps hollowly and the surface gets dark(Caramelized darker than you are used to maybe) and the scored areas look shiny. (To prevent over browning turn the parchment paper (or foil) upside down over the loaf as it finishes in the oven.)
Remove the dutch oven. Place the finished loaf on a cooling rack. Do NOT cut it for at least an hour to set the crumb.
Return the dutch oven (with it's lid on) to the oven at 450 degrees F and preheat for 15 minutes. Repeat the process with the remaining loaf.
To tell if your bread is properly done. Look at the crust and LISTEN to it cool. The crust should be 'shattery' which means as it cools it will crack. You can see it and hear it. This is bread music 🙂 also a dull sounding bread is probably not completely baked. When you cut the loaf is should have a creamy but springy crumb with lots of aration.
Notes
WATCH your dough as it goes through the stages of fermentation. This dough can easily over ferment at high room (Or oven proofing) temperatures. If your dough gets slack, unworkable and won't form or rise it is probably over fermented. At this point I suggest you Make pizza with it instead of loaf bread 🙂
To avoid over fermentation keep the room temperature (or oven) at 80 degrees or less. Whatever flour you are using will influence this process. Learn to work with the dough you are creating.
This bread freezes VERY well. After it is completely cooled double wrap it tightly with plastic wrap and set in the freezer. I have done this several times. Defrost at room temperature wrapped or unwrapped. Slice and eat.
For best results store your sourdough bread loaves in a bread box (I use my dutch oven with the lid slightly cocked). That beautiful crunchy Sourdough crust gets soft in an airtight container or plastic sack. Once cut just set the bread cut side down to protect the crumb. These loaves hold very well for at least three days. Freeze the other finished loaf if you can't eat it right away.
Banneton Tips:
I am using my ceramic round bowls lined with linen dish cloths for my bannetons. The high hydration doughs like these tend TO STICK to those cloths. To help with I scrub rice flour into the cloth. And leave an extra bit of it in the banneton bottom. Once the dough is in the banneton I add a bit more rice around the side of the loaf to keep it from sticking during the rise.
IF your dough sticks a bit to the banneton cloth, use a sharp knife to pull it away and add some rice flour to the sticking spot. Now it should invert without too much trouble. For really tough sticks, cut the dough away and repair it carefully by pressing it to reshape it before baking. Careful of burns if you are doing this in a hot pot.
And yes! you CAN make this recipe in bread pans if you prefer.
I use two 9 x 4 oiled bread pans. After the final rise just gently shape the loaves into sausage shaped loaves and set in your bread pans Seam Side Down. Now set them in the fridge and follow the recipe instructions. You may not need quite the length of time to bake them so watch them and do the thump test to make sure they are done.
Recommended Products
As an Amazon Associate and member of other affiliate programs, I earn from qualifying purchases.
Nutrition Information:
Yield:
24
Serving Size:
1 slice
Amount Per Serving:
Calories:

110
Total Fat:

0g
Saturated Fat:

0g
Trans Fat:

0g
Unsaturated Fat:

0g
Cholesterol:

0mg
Sodium:

332mg
Carbohydrates:

23g
Fiber:

1g
Sugar:

0g
Protein:

3g
Further Resources on sourdough bread baking:
These books all were very helpful to me. They are probably available in your local library but make valuable resources to keep on hand.
Books:
Pin it:
Comments and inspiration from a couple of our readers:
I'm sharing comments from my emails from readers that used this recipe and shared their results. We LOVE your feedback on all of our recipes. It helps others as well.
From Daphne:
"Hi I just had to write and tell you how happy I am to have stumbled upon your site and find the recipe for the sourdough bread. I have been making this type of bread for a while now but not always getting the results I wanted. Either it was flat, too sour or just a poor loaf. But I took out my old starter this week and feed it determined to have a go at it again. Well I found your site, easy directions and off I went. I just cut the first loaf and it is simply delicious. My husband loves bread, but not always sourdough bread, loved it too. Thanks so much for making it so easy to read and do. The results were great!!!!!! I just made another batch to bake tomorrow. Thanks again, you took the 'SOUR' experiences out of sourdough baking for me!!!!! DAPHNE"

From Stephen:

My father made sourdough things (pancakes were great, bread was better, pizza dough, too) when I was a growing up in the 60's and 70's. Lately, I wanted to revisit that. I acquired a commercial starter culture and set that going. Then I found your beginners recipe.

Worked great. Reminded me a lot of making focaccia bread – very hydrated and the stretching and folding technique was similar. I used cheesecloth and ground rice in ceramic bowls instead of the bannetons. I think I'll get some of the latter.

thanks for the wonderful recipe and discussion. Now for the experimentation…
It's great to see other baker's results with this recipe. A few have shared pics on Instagram too and tagged me in them. This recipe works well for beginners.
This beginner Artisan Sourdough Bread Recipe made from TheKitchn recipe by Emma Christensen. She has put together an EXCELLENT step by step tutorial which I have followed and highly recommend. Her recipe is an adaptation of Chad Robertson's Basic Country Sourdough.