Cranberry Walnut Bread Sourdough recipe makes a lovely winter bread.
The whole family will enjoy this hearty, filling sourdough bread. It is full of delicious flavors and texture.
It's a very satisfying companion to soups and stews. This sourdough bread recipe also makes great toast.
Smear peanut butter and jam on for an incredibly delicious open face sandwich.
Grill it with turkey and cranberry sauce. There is so much you can do with this cranberry bread recipe.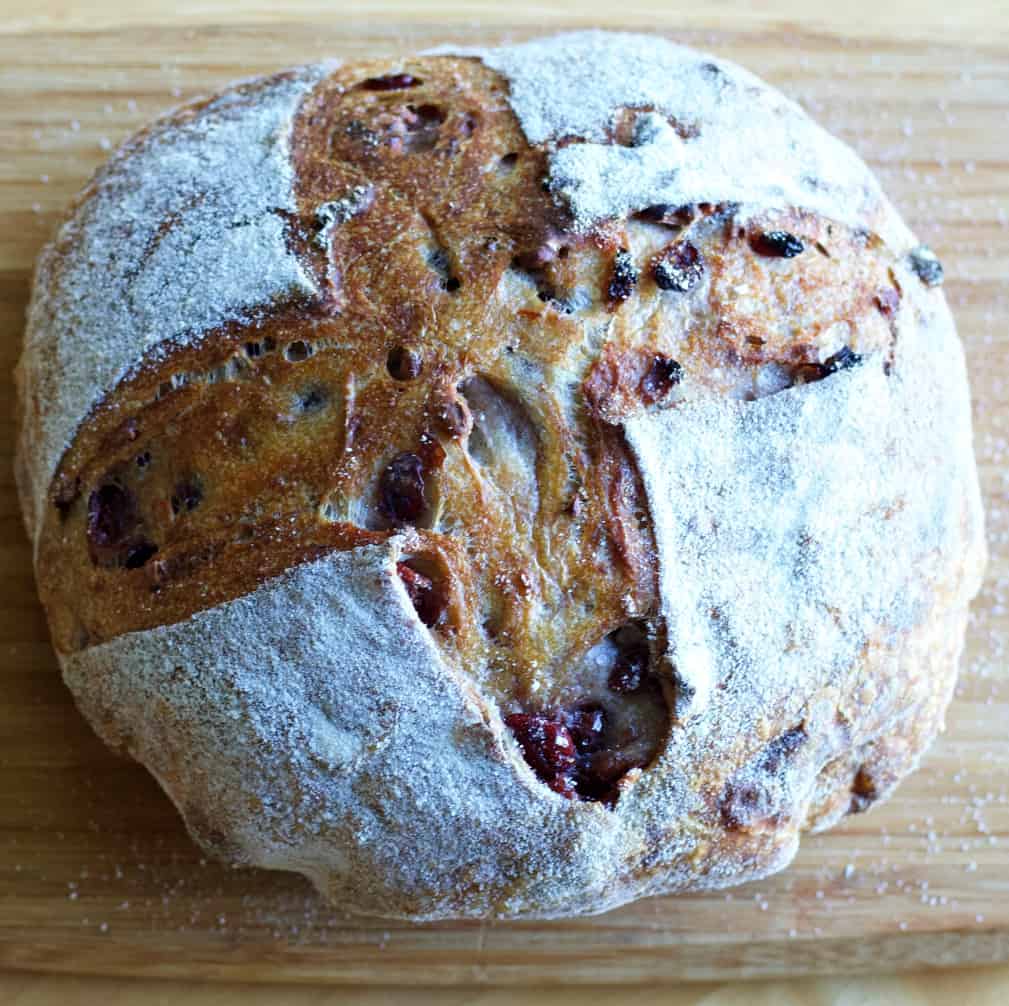 More Sourdough Bread Recipes:
Sourdough Bread Recipes with starter make breads with a HUGE variety of flavors, texture and densities.
Take a look at our sourdough section for a complete index of all our sourdough bread recipes. Here are a few you'll love.
Cranberry Walnut Bread Sourdough Recipe:
Baking bread is such an adventure. It is very personal and allows you to get as creative as you wish.
Breads like this are the result of bakers experiments that worked. Many of us have fails. But that is the fun of it in my opinion.
You will see below I have made this bread many ways. We have loved it every time. Don't be afraid to try your ideas out. Then come back and tell me all about it. 🙂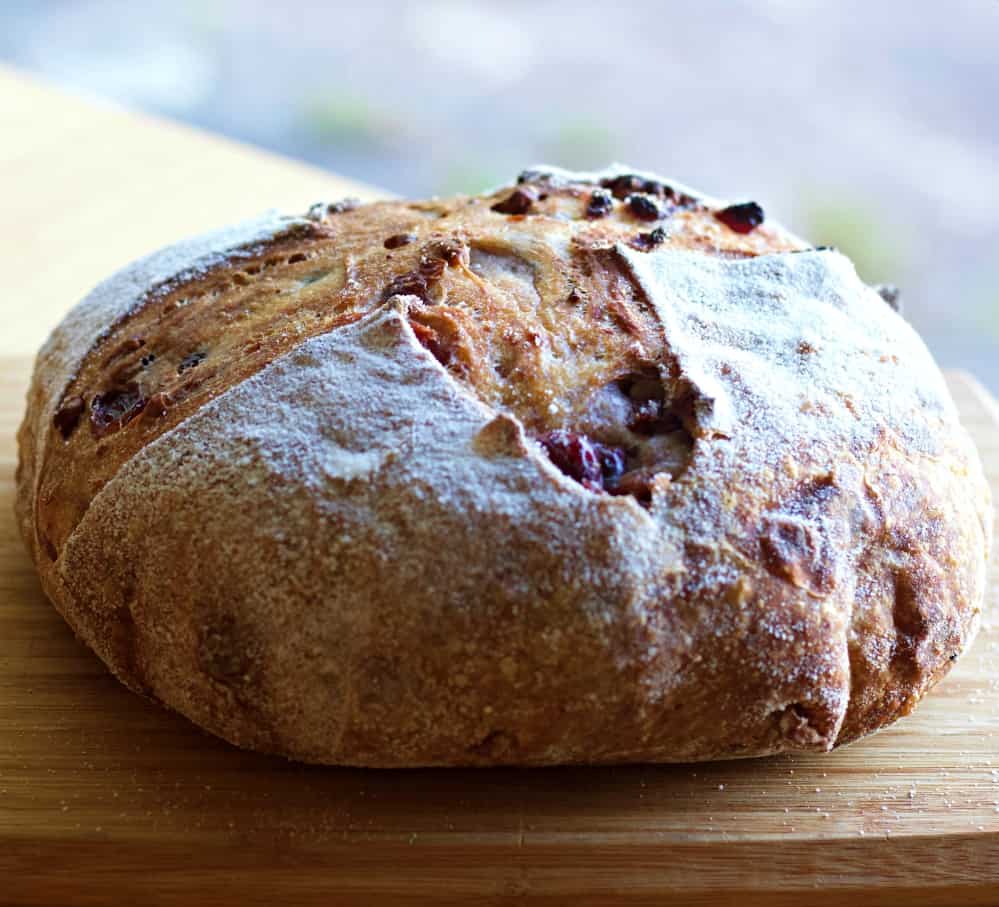 Look at the pretty purple swirls running through the loaf. That is from the soaked WALNUTS. Not the cranberries. Surprise!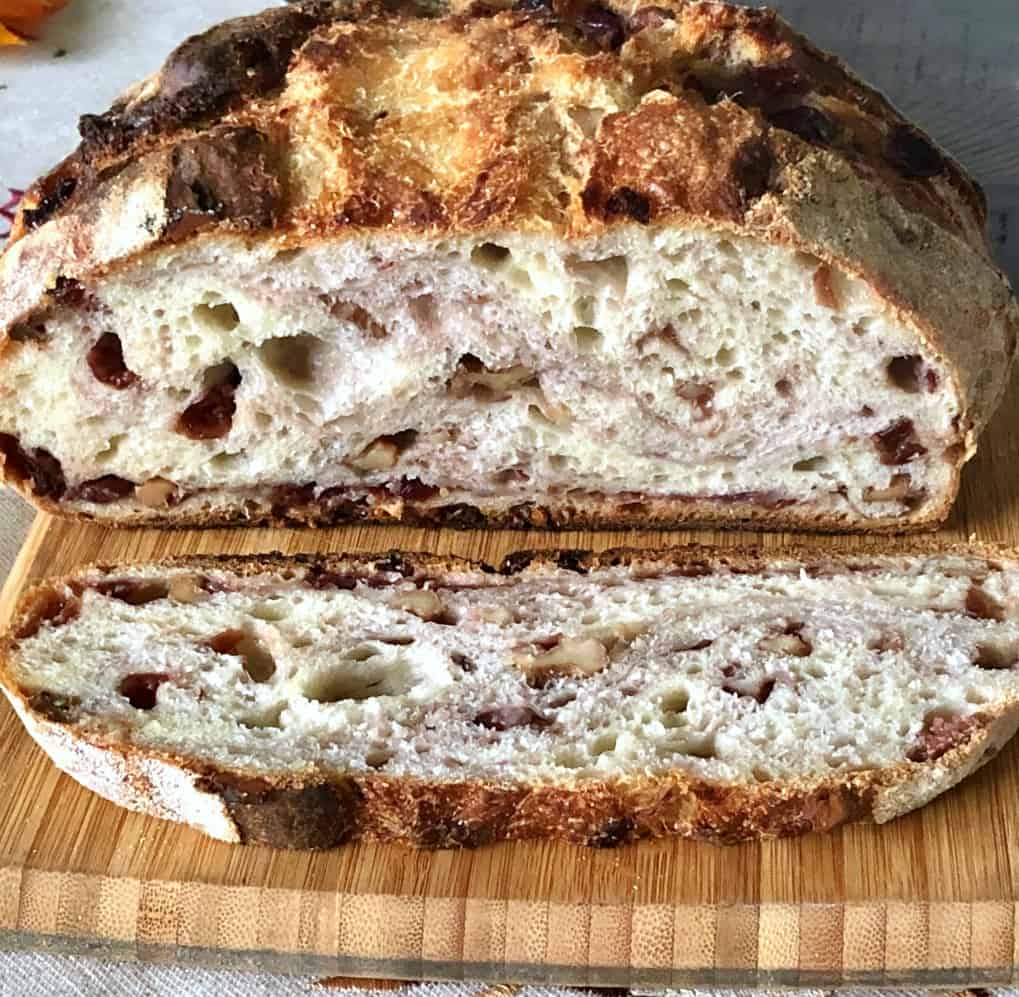 The bread recipe I'm using here is a tried and true basic soft sourdough sandwich bread. MANY many of our readers love our soft sourdough bread recipe.
It has a moist crumb that is squishable and yet holds up to the task of supporting ALL the cranberries and walnuts you want to use.
This recipe is the base for our soft cinnamon rolls and cinnamon raisin bread as well. Check them out too.
The Method:
This is a long cold rise dough. It is very simple to make with four sets of stretch and folds.
Variations for this recipe:
You can make this cranberry bread several different ways. Make it how you like it.
The Cranberries: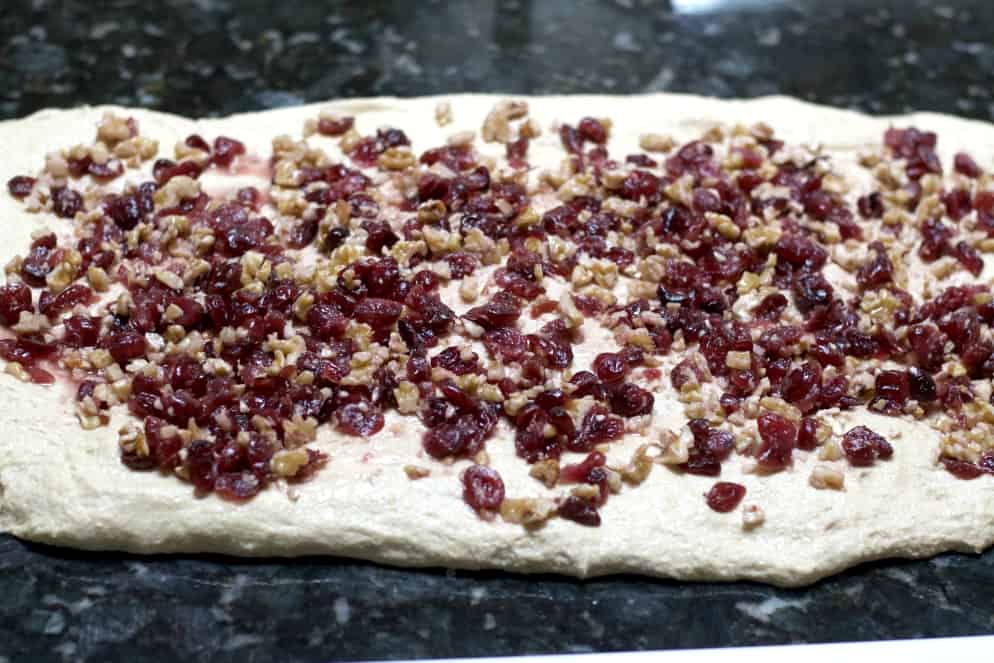 I made this as a dried cranberry recipe. I soaked the berries to get the moistness I wanted.
The dried cranberries are sweetened so they add some flavor. Because they are dried the texture if very different than you get with fresh berries.
You can try this bread with fresh cranberries or frozen cranberries if that is what you have. However, it will change the flavor and texture of the recipe.
Please make it at least once with the dried cranberries so you know how it is supposed to work before going your own way.
The Flour:
The recipe card uses 100% high protein bread flour (over 5 grams or 12% protein). That will give you results like you see below.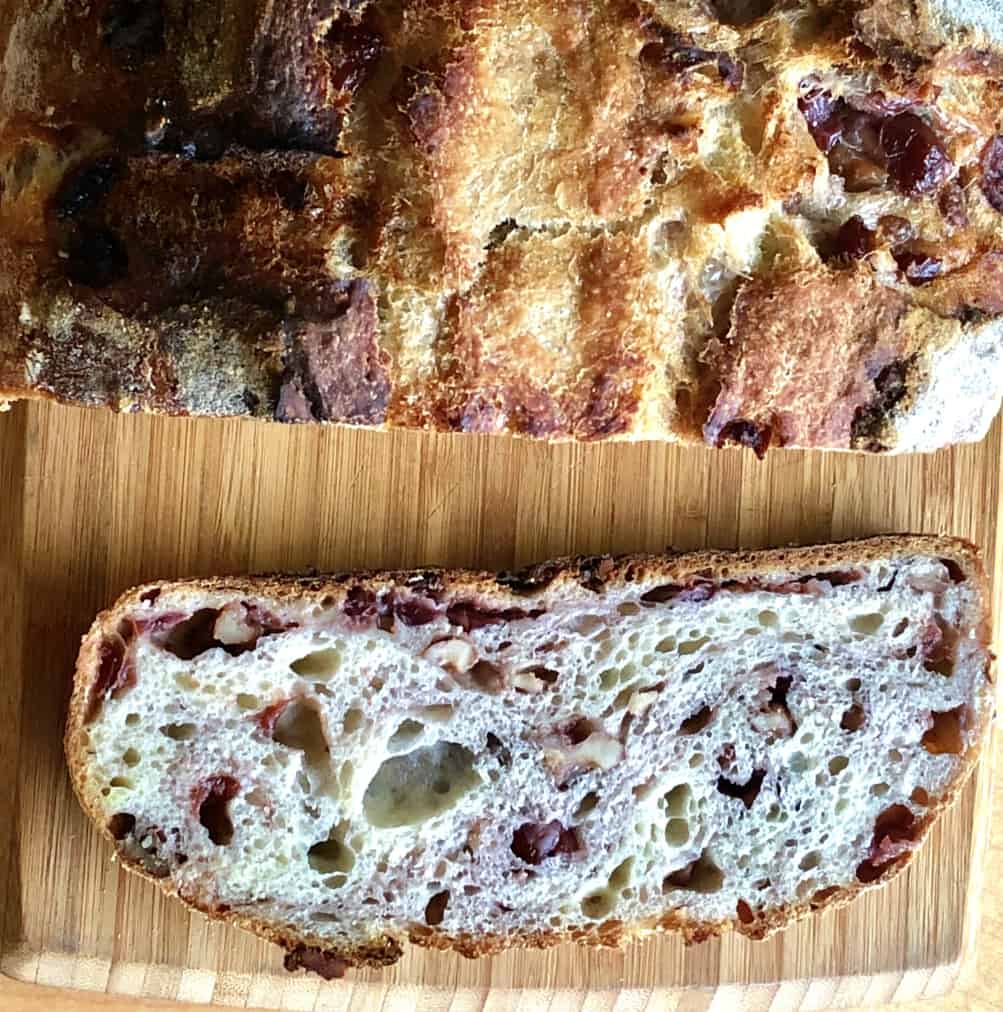 If you use 100% whole wheat flour the crumb will be denser. But the flavor will be excellent.
The Amount of walnuts and berries:
As you can see below I LOADED this dough (pictured below) with soaked walnuts and cranberries. This is more than the recipe card calls for. I used 2 cups each of cranberries and walnuts.
The crumb is also degassed. (instructions in recipe card).
The result is a very moist crumb with small holes and LOTS of nuts and cranberries. It's good. But difficult to work with. Fair warning.
The loaf below is made with only 1 cup of cranberries and 1 cup of chopped walnuts. I also left the crumb open. The result is a still moist but drier loaf. It is less dense and VERY flavorful.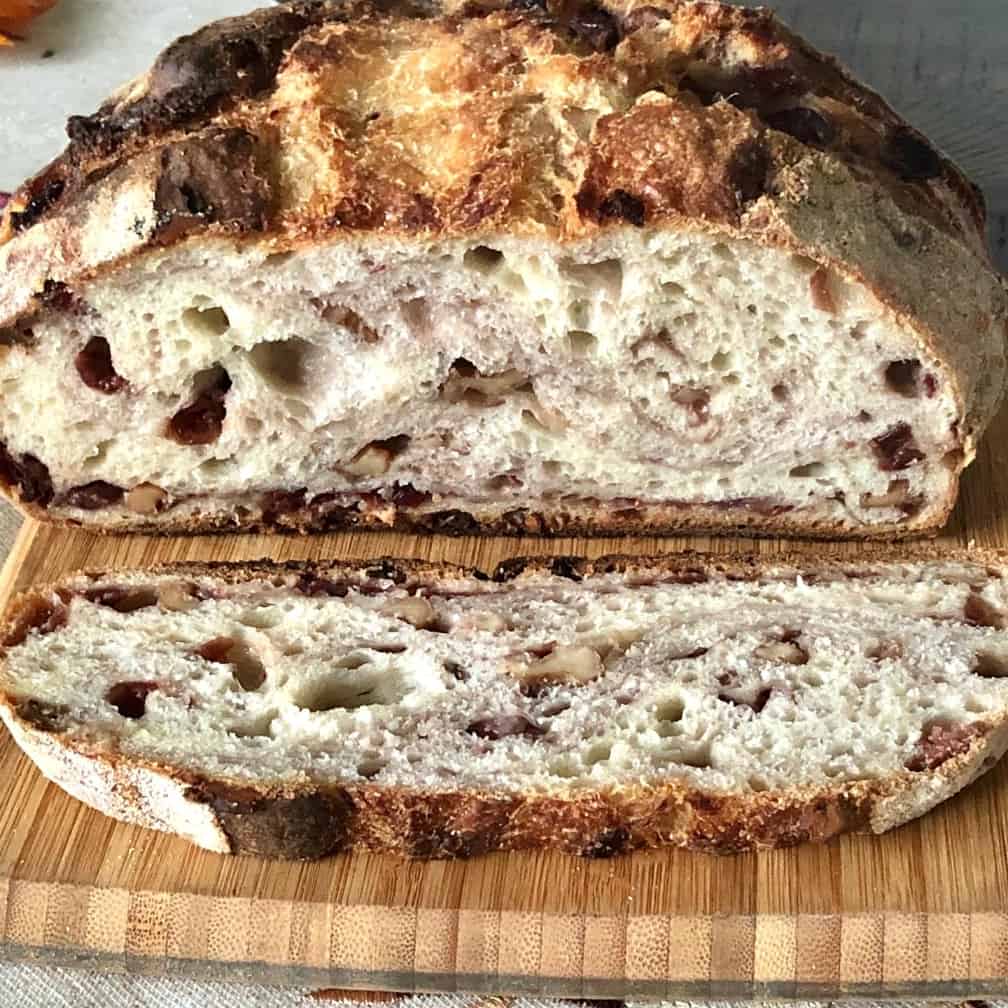 In the recipe card I split the difference. I used about 1 1/2 cups each of the chopped nuts and berries. Tell me how you make this bread. What is working best for you?
Your Printable Recipe Card:
Below is your detailed instructions with process photos and a video companion to help you with any techniques that are new to you.
If you PRINT the recipe card all the photos will NOT print. This will help you reduce the clutter on your print out and save you ink and paper.
At the end of this recipe card is a video from our Beginner sourdough recipe. It will show you the techniques we use to make this recipe too. If you cannot find it go here to find the video on our youtube channel. Happy Baking:)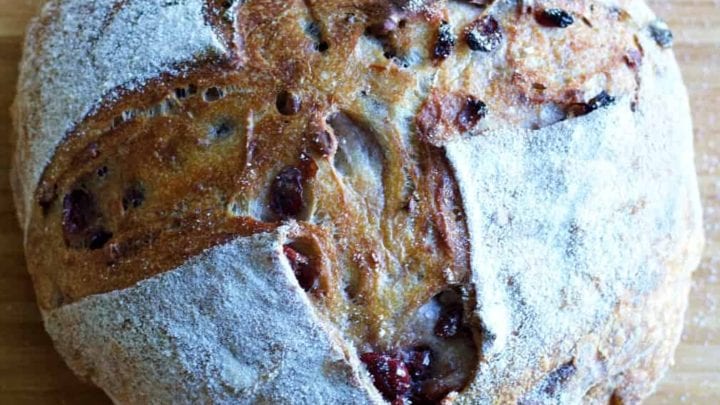 Yield:

2 1 kilogram Loaves
Cranberry Walnut Bread Sourdough Recipe
Additional Time:
30 minutes
Total Time:
21 hours
30 minutes
Cranberry Walnut Bread Sourdough recipe is a lovely, hearty winter bread the whole family will enjoy. Serve it fresh, toasted or grilled.
Ingredients
300 grams starter-freshly fed and active
650 grams warm water
50 grams honey
40 grams avocado oil
1000 grams White bread flour (high protein)
20 grams Salt
200 grams Dried Cranberries
150 Grams Chopped Walnuts
Water to soak nuts and cranberries
Instructions
PREP:
Chop walnuts roughly (NOT too fine).
Measure out the cranberries into a 4 cup bowl.
Pour in the chopped walnuts
Add water JUST to the top of the walnut berry mixture.
Let sit two to four hours.

MIXING:
Begin with a very active recently fed starter. It should pass the float test.
Set a large bowl on a digital food scale set to grams and press the tare button. The scale should read zero.
Pour in the water to weight of 650 g. Press tare.
Pour in 300 grams of starter. Press tare. The starter should form a floating mass on the water.
Add the oil. Press tare
Add the honey. Press tare.
Whisk together the starter, oil, honey and water until they are mixed.
Add the 1000 grams of flour.
Mix the flour into the water/starter with a dough hook, spatula and your wet hands until you have a shaggy ball of dough.
AUTOLYSE:
autolyse 1 hour. (this means rest the dough to allow it to hydrate)
Sprinkle salt across dough.
spritz with water bottle and work in the salt with wet hands.
Rest 30 mins
STRETCH AND FOLDS:
Begin Stretch and Folds. You need 4 sets of stretch and folds 30 mins apart. See video for technique.
AT THE THIRD STRETCH AND FOLD INCLUDE HALF THE SOAKED NUTS AND BERRIES.
Adding the Soaked Walnuts and Cranberries:
Drain the water out of the walnuts and berries. I leave mine wet but you can dry them with a paper towel as you prefer.
Degass the dough and roll into a rectangle about 1/2 inch depth.
Layer on half of the nuts and berries.
Press the nuts and berries gently into the dough with your finger tips.
The dough will look like this.
with your bench scraper roll the dough in on itself until it form a ball with the nuts and berries distributed through the dough.
Set the dough aside for 30 minutes. Stretch and fold the dough. (this will be messy and you will have to add back some of the nuts and berries that fall off. )
Now add in the remaining nuts and berries.
Reform the dough into a ball and set it in your bread bowl.
Allow to bulk rise an hour on the counter.
LONG COLD RISE:
Refrigerate overnight.
BENCH REST DOUGH:
Remove from fridge and warm to room temperature. (ABOUT TWO HOURS)
Divide the dough into two equal sized dough balls by weight.
Bench rest an hour until dough is elastic.
SHAPE AND FINAL RISE:
After bench rest tighten the dough surface by pulling the dough toward you. (see video for technique) This will shape the dough.
Flip the dough upside down into a flour lined banneton. (you can also use any bowl with a flour infused cloth to prevent sticking) Pictured see I flipped on loaf upside down (further loaf) and picked up the other set it down bottom first. both work. but when you flip the loaves again the upside down loaf will be prettier.
Loosely cover the bannetons (I set mine in old grocery bags) and refrigerate 2 to 4 hours before baking. Chilled dough has the best oven spring.
BAKING PREP AND INSTRUCTIONS:
Preheat oven and dutch oven to 450° for at least 30 minutes.
Remove one boule from the fridge and set it upside down onto a piece of parchment paper.
Lift off the banneton.
Score the loaf.
Set in hot preheated dutch oven by holding the parchment and lowering the loaf. (see video)
Bake covered for 30 minutes.
Remove the lid.
Bake an additional 30-35 mins until the loaf is over 200 degrees F at its center.
Using a digital thermometer check internal Temp of loaf. It is done at 200°. If you don't have a thermometer pop loaves out to test for hollow on bottom. Or thump the loaf. Does is have a hollow sound?
Remove from oven and cool on racks to room temperature before cutting the bread.
Repeat with second boule.
Notes
Measure the ingredients CAREFULLY for best results.
THE SALT: I use Himalayan salt. All salt works. However, they have different volumes by weight. So you need to be careful. Weighing helps get it right.
THE OIL: Avocado oil is recommended for best health. Use any neutral flavor oil you prefer.
THE FLOUR: Use any high protein (On the label 12 % protein or 5 grams protein) organic white bread flour. You can make this loaf with 50/50 white and WHITE whole wheat. The loaf will stay soft and have a great nutty flavor. Using 100 percent whole wheat or Hard red whole wheat will give you a different result. The recipe may need some adjusting. I suggest you stick with 100 percent white or 50/50.

The Amount of Nuts and Berries:

You CAN adjust the amount of nuts and berries you add to this recipe up to a point.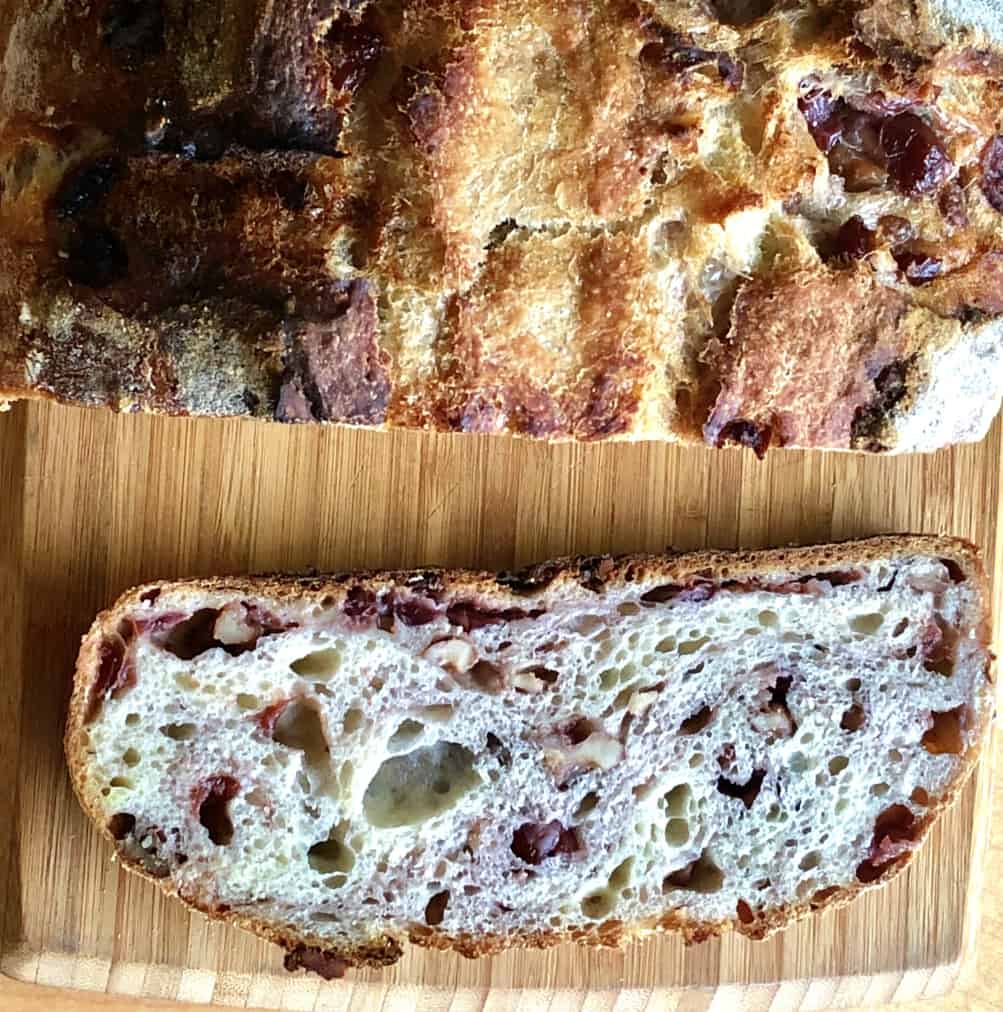 I have actually added 2 full cups of both the nuts and cranberries. Itis difficult to get them all into the dough and form the loaves. But it is possible.
You can also reduce the amount you add to 1 Cup each of the nuts and berries for a lighter bread.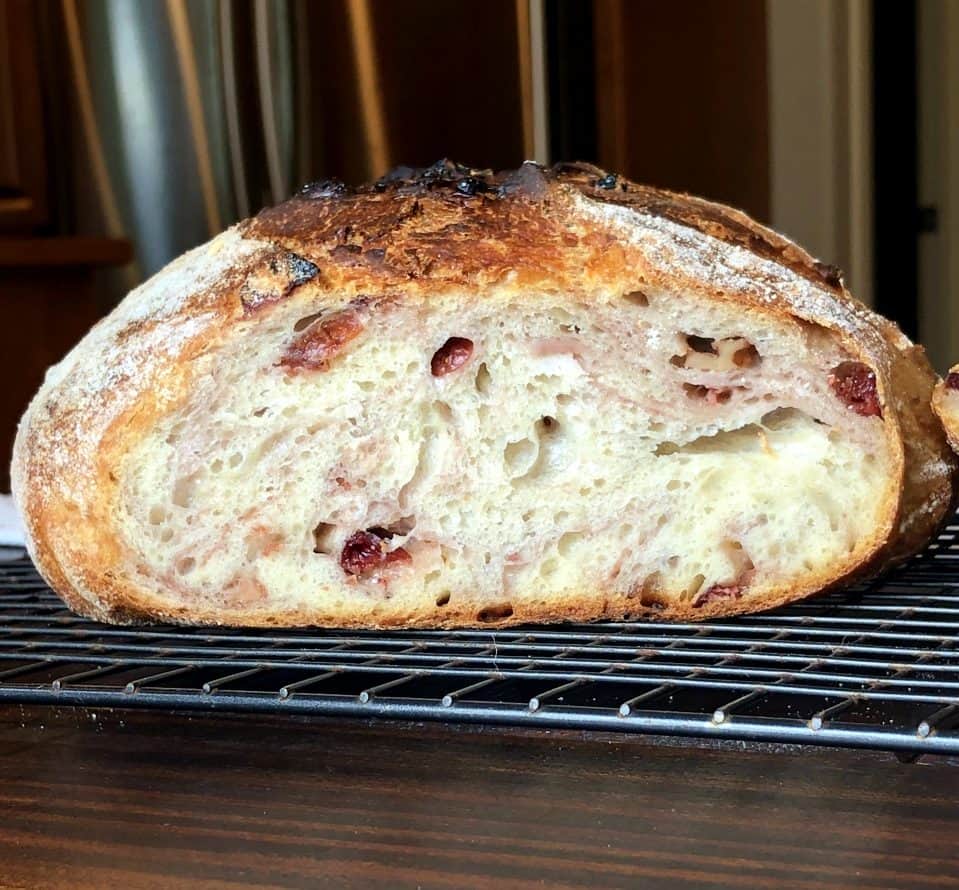 Whole Wheat Flour Versions:
This recipe can also be made with 100 % WHITE whole wheat flour. It is a denser loaf but the flavor is wonderful!
If you are using hard red winter wheat flour use a mix of 50/50 whole wheat and white flour for best results.
Conversion CUPS to GRAMS:
I do NOT recommend volume measurements for best results with sourdough baking. There are differences in the starter and flours that make weighing by Scale a MUCH more reliable method. But if your not using a scale here are the approximate volume measurements of the ingredients.
2 2/3 Cups -300 grams starter-freshly fed and active
2 3/4 Cups 650 grams warm water
2 3/8 Tablespoons -50 grams honey
3 Tablespoons- 40 grams avocado oil
8 Cups- 1000 grams White bread flour (high protein)
1 Tablespoon-20 grams Salt
1 1/2 Cups dried cranberries
1 1/2 cups chopped walnuts
Final NOTE:
The video in this post is for those unfamiliar with the techniques I use. It is actually demonstrating our Beginner Sourdough Artisan Bread Recipe. This cranberry walnut bread process uses many of the same techniques.
Nutrition Information
Yield
24 servings
Serving Size
1
Amount Per Serving
Calories

247
Total Fat

7g
Saturated Fat

1g
Trans Fat

0g
Unsaturated Fat

6g
Cholesterol

0mg
Sodium

329mg
Carbohydrates

41g
Fiber

2g
Sugar

8g
Protein

6g