Sourdough Pie Crust is made with discard sourdough starter, flour, butter and a dash of salt and sugar. It is the perfect pastry dough for sweet or savory pies, empanadas, homemade pop tarts, crust for quiche and more.
This recipe comes together quickly and makes enough for a double crust deep dish pie, or two single crust deep dish pies. Buttery and flakey with a delicious flavor that is accentuated by the sourdough discard, this pastry dough is a great way to use up your extra starter.
In this post we are walking you through the various steps to make this pastry crust, ensuring you will have a successful sweet and buttery sourdough pie crust that is stable and flakey.
What are the best tips for making a great pie crust?
Pie crust, although very simple to make, does take some finesse and care that is often overlooked or rushed. The success of pie crust lies in the techniques, preparation and execution.
First, it is very important that all of your ingredients, as well as the finished dough, remain cold throughout the entire process. Your hands will warm everything the longer you work with it; this will cause your butter to begin melting and the dough to become sticky and weak. Taking care to chill the dough intermittently while you are working it, and also chilling it fully before rolling it out and baking it is a very important factor.
Be cautious when adding any liquids and knead your dough fully. A wet dough can happen quickly when you are adding liquids too fast or in large quantities. It's important to use liquids sparingly and don't get scared when working with a seemingly dry pastry dough.
It's also good practice to allow small chunks of butter to remain visible throughout the dough. The butter is what rises and gives your dough the flakey, fluffy texture. If you work all of your butter down to a smooth, nearly melted state, you risk the dough being flat, dense and even tough.
Finally, chilling the pie pan before baking can also aid the dough in baking more efficiently and keep its size throughout the baking process. Once your pan is lined, cover it and place it in the fridge to cool before your blind bake or fill it. Wrap and chill your rolled out top crust as well if you are using one. This prevents the crusts from shrinking and browning on the edges too much.
You will want to check out our complete sourdough recipes section for our sourdough bread recipes and other discard sourdough recipes too.
If you are looking to make your own pie crust, but don't have sourdough discard to use, try our coconut oil pie crust. This is another fantastic recipe that has a delicious flavor and makes a wonderful base for pastries.
Does butter or shortening make a better pie crust?
The key to a flakey pie crust is in the choice, quality and quantity of fat used in the recipe. Butter and lard or shortening are the most popular options, although we have had great success with our coconut oil crust as well.
Overall, a high quality butter tends to reign supreme in the pastry world. It gives pastry dough a beautiful rise with visible lamination, a scrumptious flavor that compliments any type of filling, and is most dependent when it comes to a beautiful, golden bake.
Shortening and lard can be used in pastry dough but they tend to leave a greasy film behind and do not bake nearly as fluffy and flakey as butter. These two ingredients will likely yield more crumbly crusts with less flavor.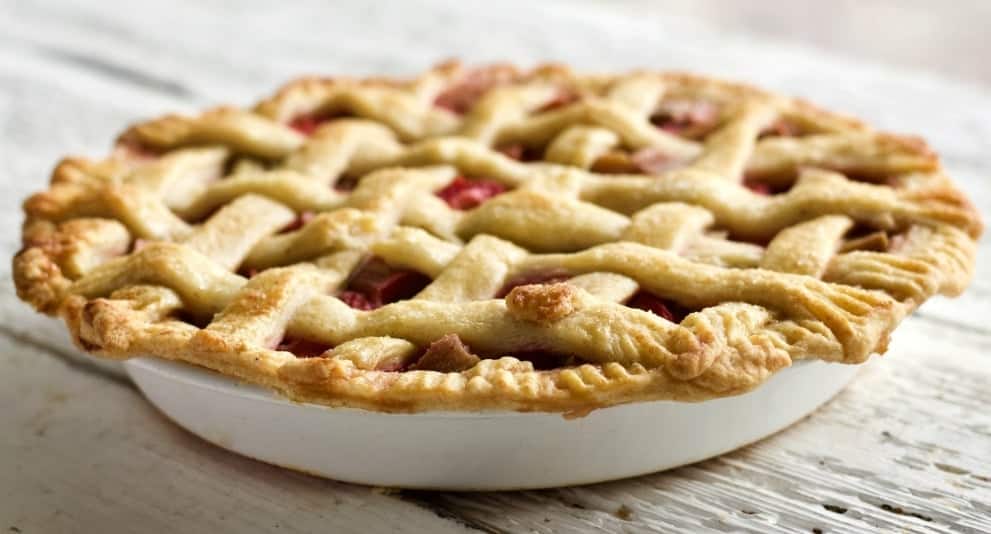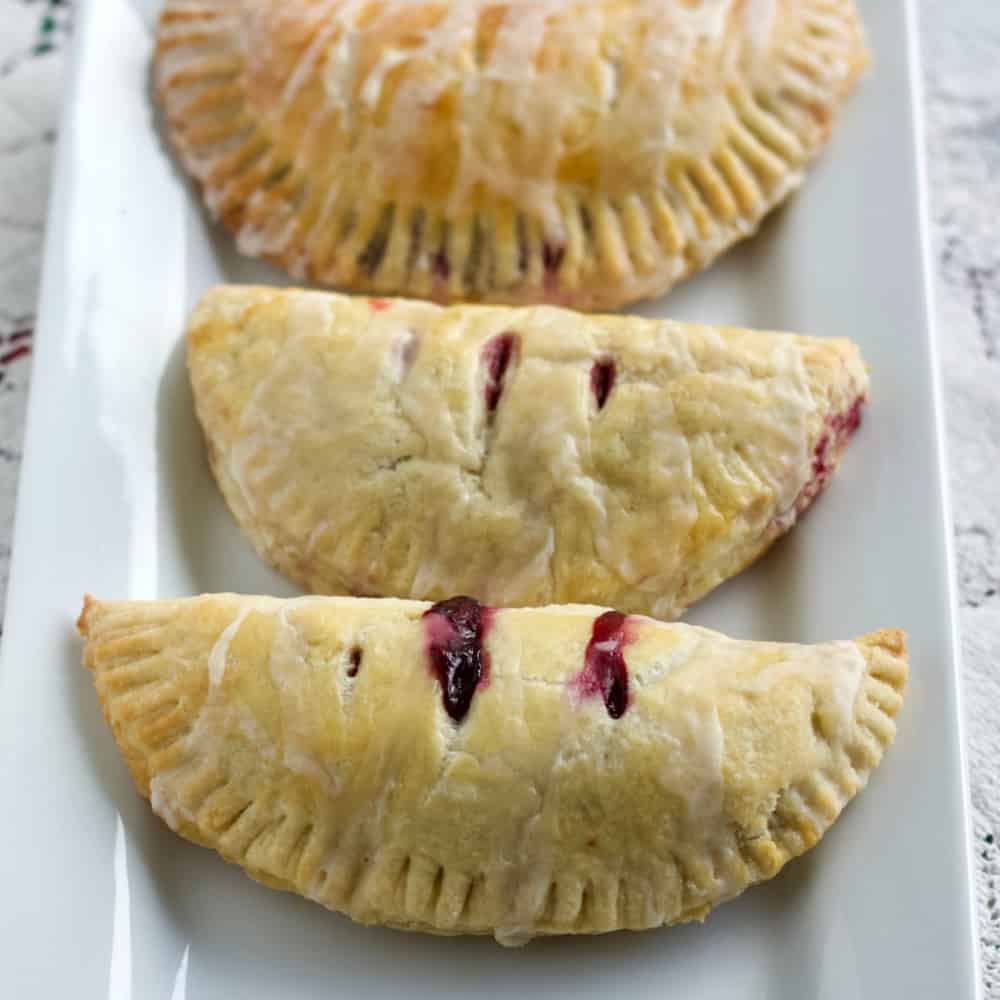 The Sourdough Starter
We are using this Wild All Purpose Flour Sourdough Starter with 100 percent hydration. That means the flour and water are equal by weight and the yeast are local wild yeast, not commercial.
If you have a Food Scale we recommend you use it for better, more accurate recipes. We have the recipe in both weight and volume measures for you.
You will want your starter fed in the last week to keep the sourness of the pie crust in check.
Rolling out the dough
Take care to keep everything cold throughout the process. We used this Stainless Rolling Pin and put it in the fridge for about a half hour and kept it in there unless we were rolling with it.
Remove your dough from the food processor once the butter creates a crumbly dough. Gently squeeze the dough into a ball and flatten it.
Sprinkle a little flour under the dough and turn the dough disk often as it increases in size while rolling it out to prevent sticking.
If the dough begins to stick you can slide a spatula under the dough to gently release it from your counter.
Fold the dough in half or roll the dough on your rolling pin. Now unfold or unroll the dough into your pie plate.
The finished dough circle should leave about an inch of overlap evenly around your pie edge. Cut off any dough longer than that and keep the scraps. Repair any short areas or thin spots with the scrap dough.
To flute the edge
Fold the overlapping dough under itself to create a double layer of dough all the way around your pie edge.
Now flute the pie as you prefer or finish the edge with a fork as I did for my pumpkin pie.
The method we use to flute the crust is gently pinching the dough between the thumb and forefinger and giving the dough a twist. Repeat all the way around the pie.
Decoration ideas
As you can see on both of the pies we made we used pie cutouts to decorate the pie top.
The extra dough scraps are perfect for this. After the Sour Apple Pie filling was in the pie plate and the crumble finished we set the three leaf cut outs in the center and baked the pie.
For the pumpkin we baked the pumpkin cut outs separately for 10 minutes until golden. After the pumpkin pie was completely baked, we set the cut outs on the warm pie.
To Bake
Follow the directions for the pie you are making. Our Sour Apple Pie baked with just the correct amount of brown on the fluted edge.
If you consistently struggle with over brown edges, we recommend you purchase some pie shields to protect the pie crust better.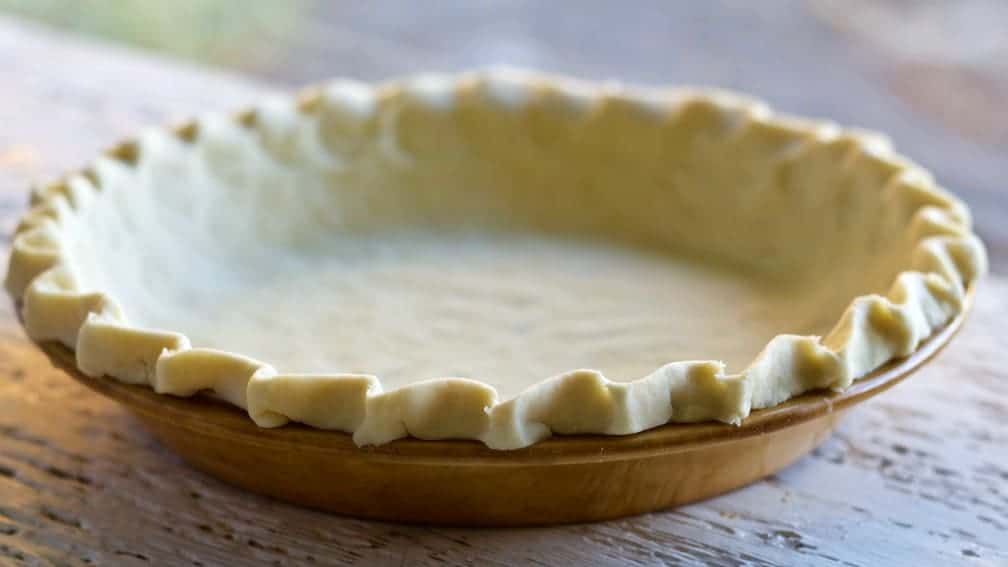 Sourdough Pie Crust Recipe
This is a very simple pie dough and it's easy to work with when you follow our tips. Watch the video to see how easy this delicious butter crust is to work with.
We give the instructions for a blind baked crust in the printable recipe card below.
For best results, every stage of handling requires the dough to stay cold.
Be quick and deft as you handle the dough.
A cold rolling pin helps but the dough itself must also be cold or it will fall apart as you work it. Our tip is to place the rolling pin it in the fridge or freezer before I make this pie dough to help keep the dough cold and workable.
Divide the dough into two equal pieces, wrapping any dough you aren't working with and placing it in the fridge to chill. Shape the pieces into flattened discs and wrap in plastic wrap.
If the dough gets warm and starts causing you trouble, chill it thoroughly before rolling it out. This dough will hold several days in the fridge if necessary.
Make sure your sourdough starter has been recently fed (within a week) and is well chilled.
Can I freeze unbaked Pie Crust Dough?
Absolutely! It's very easy to freeze your sourdough pie crust dough and use it at a later date. Once you have rolled the dough into disc shapes tightly wrap them in plastic wrap and place them in a freezer safe bag, removing all of the excess air from the bag. Be sure to write the label and date on the bag. You can keep your pie crust dough in the freezer for up to three months.
When you are ready to use the dough move it from your freezer to your fridge and allow it to thaw overnight. Once it is fully thawed you can unwrap it and work with it again. We have had great success in using our sourdough pie crust dough after it has been frozen and thawed.
When the holiday's came, we used the frozen pie dough to make a pumpkin, pecan and beautiful strawberry rhubarb pie. Again, this crust was amazing with all of them and very easy to work with once thawed. We have made Hand Pies and Apple Turnovers using this sourdough discard pie crust recipe.
Your Printable Recipe Card: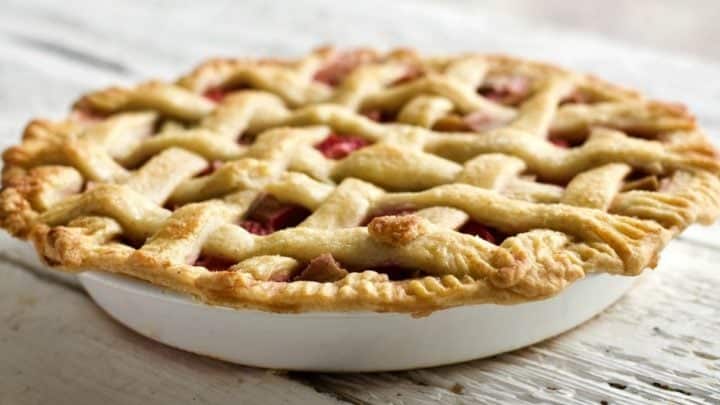 Yield:

16 servings two single crust pies/8 servings one double crust pie
Sourdough Pie Crust
This is a fantastic recipe for using up extra sourdough starter. This pie crust has a lot of great flavor with a little tang which makes it perfect for savory pies and several sweet types of pie too. Using a food processor make this recipe very easy.
Ingredients
1 1/2 cups all purpose flour, 6.6 oz or 187 g
1 tablespoon sugar
1 teaspoon salt
1 cup butter, two sticks, cut into slices and well chilled (8 oz or 227 g)
8 oz cold sourdough starter, 227 g
Instructions
Every stage of handling requires the dough to stay COLD.
Add flour, sugar, and salt to the bowl of the food processor. Pulse a few times to mix.
Scatter the chopped pieces of very cold butter on top of the flour mixture. Pulse until the butter breaks up into small chunks.
Pour the sourdough starter into the food processor and pulse until the dough barely holds together with some crumble.
Remove the dough from the food processor and squeeze it a bit to hold it together. Lay the dough pieces on a large pastry board, silpat mat or countertop.
Be quick and deft as you handle the dough. I recommend a very cold rolling pin. Mine is stainless and I put it in the fridge (or freezer) when I make pie dough to keep it cold.
Divide the dough into two equal pieces. Shape the pieces into flattened discs and wrap in plastic wrap.
The dough needs to chill thoroughly (at least an hour) before rolling it out. This dough will hold several days in the fridge if necessary.
Notes
The sourdough starter should be fed within the last week. Use it cold from the fridge. The sourdough starter needs to be at 100% hydration, which means that it is fed with equal parts flour and water, by weight.
To freeze the dough (up to three months), place the plastic-wrapped discs in a freezer bag with air sucked out and labeled by date and what's in the bag. To use the dough, defrost in the refrigerator overnight until pliable.
Blind Baking this Crust:
To Partially blind bake the crust:
for a quiche or other single crust pie recipe like our sour apple pie recipe(or you can omit the pre-bake and just see how you like the recipe).
For a filling recipe using a tart pan with straight sides:
shape the crust in the oiled pan.
Chill the dough in the pie pan until REALLY cold.(about 60 minutes in the fridge).
Line the pie crust with parchment or foil.
Fill with pie weights or bean to keep the crust shaped.
Baked in preheated oven for about 7 minutes. Remove and fill with quiche filling.

To make a single crust prebaked ( Fully blind baked) pie crust. (Great for no bake pies, cream pies or meringue pies)
Form the crust over the edge of the greased pie plate (This helps the dough grip the edge of the plate and not shrink).
Now CHILL the dough until it's really cold (about an hour in the fridge). (can put in freezer for 40 minutes or so to speed up the time).
Line the pie crust with foil or parchment and fill with beans or other pie weights.
Bake at 425 degrees F. in preheated oven for 10 minutes.
Remove the crust from the oven and take out the pie weights.
Dock the crust (pierce the bottom and sides of the crust with a fork several times)
Lower the temperature to 350 degrees F.
Bake an additional 25 minutes until the pie crust is lightly browned.
The calorie count is based on a single crust pie. Double (or nearly) the calorie count for a double crust pie.
Nutrition Information
Yield
16
Serving Size
16
Amount Per Serving
Calories

173
Total Fat

12g
Saturated Fat

7g
Trans Fat

0g
Unsaturated Fat

4g
Cholesterol

31mg
Sodium

224mg
Carbohydrates

15g
Fiber

1g
Sugar

1g
Protein

2g
Follow Us:
We enjoy meeting you on our social networks. Follow us on Facebook, Pinterest, Instagram . Tag us with your pictures of our recipes and comment on how it went for you. We would love to see what you do with them.
We often like, comment and share your posts of our recipes on our daily Instagram stories.
Ask questions and rate the recipe in the comments section below. Please share what you did with this recipe. We are always looking for more and better ways to make homemade food. Other cooks love your ideas!
Recent Posts: