This Sour Apple Pie recipe is decadent and rich combining fresh apples, sour cream, vanilla and spice; all sweetened with a silky caramel sauce and pure maple syrup. The flaky sourdough pie crust compliments this easy crumble top dessert in the very best way.
Pie is one of Americas favorite desserts and they are well loved in our family. From berry pies and cream pies to pumpkin and apple, we have a large library of pie recipes that we know you will love. Today we are showcasing our Sour Apple Pie, it has a rich apple spiced filling with a hint of tang to balance out the otherwise sweet profile.
In this post we will share our tips for how to make the very best pie crust that is light and flaky, as well as a balanced and scrumptious filling that has the perfect consistency.
The end of Summer provides a large harvest of apples from our property, and we love creating Applesauce, Dried Apple Chips and making apple desserts like this one.
How do I make my Apple Pie taste better?
Apple Pie is a quintessential American dessert that holds its own on the dessert menu. It is a fairly simple pie that anyone can learn to make, but are there ways to make it even better? There sure are, and we are sharing some of our best ones with you.
First, the quality of apples does matter. Fresh apples that are a more tart variety will work best in an Apple Pie and help to balance out the sweetness of the other ingredients while providing a strong apple flavor and texture. The green Granny Smith apples are the very best apples to use for apple pie, other varieties include the Braeburn, Cortland, Jonagold and Northern Spy. All of these apples are crisp and slightly tart so they will hold their own in your pie.
Next, a homemade crust simply cannot be beat. Yes you can buy pre-made crusts and this is a good option if you are short on time or do not yet feel confident in your pastry skills. But pie crusts are actually very simple to make and the more rustic look adds to the charm of a homemade pie.
Finally, you can add extra ingredients and herbs to elevate the depth of flavor in your pie. Rosemary and honey can be added to your filling and crust to bring a more complex flavor profile, as well as adding sour cream, like we are in this recipe. Sour cream will add that thick creaminess while also bringing a rich, slightly tangy element to the otherwise sweet apple pie.
All about the Sourdough Pie Crust
This pie crust is a discard sourdough recipe. Sourdough discard is a kitchen staple in the sourdough world, you can use it in any baking recipe to bring a heartier texture and rich flavor to your recipe. We have a tutorial dedicated to showing you how to make the best Sourdough Pie Crust.
If you aren't a sourdough baker no worries, you can still make a scrumptious homemade crust using our Coconut Oil Pie Crust. You only need one half of that recipe and it does not have to be blind baked. And of course, you can always purchase a pre-made crust if you are short on time or don't want to mess with a pastry crust.
Dutch Apple Pie
This recipe is a Dutch Apple Pie because it has a crumble topping instead of the traditional pastry topping that you see on most apple pies. One of our most popular pies is our traditional Caramel Apple Pie which has a bottom and top crust, but for this recipe we wanted to try something different.
Traditionally a Dutch Apple Pie topping is made from butter, brown sugar, flour and cinnamon; very much like a streusel topping. For this recipe we chose to make the topping using cold butter, finely chopped walnuts and brown sugar. It presented a delicious nutty flavor with a pleasant, slightly crunchy texture.
Cooking from scratch is creative and freeing, so don't be afraid to put your own flair into your baking or use what ingredients you have on hand.
Does Sour Apple Pie need to be refrigerated?
Because Sour Apple Pies contain sour cream, which is a dairy product, the pie does need to be kept in a chilled environment once baked and cooled. Desserts with milk, cream, cream cheese, even condensed or evaporated milk products should always be kept cold when storing.
If you are choosing to freeze your Sour Apple Pie make sure it is baked and cooled completely. Wrap the pie in plastic wrap and store in a freezer safe container or wrap again with aluminum foil, and be sure to mark it with the date. You can store Apple Pie in your freezer for up to eight months, but keep in mind it is always best served fresh.
If you purchase Items from our Affiliate Links we may receive a small commission at no extra charge to you. Thank you for supporting Homemade Food Junkie.
Can I replace granulated sugar with natural sweeteners in my pie?
For this pie we chose to use a little bit of homemade Caramel Sauce and pure maple syrup for the sweetener rather than white granulated sugar. The fresh, silky caramel add a lot to the flavor of the pie and compliments the spiced apple flavors beautifully. If you don't want to make a whole batch of our homemade buttermilk caramel sauce for the small amount this recipe calls for you can buy your favorite store bought brand.
Pure maple syrup is the sweetener of choice in our family. Having a good quality maple syrup on hand will allow you to replace the processed sugars, sometimes completely, in many baked recipes. Apples, maple and caramel go together as one of the best trios.
Do I need to oil my pie pan?
Oiling your pie pan is always a good idea. Some pie crusts may not require it, but better safe than sorry! No one wants to put all of their effort into making a beautiful homemade pie just to have it stick and break apart when serving.
You can oil your pie plate with butter or coconut oil for an easy release and healthy fats that won't change the flavor of your crust when they bake.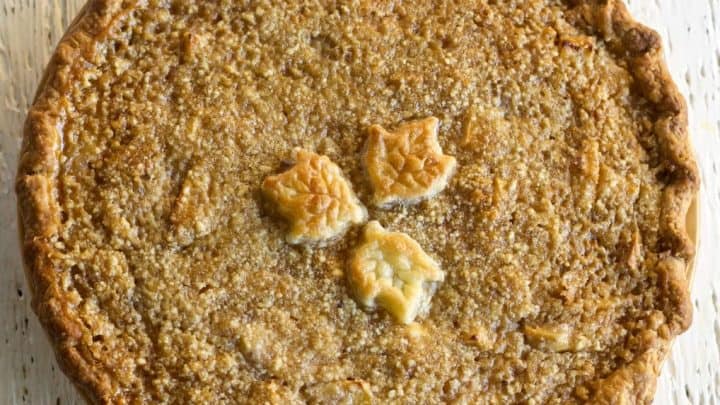 Yield:

10 pieces of pie
Sour Apple Pie Recipe with a Sourdough Crust
This Sour Apple Pie recipe hits all the flavor money spots. The sweet and sour elements of this fabulous flavor team will redefine your favorite apple pie dessert. The single sourdough unbaked Pie crust compliments this easy crumble top dessert in the very best way.
Ingredients
2 large eggs
1 Cup sour cream
3 1/2 Cups apples (pie apples-peeled and chopped)
1/2 Cup caramel sauce
1/4 Cup pure maple syrup
1 tsp. vanilla
1/2 tsp. almond flavoring
1/3 Cup Flour
1 tsp. cinnamon
1/2 Cup brown sugar
1/2 Cup walnuts (chopped fine)
3 Tablespoons cold stick butter (diced in small cubes)
Instructions
Oil the pie plate
Prepare the pie crust. I used my sourdough pie crust.
Preheat oven to 375 degrees F.
In a large bowl, beat eggs. Add sour cream.
Whisk in Caramel sauce, maple syrup, flour, flavorings and salt. Mix well.
Stir in chopped apples. Pour into pie shell. Bake at 375° for 15 minutes.
Meanwhile, combine brown sugar, chopped nuts and cut in butter until mixture is crumbly. Sprinkle over top of pie.
Return to oven for 20 to 25 minutes or until filling is set.
Cool completely on a wire rack. Serve or cover and refrigerate.
Nutrition Information
Yield
10
Serving Size
1 piece of pie
Amount Per Serving
Calories

430
Total Fat

16g
Saturated Fat

6g
Trans Fat

0g
Unsaturated Fat

8g
Cholesterol

60mg
Sodium

200mg
Carbohydrates

72g
Fiber

6g
Sugar

49g
Protein

6g
Follow Us:
We enjoy meeting you on our social networks. Follow us on Facebook, Pinterest, Instagram . Tag us with your pictures of our recipes and comment on how it went for you. We would love to see what you do with them.
We often like, comment and share your posts of our recipes on our daily Instagram stories.
Ask questions and rate the recipe in the comments section below. Please share what you did with this recipe. We are always looking for more and better ways to make homemade food. Other cooks love your ideas!
Recent Posts: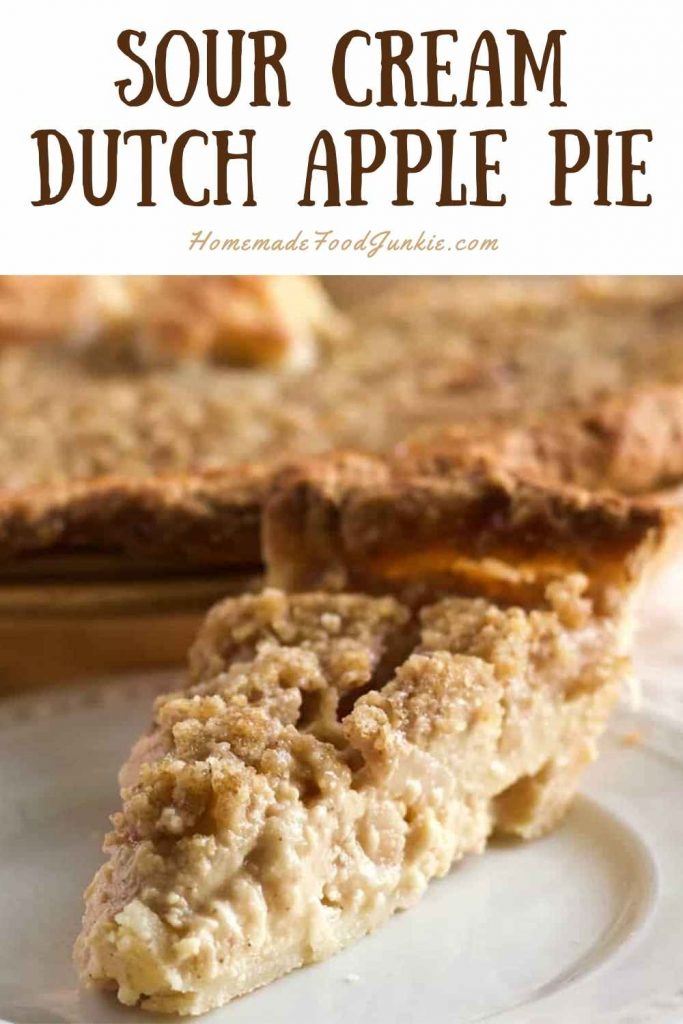 Recipes adapted from Taste Of Home