I recently made this recipe with our Fuji apples with my six-year-old granddaughter. We made pastry Fall leaves for the top. She was so proud to take her pie home.
This apple pie recipe is a family favorite recipe from way back! We have made this so many times and it's always popular. It's also very approachable for learning cooks. The coconut oil crust is especially easy to roll out and work with. Enjoy!
Delicate, flaky crust and the caramel apple pie filling flavor is outstanding! We've replaced the Crisco,(high in hydrogenated fat), with something MUCH, much better.
Coconut oil
is good for you!
Coconut Oil is great in baking. This crust recipe uses coconut oil in place of butter for my pie crust.I have always used butter in my crusts. Coconut oil is different to work with but very tasty, keeps the kitchen pretty clean while you work (I have a trick for that) and is VERY easy to work with.
In the past, I made my crusts with butter. I used a lot of butter, and made really yummy pie crusts… that looked. Just. AWFUL! The dough would never hold together. The crust tops looked like a zombie pie with a patched together, falling apart, messy look. Ok for family, but never leaving the house!
I have used other oil crust recipes because they are much easier than butter crusts to work with. I have never found an oil that could compare to the flavor and texture of a butter crust until I discovered coconut oil. These coconut oil crusts are the best tasting, and looking pie crusts I have ever made. The Pie crusts come out flaky and flavorful!
Coconut Oil Pie crust TIPS:
Work this crust at room temperature with MELTED coconut oil. Coconut oil, unlike butter, will harden and become unworkable if used cold. I have had easy handling with warm coconut oil worked at room temperature. This pie crust is excellent with Caramel Apple Pie!
Mind the amount of water you use. Too much water will dissolve the crust around it's edges and make it too sticky to work with easily. (It could get tough too). Too little water and the dough will be crumbly and fall apart. Learn the dough. Press it together are you add water and find the point at which it holds together in a ball when flattened.
USE the parchment paper for rolling out the dough. SO much easier for both rolling the dough and getting the crust into your pie plate intact.
Caramel Apple pie with an egg white glaze, sprinkled with organic sugar.
Storytime: Way back when, my youngest daughter Kayti, about 13 years old, got talked into making a pie for our local Northwest Washington Fair. This was one of those last minute things. After dinner, in the middle of preparing her sheep and rabbits for fair and trying to get her sheep showing outfit together, rushing here and there, she told me she had to enter a pie!
This was so random. She was entering it in the adult section; not 4-h. She had never made a pie, had no recipe, and didn't have a clue. I stood back from the whole situation and said. "That's not a good idea!" I thought she would give up on it, but nope. She went out to our transparent apple tree and found some stragglers still left on that, mostly done apple tree.
"I'm making an apple pie", she says and starts digging into cookbooks.
She did make that Caramel Apple pie. I refused to help. If I started helping, I'd take it over and it would be
my
pie entered, so I stayed out of the kitchen. Kayti found this caramel apple pie recipe that I am offering today, from a cookbook we
received
from my Grandma Cash, years ago. The pots and pans were clattering until midnight but she finally got it done. She entered that caramel apple pie into the fair.
She won
best of show
with her first ever pie! We were all SHOCKED! Kaytie's pie went up against some very lovely competition from women who had baked for decades. She won because the flavor of that pie was outstanding. None of the other, really perfect looking, pies could compare to Kayti's.
Her dad was so proud of her that, after that pie had sat at the fair a week and was definitely the worse for wear, he brought it home and proudly ate every bit of it…which is just really gross! And on a Mother's Note…let me tell you how glad I am that I stayed out of the kitchen. The other contestants in the contest were sure I'd made that pie. I could look them right in the eye, and say she made it all by herself. I was so proud of her. It was a good day!
Last night, Kayti and I recreated history. She took the pictures, and we reminisced, while I made pie. We had so much fun being pleasantly surprised all evening. And when we were done, I had one oily looking counter, a bare tablespoon of leftover pie dough, and two amazing pies. No flour in the floor cracks! No days of getting flour paste off all the surfaces in my kitchen. I completely cleaned the mess before the pies were baked, and had everything put away. Kitchen bliss!!
Caramel Apple Pie Recipe tips:
The lemon juice keeps the apple slices from turning brown. BUT! Drain and pat the apples pieces dry before making the pie. And you don't want too much lemon flavor either.
Filling:
6 cups sliced apples.(about 6 to 8 medium sized, fresh apples)
Prepare apples:
Wash apples thoroughly and drain. Cut each apple into quarters, core, and then slice into small slices for the filling.
Coring and Cutting up fresh apples takes time. To make this process faster and easier I use an
apple corer
Place the apple slices into a bowl with a tablespoon of lemon juice to avoid the apple slices turning brown (add more lemon juice as needed but keep it minimal).
As you slice the apples occasionally stir the apple slices gently in the lemon juice.When all the apples are properly cut and sliced immediately put them into a larger mixing bowl.
They are ready to add the filling ingredients now.
Filling Recipe and Instructions:
Sprinkle one Tablespoon vanilla over the drained apples.

Mix the filling ingredients together and pour over the apples.
Mix well until all the apples are coated and a rich syrup forms.
Coconut oil pie crust Tips:
NOTE: This recipe makes one two crust 9 inch pie. If you are using a large pie plate or deep dish please double the recipe.
For easy handling and rolling out the dough for the pie crust; roll it between 2 pieces of oiled parchment paper. It comes off the parchment easily and the dough won't stick to the rolling pin! Here's how to do it.
Now add the upper layer of oiled parchment over the flattened dough. Roll into a circle 2 inches wider than the circumference of your pie plate
Invert the rolled pie crust dough into your pie plate this way:
Remove the top layer of parchment paper

Put your hand under the bottom parchment and invert into your other hand. Carefully place the crust into the pie plate so it is centered.
Peel off the remaining parchment. Be careful to peel the edges of the dough off the parchment and then peel the parchment back. Keep the parchment fold close to the dough, as you pull.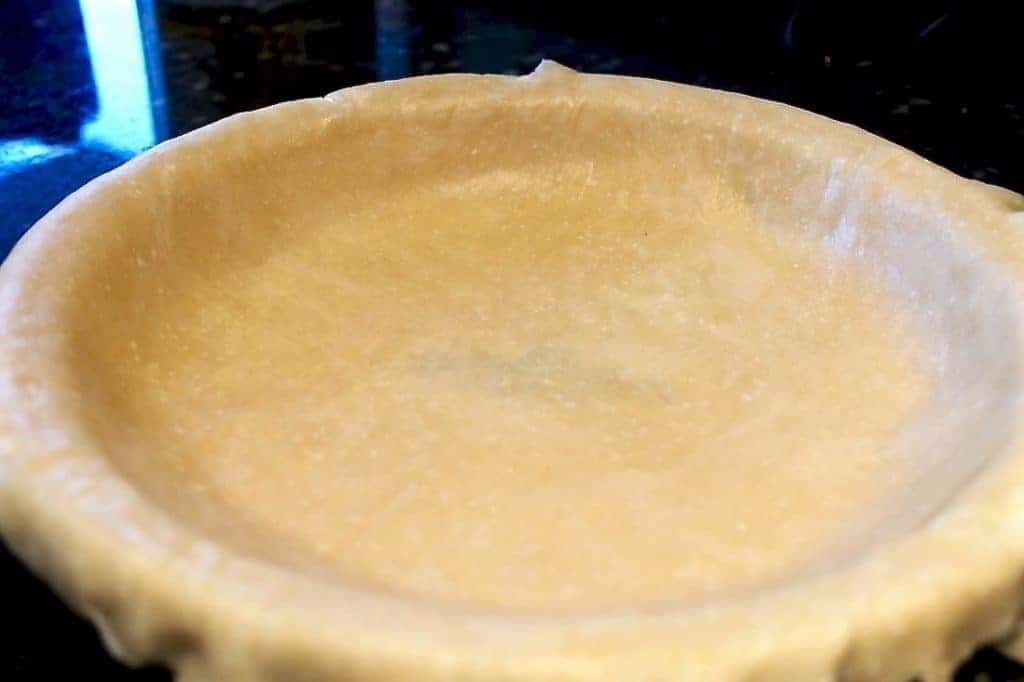 The bottom pie crust ready for the filling.
Place the apple pie filling onto the bottom crust.
Cover the apple filling with thin slices of firm butter
Make your top crust as above and…
Place top crust over the filling and flute the edges.

Make several small slits in the top crust

Whisk an egg white with a bit of water and brush it lightly on the top crust

Sprinkle sugar lightly over the crust
*How to flute the Caramel Apple pie crust edge:
Fold the top crust over the bottom crust and tuck it under.
Pinch, with a slight twisting motion the pie dough between your thumbs and forefingers in

opposing

directions. This is easy, but confusing at first. Keep trying!

Move to the next section of dough and repeat this action around the pie.
The idea of fluting is to seal the pie edge. It doesn't have to be perfect, or even fluted, just sealed. Fluting is a pretty way to do that.
Another Pie Finishing idea!
My granddaughter Lainy and I made this recipe recently with our homegrown Fuji Apples. She requested a baking day with me. We went to Michael's and bought a set of Pastry leaf cutters like these (affiliate Link)to make it a fun project.
It was fun to use the leaf punch outs. Lainy enjoyed crafting this pie with me. We made special memories and she had a beautiful pie to take home to her Mom, Dad and Sisters. Proud grandma too 🙂 Using the leaf cutters made this a really kid friendly project. She arranged the leaves and brushed on the egg whites too. They turned out so pretty!
Delicious recipe any way you choose to create it!
Serve this pie at room temperature for best cutting. Cut and enjoy this pie at room temperature, or warmed.
Notice the flaky layers of the crust. Wonderful flavor!
Nutrition Information:
Recipe Yield: One nine inch pie-8 slices
408 calories/ Slice
Fat 14 g
Carbs 68 g
Protein 5 g
Here's the Caramel Apple pie and crust recipe printable:
Yield:

8 slices
Caramel Apple Pie
Total Time:
2 hours
30 minutes
Caramel Apple Pie. Mouthwatering filling of fresh apples, suspended in caramel flavor. Flaky, perfect, delicious crust. This pie is Absolutely scrumptious!
Ingredients
For the caramel Apple filling:
6 cups sliced apples., about 6 to 8 medium sized, fresh apples
1 Tablespoon vanilla
1 Cup brown sugar
1 tsp. cinnamon
1/2 tsp. nutmeg
4 Tablespoons all purpose flour
4 teaspoons butter, arrange over the apple filling
For the pie crust
2 1/2 Cups flour
1/4 tsp. salt
1/2 Cup coconut oil
4 to 6 tablespoons water
For the egg wash and sugar sprinkle:
1 egg white, slightly whisked
2 tsp. granulated sugar, sprinkled over egg wash
Instructions
(For the filling)
Core and peel(if desired) apples and put into a bath with lemon juice to avoid browning
Drain the apples and pat them DRY.
Sprinkle one Tablespoon vanilla over the drained and dried apples.
Mix the remaining filling ingredients together in a small bowl and pour over the apples and stir until a rich syrup forms. Set aside
(For the pie crust)
Preheat Oven to 425 degrees F.
In a large bowl Whisk salt into the flour.
Add warm, liquid coconut oil and mix until dough forms into small pea sized balls throughout.
Add enough water to moisten dough into a workable pliable(not crumbly) ball, the flour dryness will affect how much water you need.
Divide the large dough ball in half to make 2 pie crusts for a two crust pie.
Form each half into a ball.
For easy handling and rolling the dough for the pie crust roll the dough between 2 pieces of SLIGHTLY oiled parchment paper. The dough comes off the parchment easily and the dough won't stick to the rolling pin.
Place the first crust into the bottom of your pie plate
Place the apple pie filling into the bottom crust.
Cover the apple filling with thin slices of firm butter about 4 to 6 teaspoons
Make your top crust as above and...
Place top crust over the filling and flute the edges(shown below)*
Make several small slits in the top crust
For the egg wash and sugar sprinkle
Whisk an egg white with a bit of water and brush it lightly on the top crust
Sprinkle sugar onto the top crust
Bake at 425 degrees F for 10 minutes.
Lower oven temperature to 350 degrees F and bake another 25 to 30 minutes, or until juice is bubbling through the slits and the top crust is nicely browned. Remove from oven to cool.
Cool to room temperature or chill to set the filling. Serve.
Nutrition Information
Amount Per Serving
Calories

405
Pin IT!
This recipe is published in the Daily Meal online Food magazine in Classic Pies and their
SWAT team classic pies slide show
! Click the link if you need further foodie inspiration!
Pie filling source: Avon Church cookbook of the century 1983 Edition. Contributor Pat Mehler
Pie crust source: Avon Church cookbook of the century 1983 Edition. Contributor Hannah Brandstrom
SaveSave
SaveSave