Welcome to a delightfully refreshing twist on the classic sangria. This is a non alcoholic sangria recipe. It combines the vibrant tangy notes of cranberry and orange juice with the subtle sweetness of black sweetened tea. Adding in a medley of chopped fruit and a sparkling water gives this non alcoholic sangria recipe its pleasing blend of flavors. You'll be making this one over and over again.
Traditional Sangria is known for its combination of wine, fruit, and a touch of sweetness. It's a favorite wine punch for gatherings and celebrations. However, for those who prefer to skip the alcohol, this non-alcoholic sangria recipe hits the spot.
A generous amount of chopped fruit infuses this drink with bursts of freshness and makes it pretty too. Sliced strawberries, diced apples, and perhaps some raspberries or peaches—let your creativity guide you. The fruits not only adds a delightful texture but they also release their natural juices into the flavorful base. Your going to enjoy it.
We'll be topping off our non-alcoholic sangria recipe with sparkling water for a bit of fizz. However, feel free to explore other carbonated options like sparkling apple cider, lemon-lime soda, or even a flavored sparkling water.
The bubbly adds a lively element to the drink. It is an ideal choice for toasting special occasions or simply enjoying a refreshing sip on a warm day. This non-alcoholic sangria recipe has a perfect blend of flavors that will quench your thirst and enchant your taste buds.
Does Sangria Always Have Alcohol?
No, sangria does not always have alcohol. Even though we are not using alcohol in this recipe it is still considered a sangria recipe. While traditional sangria recipes include wine, many people enjoy a good non-alcoholic sangria recipe, also known as virgin sangrias.
What is Non Alcoholic Sangria Made of?
A Non-alcoholic sangria is made of a combination of fruit juices, Fresh fruits and Herbs or other flavor enhancers. A sparkling element adds energy and verve to a sangria mocktail, but is optional. All the ingredients are combined into a pitcher and chilled to allow the flavor to merge. This creates a refreshing, fruity beverage that resembles the traditional sangria, just without alcohol. Our recipe stands apart from the other non alcoholic sangria recipes since we use black tea to strengthen the foundation. It is surprisingly good.
What is Virgin Sangria Made Of? Virgin sangria, also known as non-alcoholic sangria, is also made of a combination of fruit juices, fresh fruits, and other flavorful ingredients.
What is a Good Substitute For Sangria?
If you want wine in your drink and need a good substitute for sangria, try a wine cooler or winer spritzer. Alcohol punches with different alcohol recipes are also a great option here. A good substitute for non alcoholic sangria could be a fruit punch, or a mocktail. Our non alcoholic sangria is a great substitute for a buzz free sangria if that is what you are looking for.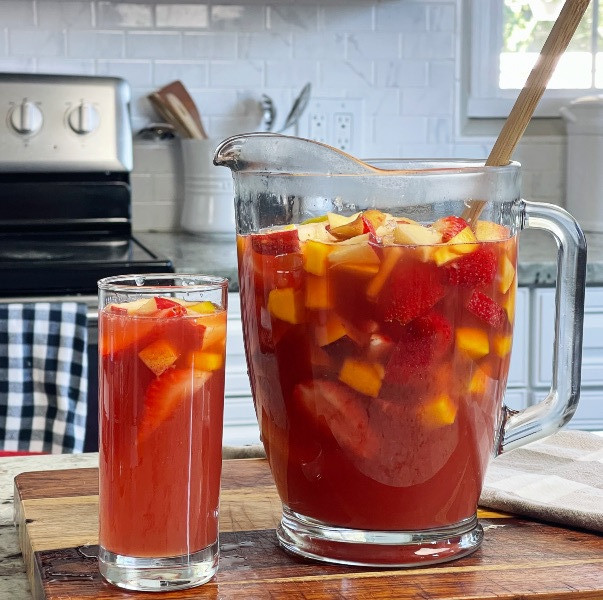 Non Alcoholic Sangria Recipe:
Tips For Making a Non Alcoholic Sangria Recipe:
Choose a variety of complementary fruit juices: Experiment with different combinations of fruit juices such as orange, grape, cranberry, or pomegranate to create a flavorful base for your sangria.
Include a variety of fresh fruits: Slice and add fresh fruits like oranges, lemons, apples, berries, or any other fruits of your choice. This not only adds taste but also enhances the visual appeal of the drink.
Use sparkling water or soda: To give your sangria a bubbly and refreshing element, consider adding sparkling water or soda. It adds a fizzy texture and mimics the effervescence of traditional sangria.
Consider flavorings and herbs: Enhance the taste of your non-alcoholic sangria with additional flavorings like cinnamon sticks, mint leaves, or ginger slices. These elements can infuse the drink with delightful aromas and extra depth of flavor.
Allow time for infusion: After combining the ingredients, let the sangria sit in the refrigerator for at least a couple of hours, or even overnight, to allow the flavors to meld together. This step ensures a more flavorful and well-incorporated beverage.
Serve it chilled: Just like traditional sangria, non-alcoholic sangria is best served over ice and chilled. It adds to the refreshing nature of the drink.
Garnish creatively: Consider garnishing your non-alcoholic sangria with fresh fruit slices, herbs, or even colorful umbrellas for a fun and festive touch.
Remember, the beauty of finding your personal best non-alcoholic sangria recipe lies in experimentation. Get creative and change up the ingredients as you wish. Then come back and tell us what you did. We Love sharing ideas here on Homemade Food Junkie.
Substitute Ideas for the ingredients in this recipe:
Black Sweetened Tea: Not a tea lover? If you prefer to change the base, you can substitute black sweetened tea with herbal tea such as hibiscus tea, a strong fruit tea, or a combination of fruit juices like apple or grape juice.
Cranberry Juice: Try pomegranate juice, raspberry juice, or a blend of mixed berry juices. These juices will also provide a tangy, fruity flavor to your sangria.
Orange Juice: Try using pineapple juice, grapefruit juice, or a combination of lemon and lime juice for a zesty twist.
Chopped Fruit: Use any that work for you. Some ideas are sliced strawberries, diced apples, raspberries, sliced peaches, or chunks of pineapple.
Sparkling Water: Substitute it with sparkling apple cider, lemon-lime soda, ginger ale, or even a flavored sparkling water like berry or citrus-flavored fizzy drinks.
Making this recipe into a non alcoholic white sangria recipe:
A non-alcoholic white sangria recipe typically uses a white grape juice or white cranberry juice as the base, combined with citrus juices like lemon and lime. Instead of black tea, white sangria often incorporates ginger ale or lemon-lime soda for a refreshing and bubbly finish. The choice of fruits can also differ, with options like sliced peaches, green apples, grapes, and melons being popular choices for white sangria.
Our recipe is for a darker, stronger non-alcoholic sangria. It is a great choice for those who enjoy a deeper flavor profile with a touch of tartness. If you want to go with a white sangria version of this recipe, Use the ideas above to replace the tea with a white grape or white cranberry juice.
The difference between our darker non alcoholic sangria recipe and a white sangria lies in the flavor profiles and the specific ingredients used. Our black tea-based recipe leans towards a richer and slightly more complex taste. The white sangria recipe tends to have a lighter and more citrus-forward profile.
If you decide to substitute be sure to taste as you go so you know how the blending is working out. The beauty of a. good non-alcoholic sangria recipe lies in the freedom to experiment and make it to your liking.
Yield:

8 servings
Non Alcoholic Sangria Recipe
Total Time:
1 hour
15 minutes
A delicous non alcholic sangria recipe with a lovely blend of flavors. This satisfying drink is perfect for a family gathering, party or special occasion.
Ingredients
2 Cups Boiling water
2 black tea bags
1/4 Cup sugar
2 Cups cranberry Juice
1/2 Cup orange juice
12 oz. sparkling water
2 Cups chopped fruit
Instructions
Steep tea bags in boiling water for 5 minutes
Chop Fruit and set aside.
Combine steeped tea with sugar.
Whisk the sugar and tea to dissolve sugar
Pour into pitcher with chopped fruit.
Add cranberry juice and orange juice and stir.
Chill in fridge 1 hour
At serving: Add sparkling water
Notes
use fruits you enjoy in this sangria. We conbmined peaches, apples and oranges.
Nutrition Information
Yield
8
Serving Size
1
Amount Per Serving
Calories

66
Total Fat

0g
Saturated Fat

0g
Trans Fat

0g
Unsaturated Fat

0g
Cholesterol

0mg
Sodium

6mg
Carbohydrates

17g
Fiber

1g
Sugar

14g
Protein

0g
More Mocktails:
Looking for more non alcoholic drinks? Here's some very yummy choices.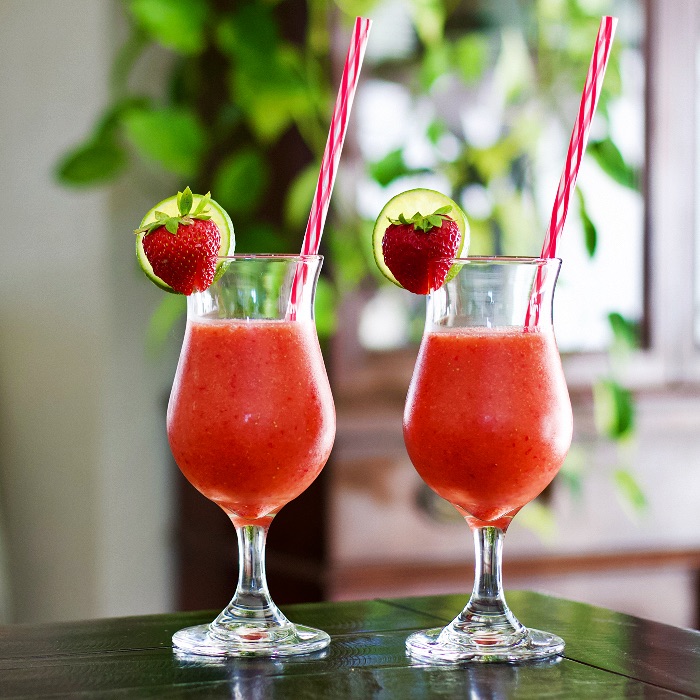 More Great Drinks:
Follow Us:
We enjoy meeting you on our social networks. Follow us on Facebook, Pinterest, Instagram . Tag us with your pictures of our recipes and comment on how it went for you. We would love to see what you do with them.
We often like, comment and share your posts of our recipes on our daily Instagram stories.
Ask questions and rate the recipe in the comments section below. Please share what you did with this recipe. We are always looking for more and better ways to make homemade food. Other cooks love your ideas!
Recent Posts: