This Rosé Sangria recipe is a refreshing and fruity drink to enjoy on a warm day. This perfectly delightful, light rose sangria recipe is a yummy sipping drink on the patio or serve it at your next summer gathering. Great for girls night, Mothers day, brunches, showers and other fun events.
Made with a bottle of rosé wine, sliced strawberries, raspberries, a hint of sugar and a bit of citrus, this easy-to-make refreshing summer rosé sangria deserves a place at the table, or by the pool.
For an extra special touch, we've included some ideas for customizing your rosé wine sangria with citrus, herbs, and other fruits. Mix up a batch of this sweet and tangy drink today and enjoy the taste of summer all year round.
What is in Rosé Sangria?
Rose wine sangria may have any combination of rose wine, fruit juice (such as orange or pineapple juice), sliced fresh fruit (such as apples, oranges, strawberries, or peaches), and sometimes brandy or other spirits. Some recipes may also include sweeteners such as sugar or honey, and carbonated water or soda for added fizz. The exact ingredients and ratios may vary depending on the recipe and personal preferences.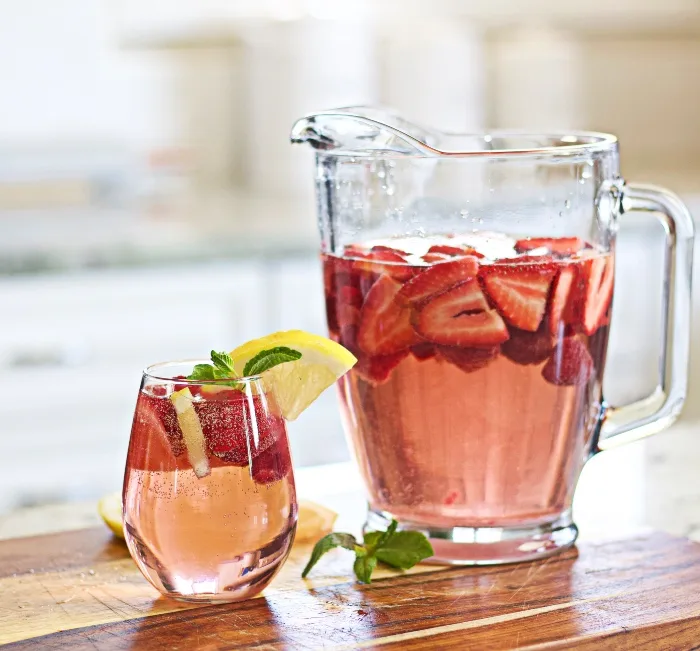 Our recipe is quite simple with just rosé wine, some berries and sparkling water to add some fizz. Lemon slice for garnish and it's ready to serve. Simply fabulous!
What is the difference between Red and Rosé Wine sangria?
The main difference between rose and red sangria is the type of wine used as the base. Red sangria is typically made with a dry or semi-sweet red wine, while rose sangria is made with rosé wine.
Red sangria tends to have a deeper, richer flavor due to the use of red wine, and is often served with hearty, savory dishes. It may also contain stronger flavors such as cinnamon, brandy, or citrus fruits like orange and lemon.
Pink sangria, on the other hand, has a lighter, fruitier flavor profile that is often associated with summer drinking. It may contain sweeter fruits such as strawberries, raspberries, or peaches, and is typically served chilled.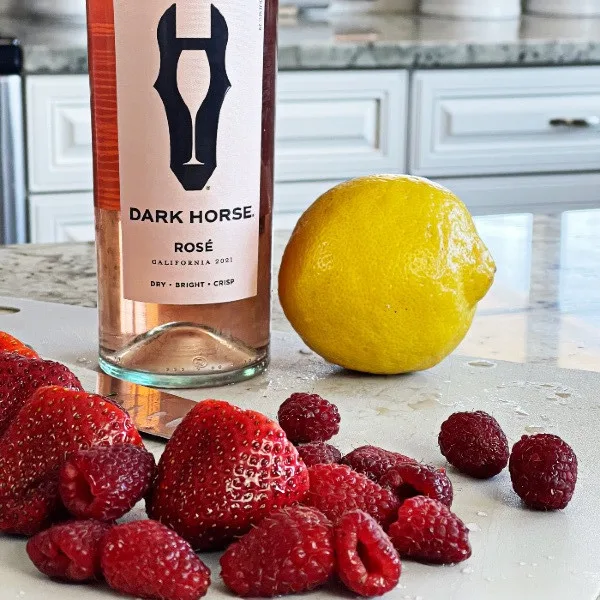 What is pink sangria made of? Pink sangria is just another name for Rosé Sangria. Pink Sangria uses rosé wine as its base, which gives it its distinctive pink color.
If you're looking for a bold, robust drink to pair with a hearty meal, then red sangria may be the way to go. If you want a refreshing, light drink to enjoy on a warm day, then pink sangria, or white sangria, may be more up your alley.
White sangrias are also delicious and should be on your list of favorite group drinks. With white wine as the base, white sangria has a light flavor. Fruits that pair well with white sangria include citrus fruits like lemons, limes, and oranges, as well as peaches, pineapples, and melons. See our White Sangria Recipe Here for an idea for a White Christmas Sangria.
How to Make Sangria
All Sangrias are all typically made with fresh fruits, sweeteners like sugar or honey, and sometimes carbonated water or soda for added fizz. The beauty of sangria is that it can be customized to suit your personal tastes, the event, theme or holiday you are serving it at.
Sangria is quite simple to make. Here are the general steps and a few ideas.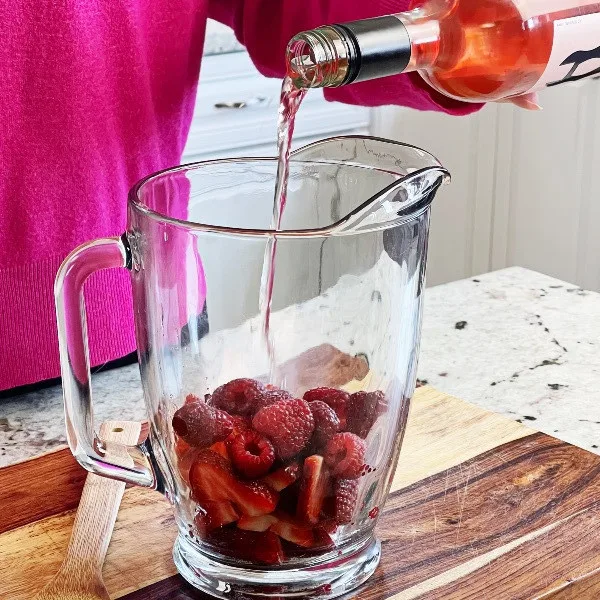 Choose your wine: Select a wine that you enjoy drinking on its own and that will pair well with the fruits and other ingredients you plan to use. Popular choices include red wine, white wine, and rosé.
Select your fruit: Choose fruits that are in season and that pair well with the type of wine you have selected. Some popular fruits for sangria include citrus fruits like oranges and lemons, berries like strawberries and raspberries, and tropical fruits like pineapples and mangoes.
Add sweetener: Depending on the sweetness of your wine and fruits, you may want to add a sweetener like sugar, honey, or agave nectar to your sangria. The amount of sweetener you add will depend on your personal preference and the sweetness of the other ingredients in your sangria.
Mix it all together: Combine the wine, fruit, and sweetener in a large pitcher and stir to combine. You can also add other ingredients like brandy, rum, or triple sec to give your sangria an extra kick.
Chill and let it steep: Refrigerate the sangria for at least 2-4 hours (or overnight) to allow the flavors to meld together and create a delicious and refreshing beverage.
Add carbonation: Just before serving, add carbonated water or soda to give your sangria a bubbly, effervescent finish.
Garnish and serve: Add fresh fruit slices or other garnishes to your sangria and serve over ice. Enjoy!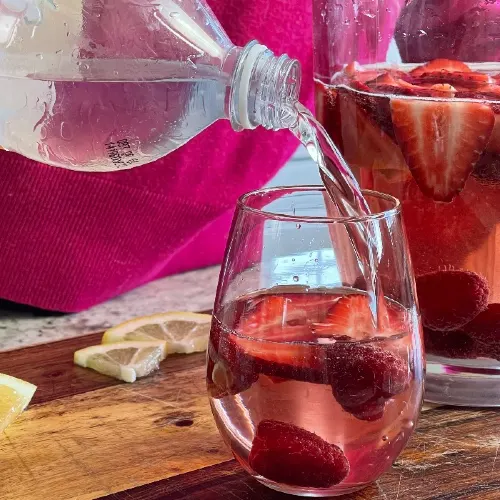 You can make endless variations on the classic sangria recipe. Experiment with different wines, fruits, and flavor combinations to create a bouquet of sangria recipes you can fall back on time after time.
Changing Up this Strawberry Rosé Sangria Recipe:
What does pink sangria taste like?
Pink sangria has a light and refreshing taste with fruity and floral notes. The rosé wine gives it a subtle wine flavor, which is complemented by the sweetness of the fruits and whatever fruit juices you may be using. Depending on the recipe, it may also have a slight tartness or sourness from citrus juice or fresh citrus fruits.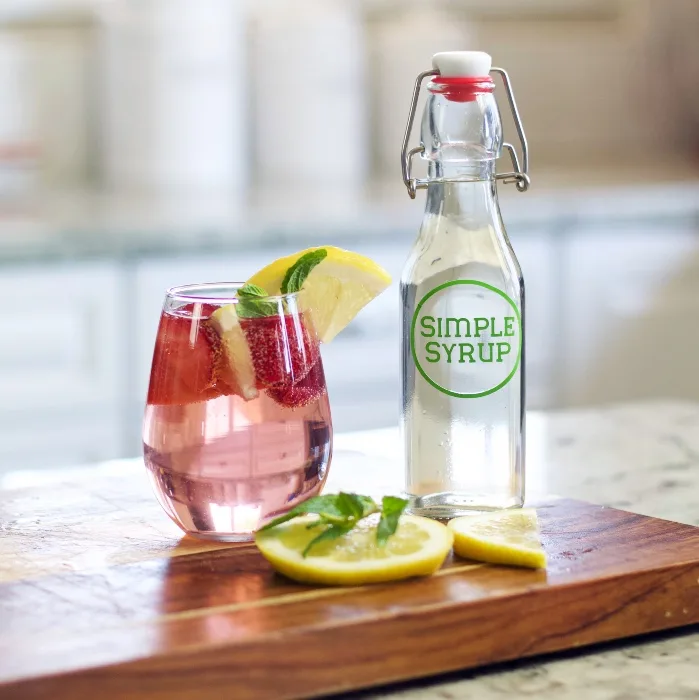 Here are some ideas for a tasty and refreshing twist on this Pink Sangria:
Add more citrus: In addition to the lemon slice for garnish, you could also add some freshly squeezed orange juice or slices of lime to the mix for extra tang and flavor.
Use a flavored simple syrup: Instead of granulated sugar, consider making a flavored simple syrup to sweeten your sangria. You could use ingredients like honey, agave nectar, or maple syrup, and infuse them with herbs like rosemary or basil for added depth of flavor.
Incorporate other fruits: While strawberries and raspberries are a great base for rose sangria, you could also try adding other fruits like peaches, kiwi, or watermelon to the mix for a more complex flavor profile.
Experiment with herbs and spices: In addition to rosemary or basil, you could try adding other herbs like mint or thyme to your sangria for a refreshing twist. You could also experiment with spices like cinnamon or nutmeg to add warmth and complexity.
Try different sparkling waters or tonics: While plain sparkling water or tonic works well in this recipe, you could also try flavored varieties like grapefruit or cucumber for a unique and unexpected twist.
Remember to taste and adjust your sangria as needed to suit your personal preferences.
Rosé Sangria Popsicles Recipe:
You want to eat your sangria rather than drink it? Making this recipe into popsicles is a fun and creative way to enjoy this refreshment. Here's how to do it:
To make this recipe into popsicles:
In a large bowl, combine the rosè wine, granulated sugar, sliced strawberries, and raspberries. Stir well to combine and dissolve the sugar.
Let the mixture sit for about 10-15 minutes to allow the fruit to release its juices and infuse the wine with its flavors.
Fill popsicle molds with the sangria mixture, leaving a little bit of room at the top for expansion.
Pour a small amount of sparkling water (or tonic) into each mold, filling them almost to the top.
GARNISH IDEA: Place a slice of lemon in each mold.
Insert a popsicle stick into the center.
Freeze the popsicles for at least 6 hours, or until completely frozen.
Once frozen, remove the popsicles from the molds by running them under warm water for a few seconds.
Serve!
Note: You can also experiment with adding other fruits, herbs, or spices to your popsicles to create unique and tasty flavor combinations. Just be sure to adjust the amounts of wine and sugar accordingly to maintain the right balance of flavors.
Printable Recipe Card:
Here is our printable recipe. It is quite simple. Use the ideas we have given you above to change it up as suits your tastes, event and season. Enjoy!
Yield:

8-5 oz. servings
Sparkling Rosé Sangria Recipe
Total Time:
4 hours
10 minutes
This Strawberry Rosé Sangria recipe is a refreshing and fruity drink to enjoy on a warm day. This perfectly delightful, light rose sangria recipe is a yummy sipping drink on the patio or serve it at your next summer gathering.
Ingredients
1 750 ml bottle of Rosé wine
1 Tablespoon granulated sugar
1 Cup sliced fresh strawberries
1 Cup whole fresh raspberries
8 to 12 oz. Sparkling water (to taste)-chilled
1 fresh lemon sliced (for garnishing)
Instructions
Set the sugar, sliced strawberries and raspberries into the bottom of your pitcher.
Pour the Rosé over all.
Chill the sangria 4 or more hours to infuse the flavors of the fruit into the wine.
Add the chilled sparkling water at serving to preserve the bubbliness.
Notes
This recipe easily doubles and you can change up the fruits, add herbs and enhance this recipe in other ways. Read the complete post for ideas.
If you want to keep it cold longer, make a batch of the sangria without the sparkling water and freeze it as ice cubes. This will elimiate dilution as the ice melts but will also make your sangria stonger. Alternately, you can freeze an extra bottle of rosé into ice cubes and use thos.
Nutrition Information
Yield
8
Serving Size
1
Amount Per Serving
Calories

101
Total Fat

0g
Saturated Fat

0g
Trans Fat

0g
Unsaturated Fat

0g
Cholesterol

0mg
Sodium

9mg
Carbohydrates

9g
Fiber

1g
Sugar

7g
Protein

1g
More Delicious Drinks that Celebrate Summer:
Here are some of our favorite cocktails for summer.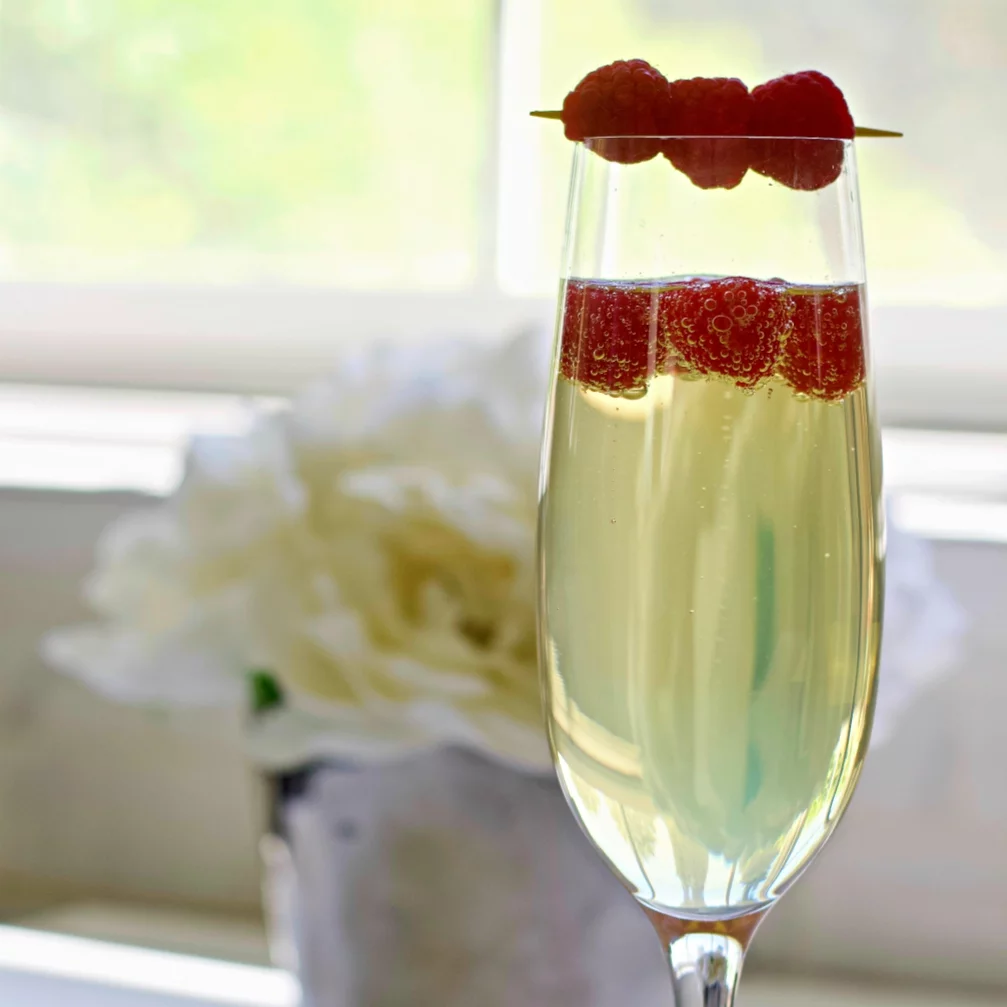 Follow Us:
We enjoy meeting you on our social networks. Follow us on Facebook, Pinterest, Instagram . Tag us with your pictures of our recipes and comment on how it went for you. We would love to see what you do with them.
We often like, comment and share your posts of our recipes on our daily Instagram stories.
Ask questions and rate the recipe in the comments section below. Please share what you did with this recipe. We are always looking for more and better ways to make homemade food. Other cooks love your ideas!
Recent Posts: