The Blue Hawaiian drink has smooth pineapple flavor with hints of white rum and coconut.
Blue curaçao adds the signature ocean Blue and some sweetness to pull it all together into a sweet rum tiki drink.
Take a taste of Hawaii and dream Blue ocean dreams.
We found this tiki drink at a open air bar in Maui on our recent trip over there. We went to find the perfect Hawaiian adult refreshment. I never got past the Blue Hawaiian.
This drink perfectly represents everything I experienced over there. It's so gorgeous and refreshing. Just like our trip.
It was a pretty wonderful trip. This was our first experience in Maui. We had a great time drinking cocktails and looking at the Hawaiian ocean by the beautiful bar that overlooks the water.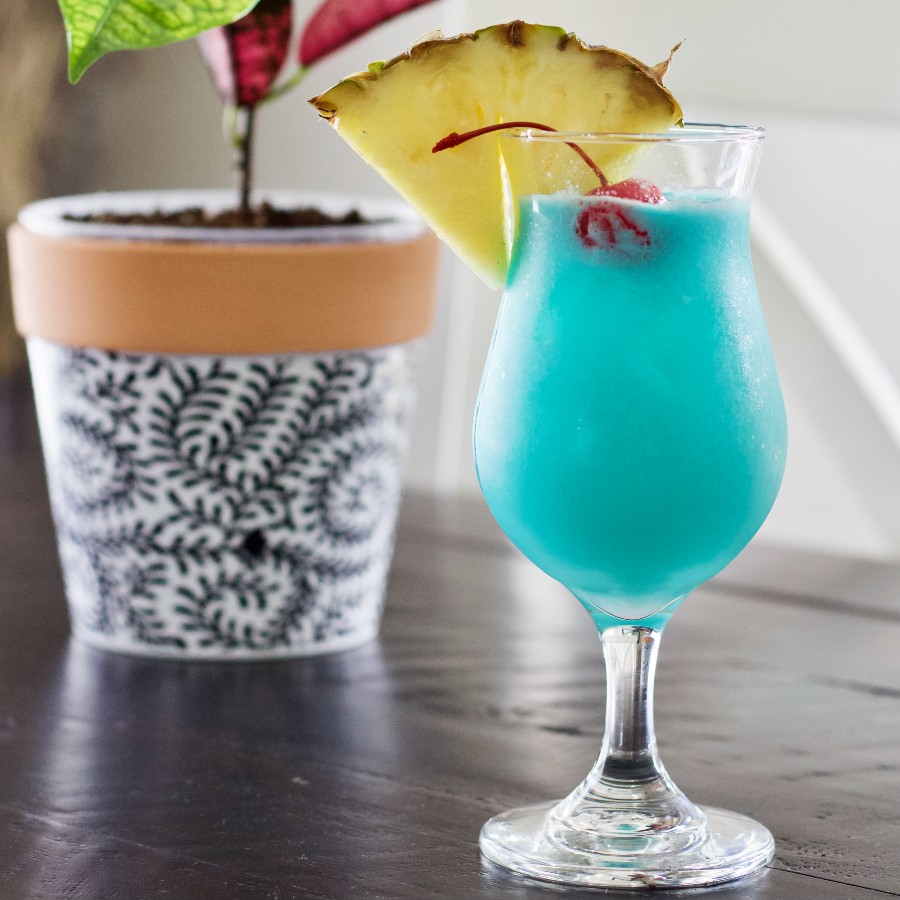 I ordered the Blue Hawaiian drink twice.
Once as the Blue Hawaii with sour mix and no coconut. The other time I drank it in an open air bar as a blended Blue Hawaiian with coconut creme and no sour mix.
Sipping that beautiful blue rum drink while watching the Ocean in Maui with my bestie. That's a special memory I'll enjoy for a long long time.
Of the two I liked the coconut Blue Hawaiian best.
You know me now. I LOVE the sweet coconut rum drinks and this one is right up my lane.
I'll include the Blue Hawaii Recipe in the Notes section of the recipe card for those that prefer it.
Blue Hawaiian drink ingredients:
The ingredients for this drink is a hotly debated topic. I give you my favorite version of this recipe along with some ideas for tinkering with it so you can suit yourself. 🙂
Blue Hawaiian cocktail recipe is actually a version of the blue Hawaii Cocktail created in 1957 by Henry Lee at the Hilton Hawaiian Village. His recipe had no coconut. At all. The original recipe is quite different. But still very pretty.
This is a sweet drink. It is mean't to be. If you want it less sweet, balance the flavors with some lemon juice stirred in to taste.
Blue Hawaiian Drink Recipe:
Here is the Blue Hawaiian drink recipe AND in the notes section I give you what is supposed to be the original Blue Hawaii drink recipe.
What's your favorite way to make this curaçao drink? There is a lot more to this than just a beautiful ocean blue. It's created a whole culture of drink lore.
For me, It's Hawaii and the beach. We love it and hope you do too. Cheers!
Yield:

1 Blue Hawaii Drink
Blue Hawaiian Drink Recipe
The Blue Hawaiian drink has smooth pineapple flavor with hints of white rum. Blue curaçao add a lovely color and sweetness to pull it all together into a sweet rum tiki drink you will love!
Ingredients
1 1/2 oz. white rum-I chose Bacardi
1 oz. blue curaçao liqueur
2 oz. pineapple juice
3/4 oz. ​cream of coconut
1 Maraschino cherry, for garnish
1 Pineapple wedge, for garnish
Instructions
Prep:
Slice the pineapple wedge and set aside.
Warm the coconut creme if it is chunky. 10 seconds in the micorwave will turn it to creme. Set aside to cool.
Make the Cocktail:
Fill your cocktail shaker with ice.
Add white rum, blue curaçao, pineapple juice, and the cooled liquid creme of coconut.
Shake the shaker vigorously for 30 seconds or until the shaker is very cold.
Fill your glass half full of ice. (we used a daiquiri glass but a tall collins glass is fine).
Pour the cocktail into the glass.
Garnish with the pineapple wedge on the side and the cherry.
Serve immediately.
Notes
This popular cocktail has endless versions. It was originally made by Henry Yee in 1957. He made it 'on the rocks' and served it with a cocktail umbrella. However, You can also make it a frozen blended drink..
Henry Yee's Original Blue Hawaii Drink Recipe: (According to Bevvy)
0.75 oz vodka
0.75 oz light rum
0.5 oz Blue Curaçao
1 oz pineapple juice
0.5 oz fresh lemon juice
0.5 oz simple syrup
Fill a 12-ounce Hurricane glass with ice.
Add all ingredients, then stir to mix and add water dilution.
Garnish and serve.
Note: Many bartenders use 1 oz. sour mix rather than the lemon juice and simple syrup.
Nutrition Information
Yield
1
Serving Size
1
Amount Per Serving
Calories

695
Total Fat

37g
Saturated Fat

31g
Trans Fat

0g
Unsaturated Fat

5g
Cholesterol

43mg
Sodium

279mg
Carbohydrates

59g
Fiber

9g
Sugar

44g
Protein

4g
More Blue Curaçao Drinks:
Heres a few more ways to enjoy your blue curaçao.
We adapted this Recipe as the closest to our Hawaiian experience.