Love shrimp tacos? Love quick, delicious and easy meals? Make fried shrimp tacos for dinner.
With Just a bit of prep you can throw a fry pan on the stove. Cook up your seasoned shrimp and assemble the tacos.
This shrimp taco recipe is done in about 15 minutes. If you add our simple cilantro Lime rice it may take you 30. It's worth it. The rice is a really good compliment and flavor partner to the spicy fried shrimp.
The whole recipe makes a filling dinner you can serve assembly line style at a party.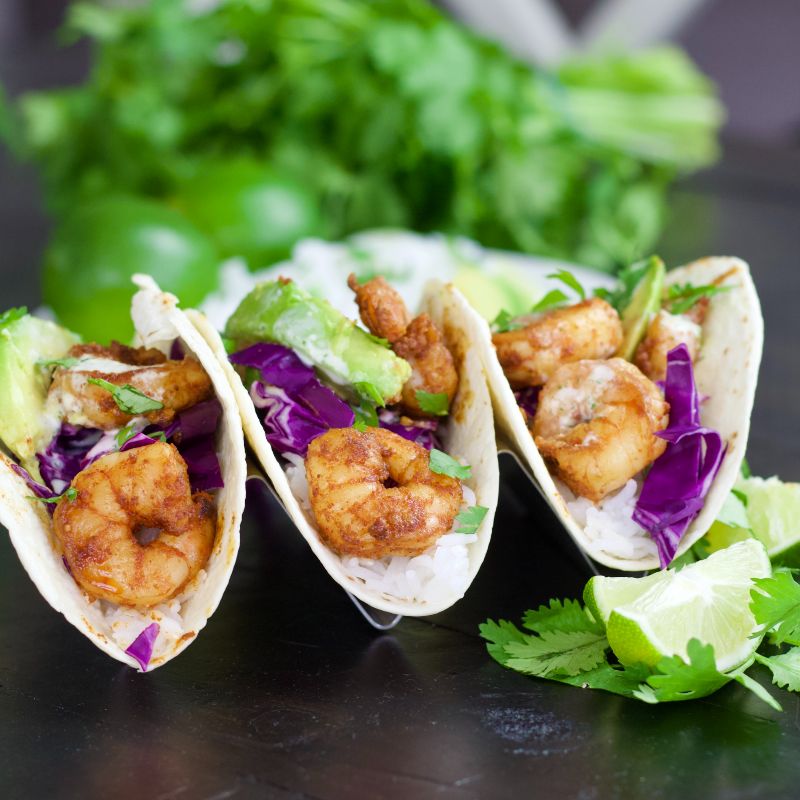 Wine night, poker night or movie night? Bring on the shrimp tacos. And serve them with Margaritas or our Mexican Mule. So many fun ways to enjoy shrimp Tacos with friends.
More Mexican Recipes:
Have a yen for Mexican food? Here are a few more of our favorite ways to enjoy delicious South of the border cuisine.
Tacos are the perfect simple dinner. Shrimp tacos make a healthy yummy meal you can make how your family most enjoys them.
The value of a homemade recipe is exactly that. Make it so you know your family will enjoy them.
Try our homemade flour tortillas if you have a bit more time and want a buttery soft warm taco fresh out of the pan to serve.
Quick Fried Shrimp Tacos Recipe:
The shrimp are well seasoned, plump and juicy. Cilantro lovers will really get into this recipe. Especially if you make the cilantro lime rice to serve with them.
LOTS of fresh lime flavor and cilantro.
Tips:
To get this recipe done ASAP all at once.
start the boiling water for the rice first.
Prep the shrimp (remove tails and devein as necessary)set aside.
Juice the lemons and limes. and prep veggies.
Add the rice to boiling water as directed. Cover and reduce heat. Set timer for ten minutes.
Make the shrimp taco sauce in your food processor if you have one. Set aside.
Mix the shrimp with the shrimp taco seasonings. set aside.
Drain the rice and finish it. Set aside.
Heat your fry pan and cook shrimp on both sides.
Assemble the tacos as directed.
For a really easy way to assemble those tacos use a taco tray.
Shrimp Tacos with Slaw:
We use red cabbage in our tacos. However, you can pick up a bag of coleslaw and use that instead. if will be great with the homemade shrimp taco sauce.
Our printable walkthrough recipe card has pictures of each step and a demonstration video of this recipe.
Yield:

8 tacos
Quick Fried Shrimp Tacos
Fried Shrimp Tacos are Delicious, healthy and easy to make.
Ingredients
1 lb. raw shrimp (deveined with tails off)
2 Tablespoons olive oil
Shrimp Taco Seasoning:
1 tsp. cumin
1 tsp. chili powder
1/2 tsp. salt
1/2 tsp. paprika
1 tsp. minced garlic
Shrimp Taco Sauce Ingredients:
2 limes-juiced
2 lemons-juiced
1/2 Cup chopped cilantro
1/4 Cup sour cream
1/4 Cup mayonnaise
2 Tablespoons water
2 Tablespoons olive oil
1 Tablespoon minced garlic
Additional Ingredients:
8 six inch flour(or corn) tortillas
4 Cups red cabbage slices (or coleslaw)
2 avocados-sliced
Fresh cilantro
Instructions
Make the Sauce and Rice:
Make the cilantro rice recipe and set aside (if using)
Pour all the sauce ingredients into a food processor.
Pulse the ingredients until it makes a sauce. Set aside.
Season and cook the shrimp:
Put the prepared shrimps into a large bowl.
Add the shrimp seasonings.
Stir until the shrimp is well coated.
Set a medium frying pan over medium heat.
Add the 2 Tablespoons oil.
Add the seasoned shrimp to the hot oil in an even layer.
Cook 2 minutes and then turn the shrimp.
Cook an additional 2 minutes. Remove cooked shrimp from heat.
Assemble the tacos:
For each taco shell add 1/2 Cup cilantro lime rice (if using)
Sprinkle a few red cabbage pieces(OR the coleslaw) over the rice (to taste)
Put three or so shrimp on the cabbage pieces.
Lay avocado slice over the shrimp.
Drizzle the sauce over the tacos.
Garnish with cilantro to taste.

Notes
Shrimp Tacos with Slaw:
We use red cabbage in our tacos. However, you can pick up a bag of coleslaw and use that instead. if will be great with the homemade shrimp taco sauce.
Nutrition Information
Yield
8
Serving Size
1
Amount Per Serving
Calories

281
Total Fat

22g
Saturated Fat

4g
Trans Fat

0g
Unsaturated Fat

17g
Cholesterol

79mg
Sodium

549mg
Carbohydrates

16g
Fiber

7g
Sugar

4g
Protein

11g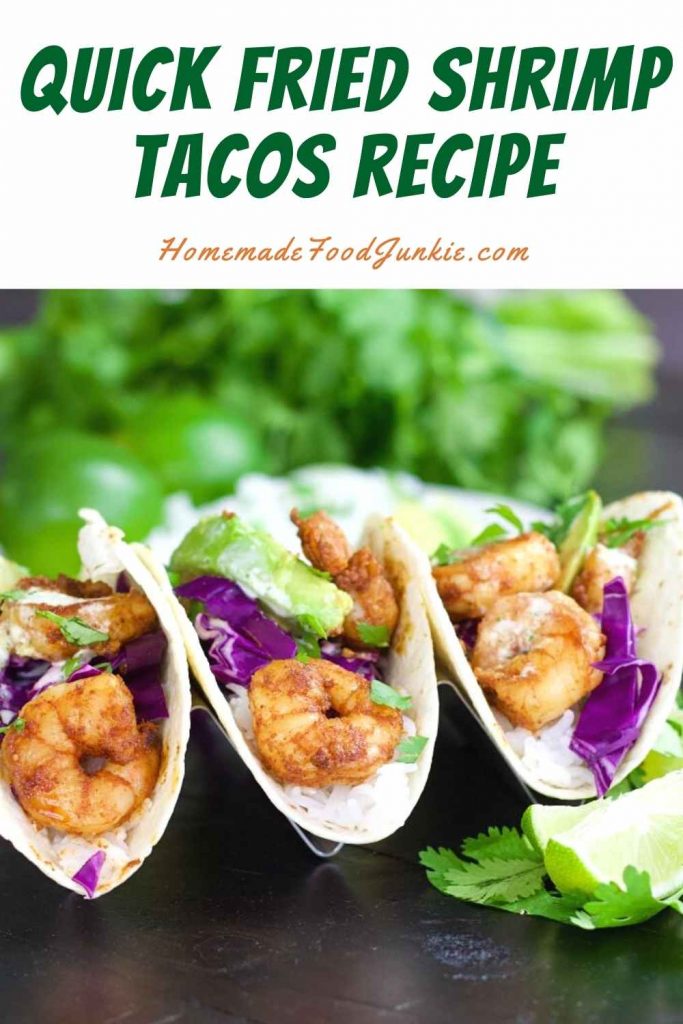 Follow Us:
Join us on Instagram, Facebook and Pinterest. Please share the recipes you make from Homemade Food Junkie and tag us. We enjoy seeing what you do with them. We like, comment and share. Have a wonderful day!