Mexican Cornbread is a fluffy, sweet and spicy cornbread made with green chilis, pepper jack cheese, creamed corn and organic stone ground cornmeal. This soft cornbread is the perfect side to chilis, carne asada, taco stuffed peppers and so many other delicious Mexican style meals.
Cornbread is a staple for many households and while we enjoy a traditional cornbread with butter and honey; we love the twist of this recipe with it's creamy texture and mellow heat. You can even use it in cornbread skillet dinners and casseroles much like a shepherds pie!
Let's dive into this recipe and see what makes it such a scrumptious addition to your family menu.
What do you eat with Mexican Cornbread?
Mexican cornbread can be enjoyed with a large variety of main dishes. It's versatile and adds beautiful flavor and heat that we love with meals like chili, taco and tortilla soups, carne asada, even breakfast style burritos with eggs, bacon and salsa.
We even make it to go along with our hamburger soup dinner on occasion. Mexican cornbread can also be added to a brunch table alongside quiche or made into easy serve jalapeno breakfast muffins.
Watch Me Make it!
Our homemade Mexican Cornbread recipe from scratch hits your tastebuds with moist, cheesy corn flavor. This recipe is from an old recipe notebook.
Cornbread can be enjoyed without any additional toppings but it's elevated even more when it's fresh out of the oven, still warm and topped with melted butter.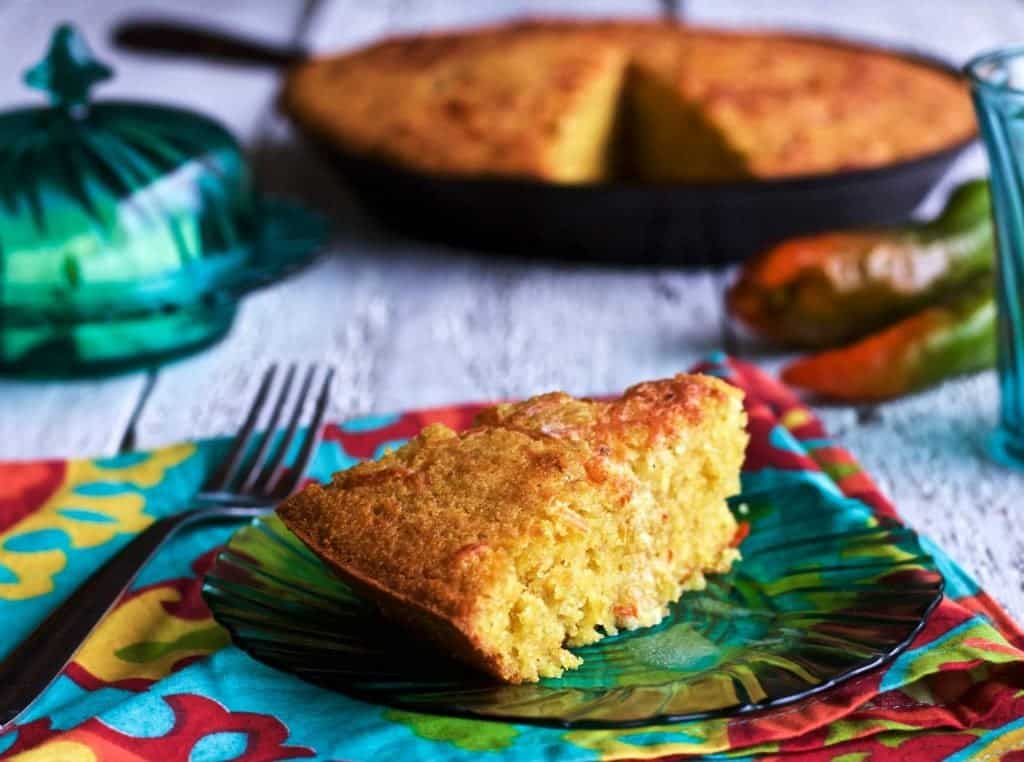 Adding cheese, chopped green or red peppers, and creamed corn to cornbread makes it a huge favorite.
Cornbread suddenly transforms into a delicious Mexican side dish the whole family will enjoy.
Is corn pone the same as cornbread?
Corn pone may not be familiar to many of you, but it is basically the southern, more simple version of a cornbread. Corn pone is a much heavier and thicker consistency and is made from cornmeal, water, salt and oil or bacon drippings. The cornbreads that most of us are familiar with are more bread like, hence the name.
Cornbreads are made using eggs, sugar, butter, milk, flour and baking powder to give it a lighter, fluffy more break like texture. Corn pone is said to have been a favorite of President Abraham Lincoln, and is traditionally prepared in a cast iron skillet.
How do I make my cornbread moist?
Cornbreads can easily become dry when over mixed, over baked, or when ingredients such as the cornmeal or prepared mix are old and low quality. To get the absolute best cornbread with a soft, fluffy texture it is important to use fresh ingredients; and making it from scratch is always well worth the effort.
There are ingredients you can add that will bring the moisture level up and keep the cornbread soft and more cake like. Adding in things like sour cream, creamed corn, cheese and buttermilk will all keep your cornbread soft, while adding some tanginess and extra flavor too.
Storing your cornbread properly will also aid in keeping a soft, moist texture. Once your cornbread is baked and cooled be sure to cover it tightly with an airtight wrap or keep it in an airtight containers. If you are reheating a slice in the microwave, cover it with a paper towel and top with a wedge of butter. This will add extra moisture into your freshly heated slice.
Recipe notes on Mexican Cornbread Recipe:
This recipe is prepared like many other bread like baked goods. Mix the dry ingredients, mix the wet ingredients and then combine them until they are a smooth consistency being careful not to over stir. Bake 40 minutes in a lightly greased baking dish until a toothpick inserted into the middle comes out clean. Cool and serve.
You need to shred a bit of cheese and chop a couple of tablespoons of peppers for color and flavor. Well worth the effort for the flavor that they give.
One (optional) Final baking Step:
We enjoy letting the cornbread bake 40 minutes until it sizzles along the sides. Remove from oven, and add another cup of shredded cheese to the top of the cornbread.
Return the pan to the oven for 5 minutes or so until the cheese is lightly browned.
This is another layer of flavor and texture your family may enjoy.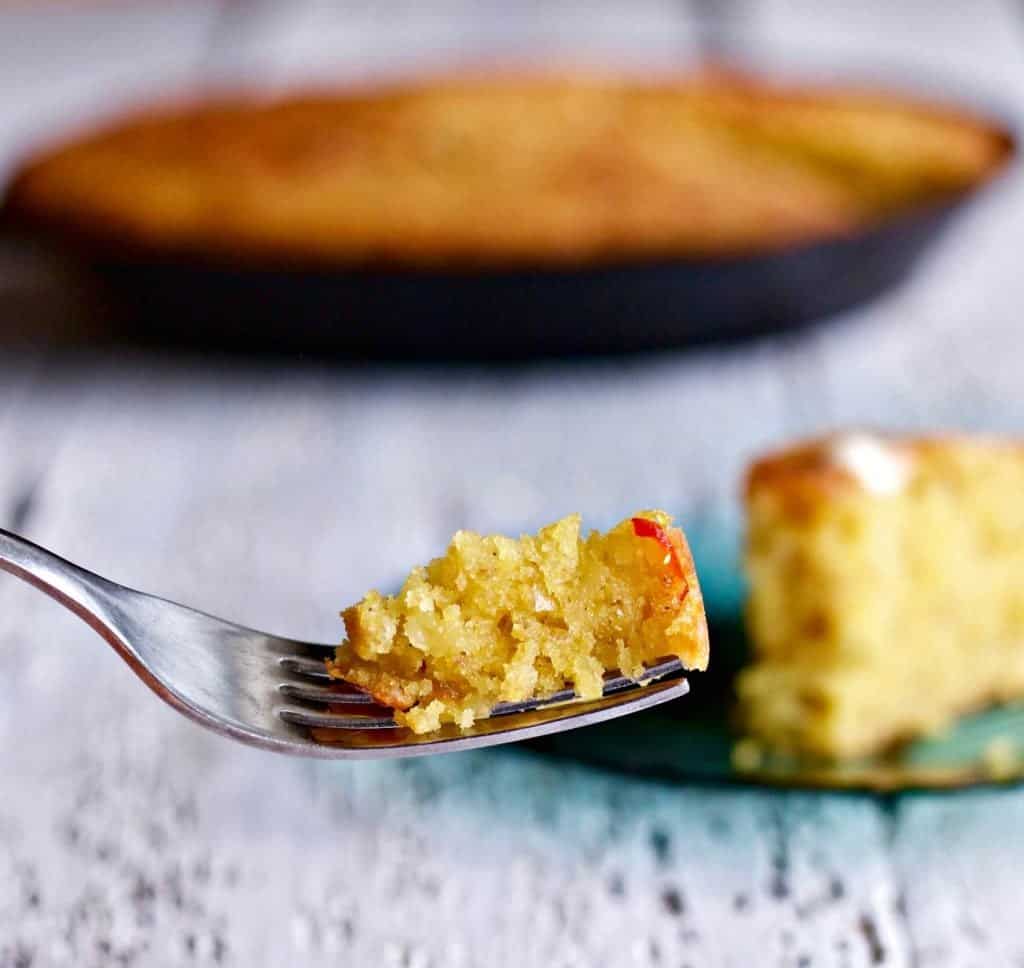 Ingredient Notes:
Choose your oils carefully.
We use coconut oil. Coconut oil fills you up, adds great flavor and is a healthy fat.
Use avocado oil if you prefer a flavorless oil, just be sure it's a reputable brand of good quality.
The good fats of these oils help the sugar and carbs digest better.
You may use whatever color and heat pepper you wish.
We used our garden red sweet peppers instead of green chilis. You can use whatever you like.
If you enjoy an extra kick in the taste buds choose peppers with a higher heat factor than we used.
My favorite cheese for this bread is Pepper Jack.
I believe it adds more zippy flavor.
Use your favorite Mexican style melting cheese if you prefer, but Pepper Jack is my personal favorite.
The Cornmeal grind (fine, medium or course) will affect the texture and results you get.
If you want a lighter bread choose the finer grind.
The heavier grinds will add more texture and make a denser bread.
One Optional Ingredient: I often choose to use 1/3 Cup flax in this recipe.
You can make it without flax and the recipe will work fine. The flax is added to give a more cake like result. Omitting flax will give you the results you will see in our video.
I did not add flax into the video recipe. I was out and so was the store. Use your personal preference for the results you want. Flax does add healthy fats and fiber to this recipe.
We are using an 11 inch cast iron skillet to bake this recipe today. As you can see this recipe filled the fry pan to the very top. A 12 inch skillet might be a safer size.
Mexican Cornbread also bakes well in whatever lightly greased 13 x 9 inch baking dish or equivalent you choose to use.
Yield:

16 pieces of cornbread
Mexican Cornbread
Mexican cornbread is a moist, slightly sweet cornbread flavored with a tiny pepper kick to keep it interesting. A delicious cornbread with a hint of Mexico.
Ingredients
1 Cup coconut oil
1 cup white sugar
4 eggs
1 15 oz. can cream-style corn
2 Tablespoon chopped green chilis (OR 1 red sweet pepper minced)
1 Cup shredded Pepper Jack cheese (I'm generous with my cheese)
1 Cup organic all-purpose flour
1 Cup yellow organic stone ground cornmeal
1/3 Cup flax (optional)
2 tsp. baking powder
1/4 tsp. salt
Instructions
preheat oven to 350 degrees
oil a 9 x 13 pan
In a large bowl beat together, melted coconut oil and sugar, add in eggs, one at a time and mix well after each one.
Add in the creamed corn, chili( or sweet) pepper and cheese. Mix well
In a separate bowl whisk together flour, flax meal, cornmeal, baking powder and salt.
Combine the dry and wet ingredients and mix until smooth.Pour into oiled casserole and bake for 40 minutes or until a toothpick, inserted in the middle, comes out clean.
OPTIONAL STEP: Shred an additional cup of cheese and spread it evenly over the hot cornbread. Return to oven for 5 minutes or until the cheese is lightly browned.
Notes
Feel free to use a higher heat pepper if you prefer. This cornbread is great with jalapeno or Thai peppers or any roasting pepper.
Recommended Products
As an Amazon Associate and member of other affiliate programs, I earn from qualifying purchases.
Nutrition Information
Yield
16
Serving Size
1
Amount Per Serving
Calories

313
Total Fat

19g
Saturated Fat

13g
Trans Fat

0g
Unsaturated Fat

4g
Cholesterol

53mg
Sodium

235mg
Carbohydrates

31g
Fiber

2g
Sugar

14g
Protein

6g
Follow Us:
We enjoy meeting you on our social networks. Follow us on Facebook, Pinterest, Instagram . Tag us with your pictures of our recipes and comment on how it went for you. We would love to see what you do with them.
We often like, comment and share your posts of our recipes on our daily Instagram stories.
Ask questions and rate the recipe in the comments section below. Please share what you did with this recipe. We are always looking for more and better ways to make homemade food. Other cooks love your ideas!
Recent Posts:
Recipe Source: Allrecipes.com
This recipe was originally published December 8, 2016. It has been updated and republished.