Mexican cornbread is a moist, slightly sweet cornbread flavored with a tiny pepper kick to keep it interesting. A delicious cornbread with a hint of Mexico. Add Mexican cornbread to a hamburger or Taco soup meal!
We had a bit of a cool down here with clouds and a tiny bit of rain today. That's all it took for me to whip out the crock pot and start a batch of hamburger soup. A lot of the vegetables all over my counters went into that yummy soup.
A lovely batch of Mexican cornbread greatly benefits hearty soups and fills out a warming winter meal. Time to whip up a batch!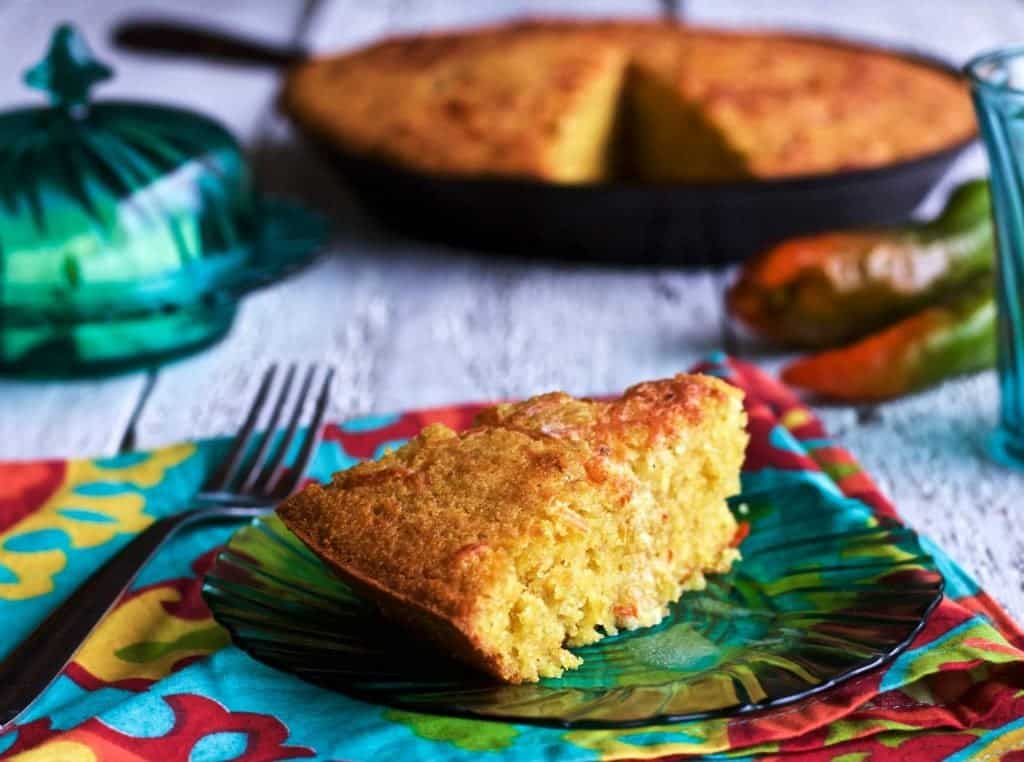 In the past, I have used mixes for my cornbread or the recipe on the cornmeal package. The cornmeal turned out ok but often tended to be dry with little flavor unless we added lots of milk , butter and honey!  I shut my eyes and refused to read the ingredient labels on those mixes!
Homemade Mexican cornbread from scratch hits your tastebuds with welcome, moist, cheesy corn flavor, straight out of the pan with no extras. A little pat of butter ….that's ok for a bit of dress up, if you like.
The addition of cheese, peppers and creamed corn bring regular ole cornbread a huge leap up from the ho hum everyday cornbread mix. Add the peppers as you like them. Hot or sweet they add color and as much heat as you prefer!
Mexican cornbread goes together quickly and is really pretty good for you. I traded out a few ingredients to improve the flavor and texture.  Coconut oil and flax meal benefit this bread nutritionally. One really great thing about coconut oil…it fills you up and adds magnificently healthy fats. The flax adds healthy fats and fiber which help the sugar and carbs digest better.
[tweetthis hidden_urls="pic.twitter.com/1KGVGBLGfE"] A delicious cornbread with a hint of Mexico. #cornbread #Pepper #pepperjack #Creamedcorn[/tweetthis]
I used our home-grown red sweet peppers instead of green chilis. You can use whatever you like. If you enjoy that extra kick in the taste buds you'll need some peppers with a higher heat factor than I used. We enjoyed it a little cooler.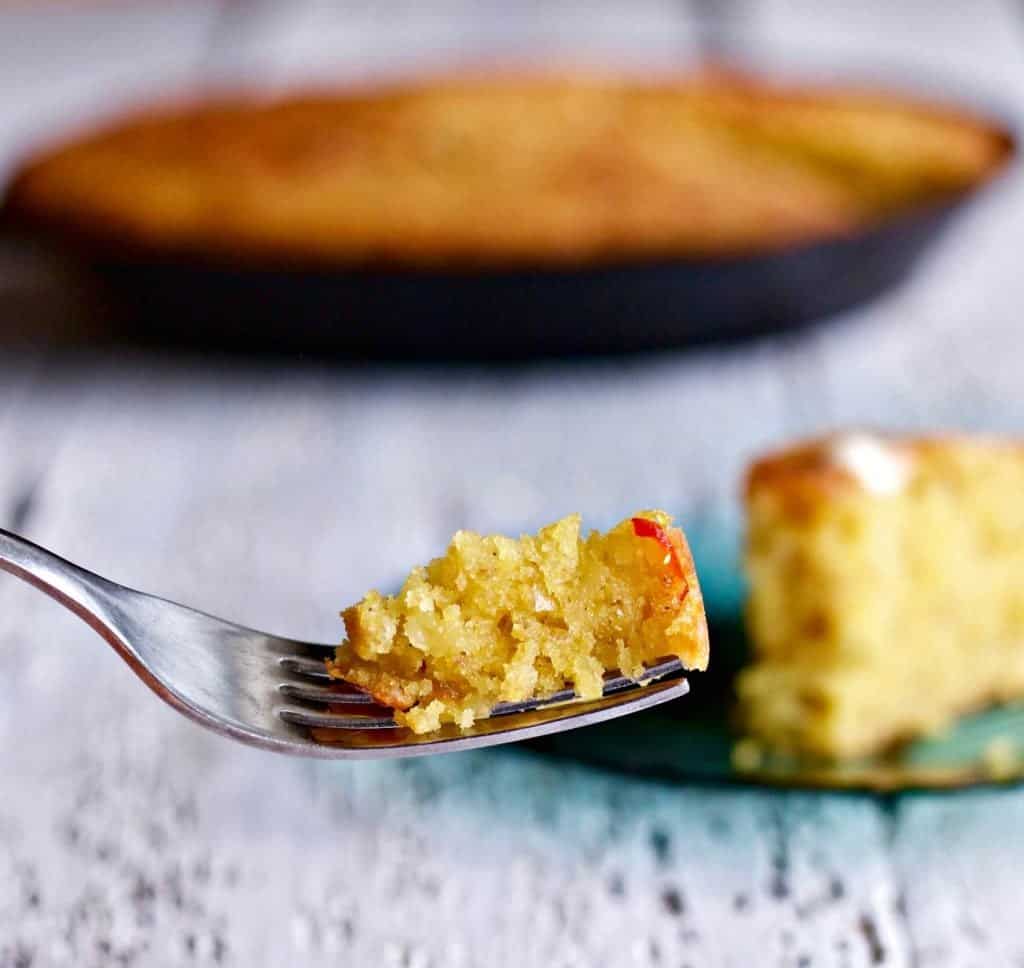 Recipe notes on Mexican Cornbread:
This is mostly a 'mix the dry in a bowl', Mix the wet in a different bowl' and then 'mix them together' and throw it in a baking pan kind of recipe. Pretty simple. You DO need to shred a bit of pepper jack cheese and chop a couple of Tablespoons of peppers for color and flavor. Well worth the effort for the flavor! I sprinkled a bit of cheese and peppers on the top for a bit of extra dash!
My favorite cheese for this bread is Pepper Jack. I believe it adds more flavor with fewer calories than a heavier cheddar. Use a cheddar if  you prefer, but Pepper Jack is my recommendation!
I'm using my 10 1/2 inch cast iron fry pan to bake this recipe today. Mexican Cornbread bakes well in whatever oiled 13 x 9 inch baking dish or equivalent you choose to use. I have made this recipe for years. It is very reliable!
If you choose not to use the organic coconut oil (I REALLY hope you do use it!) organic butter will be fine. Stay AWAY from bad fats like processed vegetable oils. I do use organic sugar in this recipe. I suggest you purchase organic sugar or (coconut sugar for a more caramelized flavor). They are just a teeny bit better for you than processed white sugar.
Maple syrup actually is lower on the glycemic index than sugar but requires other changes in the recipe. I need to get my lab coat on and develop a new recipe to use it. I may just enjoy this indulgence!
Ingredients
1 Cup coconut oil
1 cup white sugar
4 eggs
1 15 oz. can cream-style corn
2 Tablespoon chopped green chilis OR 1 red sweet pepper minced(I did that)
1 Cup shredded Pepper Jack cheese (I'm generous with my cheese)
1 Cup organic all-purpose flour
1 Cup yellow organic stone ground cornmeal
1/3 Cup flax meal
2 tsp. baking powder1/4 tsp. salt
Instructions
preheat oven to 350 degrees
oil a 9 x 13 pan
In a large bowl beat together, melted coconut oil and sugar, add in eggs, one at a time and mix well after each one.
Add in the creamed corn, chili( or sweet) pepper and cheese. Mix well
In a separate bowl whisk together flour, flax meal, cornmeal, baking powder and salt.
Combine the dry and wet ingredients and mix until smooth.Pour into oiled casserole and bake for 40 minutes or until a toothpick, inserted in the middle, comes out clean.
Pin it:
Recipe Source: Allrecipes.com