Treat yourself to a juicy and flavorful meal with this easy and delicious Pan Seared Chicken recipe. With just a few simple ingredients, you can create a perfectly crispy skin and juicy, tender meat that will leave you satisfied and craving more.
The key to this dish is to get a good sear on the chicken, which creates a delicious crust and locks in all the juices. Whether you're cooking for yourself or for your family and friends, this dish is sure to impress.
Pan searing chicken breast on your stovetop is a great way to enjoy Intense flavor and juicy, tender meat. This simple method of pan searing chicken will have your meat on the table in 30 minutes. We have tons of tips and tricks to share so that you can learn how to make the best stovetop chicken dinners.
Chicken is by far the most popular meat protein available, and the breast meat is a well known cut that is versatile and easy to work with. You can use the breast meat in virtually any chicken dinner such as pasta dishes, salads, soups or paired with rice and veggies for a high protein, healthy meal.
While chicken breast is a commonly used cut, it can present some challenges in preparing it properly and get some flavor out of it. Especially nowadays with most of our chicken breasts going skinless. Yes giving up the skin makes the meat leaner, but we also lose the flavorful fat the chicken skin offers.
The skinless chicken breast meat is more prone to overcooking, resulting in a dry rubbery texture. Properly seasoning the meat can also be tricky. Because chicken has a mellow flavor profile, it is easy to overpower it when seasoning.
In this post we walk you through all of the best tips we have learned for cooking well seasoned, juicy, pan seared chicken breast every time.
What is Pan Seared Chicken?
Pan searing is a technique used in grilling, baking, braising, and roasting that allows the meat to form a flavorful crust, which will lock in flavor and juices. This is done through properly seasoning and cooking at a high temperature, resulting in a beautiful, fully cooked meat.
Pan searing and pan frying are not the same thing.
Pan frying is a cooking technique in which food is cooked in a small amount of oil over low to medium heat. The goal of pan frying is to cook the food evenly on both sides while retaining its moisture and tenderness. That is where pan searing comes in.
The goal of pan searing is to create a crispy, caramelized exterior on the food while keeping the inside moist and tender. The chicken is typically seared for a short time on each side, then finished cooking in the oven or with a lower heat.
In this recipe we manage to get a good sear on the chicken breast and fry it to done at the same time. Our video will show you the process and go over the tips for success.
How Long Does it Take to Sear Chicken?
Searing your chicken breast is a quick process when done properly. Once the oil is fully heated it only takes about 9 minutes to sear each side or until it easily lifts from the pan.
At that point you have pan seared your meat, creating a flavorful crust and locking in the natural juices. Now there are two different ways to finish your meat. You can either move it into your oven to finish cooking, or cover your pan and allow it to finish on your stovetop.
Finishing on your stovetop will take roughly 5-8 minutes depending on the thickness of the chicken breasts. For this recipe we finish the cooking while the chicken is searing in the skillet by covering the pan during the process. This builds the internal heat and cooks the interior of the chicken while searing the outside.
If you have a thick chicken breast you may have to cut it lengthwise before cooking so as to prevent the outside from burning before the middle is cooked. For a thin breast, pan-seared chicken thighs or tenders, 3 minutes may be all you need per side. So be sure to adjust the cooking time according to the thickness.
To check if your chicken is fully cooked, insert a meat thermometer into the fullest part of the meat. Chicken is safe to eat when it reaches an internal temperature of 165F.
Is Pan Seared Chicken Healthy?
Pan seared stovetop chicken is very healthy meal. Chicken is a low fat, high protein meat that is a popular choice for many. Pan searing your chicken in a high quality oil is a healthier option than frying it in a breading. Pan-seared chicken can be cooked ahead of time and eaten cold in salads, or easily reheated and enjoyed with veggies, rice, potatoes or other healthy carbs.
Is it better to bake or pan sear chicken? Whether it's better to bake or pan sear chicken depends on the desired outcome and personal preference.
Baking is a gentler cooking method that's suitable for cooking chicken evenly and preserving its moisture. Baking chicken in the oven at a low temperature for a longer time can result in juicy, tender meat. This is particularly helpful for larger cuts of chicken, such as a whole bird or bone-in, skin-on breasts.
Pan-searing, on the other hand, creates a crispy exterior on the chicken with a moist, tender interior. Pan searing chicken breasts over high heat for a few minutes on each side can result in a flavorful, caramelized crust. This method is well-suited for smaller cuts of chicken, such as boneless, skinless breasts.
Both methods have their advantages and disadvantages. The best choice depends on the desired outcome and personal preference.
We have a recipe for Pan seared chicken with rhubarb ginger sauce.
Good side dishes for pan seared stovetop chicken include brown rice quinoa blend, Mexican cornbread, and fresh roasted vegetables
Pan-Seared Chicken Breast Recipe:
You can use this method for chicken thighs or tenders as well as breasts. The amount of time chicken needs to fry will vary depending on the thickness of the meat.
TIPS: The Secrets to Truly Excellent Pan-Seared Chicken
Season both sides of the meat until a light covering is visible. I use salt, pepper and Creole seasonings most of the time. Montreal steak or chicken seasonings, onion powder or garlic powder are also good choices.
Use a high quality, high heat oil. Coconut oil or avocado oil are all good higher heat oil choices. Try to find organic options from trusted brands that do not cut their oils with cheaper filling oils.
You can use butter for added flavor and fat, but you will still need to use some oil to prevent burning.
Use the correct pan:
Use a heavy cast iron skillet or one with an anodized aluminum bottom and a lid.
Ceramic coated cast iron skillets will also give you a nice even heat that will cook your chicken to perfection.
Chicken can overheat and burn on the bottom in a thin bottomed skillet, so the pan is an important factor. You don't want to be removing the pan from the heat to prevent burning. This will interfere with the quality of the sear, and could prevent your chicken from cooking thoroughly if you are finishing it on the stovetop.
Use the Correct Heat:
Preheat your skillet to medium high heat. We need to attain medium high before adding the breasts. We are searing chicken breasts to infuse the seasoning flavor right into the meat and seal in the juices.
Never Pierce the Meat During Cooking or Resting:
USE TONGS TO handle your chicken meat at all stages of cooking. There will be spattering when you are searing meat, be careful to use long handled tongs to minimize potential burns and prevent piercing the meat.
Do not test your chicken meat for doneness with a knife. It must not be pierced until completely cooked and rested for prime juiciness.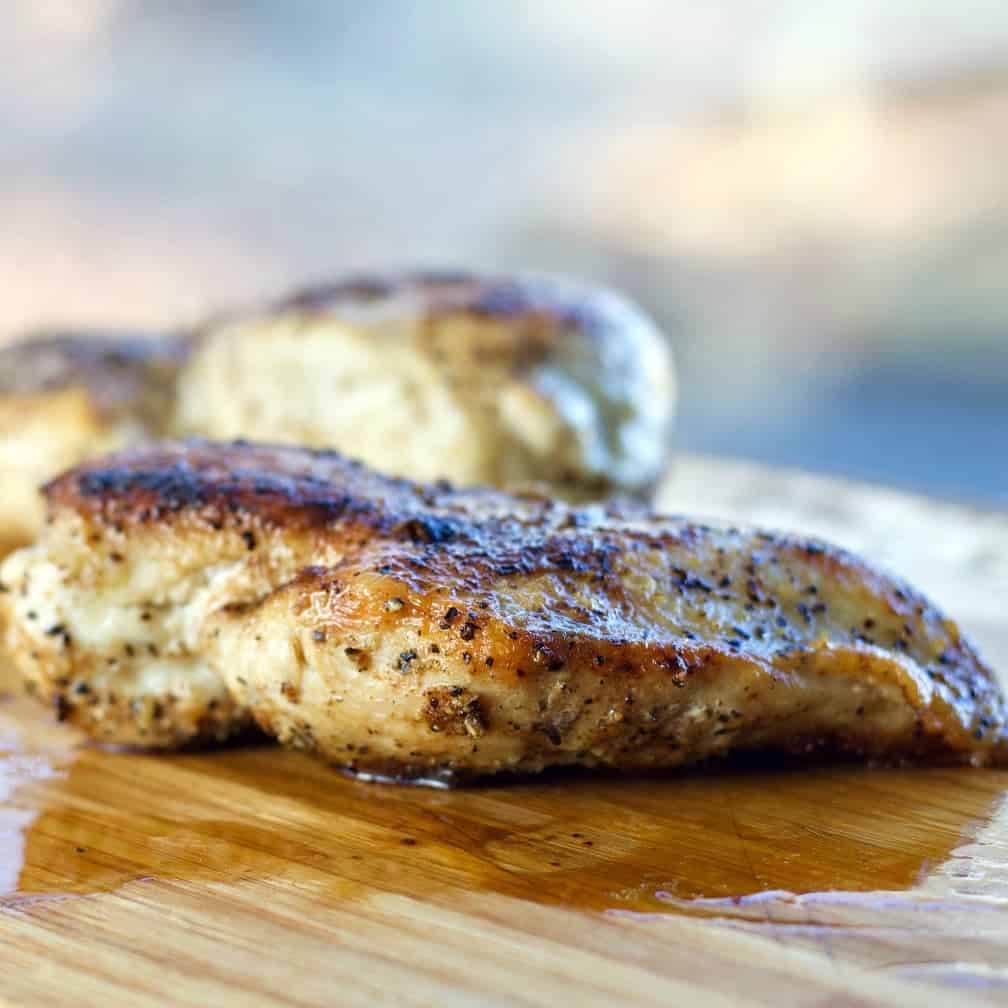 Cover the Chicken During Cooking and Resting:
Cover your chicken while pan frying, this helps keep the mess down, and will allow the chicken to cook internally.
Covering the fry pan drives the heat into the center of the chicken while the outside is searing.
This also keeps it a juicy pan seared chicken breast. Cooking too long with the lids allows the meat to dehydrate. We don't want that.
Resting The meat:
Resting your meat will help it to finish the cooking process, allow the meat fibers to relax, and help it retain the juices that have been locked in. Cutting into your meat early will cause the juices to spill out, possibly resulting in a dry texture, or loss of flavor.
To Rest The Meat:
Remove your cooked chicken to a plate.
Cover the chicken COMPLETELY with foil about allow it to rest for about 10 minutes.
Serve.
We enjoy this easy pan seared chicken breast in a homemade Caesar salad most often, but they are great in many other recipes as well.
Make your own version of this recipe by using your own seasoning s and add-ins to this basic recipe. For Pan seared garlic chicken throw pressed garlic or whole roasted garlic cloves in with the oil and allow them to cook with the chicken. Use garlic powder or a garlic flavored seasoning blend to season the meat.
Like Greek Kalamata Olives? Make a pan seared chicken with olives for the family like this: Follow our basic recipe in the printable guide. Remove the chicken pieces from the skillet and set aside.
Add to the juices left in the skillet: 1 cup pitted kalamata olives, 2 cloves garlic, minced, 1/2 cup chicken broth, 2 tablespoons lemon juice, 1 tablespoon chopped fresh thyme and stir them into the chicken juices. Return the chicken to the pan, spooning the sauce over the top. Cover the pan and simmer an additional few minutes.
Serve the chicken with the sauce and olives.
Your printable Recipe Card: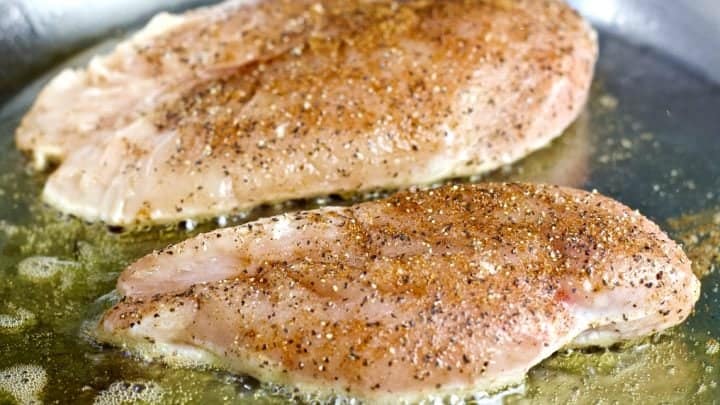 Yield:

2 pan fried chicken breasts
Pan Seared Chicken
Additional Time:
10 minutes
Make the BEST Pan seared and fried chicken breasts. Enjoy Intense restaurant quality flavor and REALLY juicy, tender meat. This simple method of pan frying chicken will have your meat on the table in 30 minutes. Pan fried chicken is great in salads and with many side dishes.
Ingredients
2 boneless skinless chicken breasts
1 Tablespoon Olive oil
1 tsp. salt
1 tsp. pepper
1 tsp. creole seasonings (optional)
Instructions
Season chicken breasts
Heat the skillet with olive oil to medium high heat
immediately add breasts to the skillet
cover and cook five minutes
turn the chicken with TONGS or spatula (never a knife)
cook five more minutes covered
remove from heat and cover the breast with tinfoil
Rest 10 minutes without piercing the breasts.
Serve
Notes
How Long to pan fry chicken is an important point. You want the chicken seared and the juices sealed. And you need the middle done too. For most chicken breasts five minutes a side will be just right.
However, If you have an extremely THICK chicken breast you may have to cut it lengthwise before cooking to get it perfectly cooked. If you are cooking a thin small breast or thighs or tenders 3 minutes may be all you need per side. Maybe even less. WATCH it.
To check if your chicken is fully cooked, insert a meat thermometer into the fullest part of the meat. Chicken is safe to eat when it reaches an internal temperature of 165F.
NUTRITION: This recipe nutrition in based on a single 8 oz. chicken breast per person.
Recommended Products
As an Amazon Associate and member of other affiliate programs, I earn from qualifying purchases.
Nutrition Information
Yield
2
Serving Size
one 8 oz. chicken breast
Amount Per Serving
Calories

258
Total Fat

11g
Saturated Fat

2g
Trans Fat

0g
Unsaturated Fat

8g
Cholesterol

102mg
Sodium

89mg
Carbohydrates

0g
Fiber

0g
Sugar

0g
Protein

37g
More Delicious Chicken Recipes:
Follow Us:
We enjoy meeting you on our social networks. Follow us on Facebook, Pinterest, Instagram . Tag us with your pictures of our recipes and comment on how it went for you. We would love to see what you do with them.
We often like, comment and share your posts of our recipes on our daily Instagram stories.
Ask questions and rate the recipe in the comments section below. Please share what you did with this recipe. We are always looking for more and better ways to make homemade food. Other cooks love your ideas!
Recent Posts: