Instant Pot Orange Chicken is a quick and easy gluten free weeknight dinner with sweet and tangy asian flavor. Our family enjoys this delicious meal and so does the cook! Ready in about 30 minutes!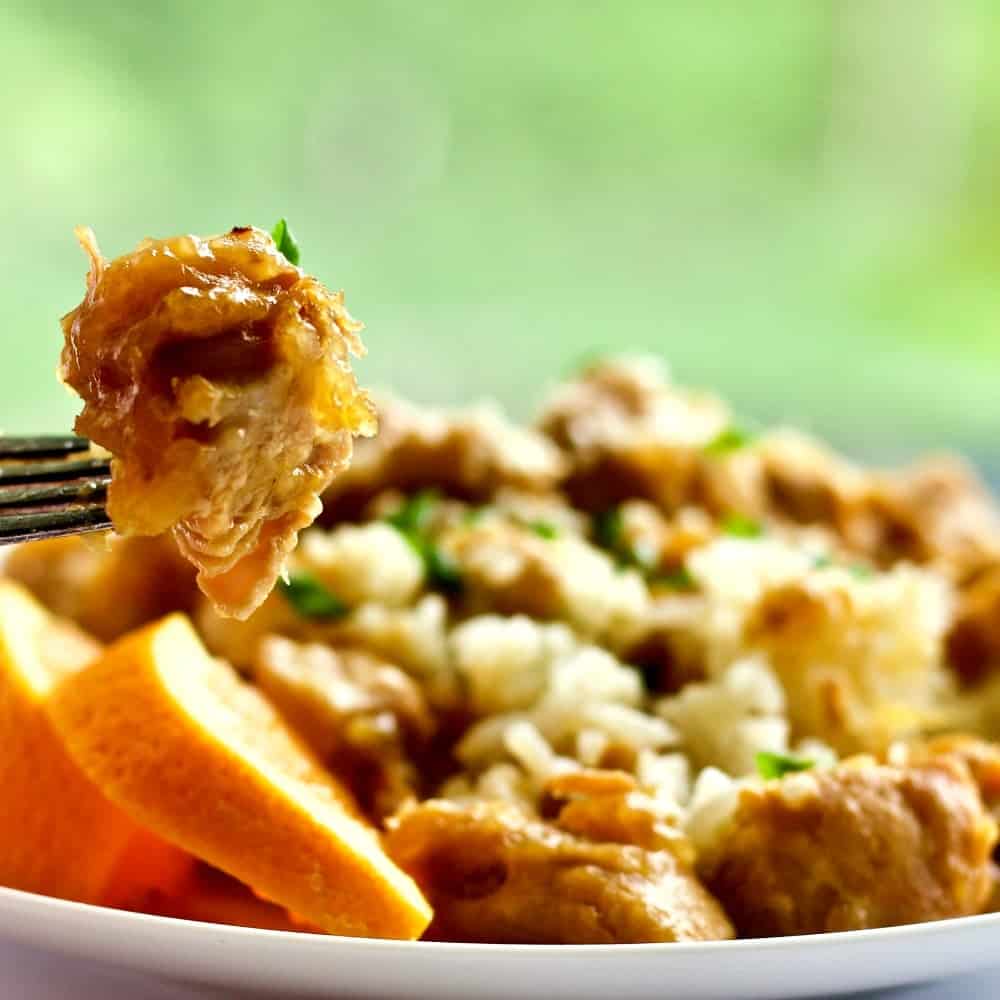 I never know when dinner will be. Life is hectic and my hubby has work hours that are hard to predict. My instant pot recipes are great for quick and easy dinners.
More Asian Recipes You May Enjoy:
Instant Pot Asian Orange Chicken Recipe:
Nothing like very fast pressure cooking when the day gets away from me. This Asian orange chicken instant pot method makes a quick and easy weeknight dinner.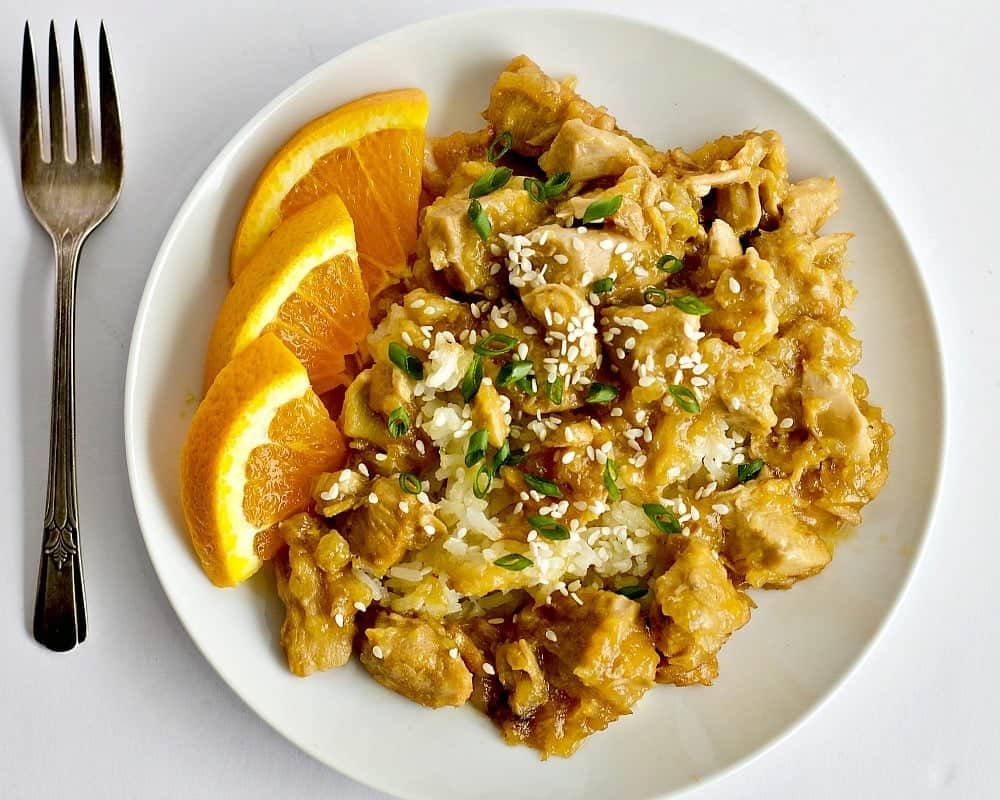 This dinner is one of the few ways I can get my hubby to eat chicken. He loves his flock of Egg layers but can't really get into eating chickens. He finds the meat bland.
Well this Instant pot chicken dinner is a hit even with him. The orangy sweet N spicy chicken over rice will be on our regular meal rotation now.
We used to buy our orange chicken from the freezer section at Costco (You had to know that was coming). But I quit buying it because, yeah it's processed an all.
The instant pot turns out to be just as fast as throwing a freezer meal together once the veggies are prepped.
Healthier Orange Chicken:
This recipe is made from fresh real ingredients and organic chicken. WAY big step up on the healthy meter right there. Healthy chicken recipes and very easy chicken recipes begin in the instant pot.
Here are more tips on making this recipe healthier.
Orange chicken calories can be reduced even further by substituting a zero calorie brown sugar.
Reduce the carbs by replacing the rice with riced cauliflower.
The Orange Chicken Sauce Recipe:
The sauce I used is an adaptation of my Asian Orange Sauce. This is a handy, versatile sauce for many recipes like my Baked Tilapia in Asian Orange Sauce.
It's an easy sauce to make and even EASIER in the instant pot!
I added brown sugar to this recipe because it needs a sweeter sauce to make that tangy orange flavor stand out.
Adjusting the Sauce:
The asian orange sauce is the heart of this recipe. If you are used to store bought sweet orange sauces like panda express this one may surprise you. It has a bit of spice and is less sweet than you might be expecting.
Here are a few suggestions:
For a sweeter sauce double the brown sugar called for
That zip of sriracha is completely optional. For a less spicy sauce reduce or eliminate the sriracha sauce.
The orange zest is another secret for pumping up the flavor of the fresh orange juice. Add more zest for a stronger orange flavor.
You may also opt for a sweetened condensed orange juice rather than fresh squeezed if you REALLY want to up that sweet orange flavor.
Suit your family by adjusting this recipe. Let me know what you do.
Making the sauce:
Throw all the ingredients EXCEPT the cornstarch into the Instant pot.
Cook the recipe under pressure as directed.
Quick release.
Set your instant pot to saute.
Add the in cornstarch slurry and cook the sauce until it is as thick as you like.
Adjust the cornstarch amounts to suit yourself and your chicken.
I aimed for a stickier sauce for this recipe so it will stick to the chicken well.
The sauce thickness will need adjustment depending on the type of chicken you choose. Are you choosing frozen, water added or fresh? Your chicken will release water into the dinner and the instant pot will NOT evaporate it.
Recipe Note:
The kind of chicken you use will affect the sauce consistency. Cooking under pressure means no liquid lost in the cooking. So you will need to adjust the thickness of the sauce at the end with the cornstarch.
For example: I used free range fresh chicken with no added water and the results are as you see pictured. If you are using frozen chicken or fresh chicken with water added please double the cornstarch called for.
Feel free to adjust the spices to please the crowd you are feeding. Small kids will love this if it's not too spicy.
Your Printable Recipe Card:
Yield:

8 servings
Instant Pot Orange Chicken
A Quick N Easy dinner the whole family will love. Homemade orange sauce with chicken and rice is an excellent well appreciated meal for a busy weeknight.
Ingredients
4 large boneless skinless Chicken Breasts-chopped into one inch chunks
1 large orange-freshly squeezed to make 1 Cup of orange juice, with pulp ok
1 Tablespoon Orange zest, from the fresh orange
1/2 inch piece of ginger-minced
4 large cloves garlic-minced
3 Tablespoon Gluten Free Tamari
3 Tablespoons honey
3 Tablespoons rice vinegar
1 Tablespoon sesame oil
1 Tablespoon sriracha sauce
1/4 Cup brown sugar, If you want it sweet
2 Tablespoons cornstarch, as preferred whisked together with water to form a slurry
For Garnish
1 tsp. sesame seeds
1 tablespoon chopped chives
4 Cups Cooked Rice
Instructions
Prep your chicken and Set the instant pot to saute function.
Meanwhile, Heat your rice water in a pot on the stove. When it boils add the rice, reduce to simmer and cook covered until tender. Set aside.
To the instant pot, Add the sesame oil and chicken and saute 3 minutes.
Prep your ginger, garlic and orange.
Add the ginger, garlic and remaining ingredients to the instant pot and Set to manual on high for 5 minutes.
Quick release and set the instant pot to saute.
Add the cornstarch whisked with water slurry and cook until the sauce is as thick as you prefer. About 5 minutes)
Serve over cooked rice.
Notes
This recipe is affected by your choice of chicken. I used fresh chicken. Frozen chicken has more water and may require more thickening in the sauce. The sauce is easily adjusted by increasing the cornstarch as needed when thickening the sauce.
This is a flavorful dinner loved by kids and grownups alike. For children maybe reduce the stronger flavors (like sriracha). I like to sauté my meat for extra flavor. It's ok to ignore the saute if you are in a real hurry and cook on manual for six minutes. Cook the rice on the stove when you prep the veggies to make the cooking times come out right. Enjoy!
Nutrition Information
Yield
8
Serving Size
2 cups
Amount Per Serving
Calories

317
Total Fat

4g
Saturated Fat

1g
Trans Fat

0g
Unsaturated Fat

3g
Cholesterol

51mg
Sodium

479mg
Carbohydrates

46g
Fiber

2g
Sugar

19g
Protein

22g
Pin it: