Our Asian orange sauce recipe is a delicious, rich, Umami sauce. Perfect for fish and chicken dinners. This chinese orange sauce is a yummy, healthy option to bottled Orange sauces.
Store bought bottled sauces in general have way too many indecipherable ingredients and heavy sugar loads. This homemade thick orange sauce is Low-Fat, Vegetarian, Dairy-Free.
What does Orange Sauce taste like?
Orange sauce has a sweet and sour taste. This delicious sauce is often made into a thick jelly like consistency. The combination of sweet orange juice and honey mix with the tangy and tart flavors of Tamari, rice vinegar, ginger, and garlic. This sauce is commonly poured over white rice, chicken, or fish dinners. This sauce is not the same as traditional sweet and sour sauce. A sweet and sour sauce is made with pineapple juice. The orange sauce does not contain pineapple juice and instead has orange juice in it.
Can you Freeze Orange Sauce?
Orange Sauce can be frozen up to 3 months if properly stored in an airtight container. To freeze orange sauce simply transfer the sauce from the stove into a bowl. Let the sauce cool to room temperature and place sauce into airtight container. Label container with freezer date and freeze for up to 3 months. To thaw the sauce, place the airtight container under running water.
Asian cooking is relatively new in my repertoire. I've been studying lots of delicious looking recipes and now I'm forging new trails in my kitchen pantry. Making homemade sauces just makes sense.
They are very simple to make and can improve the health of your family.
This easy recipe for orange Sauce is a great example of that. I was motivated to make my own orange sauce after making Orange Chicken Sausage Beef meatballs.
Recipes that use this Easy Orange Sauce:
When you need an easy dinner with an asian twist. Try this sauce over one of these recipes. They are so good.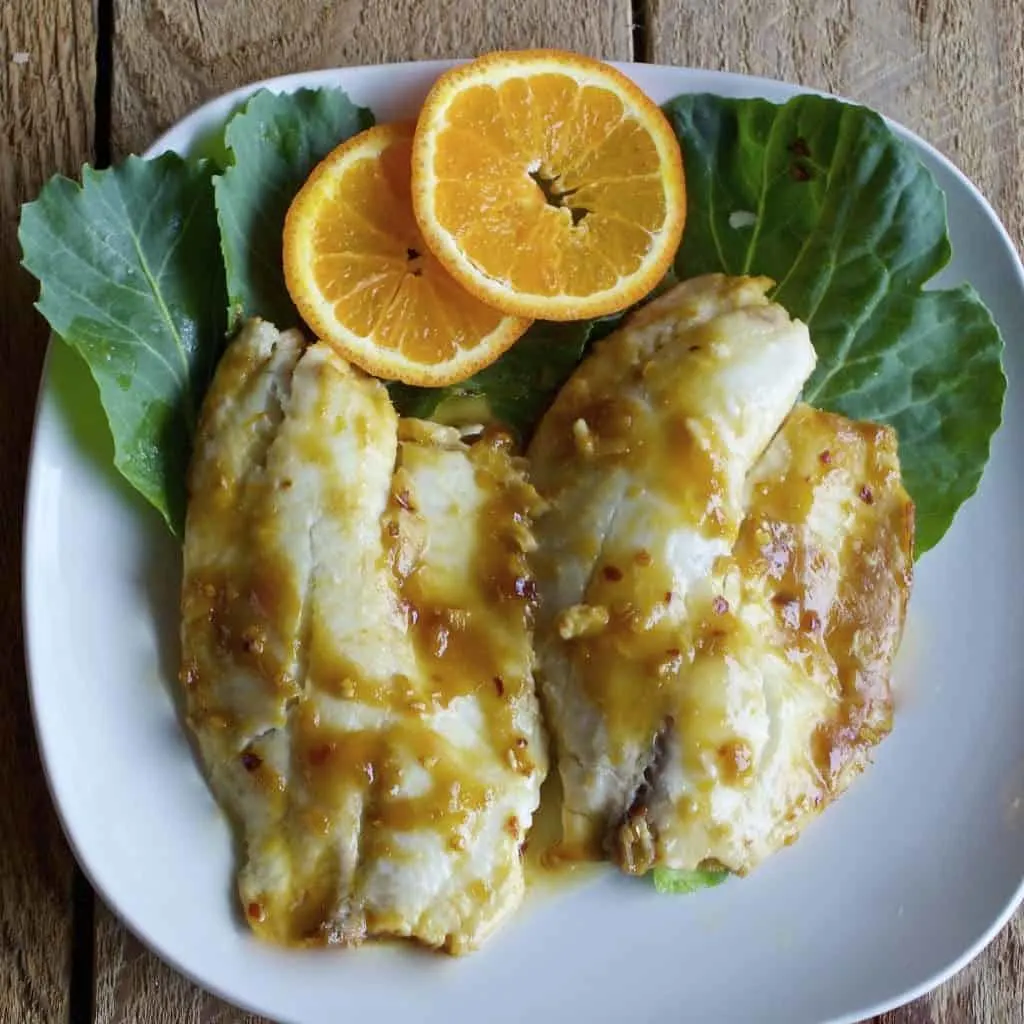 The sauce I used for that was Panda express (blush). Yes, I was so horrified by what was in that bottle I didn't use it for a long, long time. But I Couldn't bring myself to throw that sauce away either.
So I finally used the bottled Panda sauce to make those meatballs. They were really yummy; BUT:
This homemade Orange sauce is even better. Use this one instead of Panda express.
This is the orange chinese sauce I use in our very popular Instant Pot Orange Chicken Recipe.
Watch Kayti make this dinner in our recipe demonstration video in the sidebar. And in the bottom of the printable recipe card. SO yummy!!
It's marvelous over white fish and chicken. Chicken breasts and chicken thighs are delicious this way.
Asian Orange Sauce Recipe Notes:
This sauce is made with real ingredients that are good for you. The orange flavor comes from real orange juice with a hint of ginger and garlic for zing.
Sweetening with honey benefits the sauce in both flavor and texture. Use either soy sauce or Tamari. If you are gluten free be sure to use tamari.
And it's Easy as can be. Here's the process:
Gather your fresh, organic ingredients.
Put it all in a frying pan and boil it until it begins to reduce and thicken. Whisk constantly. This should only take about five minutes.
Next, Add in the cornstarch and water mixture and cook (while whisking) on low heat until the thickness suits your purposes.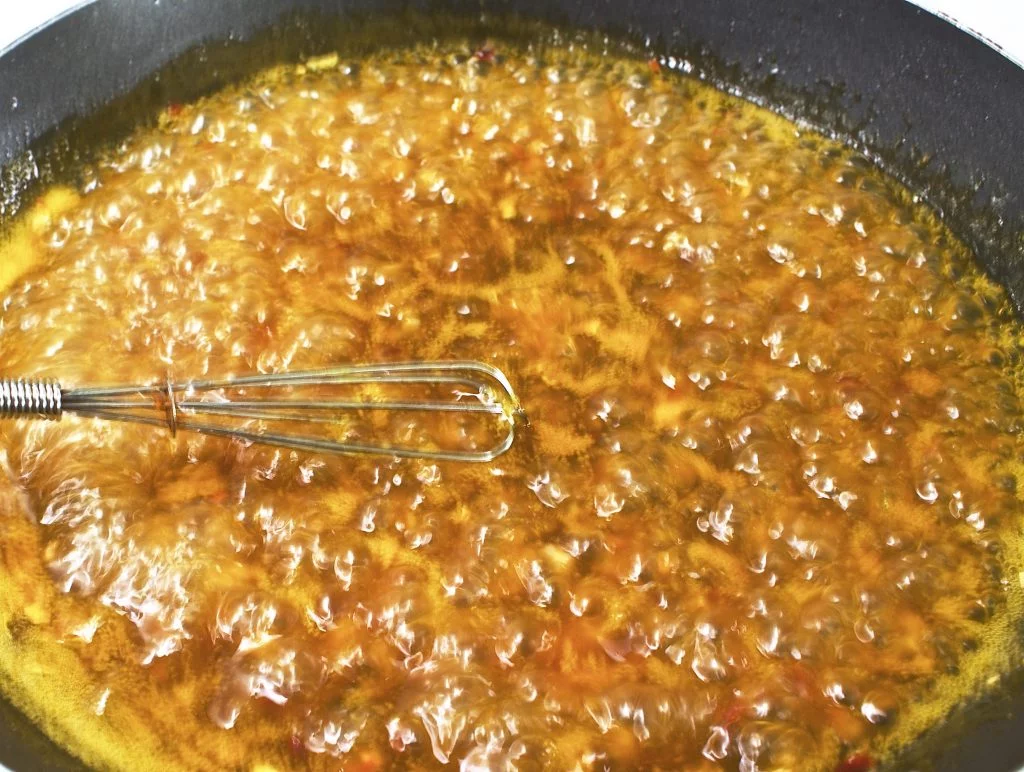 Feel free to Adjust the seasonings to suit your palate. You can add some orange zest to intensify that chinese orange chicken vibe.
I would leave off the zest for a beef dinner. The mellower version blends better with beef and pork.
I made this sauce and poured it over my Tilapia fillets. That created the Baked Tilapia in Asian Orange Sauce recipe. That is a great dinner.
I encourage you to make your own version of this yummy asian sauce. Let us know in the comments section below what you did. I'd love to know how it turns out for you.
Your Printable Recipe Card: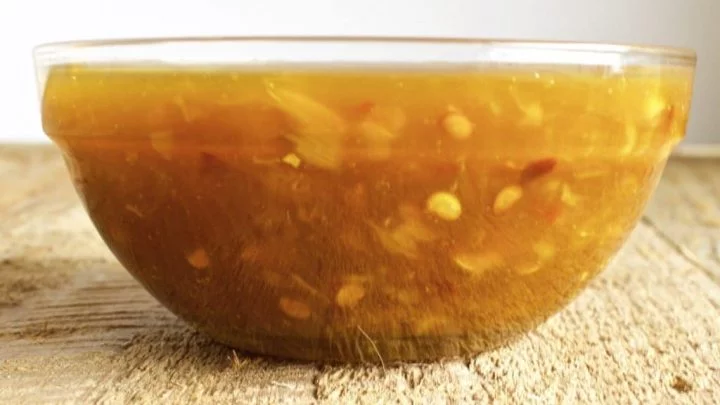 Yield:

1 cup of sauce
Asian Orange Sauce Recipe
Homemade Asian orange sauce recipe is a delicious, thick, rich, Umami orange sauce! A yummy, healthy option to bottled Orange sauces with way too many indecipherable ingredients and heavy sugar loads. Low-Fat, Vegetarian, Dairy-Free!
Ingredients
1 large orange-freshly squeezed to make 1/2 Cup of juice
1/2 inch piece of ginger-minced
1 large or several small cloves of garlic-minced
1 Tablespoon tamari (or soy) sauce
2 Tablespoons honey
2 Tablespoons rice vinegar
1/2 tsp. sesame oil
2 tsp. cornstarch
1/2 Cup water
Instructions
Put all ingredients into a non stick frying pan and boil for a few minutes.
Whisk until the sauce reduces enough to begin thickening.
Mix the cornstarch and water together and pour half of it into the boiling sauce, whisking until the sauce thickens to your desired consistency.(a syrup consistency works well).
Use the remaining cornstarch as necessary.
Remove from heat and cool to desired temperature.
Store in the fridge covered for up to a week. If it gets too thick warm it a bit and whisk in a little water.
Notes
For a gluten free sauce use Tamari rather than Soy sauce.
More intense orange flavor:

Add some orange zest into the frying pan. This will really bring out that chinese orange chicken vibe. I don't include it the ingredients. I'll leave it to you to add it. Use a 1/2 Tsp and go up from there.
Zest adds a strong flavor. It might unbalance the flavor profile with the ginger and soy. So Taste before you go too crazy with the zest.
Nutrition Information
Yield
4
Serving Size
2 Tablespoons
Amount Per Serving
Calories

69
Follow Us:
We enjoy meeting you on our social networks. Follow us on Facebook, Pinterest, Instagram . Tag us with your pictures of our recipes and comment on how it went for you. We would love to see what you do with them.
We often like, comment and share your posts of our recipes on our daily Instagram stories.
Ask questions and rate the recipe in the comments section below. Please share what you did with this recipe. We are always looking for more and better ways to make homemade food. Other cooks love your ideas!
Recent Posts: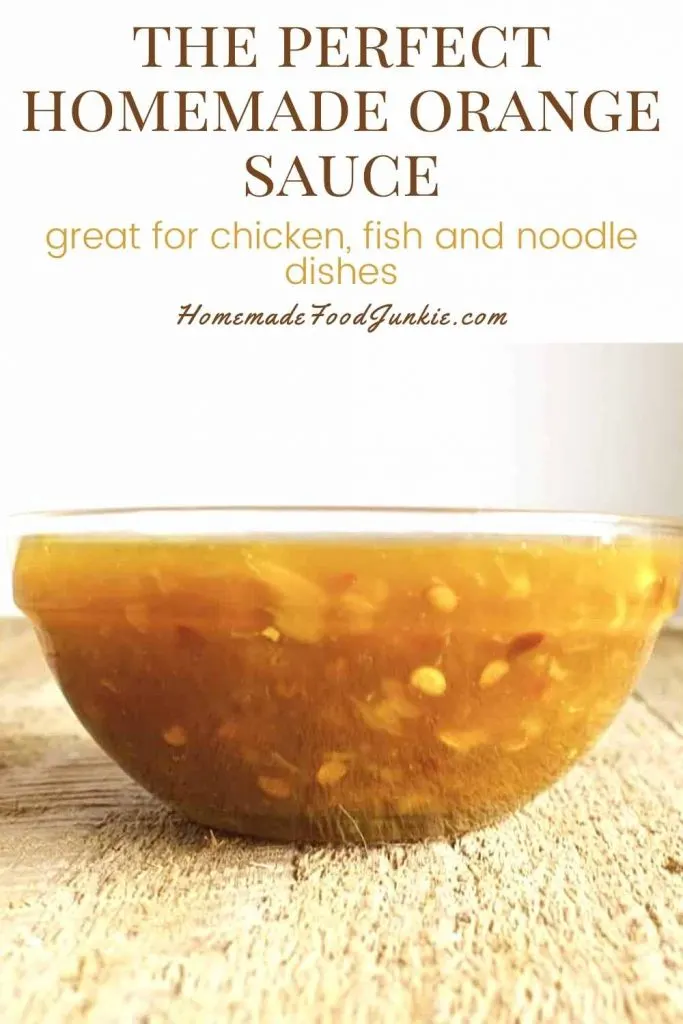 Pin it:
Recipe adapted from: Pioneer Woman