Strawberry Bread bursting with fresh strawberries and topped with a sweet sugar glaze. This strawberry quick bread recipe is one of our favorite spring and summer desserts that can be served at a brunch, for an afternoon coffee snack, bridal showers, or an after dinner treat.
Our strawberry bread is made with Greek yogurt, fresh strawberries, and coconut oil for a rich flavor profile and soft crumb that stays moist long after it is baked. A strawberry bread loaf is a cross between a quick bread and a pound cake, with a dense consistency that is sliceable and flavor filled.
We are sharing our best tips for baking the best sweet bread loaf and a delicious sugared glaze that finishes it beautifully. If you love quick breads, be sure to check out our blueberry banana bread, lemon almond bread, or our cinnamon spice apple bread.
Strawberry bread can be made with or without the sugar glaze, but it does finish the bread beautifully while also giving it an extra punch of sweet. It is a simple icing that will hold its structure and not melt into the bead.
What is quick bread?
Quick breads are breads made without the use of yeast. They rely on leavening agents like baking soda and baking powder to give the bread its rise, rather than yeast that is used in true bread recipes. Quick breads are easy to make and don't require much time because they don't need to be kneaded, or given time to rise.
These bread loaves also have a much denser texture, similar to brownies, pound cakes, and muffins. They can be savory or sweet, and can incorporate bits of fresh or dried fruits, nuts, and seeds.
What is the method for making quick breads?
Quick breads are made by blending, cutting, or creaming the ingredients together. Each method is unique and will yield different texture and consistencies in your final bake. Here is a quick breakdown of each method, and where it would be most appropriate to use them.
The blending method
The blending method is used when making muffins, crepes, waffles and similar recipes. It combines the wet ingredients in one bowl, and the dry ingredients in another bowl. When the separate ingredients are thoroughly mixed they are combined and blended together.
The creaming method
Creaming the ingredients is when the fats and sugars are beaten together incorporating air into the mixture. This will lighten the mix, as well as increase the volume. Eggs are then emulsified into the fat and sugar bowl, at which point the dry ingredients are gently folded in.
Creaming is used for a variety of recipes that require a moist and tender crumb like muffins and some breads.
The cutting or biscuit method
The cutting method is also known as the biscuit method, because it is most commonly used to make recipes like biscuits, scones, or other foods that have a dense, flaky texture. The dry ingredients including the leavening agents are sifted together into a bowl at which point the fat, usually cold butter, is cut into the mixture. The liquid is added until a thick, dense dough like consistency is achieved.
How do you add fresh fruit to quick breads?
Our strawberry bread uses fresh strawberries for a delicious, fresh flavor and soft bites of the sweet berry as you eat it. Adding fresh fruit to quick breads is a very simple process, but does require a few steps of preparation and care when mixing to ensure they don't break apart and bleed into your bread. Here are some important tips for adding fresh fruit to your quick bread.
Coat the berries in flour to prevent bleeding and sinking. The density of most fruit will lend it to sinking to the bottom of mixtures like muffins, breads, and crepes. Coating fruit in a light dusting of flour will give some 'grip' to the fresh chopped bits, which will help them stay in place during the baking process.
Flour will also keep the fruit from breaking apart and 'bleeding' into the batter when you are mixing everything together. To keep the bread from changing color, be sure to very gently mix the fruit just before baking, and coat the fruit in flour first.
Consider topping the batter with fresh fruit bits just before baking to add color and flavor intensity. If you want the fruit to stand out in your bread, drop some fresh chopped fruit over the top of your prepared batter right before placing the pan in the oven.
Make sure your fruit is chopped up small enough to prevent sinkage. Large chunks of fruit will be very heavy due to the moisture that they contain. Chopping the fruit small will help lighten their weight and minimize sinking through the batter.
Split the batter in half when pouring it into your loaf pans, and layer the fruit as you go. This will yield a noticeable layer of fresh fruit running through the middle of your bread, ensuring that the fresh fruit isn't concentrated at the top or very bottom.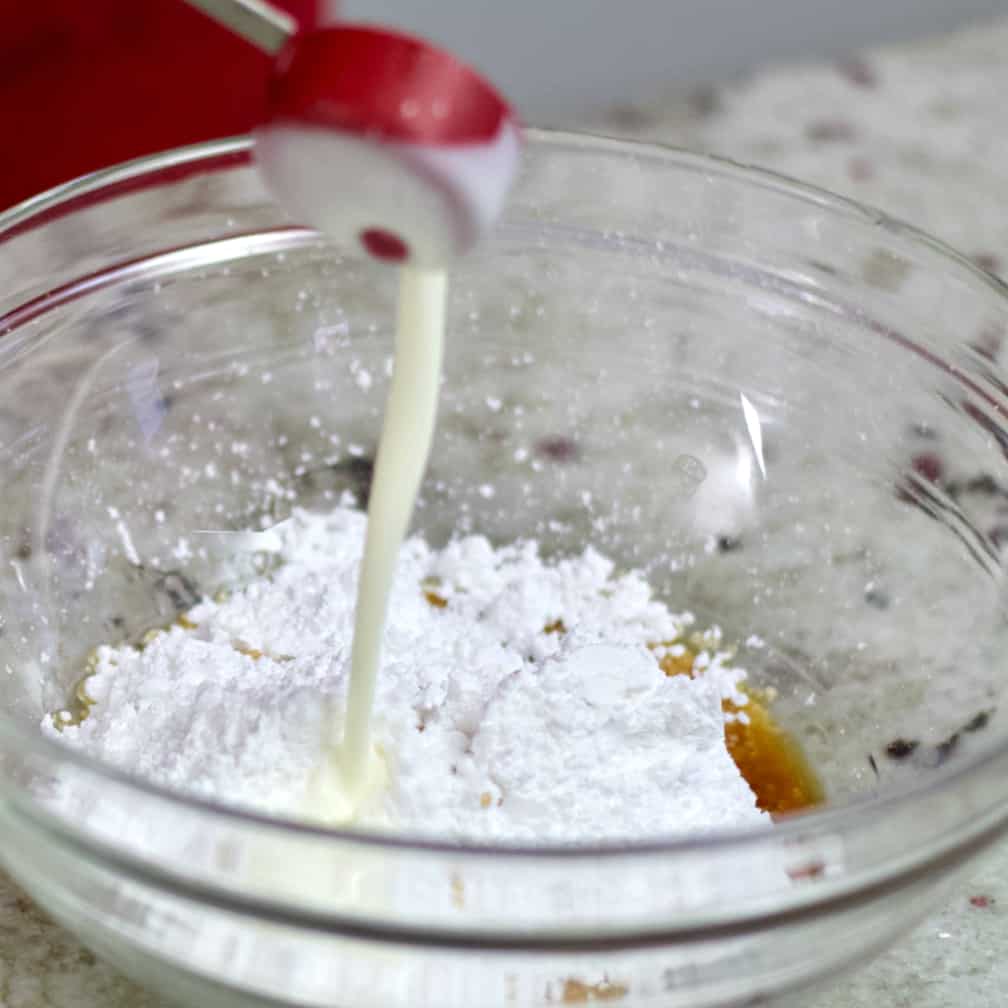 How do you make a sugar glaze?
Strawberry bread topped with a sugar glaze is the ultimate dessert quick bread. A sugar glaze is simple to make and finishes the loaf with a lovely flair and pop of sweet.
In a small bowl add powdered sugar, pure vanilla extract, and a few tablespoons of heavy cream.
Whisk the ingredients together until they are smooth and pourable. Adjust the ingredients if needed until the right consistency is achieved.
Once the strawberry bread has cooled, drizzle the glaze over the top.
Use a small spoon to dip and drizzle the glaze, or ladle it into a small plastic bag. Cut the tip off a corner and drizzle over the bread.
How do you increase the moisture in quick breads?
Quick breads are dense and cake like with high amounts of moisture that create soft, sponge like texture. if you are looking for ways to create even higher amounts of moisture, or maintain a soft, moist bread after it has baked; here are our tips and tricks.
Increase the fats in your quick bread batter. Fats add moisture and slow the development of gluten which will keep your bread soft and fluffy. Adding butter, milk, coconut oil, yogurt, and sour cream will all add moisture to your quick bread.
Be careful not to bake the bread too hot. Baking the bread at high temperatures will result in uneven baking and a drier texture. Bake your quick bread at the lowest temperature until the middle is done and the top and edges are lightly browned.
Wrap your strawberry bread tightly in plastic wrap to prevent it from drying out and becoming stale. Store it in a cool, dry area on your counter.
Recipe Strawberry Bread
The method for how to make strawberry bread is simple and straight forward. Using the blending method, combine the dry and wet ingredients separately, then mix everything together for a delicious batter. Fill with fresh chopped strawberries and bake in a loaf pan.
Drizzle your loaf with a simple sugar glaze and you have the perfect dessert bread that everyone will love.
Yield:

12 servings
Strawberry Bread
Additional Time:
20 minutes
Total Time:
1 hour
40 minutes
Strawberry bread bursting with flavors of fresh chopped strawberries and topped with a sweet sugar glaze.
Ingredients
2 Cups all purpose flour
1 tsp. baking soda
1 tsp. baking powder
1/2 tsp. salt
1 Cup butter
1/4 Cup coconut oil
1 Cup sugar
1 Large egg
1 Cup plain greek yogurt
1/2 tsp. vanilla extract
1 Cup strawberries, chopped
Glaze:
1 Cup powdered sugar
1/2 Tablespoon vanilla extract
2 Tablespoon heavy whipping cream
Instructions
Preheat oven to 350 F
Lightly grease the 9 x 5 bread pan
Sift together the flour, salt, baking powder, baking salt and set aside
In an electric mixer, cream together butter and sugar
add in egg and coconut oil, mix until thoroughly combined.
Next, add in the yogurt and vanilla extract, mix until combined
Finally start adding in the dry ingredients a little at a time, mixing between additions.
Mix until just combined (do not over mix)
Remove bowl from electric mixer.
Stir in strawberries (coat the strawberries in flour before adding in)
Pour batter into bread loaf pan.
Bake for 30 minutes loosely covering the bread with tin foil to ensure the top doesn't burn.
Remove the tin foil and continue baking an additional 20 minutes.
Please note it may take a longer or shorter amount of time depending on your oven. Keep an eye on the bread and keep testing with a toothpick to ensure it is completely done.
The glaze:
Whisk together all ingredients until they are combined. If the glaze is too thick, add more milk or cream. Put the glaze in an icing bag and cut the tip off in order to frost the completely cooled bread loaf.
Nutrition Information
Yield
12
Serving Size
1
Amount Per Serving
Calories

385
Total Fat

21g
Saturated Fat

14g
Trans Fat

1g
Unsaturated Fat

6g
Cholesterol

60mg
Sodium

378mg
Carbohydrates

44g
Fiber

1g
Sugar

27g
Protein

5g
Be sure to check out some of our other scrumptious goodies
Strawberries are the most popular berry, and for good reason! They are definitely one of our favorites. From our cheesecake stuffed strawberries to our lemon lime strawberry float, we love to incorporate these delicious berries into as many recipes as possible. Click on any of the pictures below to explore these recipes too!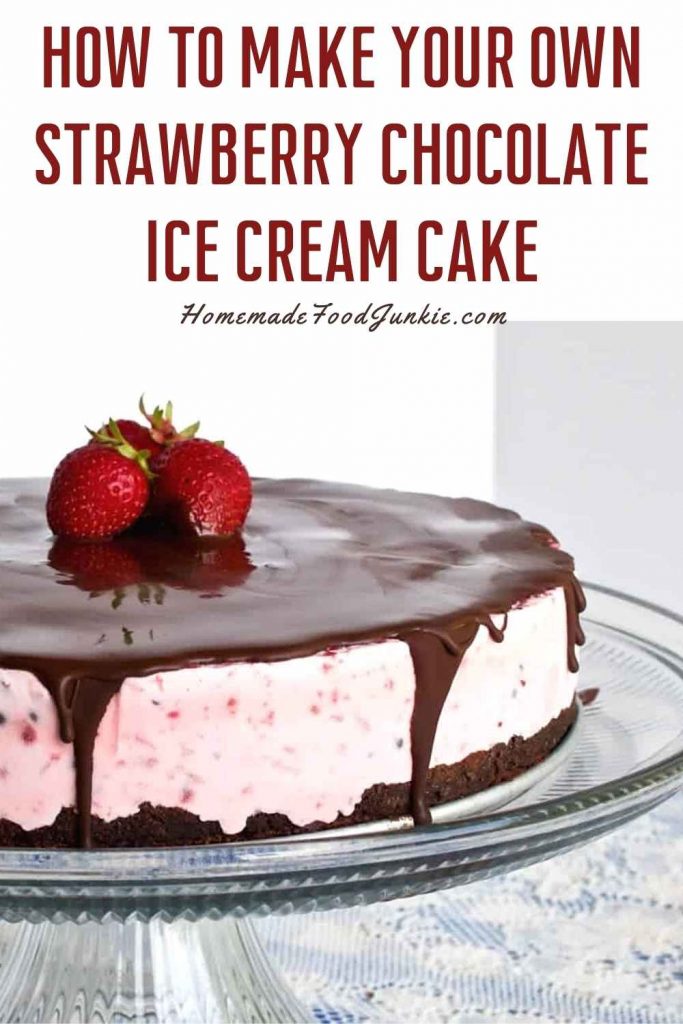 Follow Us:
We enjoy meeting you on our social networks. Follow us on Facebook, Pinterest, Instagram . Tag us with your pictures of our recipes and comment on how it went for you. We would love to see what you do with them.
We often like, comment and share your posts of our recipes on our daily Instagram stories.
Ask questions and rate the recipe in the comments section below. Please share what you did with this recipe. We are always looking for more and better ways to make homemade food. Other cooks love your ideas!
Recent Posts:
Adapted From: thedenverhousewife.com