Strawberry Cheesecake Bites are a delicious mouthful of fresh strawberry and sweet cream cheese. This is an easy no bake dessert or finger food.
Strawberry cheesecake bites are simple to make and taste delicious. These cheesecake bites can be made keto with a few simple substitutions. Strawberry cheesecake bites can be made quickly and the ingredients changed out to suite your taste.
Add the blueberry on top for your 4th of July get togethers. These make perfect red white and blue fruit appetizers.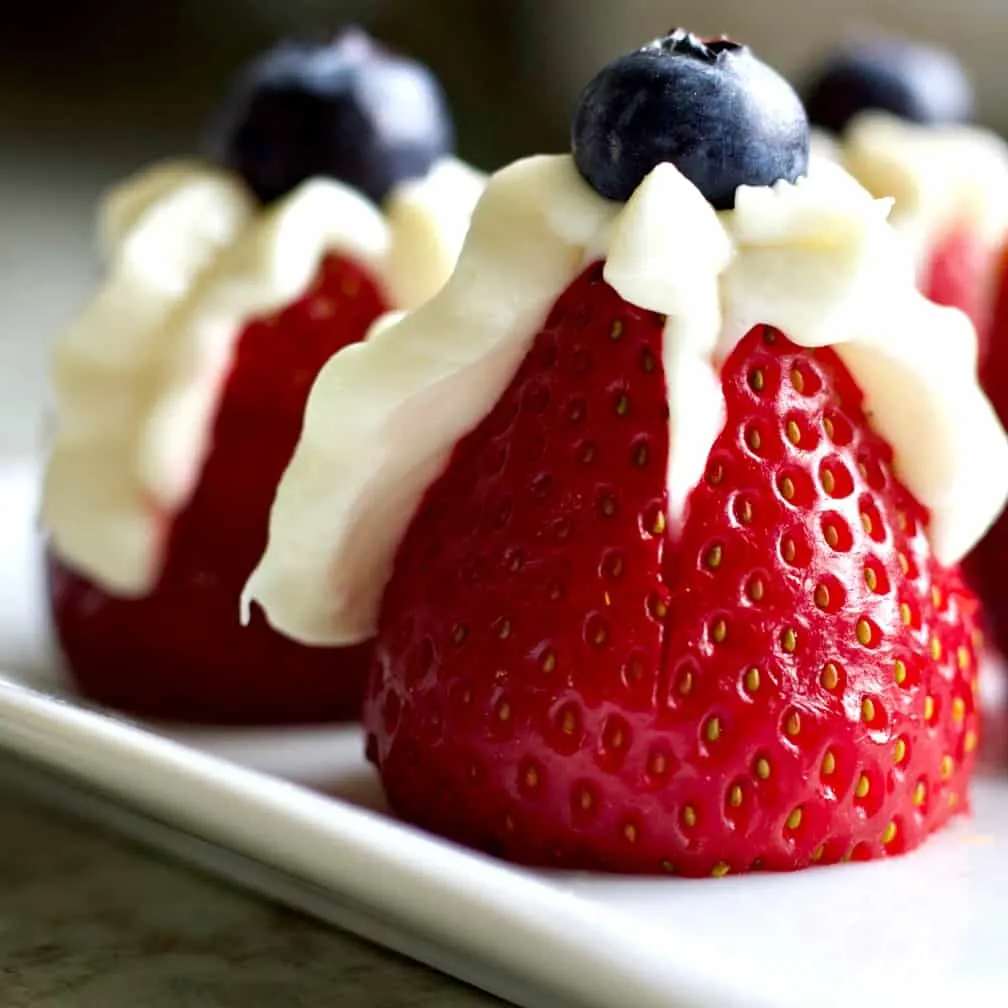 Kayti made these for a wine night with her girlfriends. Wow! They were a hit. So we made them again to share with you.
These summer appetizers are SO easy to make and will easily hold a few hours in the fridge before serving.
Watch me make this Recipe:
You can see these are easy to make. Each batch makes about 24 bites.
You are going to want to source good locally grown-in season-strawberries. Big sweet beauties. That is what you need for this recipe.
Our strawberry patch in our garden are having a gangbuster season. We are bringing in about a quart or two every day for this past month.
We MIGHT be getting a bit over them. I've actually resorted to freezing them for later. Enough is enough!
How to Serve Stuffed Strawberries
Stuffed Strawberries should be served immediately after stuffing. These won't hold at room temperature for very long. The juice from the strawberries will start to break down the cream cheese stuffing. Refrigerate the stuffed strawberries until serving time. Or wait until just before serving to stuff them with cheese filling. Serve these stuffed strawberries on a tray or platter.
How to make Stuffed Strawberry Cheesecake Bites Keto Friendly:
Make these stuffed strawberry cheesecake bites keto friendly by using alternative sugar free sweeteners. Replace the regular granulated sugar in this recipe with a keto friendly sugar alternative. Swerve works great in this recipe. The rest of the ingredients are okay to use on a Keto meal plan. To bring the sugar down even further, don't use blueberries to top the fruit. Fruit has extra sugar in it.
How to Hollow out Strawberries:
Strawberries can be hollowed out using a sharp pairing knife. Slice the green stem and leaves of the strawberry off. Use a pairing knife to gently hollow out the center. Go in a circular motion and gently remove the inner core of the strawberry.
For this recipe we remove the top green part but do not core out the center. Slice the bottom so it will sit straight on a plate. The top of the strawberry is then sliced in an X pattern about halfway down the strawberry. Don't cut all the way down to the bottom.
Fruit Appetizer Ideas:
Fruit Kabobs
Fruit Salsa
Fruit and Cheese Hor D'oeuvres
Fruit Dip (Key Lime Pie is delish!)
Fruit Pizza
Fruit Cookies
Watermelon Fries
Phyllo Fruit Cups
Pineapple Fruit Bowls
Fruit Salad
Blueberry Goat Cheese Flatbread
Frosted Frozen Grapes
Individual Fruit Cups
More Fresh Strawberry Recipes:
We do get a lot of mileage out of our strawberry patch. Here are more recipes for fresh strawberries. If you are having an overload harvest too….:)
Or if you have leftover strawberries after you match up your berries to create the best look for your strawberry cheesecake bites. Here are some ideas for how to use your extras.
Strawberry Cheesecake Bites Recipe:
These cheesecake bites are a very simple no bake dessert appetizer and go fast in a crowd.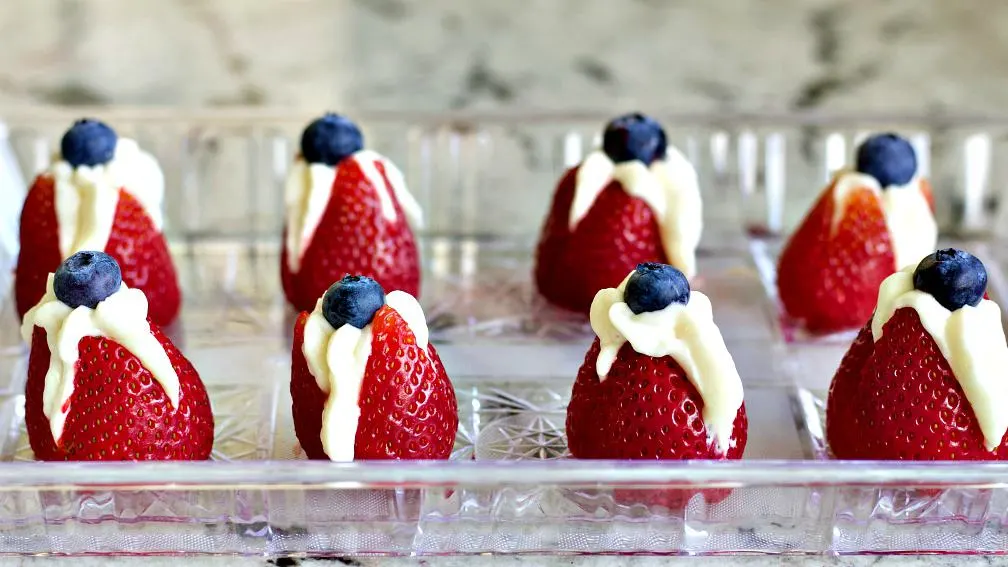 These are so cute as a red white and blue addition to your patriotic finger foods menu.
These strawberry no bake desserts and appetizers are so tasty your friends and family are sure to love them.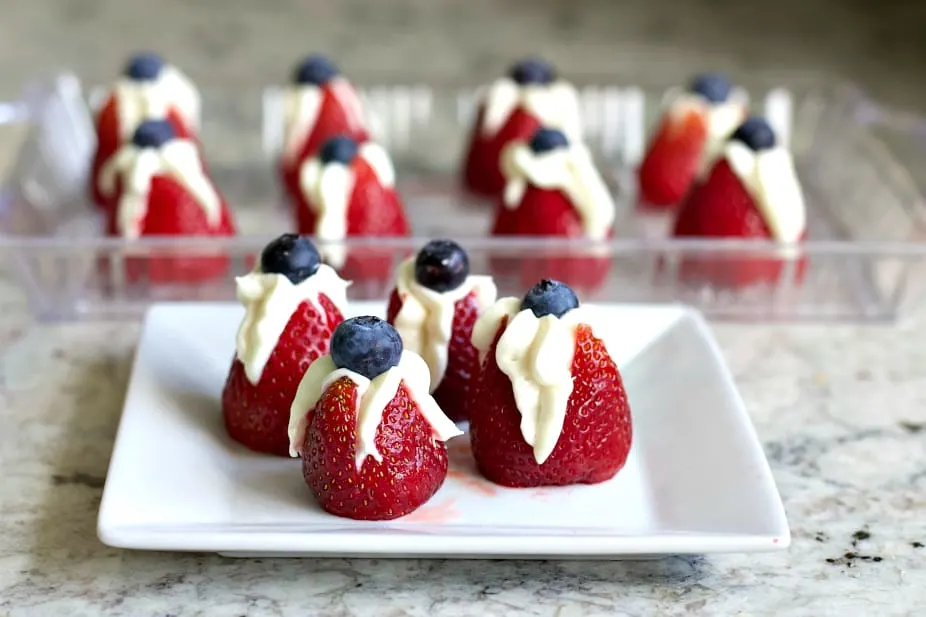 Tips for this Recipe:
For a complete visual guide to making this recipe please watch our video demonstration.
Here are some pointers for success with this strawberry dessert.
Find large perfectly ripe sweet fresh berries.
Match your berries by size and shape. They should all have just ONE point. Double pointed berries are more difficult to cut evenly and fill.
Soften your cream cheese before making it into this filling.
If your filling gets TOO warm it will be more unformed. For sharp ridges and shape when piping chill your cream cheese mixture about 10 minutes in the piping bag before piping.
Substitutions:
When your out of an ingredient or want to try something new…Here are some ideas to try.
Substitute almond flavoring for the vanilla extract.
Try whipping cream instead of the cream cheese filling. (serve immediately)
Switch out the garnishes. Suggestions below.
Garnish Ideas:
Blueberries as shown here or other fresh fruit pieces cut to fit the berry top. (tiny slivers of mango, kiwi, or small raspberries are good)
Mint leaves
Sliced circles of kiwi under each berry.
Finely crushed Graham crackers can be sprinkled over the top at serving. This gives a more cheesecake like affect.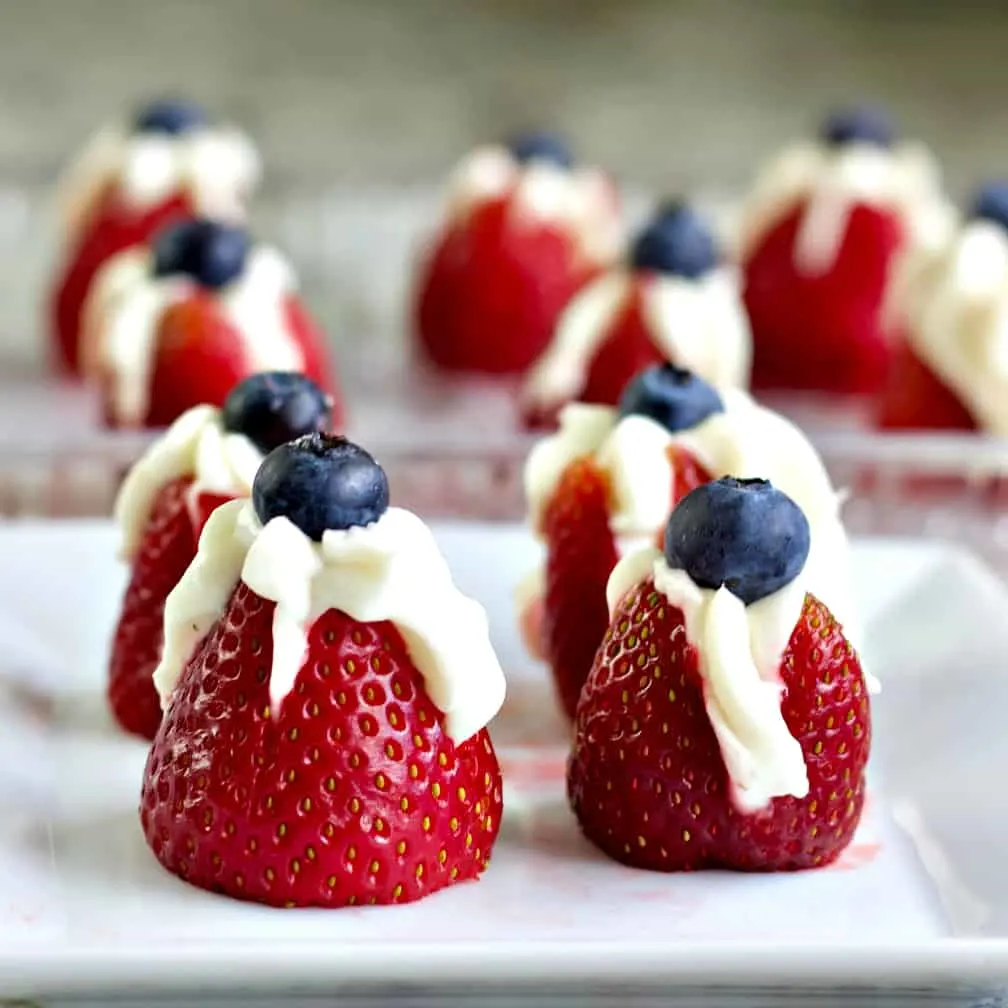 Serving instructions:
These will hold up to four hours in the fridge before breaking down.
These need to be served the same day they are made. The strawberries will bleed onto the cream cheese if held overnight and the berries will not look perfect.
This is not a really messy finger food but cut strawberries do stain.

We recommend you have napkins handy
Porcelain or glass serving trays or plate preferred.
Line any wooden or porous serving trays with parchment or other stain barrier.
Your Printable Recipe Card: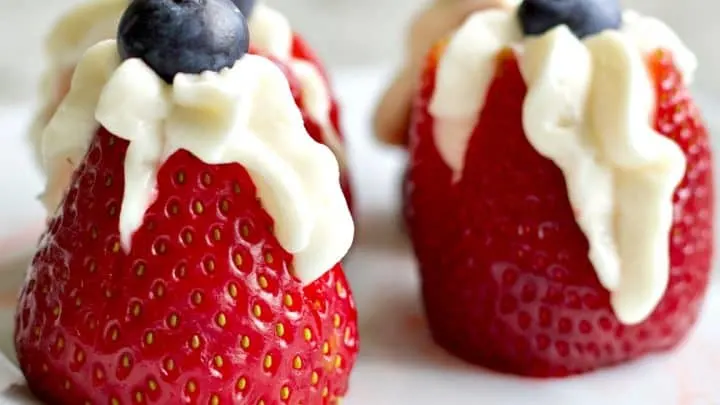 Yield:

24 bites
Strawberry Cheesecake Bites
Cute and delicious red white and blue strawberry Cheesecake bites are easy to make. These fruit appetizers are popular summertime treats, strawberry desserts and snacks.
Ingredients
24 strawberries
24 blueberries
8 oz. cream cheese
3/4 Cup powdered sugar
1 tsp. Vanilla
Instructions
Strawberry Prep:
Wash and dry 24 perfectly ripe evenly sized strawberries.
Cut off the bottom leaves flat so the berries are stable on a plate.
Slice 3/4 of the way down FROM THE TOP OF THE BERRY.
Now Slice again crosswise so you have four sections of berry that open from the pointed end of your strawberry.
Cream Cheese Filling:
In a medium bowl or stand mixer put softened cream cheese.
Add vanilla and powdered sugar.
Mix on medium speed until fluffy (about 2 minutes).
Scrape down the sides of the bowl as needed.
Assembly:
Set your prepared strawberries on a board.
Scoop the cream cheese into a piping bag with a star tip (I used wilton 2d)
Open the strawberry sections with the piping tip and pipe the cream cheese into your berry until is shows evenly out all sides.
Place the filled berries on your serving tray.
Top each strawberry bites with a washed and dried blueberry.
Serve
Notes
Tips for working with the cream cheese:
Soften your cream cheese before making the filling for the smoothest texture.
When you work with your softened cream cheese it may get too warm to pipe well. Chill your piping bag in the fridge 10 minutes or so if you prefer a stiffer ridge on your piped star pattern.
Tips for best presentation:
Find evenly sized strawberries with a single POINT rather than oddly shaped or double pointed berries.
Cut each strawberry off at the bottom for a flat surface. Try to get the berries the same height if possible.
When you cut the berries cut them deep enough to open with the piping tip. but do NOT cut too far down or they will fall apart.
Serving Tips:
After you assemble this appetizer serve immediately or put in the fridge. They will chill and hold well for several hours.
Do NOT try to hold these more than four hours of so before serving. The strawberries will bleed onto the cream cheese and dry out a bit too.
Recommended Products
As an Amazon Associate and member of other affiliate programs, I earn from qualifying purchases.
Follow Us:
We enjoy meeting you on our social networks. Follow us on Facebook, Pinterest, Instagram . Tag us with your pictures of our recipes and comment on how it went for you. We would love to see what you do with them.
We often like, comment and share your posts of our recipes on our daily Instagram stories.
Ask questions and rate the recipe in the comments section below. Please share what you did with this recipe. We are always looking for more and better ways to make homemade food. Other cooks love your ideas!
Recent Posts: