Your guests will love this vegetarian party appetizer. Strawberry basil Bruschetta recipe with goat cheese will not last long on your party tray . A chocolate Balsamic reduction sauce brings the flavor off the charts!
Bruschetta is an easy appetizer to make. This appetizer can be put together in under 30 minutes. You can make large portions at one time. The toppings can easily be switched up to accommodate a variety of dietary needs and tastes.
In this post we have a printable recipe card for the Strawberry bruschetta. We also go over a few tips to help make your Bruschetta the best it can be!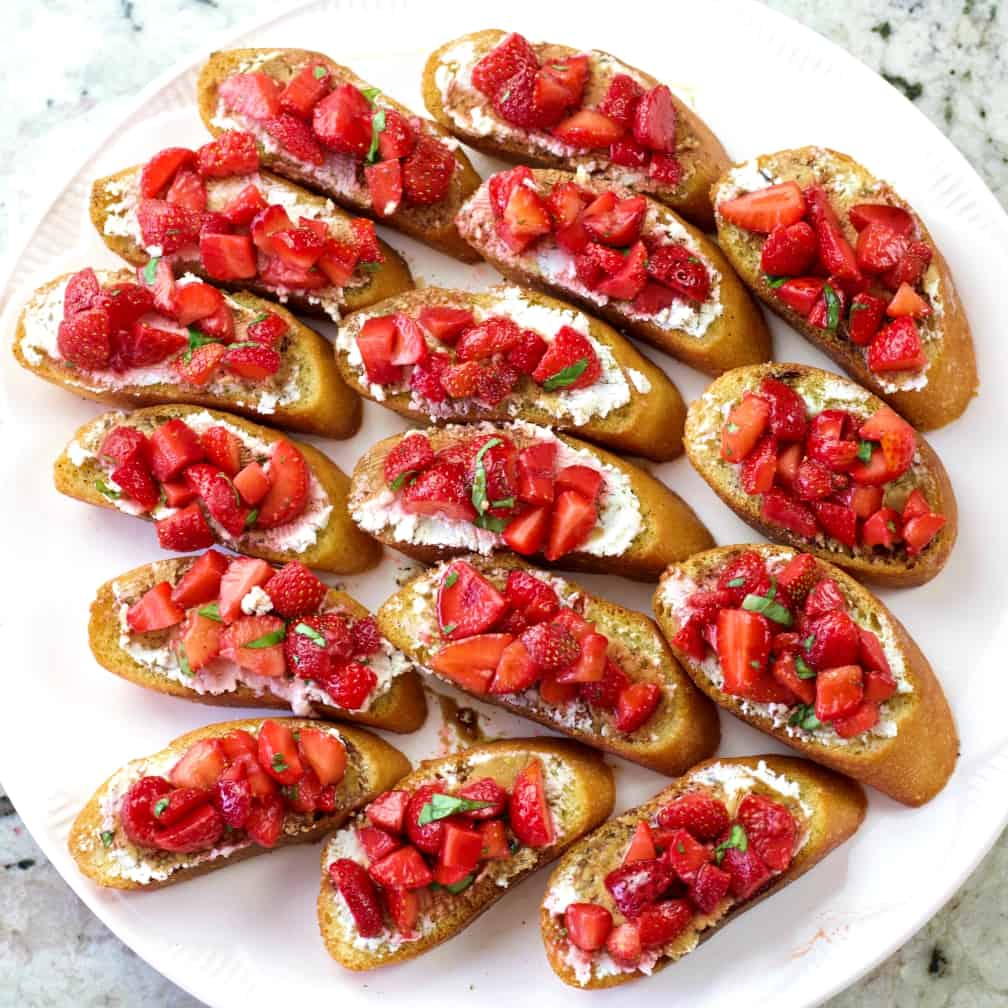 A tray of these finger foods make a gorgeous and delicious summer appetizer with in season fresh strawberries and basil.
This Strawberry balsamic bruschetta recipe is an excellent 4th of July appetizer with fresh berries. Here's your red on a flavorful white goat cheese spread.
How Should Bruschetta be Served?
Bruschetta can be served immediately after the toppings are added to it. The bread should be warm out of the oven and the toppings should be cold. Bruschetta makes a great display on a tray served with a drizzle of balsamic sauce over each slice.
Are you supposed to Heat Bruschetta?
Bruschetta bread is heated by being toasted in the oven. The toppings are not heated and should be added to the bread cold. The bread is topped with olive oil and salt and pepper before toasting in the oven. The goat cheese and toppings are added cold or at room temperature to the bread after toasting.
How do you Keep Bruschetta from Getting Soggy?
To avoid soggy bruschetta, make the toppings ahead of time. Prep all of the ingredients for the toppings and wait until you are ready to serve the bruschetta to finish it. Place the bread in the oven to toast 15 minutes before serving. Spread the cheese on the bread and add toppings and glaze drizzle right before serving.
Can you Put Bruschetta in the Fridge?
Bruschetta can be put in the refrigerator for up to 3 days. Cover the bruschetta with a loose covering of plastic wrap. The bread may not be as soft and pliable when it comes out of the refrigerator. The freshness and quality of the bruschetta will not be as good as it was fresh. However, Bruschetta is fine to eat after being preserved in the fridge.
Ideas for Bruschetta Toppings:
| | | |
| --- | --- | --- |
| Toppings | Cheese | Drizzle/Sauce |
| Diced Tomatoes | Brie | Marmalade |
| Chopped Strawberries | Mozzerella | Balsamic Glaze |
| Chutney | Smoked Gouda | Honey |
| Apple | Feta | Lime Juice |
| Camelized Onions | Goat Cheese | Balsamic Chocolate Sauce |
| Prosciutto | Ricotta | Berry Sauce |
The Ingredients: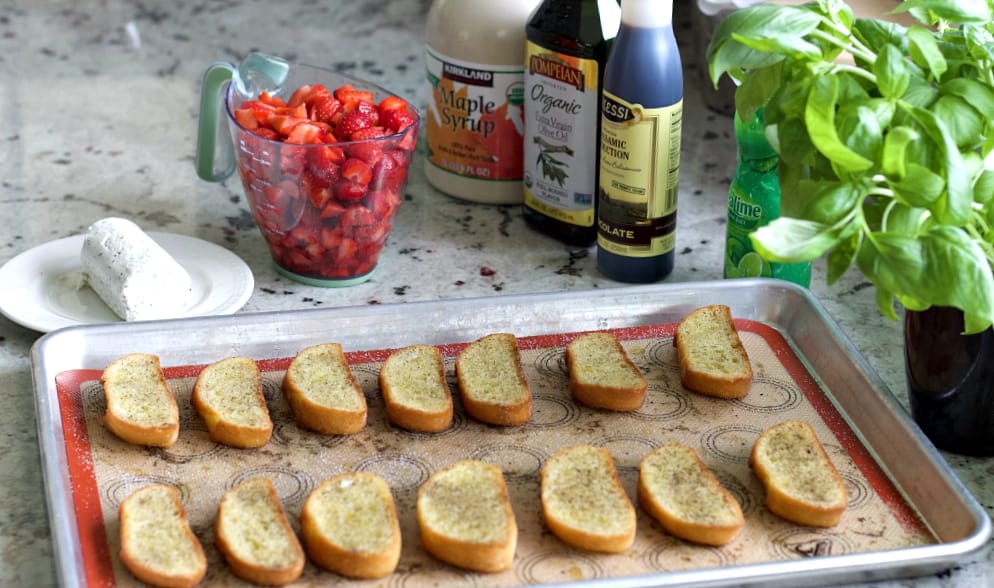 Strawberry Topping:
Fresh Strawberries are lovely and delicious in summer appetizers like this. And so good! We made this recipe with our fresh ripe Garden Strawberries.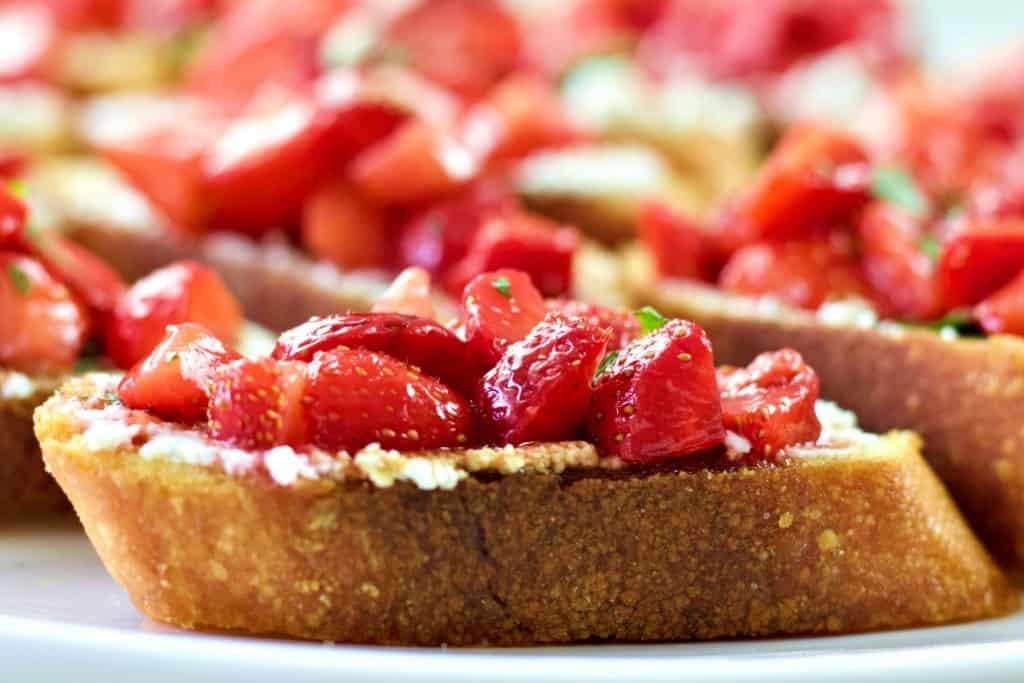 Strawberry recipes are incredible when the berries are in season. Fresh ripe on the vine berries are in a class by themselves. Sun sweetened, firm and plump.
If you don't grow your own berries find them at your grocer. Or better yet, your local food co op or Farmers Market.
TIP: For best results use only fresh perfectly ripe strawberries in this holiday appetizer. Frozen berries will give you a mushy topping. The fresh berry topping has a much better flavor and texture.
When you chop the berries with basil and add a touch of lime and maple syrup the topping is so fresh, bright and slightly sweet.
Looking for more appetizer ideas and finger foods for a party? Visit our appetizer section.
Your party guests will enjoy crunchy crusty bruschetta bread with the herbed goat cheese and our tangy sweet strawberry topping.
And then you drizzle it with the finishing touch. Read on.
This Hamburger Bean casserole and our Cauliflower pepper salad are some of the BEST Fourth of July side dishes to bring to a BBQ….Just sayin. 🙂
The Balsamic Reduction sauce:
Balsamic vinegar is astonishingly flavorful and NOT AT ALL related to either apple cider or the red or white wine vinegars. DO NOT substitute! You will be horribly disappointed in the flavors if you do.
Balsamic vinegar is an Italian vinegar made from grape 'must'. It's a unique and variable flavor profile that is often enhanced with other flavors in gourmet balsamic vinegars. It's a wonderful world of flavor for foodies.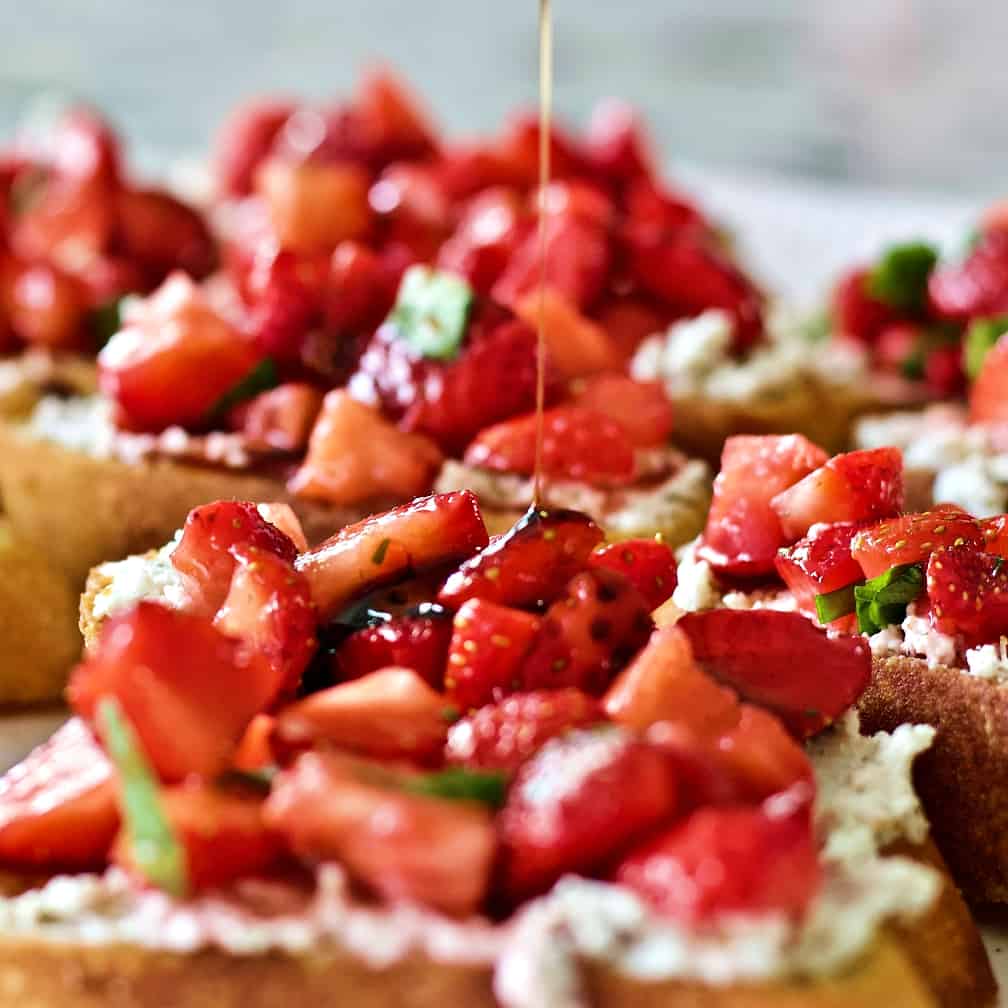 A balsamic glaze is NOT the same thing as a Vinaigrette balsamic. For this recipe choose a balsamic glaze or reduction sauce.
Use chocolate balsamic reduction sauce (or glaze). It's so good over this strawberry basil topping. The chocolate adds a really nice touch to this recipe.
Any plain balsamic glaze will work in this Italian appetizer but the chocolate is VERY good with the strawberry topping.
Sourcing the Chocolate Balsamic Glaze:
Safeway has two different brands on the shelf. I'm sure you won't have any trouble sourcing the chocolate flavored balsamic vinegar reduction sauce. I linked the brand I used in the recipe card ingredients if you want to take a closer look at it.
The Goat Cheese:
Any way you spread it, Goat cheese appetizers like this one are very popular. Because they are delicious. If you haven't tried goat cheese. You are going to love this recipe.
We love Goat cheese recipes. I put that delicious soft cheese on crostinis too. And in salads and in lots of other recipes.
Fresh basil also adds a nice filip of freshness. We chose a herb blend goat cheese to go with the basil. And it really does add a nice extra bit of garlic herb flavor.
How to Make this Bruschetta Recipe:
For this recipe choose a rustic artisan sourdough baguette. Bruschetta are toasted. We chose the oven method.
TIPS:
The best bread choice for bruschetta is a 26 inch long artisan bread baguette. It will make you 24 slices which is what you need.
Discard the ends of the bread.
I toasted the bread in my oven after it was brushed with olive oil. You might prefer to grill your bread. Either method of toasting is fine.
The Method:
Use a 26 inch long baguette for your bruschetta recipe
Cut the loaf on the diagonal to make your bruschetta bread less round shaped. That's what I did.
Oil your slices top and bottom
lightly salt and pepper the oiled parts
bake 5 minutes a side and cool.
spread with goat cheese and the strawberry bruschetta topping
drizzle with the chocolate balsamic glaze.
serve immediately
Your Printable Recipe Card with Nutrition label: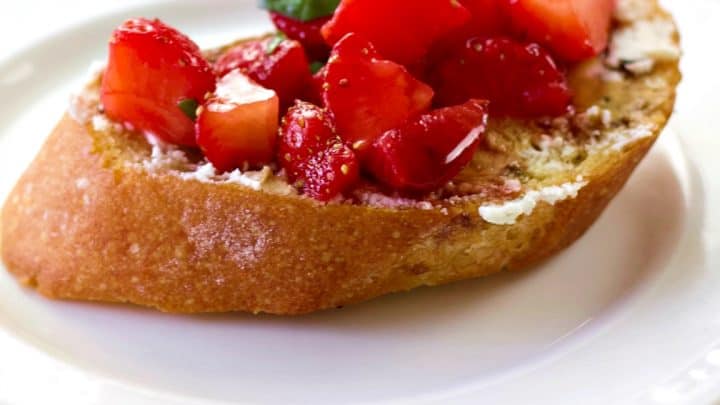 Yield:

24 bruschetta
Strawberry Basil Bruschetta Recipe with Goat Cheese
Toasted Bruschetta with goat cheese and a tangy sweet strawberry basil topping drizzled with Balsamic reduction sauce. A gorgeous summer appetizer with in season fresh strawberries.
Ingredients
1 26 inch baguette
2 cups strawberries
1/2 Cup extra virgin olive oil
1/4 Chopped Fresh basil leaves.
1 teaspoon lime juice
1 1/2 Tablespoon Maple Syrup
Instructions
Preheat oven to 350 degrees F.
Bruschetta
Cut your baguette into 24 even slices
Arrange the slices on an oiled or lined baking sheet.
Brush both top and bottom of the slices with olive oil.
Sprinkle a light coat of salt and pepper over the tops and bottoms.
Bake 5 minutes.
Remove from oven
Flip the bread slices over.
Return to oven for 5 more minutes.
Remove the bruschettas and let cool.
Topping:
Chop the fresh basil. Set aside.
In a medium bowl pour in two cups chopped strawberries.
Toss the chopped strawberries with lime juice and maple syrup.
sprinkle the chopped basil over the coated berries and stir together.
Assembly:
Spread the cooled bruschetta slices with goat cheese.
Fill a fork with the strawberry mixture and slide it onto the goat cheese topped bruschetta.
Repeat for all the bruschetta slices.
Remove to party tray
Drizzle the balsamic sauce lightly over all of the strawberry basil bruschetta.
Serve.
Recommended Products
As an Amazon Associate and member of other affiliate programs, I earn from qualifying purchases.
Nutrition Information
Yield
24
Serving Size
1
Amount Per Serving
Calories

57
Total Fat

1g
Saturated Fat

1g
Trans Fat

0g
Unsaturated Fat

0g
Cholesterol

2mg
Sodium

103mg
Carbohydrates

9g
Fiber

1g
Sugar

2g
Protein

2g
More Delicious Appetizers:
Follow Us:
We enjoy meeting you on our social networks. Follow us on Facebook, Pinterest, Instagram . Tag us with your pictures of our recipes and comment on how it went for you. We would love to see what you do with them.
We often like, comment and share your posts of our recipes on our daily Instagram stories.
Ask questions and rate the recipe in the comments section below. Please share what you did with this recipe. We are always looking for more and better ways to make homemade food. Other cooks love your ideas!
Recent Posts: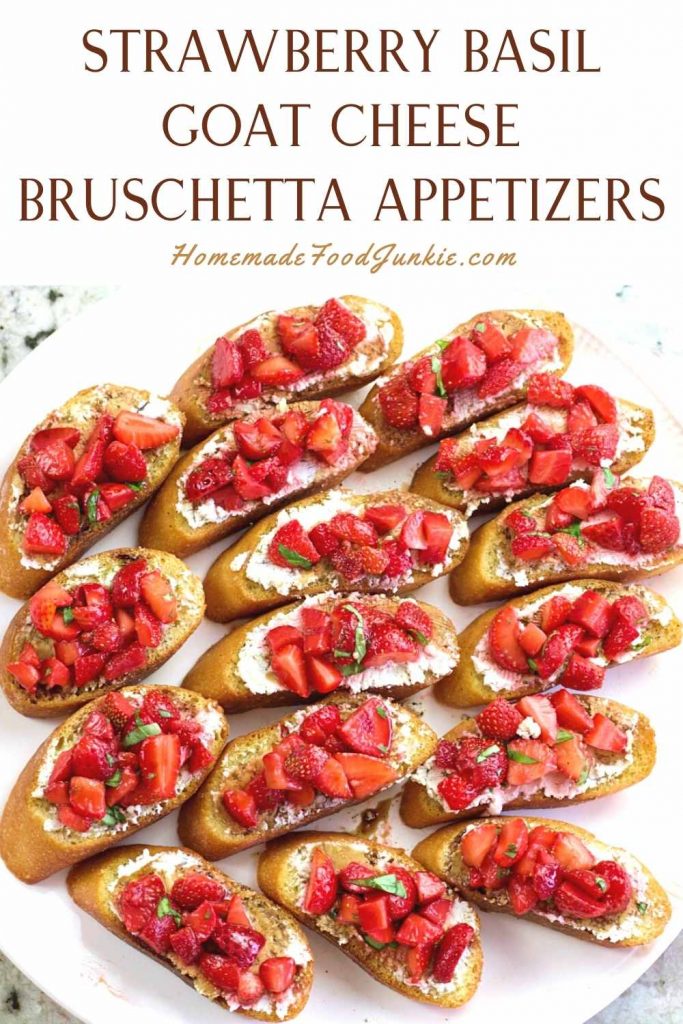 Slightly Adapted from Carlsbad Cravings Recipe: