Goat cheese crostini appetizer topped with orange marmalade and a pecan. These crostinis are SO easy to make. Your guests will love this delicious party food recipe.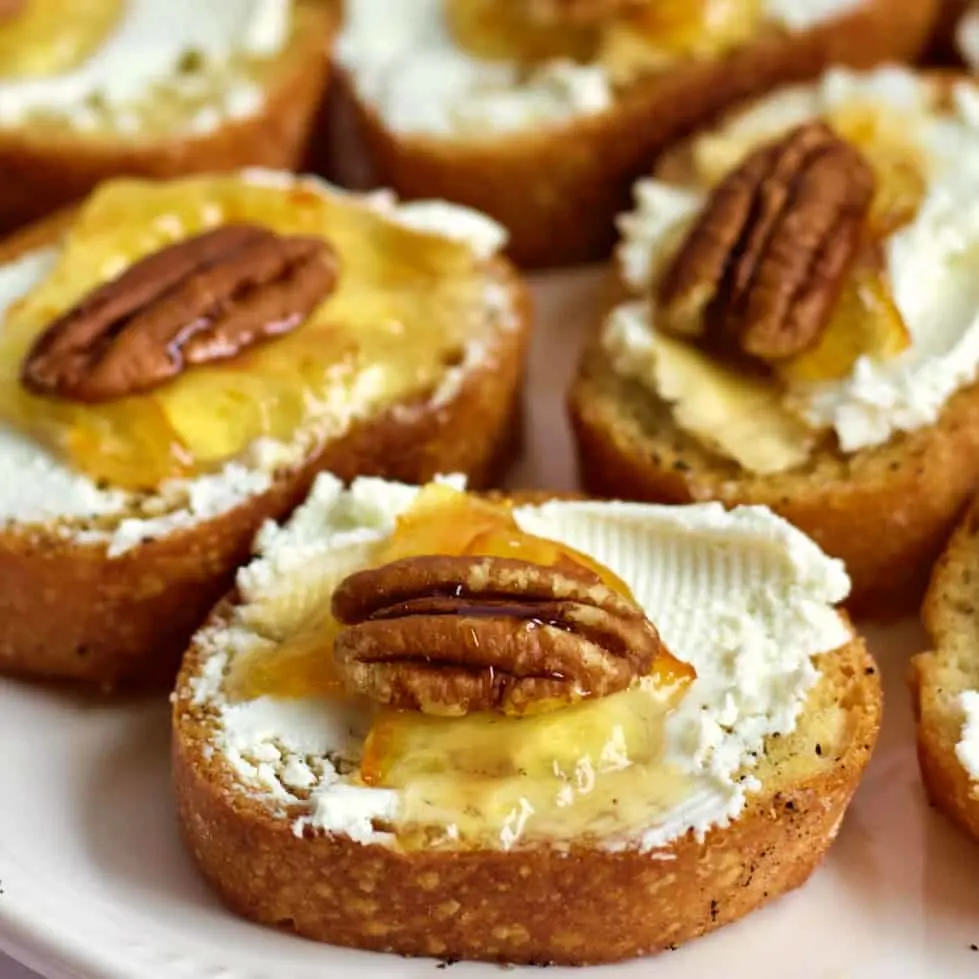 Watch me Make This Easy Finger Food:
Visit our Appetizers and Hor d'oeuvre Section for more Appetizers ideas.
Crostinis are easy appetizers for a party all through the year. Crostinis are appropriate Christmas appetizers, cocktail party and Thanksgiving appetizers or hor d'oeuvres.
These delicious bites work well for graduation parties, wedding dinners, baby showers, office parties…any holiday or event will be a little better if these goat cheese crostinis are invited along.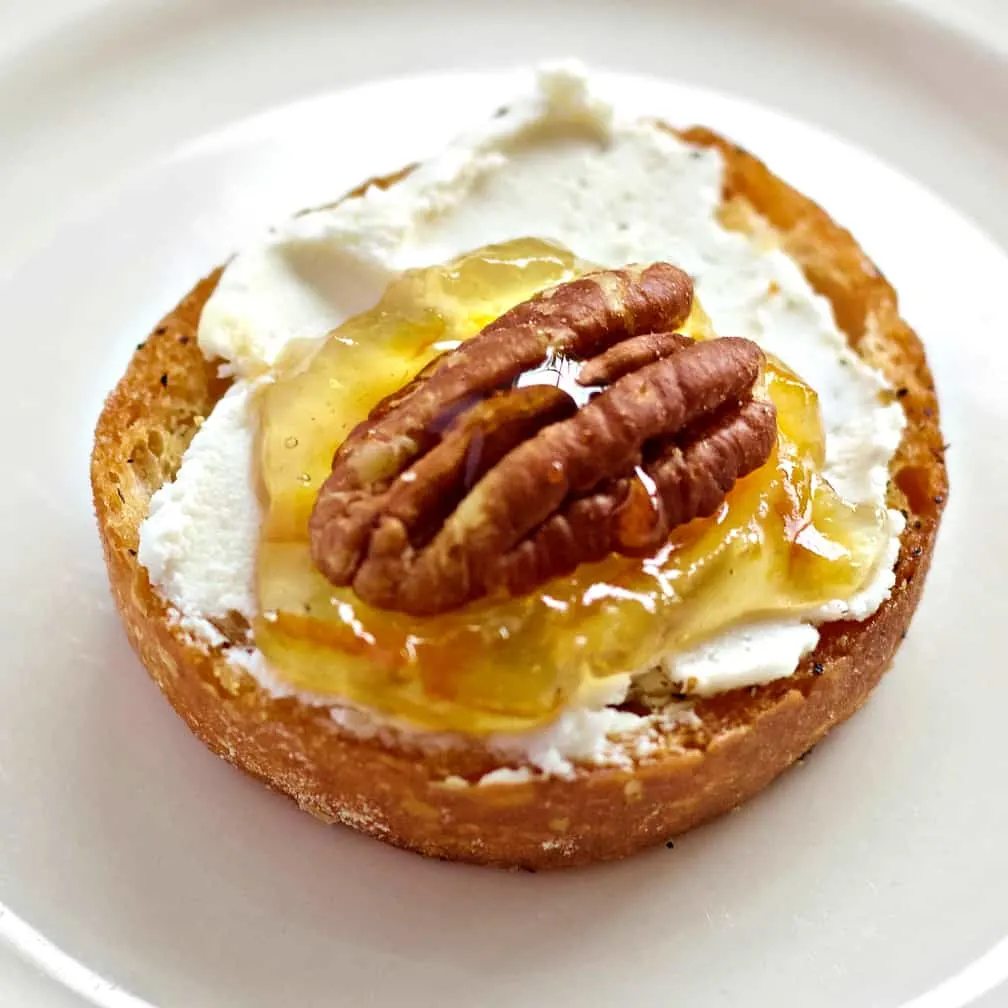 Appetizer or Hors d'oeuvre?
These terms are often interchanged. Could be the french term does not translate well for Americans. Let's get some clarity.
Appetizers:
Appetizer is a small dish of food, finger food or even a drink taken before a meal or the main course of a meal to stimulate one's appetite.
Stuffed mushrooms are a good appetizer if made with small crimini mushrooms. Bacon wrapped sweet potatoes are also good for this. But you only get one bite. 🙂
To use these Goat cheese crostinis as an appetizer. Place one at each table setting with a meal before the first course.
Party Appetizers:
This is where it gets confusing. Party appetizers really apply only to a dinner party or an event where a full dinner is served. Party appetizers are served as the first course right at the table in the place setting.
We have gotten very loose with this term. Most people think party appetizers and hor d'oeuvres are the same thing.
Not so. But in the modern, more casual world of fusion cooking. Not too many people are concerned.
Hors d oeuvres:
Hors d oeuvre means literally "outside of meal". Party finger foods that are served in place of a meal or well ahead are hors d oeuvres.
Hor doeuvres are often Baby shower finger foods and other party finger foods. Wedding receptions serve horderves on roaming trays or at a buffet table.
SO it's not so much the recipe as HOW you serve it. You may choose recipes for your dinner party or event based on how you plan to serve them. That's the smart way.
THIS is How you spell Hor d'oeuvres.
Have you noticed I have that fancy French word spelled several ways in this article?
That's because it's such a toughie for non French spellers to spell. And SO many people search for horderves, hor derves and hor d oerves as well as hor d oeuvres.
Now you know the correct way to spell it. And how inventive non French speaking people can be when they try to translate French. 🙂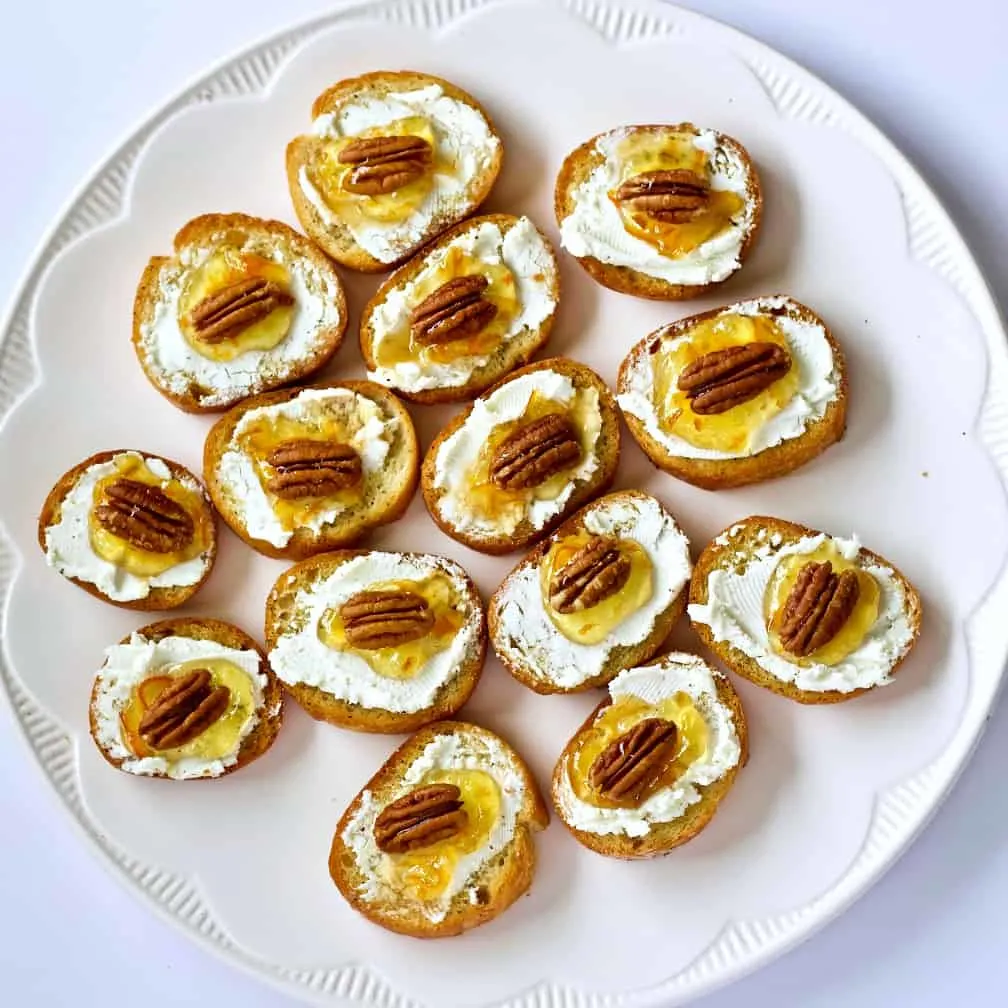 We load up a table with finger food recipes like this one for family parties to keep our guests out of the kitchen until mealtime. 🙂
What is a Crostini?
crostini is an Italian appetizer that is also a variation of the french canapé.
A crostini can be either an appetizer or an hors d'oeuvre. It depends on how you top them. Go heavy and you have an hor d'oeuvre. Appetizers are lighter fare.
Goat Cheese Crostini Appetizer: (Or hor d'oeuvre)
Our crostini recipe is a vegetarian appetizer or hor d'oeuvre that will fit in well on any party buffet table or circulated at a cocktail hour.
Place these light snacks on a tray at your next family get together. They will disappear quickly.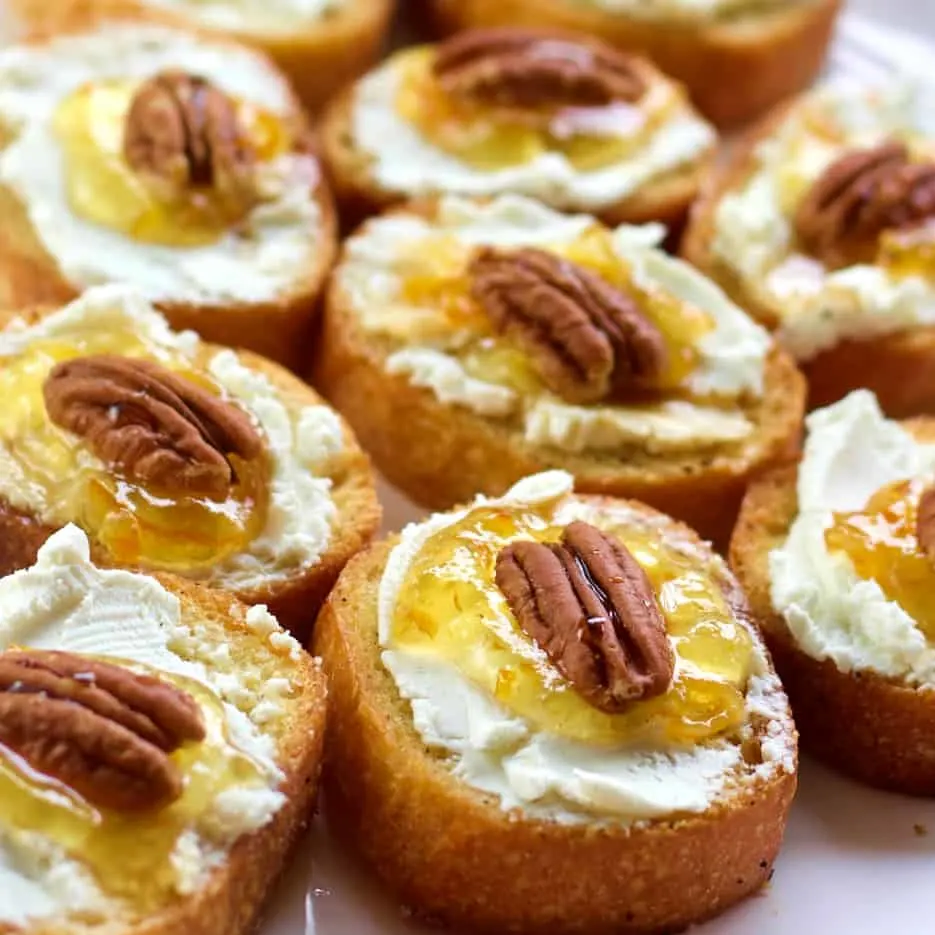 The Main Ingredients:
The baguette:
Crostinis bread is a baguette. Baguettes make the perfect sized rounds as a base for your goat cheese appetizer.
Choose an type artisan baguette for the best flavor and crust.
Fresh baguettes are easiest to slice without crumble everywhere.
Properly baked the crostini slices will remain crunchy and flavorful for hours.

Goat Cheese:
Goat cheese recipes like this crostini make great finger food ideas. This is a smart choice for an appetizer recipe ingredient. Here's why.
Goat cheese is very digestible
It Provides an alternate dairy product for those sensitive to cow cheeses.
Goat cheese has healthy fats
And it's a good source of protein and other nutrients.
Choose good quality proteins and healthy fats in your appetizer recipe. Goat cheese is delicious, nutritious and sustaining.
Marmalade:
Any good quality marmalade will add that bit of piquant orange and lemon sweet balance we require with the goat cheese.
Someday I'll share my Aunt Lotty's Orange Marmalade Recipe. Until then, buy a good one! Share in the comments if you have one of your own to share 🙂
Pecans: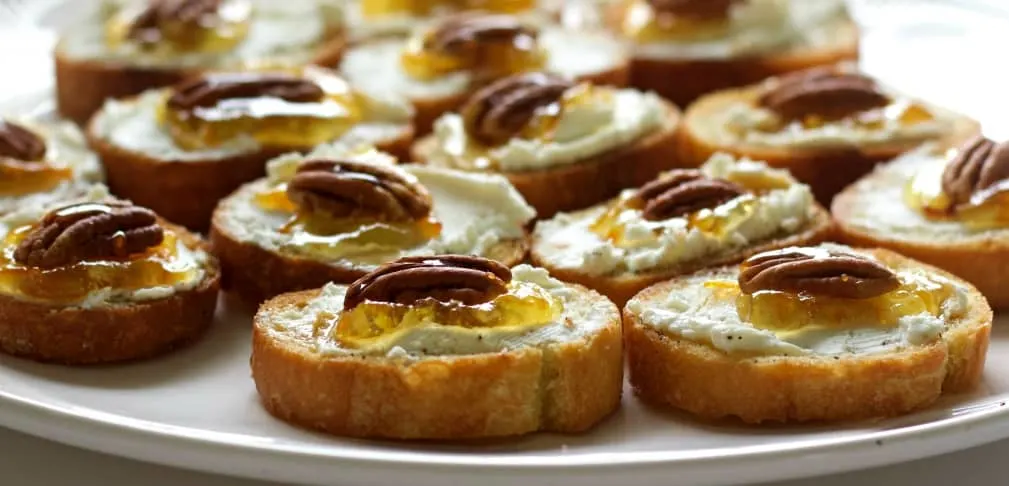 These toppers add protein and crunchiness. This balances the crusty french bread, soft goat cheese and marmalade. Use a whole half of a pecan for every crostini. It looks perfectly centered and complete.
Assembly Tips:
Choose a fresh baguette and a Sharp serrated knife to cut it. You want nice even strokes through the bread for the best look.
bake the crostini bread until it is golden brown on the edges and very light and firm.
Choose Soft spreadable goat cheese rather than a crumbly one. This is easiest to work with and keep on the crostini.
Do not overdo the marmalade. Put on a dollop just big enough to set the pecan and show around the pecan edge.
Careful not to drizzle honey too liberally. No one enjoys sticky fingers when they are attempting to mingle.
The salt and pepper are important in the steps. Don't forget them!
Your guest will enjoy and appreciate this protein filled, carby mouthful of yumminess to keep them going .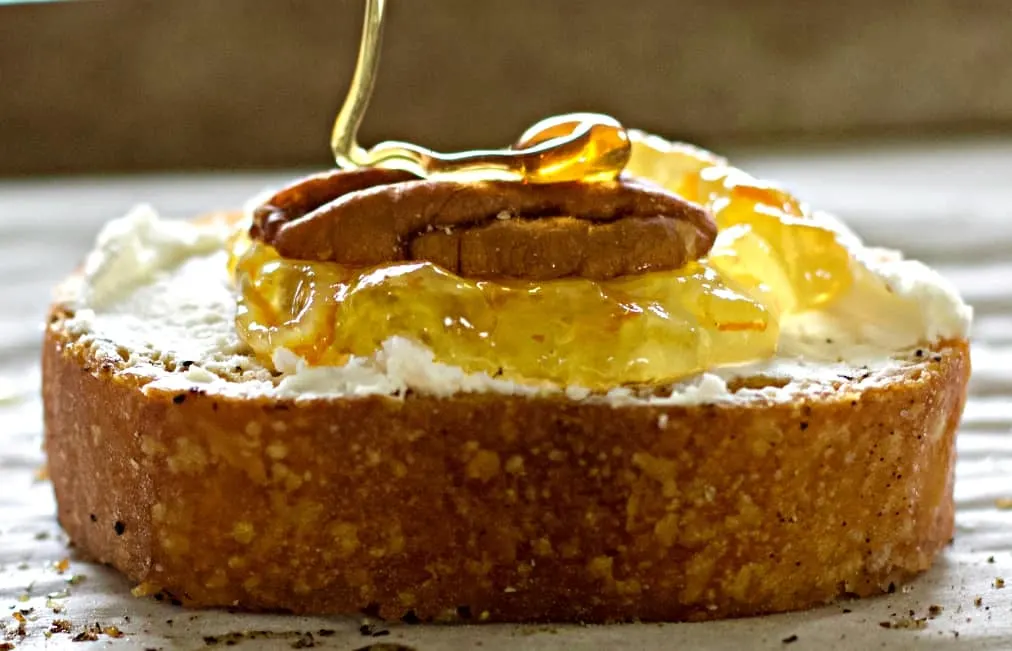 Substitutions:
If you really want to make these easy appetizers and are out of something here are some substitution ideas: You really do need to stick with a baguette. But you can substitute the other ingredients.
Cream cheese or gouda will work well for goat cheese.
Walnuts will replace the pecans. Try to use whole halves for the best look.
You can omit the honey if you are out. You might try agave or maple syrup but be VERY careful to just use a tiny bit on top.
Marmalade can be replaced with a different jam. But be careful of the flavor you choose. Try apricot, peach or pineapple.
Also this recipe uses olive oil. Substitute avocado if necessary.
Yield:

25 crostinis
Goat Cheese Crostini with Marmalade and Pecans
A goat cheese crostini appetizer topped with orange marmalade, a pecan, and a drizzle of hot honey. These crostinis are so easy to make. Your guests will love this delicious party food recipe.
Ingredients
1 Baguette (26 inch)
25 Pecans
1/2 Cup Olive oil
8 oz. goat cheese
1/2 Cup Marmalade
1/4 Cup Hot honey for drizzle
Instructions
Cut the baguette into 1/4 to 1/2 inch thicknesses. (you should have about 24 to 30 pieces) Discard round ends.

Preheat oven to 350 degrees F.
Lay the cut pieces on parchment lined baking sheets. You should have two sheets. Or repeat the bake with one sheet.
Brush both sides of the bread pieces with olive oil. (See video)
Sprinkle salt and pepper over the oiled bread.
Bake for 10 minutes.
Flip the bread pieces over.
If browned and crispy remove from oven. If you want them crisper return to oven for 5 to 10 minutes.
To assemble the appetizer.
spread 1 tablespoon of goat cheese on a baked crostini.
Lay 1/2 tsp. of marmalade onto the center of the bread.
Set a whole pecan firmly into the jam so the jam shows all around the nut edge.
Drizzle a tiny stream of hot honey onto the pecan.
Set on your party tray.
Serve cold.
Recommended Products
As an Amazon Associate and member of other affiliate programs, I earn from qualifying purchases.
Nutrition Information
Yield
25
Serving Size
1
Amount Per Serving
Calories

113
Total Fat

7g
Saturated Fat

2g
Trans Fat

0g
Unsaturated Fat

4g
Cholesterol

4mg
Sodium

123mg
Carbohydrates

11g
Fiber

0g
Sugar

4g
Protein

3g
Follow Us:
We enjoy meeting you on our social networks. Follow us on Facebook, Pinterest, Instagram . Tag us with your pictures of our recipes and comment on how it went for you. We would love to see what you do with them.
We often like, comment and share your posts of our recipes on our daily Instagram stories.
Ask questions and rate the recipe in the comments section below. Please share what you did with this recipe. We are always looking for more and better ways to make homemade food. Other cooks love your ideas!
Recent Posts: