A beautiful Light summer cocktail. Malibu coconut rum adds a yummy coconut twist to this frozen strawberry daiquiri recipe .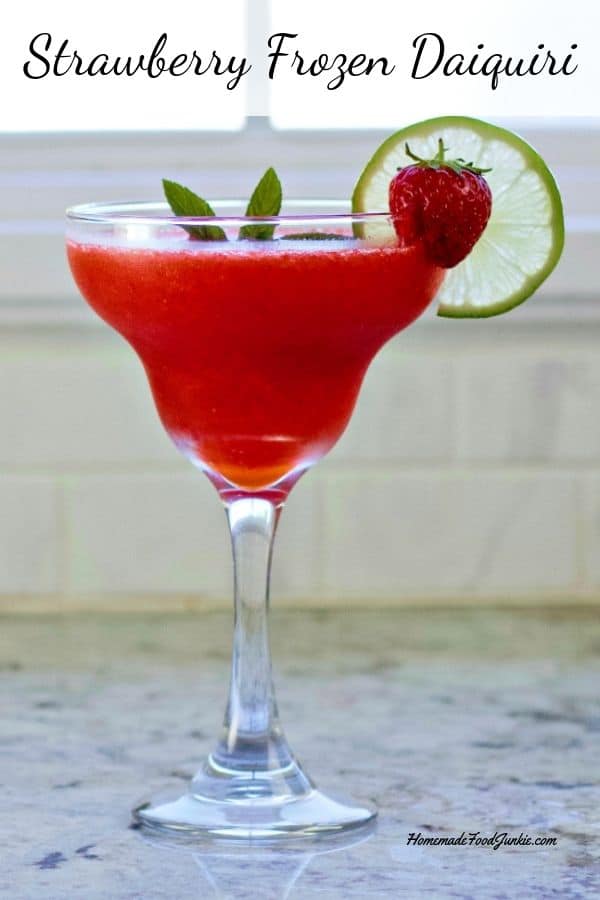 Looking for an easy summer cocktail? A lovely fruity alcoholic drink? Try this recipe.
Watch me make this Frozen Daiquiri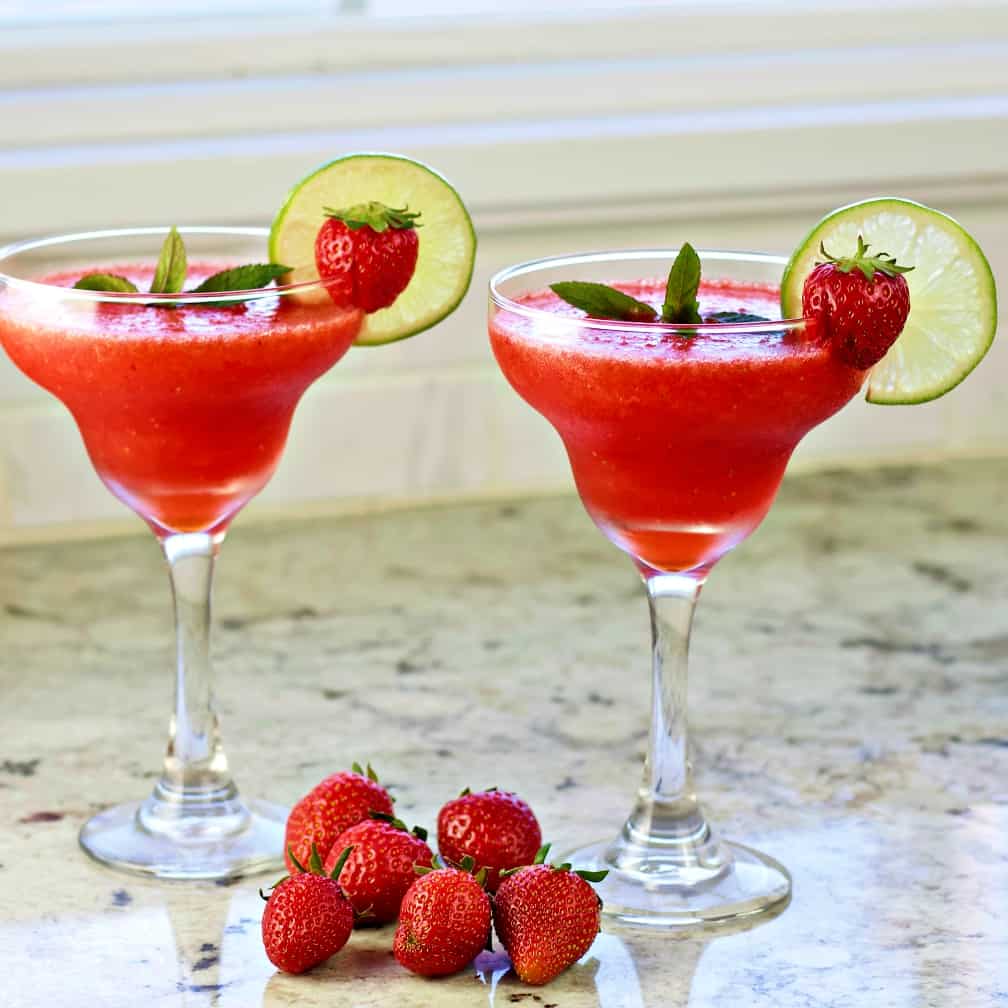 Looking for more ideas on what to mix with Malibu Rum?
Our Malibu Sunset Cocktail is another Beautiful Coconut rum drink Visit our Cocktail Section for our complete listing of cocktails.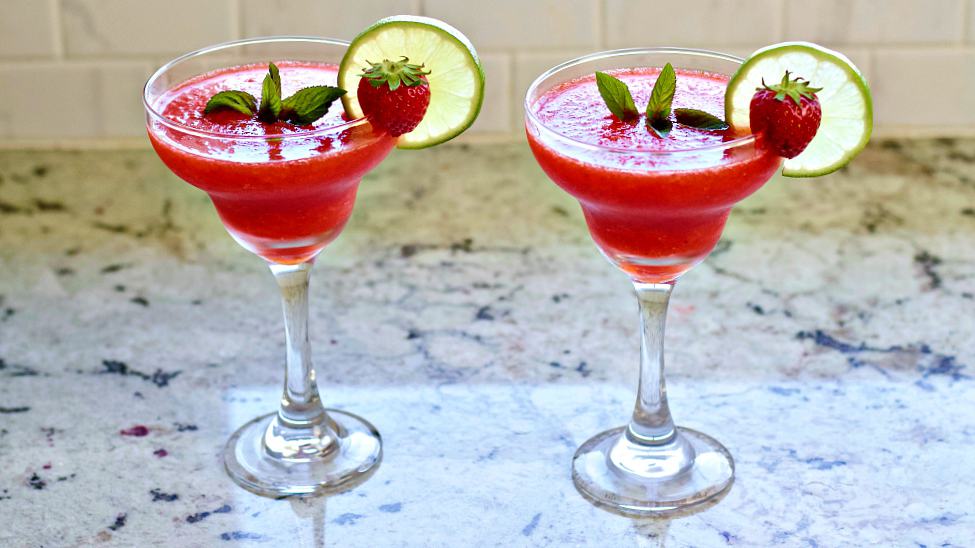 Origins of the Daiquiri Cocktail Recipe:
It's always fun to know where your cocktails originate. The daiquiri has a Cuban history. Of course nailing down the exact facts of a cocktail history is iffy at best.
According to The Ultimate Bar Book the daiquiri was born in Cuba's Daiquiri mountains. It was created by an American engineer in the late 1890s during the Spanish American War era for his guests.
Bartender Constantino Ribalaigua originated the frozen daiquiri in Havana's Historic El Foridita Bar (It's over 200 year old!).
Constantino strained the ice out of his frozen daiquiris to eliminate dilution and offer a very cold refreshing rum drink. (we opted to keep the ice).
Rum has long been known as the "milk of cuba". The daiquiri is famous for it's sweet subtle blending of rum, lime juice and simple syrup.
Strawberry Daiquiri Recipe:
This is a lovely refresher just right for a get together with your bestie. Next to the pool…by the grill…on your patio…in your sunny kitchen…you get the idea.
Keep the heat of summer down with this frozen libation. This is an easy blender drink with rum.
Recipe Tips for this Fruity mixed drinks Recipe: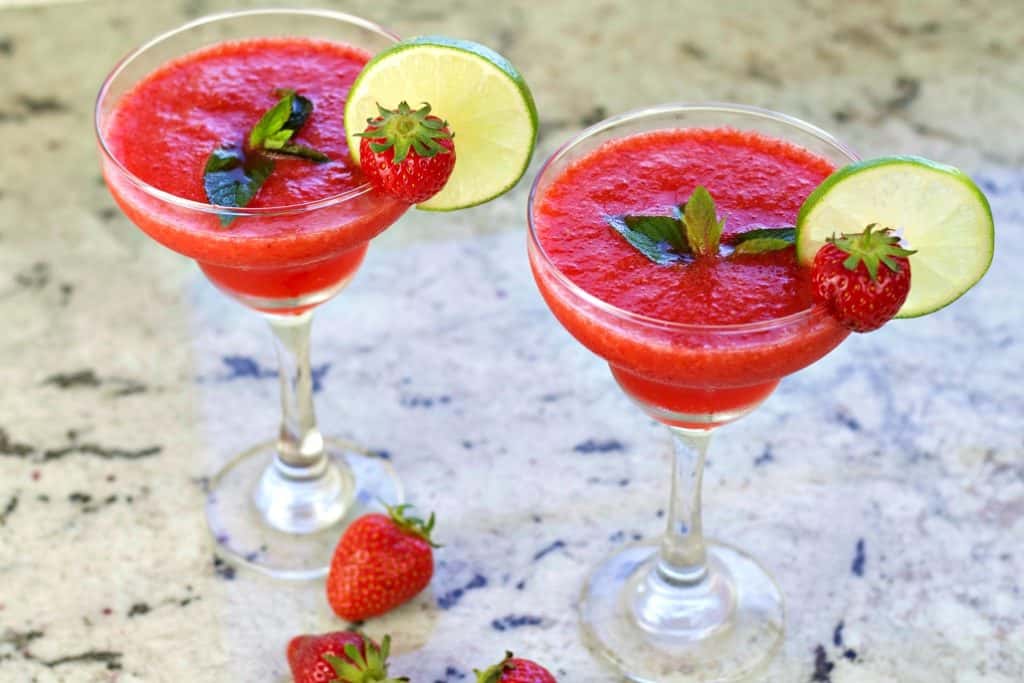 Use FRESH limes rather than bottled lime juice. The oils in the rind help increase the flavors of this drink
Use FRESH or frozen strawberries. The results of this recipe rely on fresh or unsweetened frozen berries. Do not use strawberry drink syrup like some people use with smoothies. I have heard of this but it will be awful in this recipe.
To keep your drink chilled longest:

Set your glasses in the fridge or freezer 15 to 30 minutes ahead of making your daiquiri.
Freeze the strawberries at least 30 minutes.
Chill the lime and rum 30 minutes in the refrigerator.
Ingredients For This Frozen Daiquiri Recipe:
This recipe makes two of these fruity rum drinks with a tropical coconut flavor. Strawberry daiquiris are cold, sweet and delicious tropical cocktails.
Fresh strawberries (or unsweetened frozen)
Malibu Coconut rum
Fresh lime juice
simple syrup
ice
The Proper Glass for a Frozen Daiquiri:
Surprise! There really isn't one glass associated with a frozen daiquiri. We have seen them made in martini, pina colada and margarita glasses most often.
We chose 12 oz. Margarita glasses and the size is PERFECT. You will get two completely filled margarita glasses.
However, any tall tom collins, cocktail, pina colada or martini glass of the same size will also work for this recipe.
The coconut rum with the lime and strawberries is a wonderful flavor balance your mouth is gonna love.
This gorgeous summer drink is very light in calories and alcohol and big on refreshing fruity flavor.
Malibu Rum Facts :
Is Malibu Rum a true Rum?
According to Wikipedia Malibu rum is a mixture of caribbean rum and coconut liqueur.
The brand is called a coconut flavored rum where it is allowed by law. Fruity drinks mixed with this rum have a delicious coconut flavor.
Malibu Rum Calories: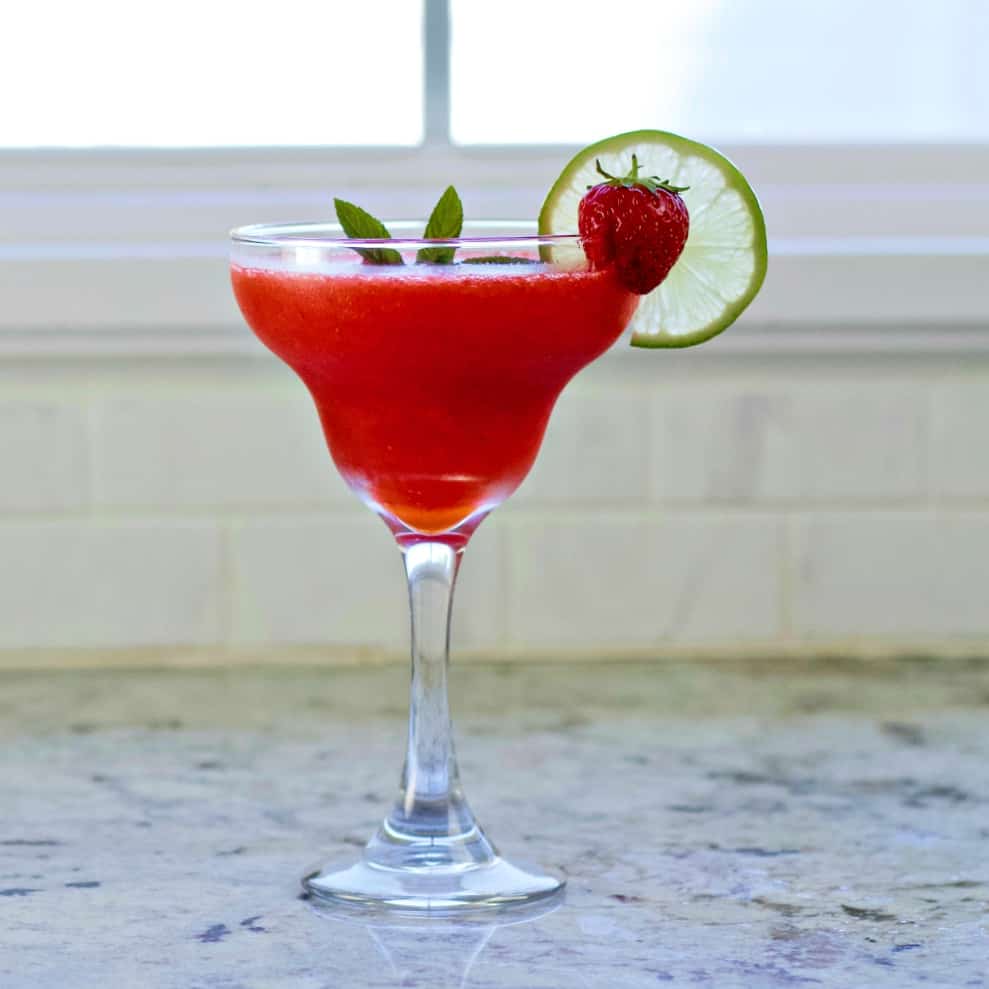 There are only 51 calories in Malibu rum per ounce. This is one of your lighter calorie choices for a rum drink.
Nutritionix offers this complete calorie breakdown for malibu rum. Also the Malibu rum drinks website has the Malibu Caribbean Rum Calorie breakdown.
Our recipe uses 1.5 oz. of coconut rum per daiquiri. This is a VERY light serving with only 75 calories from the rum.
Malibu Rum Alcohol Content:
The malibu rum alcohol content is 21 percent alcohol per volume. Malibu rum proof is 42. A very light rum cocktail all the way around.
Your Recipe card with the complete nutritional breakdown for this coconut rum drink.
Yield:

2 strawberry daiquiris
Strawberry Daiquiri
A beautiful Light cold summer cocktail low in calories and alcohol. Malibu coconut rum adds a yummy coconut twist to this frozen strawberry daiquiri recipe.
Ingredients
1 cup strawberries (fresh or frozen)
2 cups ice
3 oz Malibu coconut rum
2 oz freshly squeezed lime juice (1 lime)
2 Tablespoons simple syrup
Garnish suggestions:
fresh slices of lime
whole strawberries
sprigs of mint
Instructions
Wash and hull your fresh strawberries. TIP: Freeze the strawberries ahead to prolong the chill in your daiquiri.
ADD to your Blender:
ice,
berries,
coconut rum
lime juice
and simple syrup.
Whir your blender until the ingredients are completely blended like a smoothie.
Pour into two 12 oz. glasses
Serve garnished
Notes
Use fresh limes and strawberries for best flavor.
To prolong the time your drink stays chilled:
Chill your glasses ahead 30 minutes
use frozen strawberries
chill your lime and rum 30 to 60 minutes in the fridge
Even your blender pitcher can be chilled ahead.
Recommended Products
As an Amazon Associate and member of other affiliate programs, I earn from qualifying purchases.
Nutrition Information
Yield
2
Serving Size
1
Amount Per Serving
Calories

176
Total Fat

0g
Saturated Fat

0g
Trans Fat

0g
Unsaturated Fat

0g
Cholesterol

0mg
Sodium

6mg
Carbohydrates

35g
Fiber

4g
Sugar

25g
Protein

1g