Delicious and refreshing Malibu Sunset Cocktail. If you are looking for an easy to make mixed drink recipe, look no further.
The lovely Malibu Sunset is a coconut rum drink with a beautiful blend of coconut rum, pineapple, and sweet grenadine.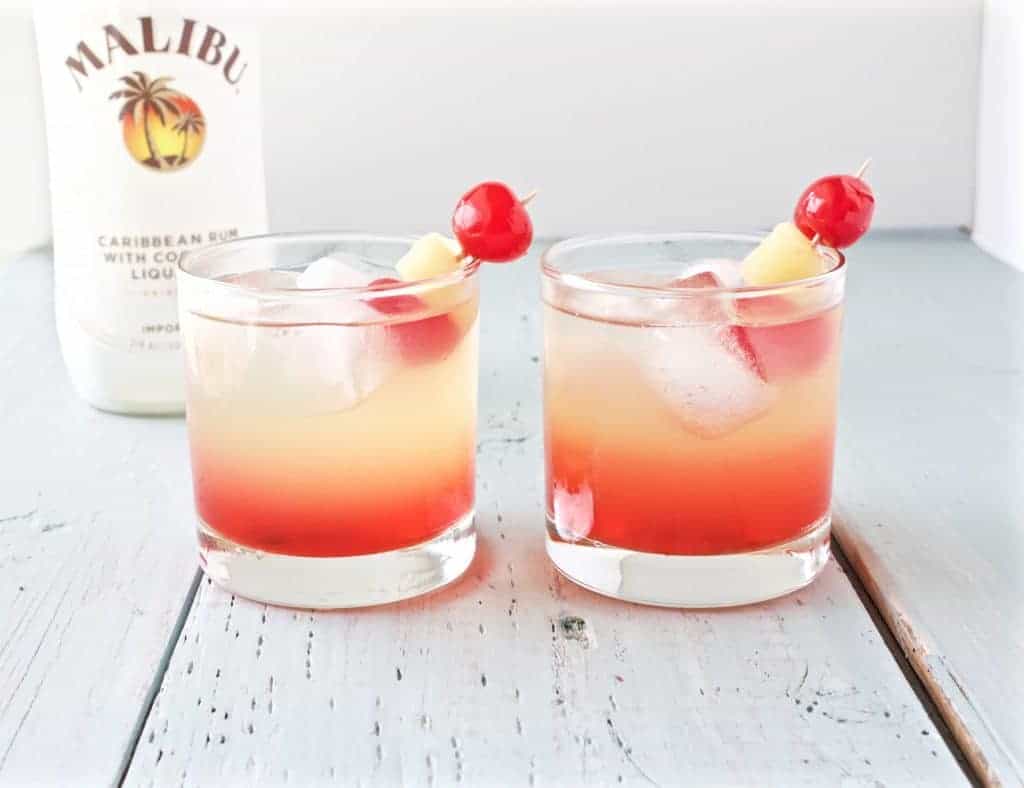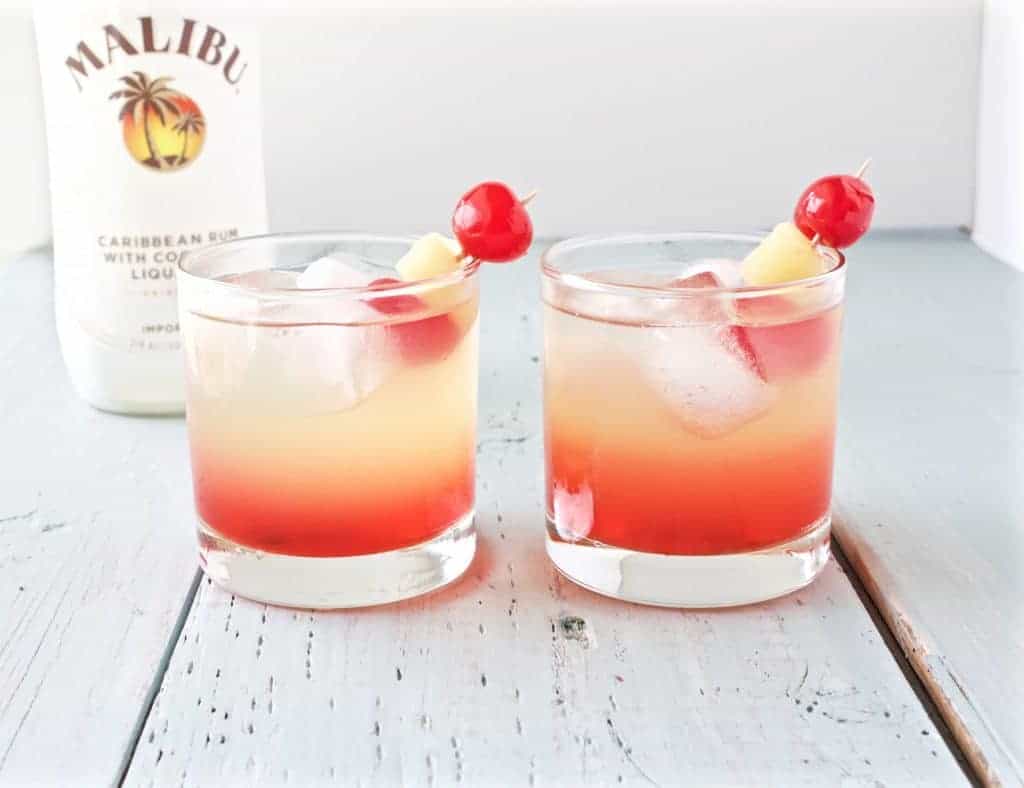 Delicious and refreshing Malibu sunset cocktail. This delicious drinks offers a sweet blend of coconut rum, pineapple, and sweet grenadine.
I LOVE this delicious Malibu mixed drink for a little kick back and cool down time. Hot and humid summer days call for cool relaxing refreshment.
Malibu sunset drink is such a pretty layered drink. Picture me basking in my sunny hammock with this easy mixed drink in my hand. I hold that vision in my head all year. I hate winter.
Sweet cocktails are popular cocktail recipes. And the Malibu sunset recipe is one of the best in my opinion. This Malibu rum recipe is inexpensive and quite easy to make.
Layered drinks like this one look amazing and impressive but require very little skill. Just watch the video to see how.
Malibu Sunset Cocktail is easy to make into lovely color Layers. The video shows you how. Cool your party down with this pretty mixed drink. Ramp up the fun!
Sunset Malibu Cocktail is a real beauty. I love the colors and the taste! And it won't break the budget! Need a large party drink choice? This one has wide appeal.
Malibu Sunset Cocktail fits in just about anywhere. Weddings, summer parties, beach parties, even Christmas parties; (just add a bit of green garnish.). Homemade Eggnog Cocktail and Peppermint milkshake with Schnapps make fun Christmas Holiday party drinks too.
This gorgeous drink definitely say Caribbean sunset to me. Let's all go lay in our hammocks with a Caribbean rum Malibu Sunset. And dream of Jamaican beaches! If you are lucky enough to be on the beach…(envy sigh here). Think of me. 🙂
Parties need appetizers. Our Appetizers section is full of easy party recipe ideas to keep your guests happy. Check it out! Susies Veggie Stuffed Mushrooms are SO good!
Notes for the Malibu Sunset Cocktail:
I used Malibu rum with coconut liqueur for the alcohol. Fresh pineapple juice and yummy sweet grenadine syrup to make the sunset blend. Sweet alcoholic drinks like this one are VERY easy to drink WAY too fast. So be careful. This one can sneak up on you.
Malibu Sunset Cocktail tastes so good and offers colorful, elegant refreshment! Want this stunner as a virgin drink? Try using coconut water instead of the coconut rum!
This mixed drink is fabulous. The Malibu Sunset layered cocktail has great appeal. Learn the simple trick of layering the ingredients with your simple syrup and your friends will all be asking how you did it. Fun, easy and perfect party eye candy.
This is our favorite drink with Malibu coconut rum. The Sunset is a REALLY popular beach party drink, wedding refreshment or shower cocktail…Pretty much anytime you wish to upscale a party this is a good candidate.
The ingredients are not expensive either.
Visit our Cocktail Section for even MORE cocktail drinks:
Another beautifully layered easy cocktail. A twin in appearance to our layered Malibu drink.
Limoncello Prosecco Cocktail: The perfect addition to a bridal shower, birthday party or wedding event!
Watermelon Peach cocktail. Light and refreshing watermelon and peach cocktail. Made with a fresh peach and watermelon puree and mixed with sprite and watermelon vodka. Summertime refreshment!
Here is Your printable Recipe Card: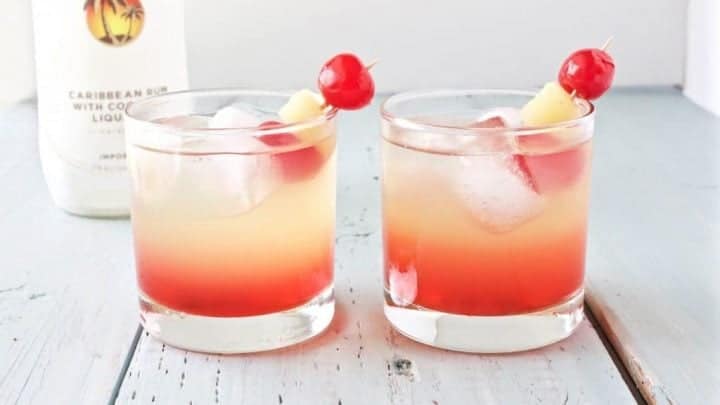 Yield:

1 cocktail
MALIBU SUNSET COCKTAIL
Delicious and refreshing Malibu Sunset Cocktail. This easy to make, lovely drink offers a beautiful blend of coconut rum, pineapple, and sweet grenadine. Our Texas readers call it a "Panty Dropper".   Some claim this perky beauty is a "Malibu Barbie". No matter the name, this is a popular party drink you will love!
Ingredients
1/4 cup Malibu rum with coconut liqueur
1/2 cup pineapple juice
2 Tablespoon of grenadine, A Splash to make the bottom of the glass red
Garnish with:
2 maraschino cherries
1 slice of pineapple
Instructions
To make this yummy drink, simply put 3-4 ice cubes in the bottom of a glass.
Pour the pineapple juice and the rum over the ice.
Next, pour the grenadine slowly down one side of the glass (pouring too fast will mix the grenadine in and you won't get the cool color separation)
I stuck 2 cherries and a pineapple chunk on a toothpick for a garnish.
Enjoy your drinks immediately.
Please remember to drink responsibly and kick back and relax!
Recommended Products
As an Amazon Associate and member of other affiliate programs, I earn from qualifying purchases.
Nutrition Information:
Yield:
1
Amount Per Serving:
Calories:

401
Pin it: