Beef Noodle Skillet Dinner is a perfect busy day meal. A balanced meal made all in one skillet or your instant pot for easy clean up. Dinner is served in under an hour!
This recipe is an OLD family favorite. It has a bit of campfire cooking going on in it. This easy skillet dinner you actually could make while camping! It puts me in mind of wagon trains and old cook stoves. Very filling and versatile!
Just a Note: This is a reposted recipe. It's an old favorite I have had on the blog for years. It needed a redo and so here you go. Complete with instructions for the original skillet version and Instant Pot instructions too! Enjoy!
I have made Beef Noodle Skillet Dinner countless times over the last three decades. Every time it's easy, delicious, crowd pleasing and kid approved! This quick recipe needs nothing else for a complete dinner; it's all in the skillet! Put the leftovers in the fridge for a great re-heated lunch. Clean up is fast and then you can spend the evening enjoying the family.
Want this recipe even easier? Make it in your Instant pot! I include instructions for the instant pot below. Wow it's so easy!
Lately, Dave and I have not been able to eat as fast as I am cooking. There are only the two of us to feed now. All of our kids are launched into adult life on their own. Our house is much quieter recently. Now I have time to putter about in the kitchen and make homemade Irish Oat bread, and other delicious tidbits. We are getting used to the empty nest and eating quite well.
Beef Noodle Skillet Dinner is perfect for a lazy or busy day. For just Dave and I this is at least two or three nights of good eating. The leftovers are terrific!
Recipe Notes For Beef Noodle Skillet Dinner:
This is a throw it in the skillet and turn it on low for a half hour, meal. I've called it an hour meal due to the veggie chopping time.  I'm using fresh onions, garlic and peppers from our garden tonight. I did not include veggies in the recipe. It stands alone quite well in you don't mind making a salad on the side like KALE APPLE SALAD WITH HONEY DRESSING.
Beef Noodle Skillet Dinner will hold over well and make great leftovers! My husband ate this meal for three days straight and never complained!
The non negotiable part of this recipe is the Beef (this is a hamburger meal), tomatoes (I've always used canned; diced or stewed), tomato sauce, ketchup and kidney beans, undrained. Oh, and the Worcestershire Sauce! There is no replacing the unique flavor it adds.
And of course, you need some noodles. Elbow, spirals and other types of noodles will work. They will soak up the sauce just fine. But for the pretty look I love the veggie bow ties. They add so much color pop and the ruffled bows are cute! they also are very easy to eat and taste scrumptious all cooked in that flavorful sauce.
Making this recipe in a skillet means you need to pay attention:
If you make this recipe in a skillet check it sometimes to make sure the noodles don't burn to the skillet. Because any noodle will work you have to figure out the exact amount of water you need for this recipe on the fly. I have the recipe set for the bow tie noodles I'm using. The recipe is dependable but you should stir it once in awhile just to be sure. Noodles can be tricky.
If you go your own way on the noodles, the proportions will need to be adjusted for the sauce. All noodles are different. Also if you're using canned or frozen veggies, you may need a few more noodles,(OR drain the cans). So I encourage you to use this recipe as it is written the first time. Then branch out on your own and use whatever you like. But if you start changing those proportions or use different noodles or cans….beware the results.
I've added these process pictures for just this reason. So you can see how much sauce to how many noodles.
This is an easy crowd pleasing filling meal your family will love. I have made it forever and that is why I'm telling you to check it occasionally. Otherwise this is a trouble free recipe, made all in one skillet from browning the meat to serving it up. Enjoy!
INSTANT POT INSTRUCTIONS:
FYI: This is a totally separate (although similar) recipe from my Instant Pot Meaty Italian Pasta Dinner. They have completely different flavor profiles. If you want an all in a minute Italian type meal hop on over and check out the other guy. This one is pure cowboy. Enjoy!
Making this recipe in an instant pot is even simpler than making it in a skillet! Brown the hamburger, throw all the other ingredients into the instant pot and pressure cook five minutes. Done!
I made this recipe in my instant potand it turned out fantastic with hardly any work. I LOVE my instant pot and use it for all sorts of things. If you have one you know how cool these amazing machines are. If you haven't heard of them click the affiliate link to learn all about my new best kitchen friend! Go here for more instant pot recipes!
Here are the instructions.
NOTE: I used egg noodles for the instant pot. Durum Semolina  noodles are pretty dense. They came out just right. If you are using really thin or delicate noodles they may overcook. Experiment with your favorites.
Set the instant pot on saute, cover it with a vented lid (I use this one) and brown the hamburger until thoroughly cooked.
Add the remaining ingredients and seal the lid
Set the instant pot to manual high setting for five minutes
When the pot beeps open the lid quick release and check the noodles. They should be perfect but if not cover the pot with the VENTED lid and set the pot to saute until you like the noodle doneness.

Beef Noodle One Skillet Dinner Recipe with Instant Pot Instructions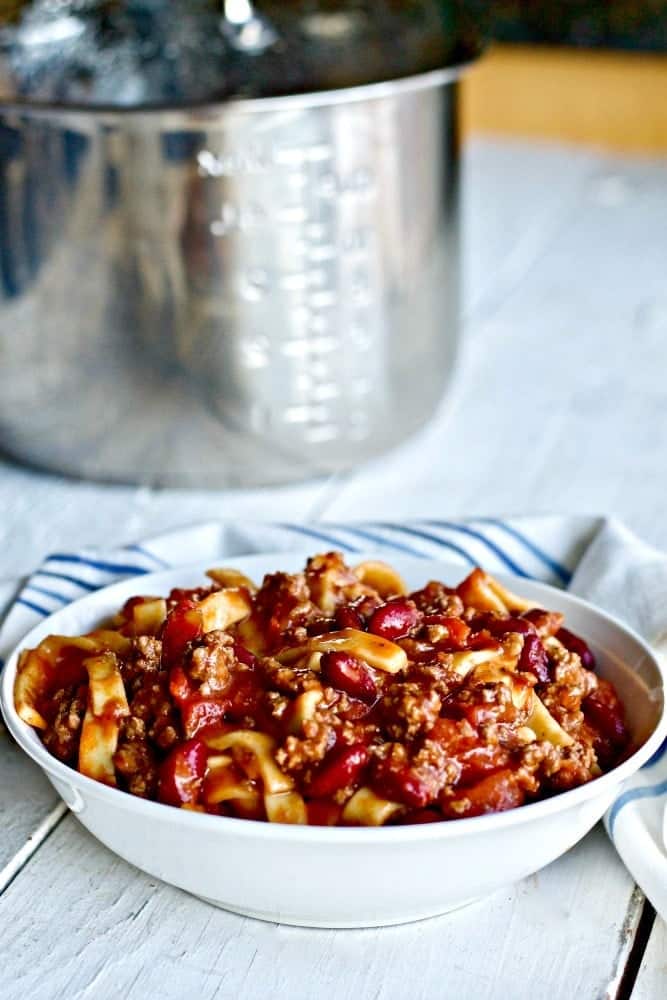 Ingredients
1 lb. hamburger
1 medium onion-diced
2 cloves garlic
1 pepper diced-any kind
8 oz. bow tie noodles
1 14 oz. can tomato sauce
1 14 oz. can diced or stewed tomatoes
1 14 oz. can red kidney beans
1 Cup Ketchup
2 Tablespoons Worcestershire Sauce (to taste)
water to rinse the cans and add into the recipe
Whatever vegetables you wish to add. Just adjust the cooking time if adding hard root veggies.
Instructions
Brown hamburger in a large skillet, Mincing the hamburger with the spatula as it cooks (don't wait until it's cooked or it will get hard).
Add in the onions and garlic, peppers and cook until the onion is translucent.
Add in the tomatoes,Worcestershire Sauce and tomato sauce and rinse the cans and pour at least half of the rinse water into the skillet.
Add the kidney beans and ketchup and mix well. This should be a saucy consistency. add the noodles, stir until the noodles are immersed in the sauce.
Cover and cook on low until the noodles are cooked; about a half hour. Occasionally, stir the skillet to make sure there is enough sauce to cook the noodles and not burn. Add water as needed.
Instant Pot Instructions:
Set the instant pot on saute and brown the hamburger until thoroughly cooked.
Add the remaining ingredients and seal the lid
Set the instant pot to manual high setting for five minutes
When the pot beeps open the lid quick release and check the noodles. The noodles should be perfect but if not cover the pot with a VENTED lid and set the pot to saute until you like the noodle doneness.
Pin it: