Instant Pot Meaty Italian Pasta dinner is an easy pasta recipe for dinner. It's made all in one pot with almost no work.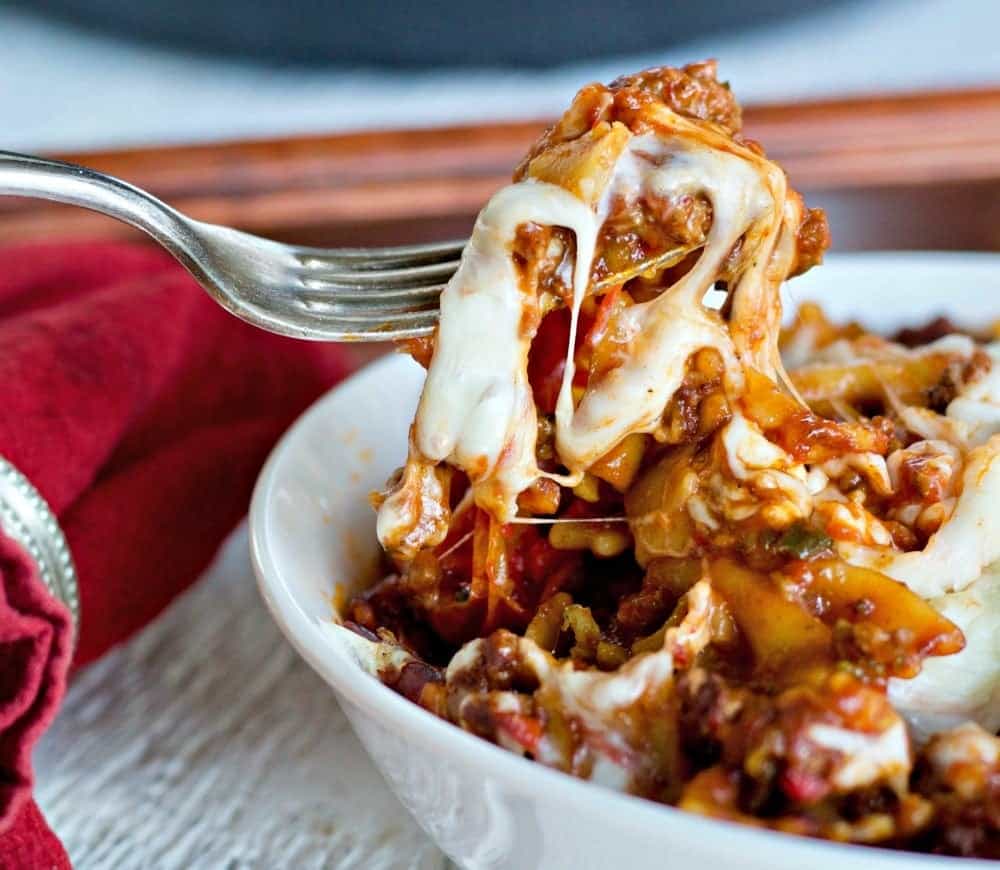 This Italian instant pot recipe with ground beef and Italian sausage is full of meat and noodly goodness. It's sort of like a goulash lasagna. So yum.
I LOVE that I can sauté in the instant pot, throw in the rest of the ingredients, batten down the hatches and pressure cook up a delicious quick dinner.
More Easy Pasta Dinner Ideas:
Try these chicken pasta dinners when you want something new on the dinner table.
Beef Noodle Skillet Dinner also works well in the instant pot.
Here is our entire selection of Instant Pot recipes for you.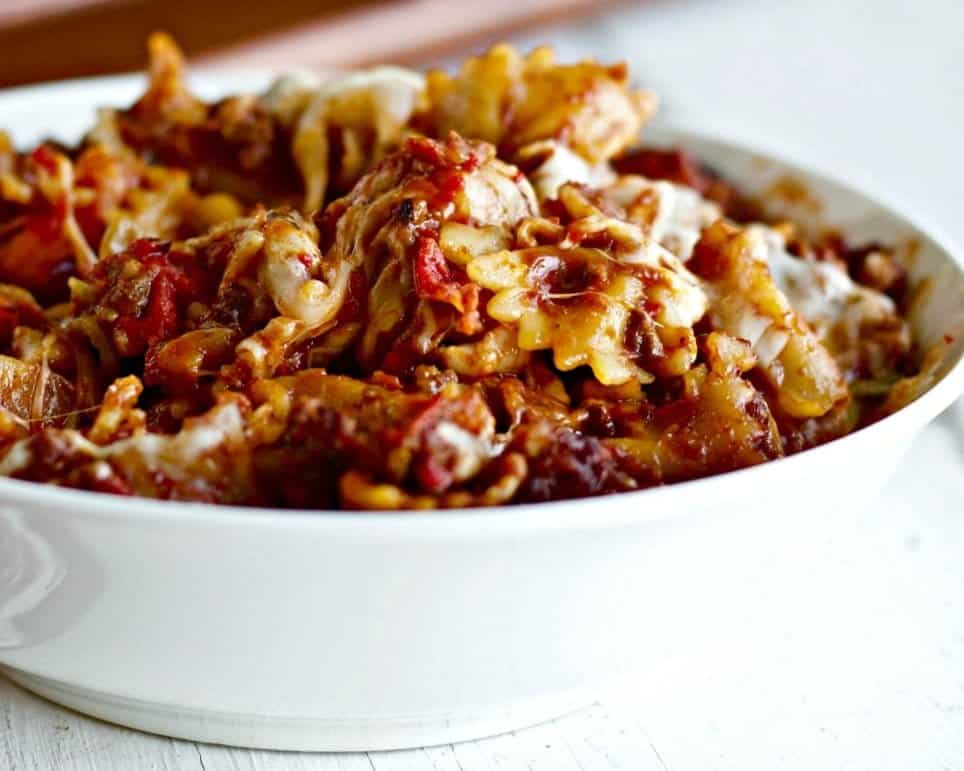 The best Pressure cooker recipes are all hands off once that pressure cooker lid is sealed. This Italian pasta recipe is one of those. A quick easy dinner.
The noodles in this Italian sausage instant pot meal came out perfect.
Easy pressure cooker recipes like this one make life for the cook easy. No more running back and forth to the stove checking on it. Quick release and serve.
In the picture above you see this Italian beef instant pot recipe made with my frozen homemade roasted peppers and frozen whole tomatoes from our organic garden.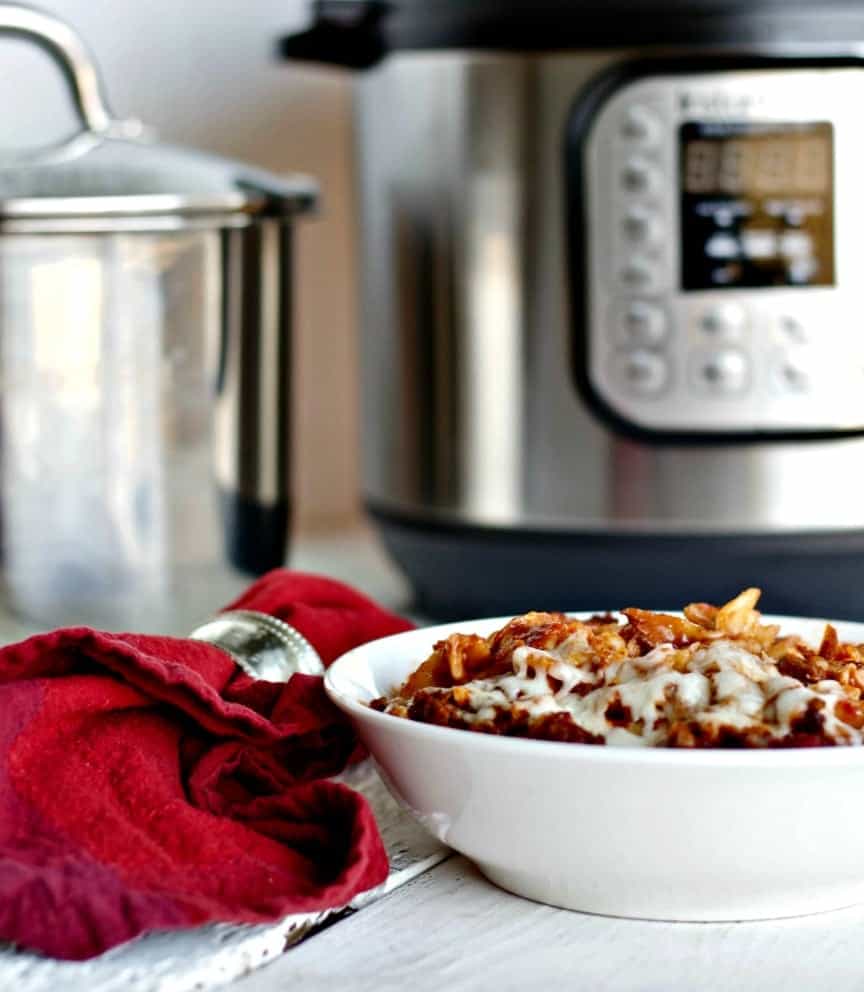 Use jarred roasted red peppers and canned whole or diced tomatoes if that's what you have. I adjusted the recipe for you. 🙂
Set the controls and walk away. I bought the glass lid accessory and the silicone pot holders to keep life easy.
TIP: If you don't have the glass lid for sautè try your round crock pot lid to see if it fits. Just use a vented lid of any kind that fits the pot.
Italian Pasta Dinner:
As Instant pot Italian beef dinners go, this one is a winner. The flavors are similar to lasagna. We can't stop eating it.
NOTE: The balsamic vinegar is an important ingredient in this recipe. I hope you will not skip it. However, If you are out of balsamic vinegar do NOT substitute other vinegars like red wine or apple cider.
They are completely different flavors and will ruin the flavor profile of this recipe. If you have no choice simply omit the balsamic and replace with water as necessary. Add Italian Spices to beef up the flavor lost.
Instant Pot Pasta Recipe Tricks:
A few cooks have had problems with this dish burning. To correct that problem I adjusted the manual pressure to low.
The Bow Tie noodles and other thick noodles cook fine in five minutes on high. However, thin noodles can overheat.
Instant pot pasta dinner recipes can give you a burn message if you cook them on high pressure. Electric pressure cooker recipes are cooked differently than other methods.
Pressure cookers cook pasta under pressure in about 5 minutes. BUT IT STILL NEEDS LIQUIDS to absorb into the pasta.
The instant pot is a wonderful tool. but if you're new to it or have never cooked pasta in the instant pot please follow the instructions for this recipe carefully .
PLEASE NOTE: We made a video demonstration for you on this recipe. I says to natural release the instant pot once the dinner is cooked. That is incorrect. I meant to say QUICK release.
TIPS:
Brown your meat on the NORMAL temp setting for the sautè function.
Drain very fat meat. We use a lean organic grass fed hamburger so we don't drain it.
Don't use very thin egg noodles or other thin noodles like spaghetti noodles for this recipe. I have had good luck with penne noodles and spiral noodles and the bow ties.
Here's how to adjust the pressure to low pressure as I suggest in the recipe.

There is a pressure button right above the manual button on your instant pot control panel. (at least that is true on my 6 quart duo-Your Pressure cooker may have a different panel).

If you push this button it toggles back and forth between high and low pressure. A light will light up in the bar above the pressure button and the less normal more button that shows you if the pot is on high or low pressure.
I hope this helps. If you have a different pressure cooker than I do please refer to your manual on how to adjust the pressure to low for this recipe.
This recipe is full of Italian flavor with the balsamic vinegar, roasted peppers, tomatoes, garlic and Mozzarella. It reminds me of the flavor of a lasagna on a local Italian restaurant menu. One of our favorites!
At serving Sprinkle the Mozzarella cheese over the top for flavor and garnish as desired.
This instant pot ground beef recipe with bulk Italian sausage is full of delicious meaty Italian flavor.
Your Printable Recipe Card:
Yield:

8
Instant Pot Meaty Italian Pasta Dinner
A very fast, easy and delicious dinner with lots of Italian flavors.
Ingredients
1 15 oz. can can of whole or diced tomatoes with juice
1 Tablespoon Avocado oil (or any oil)
1 lb. Mild Italian bulk sausage
1 lb hamburger
4 cloves garlic-chopped
1/2 Cup roasted peppers-chopped
12 oz. uncooked pasta, (choose a thick pasta like penne or bow ties)
1 8 oz. can can tomato paste
1 15 oz. can tomato sauce
2 Tablespoons Balsamic Vinegar
2 Tablespoons Worcestershire Sauce
2 1/2 Cups water
1 Cup Mozzarella Cheese
Instructions
Select saute' function on NORMAL and add the oil.
Add the meat and break it up into bite sized chunks and cook until completely browned. (I use the GLASS lid during saute' to keep the splatters in the pot)
Add the chopped garlic and chopped peppers and stir.
Add the uncooked pasta and the water.
Add the liquids and the tomatoes. Stir it all together.
Secure the PRESSURE COOKING lid. Vent closed.
Select MANUAL function. Select ADJUST and set the time for 5 minutes.
Select PRESSURE button and choose LOW pressure. (See notes on this in recipe notes)
Seal the vent.
When cooking is done turn the instant pot OFF and use quick release. The pasta should be completely cooked but not mushy. If it needs a few more minutes, hit the Saute' function button and cook until you're happy with the noodles. (mine came out perfect)
At serving Sprinkle the Mozzarella cheese over the top for flavor and garnish as desired.
Notes
The total time on this recipe is around 40 minutes. The instant pot should come to pressure in 10 minutes or so after it is loaded, locked down and set.
Once it counts down the 5 minutes and beeps. Shut it off! Quick release the pressure valve and at serving garnish with the cheese.
Note on Video Demonstration: I incorrectly said natural release on the video. PLEASE QUICK release the pot once it's done.
Note on the pasta: I have made this recipe several time with different pastas. I would choose the bow tie pasta or other thick pasta like penne.
*TIP: Don't use very thin egg noodles or other thin noodles for this recipe. I have had good luck with penne noodles and spiral noodles and the bow ties.
*TIP: Use ONLY balsamic vinegars. If you don't have it omit it.
*Tip: If you DO get the burn message turn off you pot and quick release immediately. The dinner is usually fine to serve. A few noodles may have stuck to the bottom.
Nutrition Information
Yield
10
Serving Size
1 1/2 Cups
Amount Per Serving
Calories

463
Total Fat

23g
Saturated Fat

8g
Trans Fat

0g
Unsaturated Fat

12g
Cholesterol

61mg
Sodium

899mg
Carbohydrates

43g
Fiber

2g
Sugar

8g
Protein

20g
Pin it:
This Recipe is featured in 14 Recipes That Will Convince You To Buy An Instant Pot. Lots of great instant pot recipes in this collection!
Recipe adapted from The Instant Pot Electric Pressure Cooker Book