Instant Pot Roast Beef Dinner with brown gravy is made all in your instant pot in about 90 minutes. Pressure cooking the roast beef is an easy way to cook it without watching over it.
This instant pot roast beef recipe is perfect for flavorizing and tenderizing cheap tough cuts of beef.
And the flavor is so good.
Braise the beef, throw all the ingredients into your instant pot and let it do its magic with almost no fuss for the cook.
Make a delicious brown gravy from the broth in just a few minutes right in the instant pot.
Your easy yummy one pot dinner is ready to serve!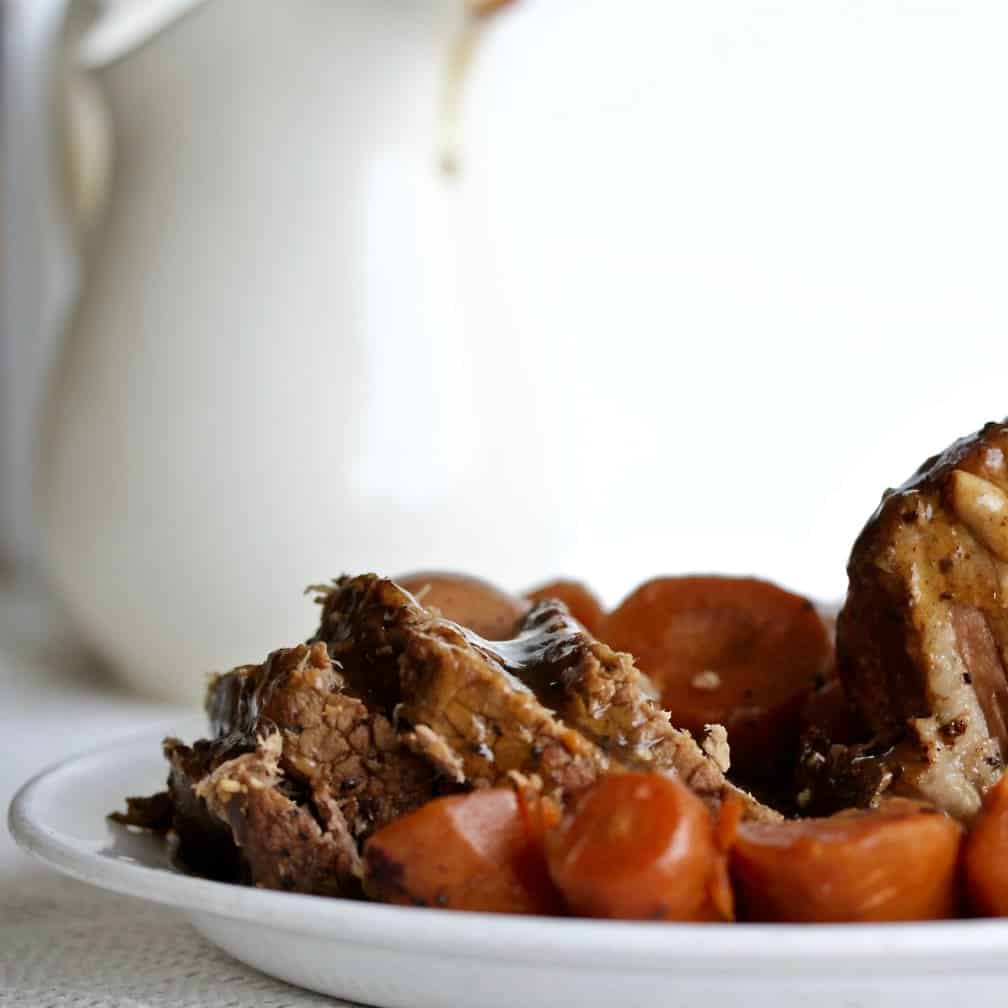 This instant pot Roast Beef dinner with Brown Gravy recipe is a perfect example of why the instant pot is so popular in modern kitchens everywhere.
I never really got the hang of oven roasting beef. It did not turn out like Grandma's. I don't like being married to my oven, (dinking around with the foil, burned fingers, slippery greasy meat basters) and drizzling juices over the meat. Lazy me. I like the set and forget it ease of my instant pot. And the results are terrific!
This recipe is so easy you have plenty of time to make some homemade dinner rolls or even start a bit earlier and make a loaf of Homemade french bread to sop up all that delicious gravy. Promise they are worth the work and you can freeze the extra (if you have any) for later.
What are the best cuts of beef to cook under pressure in your Instant Pot?
The instant pot is THE BEST way to tenderize tough cheap meats. Cooking them under pressure with a natural release works WELL to tenderize, moisturize and flavorize these inexpensive beef cuts. Your more expensive tender cuts are probably best for other methods of cooking.
Any of these cheap cuts will work fine in this recipe. The Instant pot SHINES as a tenderizer for cheap tough meats. Look for leaner meats to reduce the fat in your recipe. The instant pot is a good tenderizer for them too.
Chuck: Chuck roast, shoulder steak, boneless chuck roast, chuck shoulder pot roast, chuck seven-bone pot roast, or beef chuck arm.
Brisket: The flat cut is leaner, and the point cut is fatter. Brisket is best sliced against the grain of the meat for maximum tenderness.
Round: Look for rump roast or bottom round.
Instant Pot Roast Beef Dinner with Brown Gravy Recipe Notes, Tips and Helps.
TIPS:
If the meat is too big for your instant pot it's ok to cut it to fit into your pot. I cut my roast to make two dinners for Dave and I. Then I changed my mind and defrosted both hunks so I could make Grilled Roast Beef Sandwiches too. Excellent way to make a quick meal from leftovers BTW.
You may have to adjust the cooking time for really thick cuts of roast. My roast was about 2.5 lbs and several inches thick.
The instant pot cooking time is all about how THICK your meat is rather than how HEAVY. So keep that in mind when thinking this recipe through. Any size hunk of beef will work but if it's REALLY thick give it more time under pressure. A thinner piece not so much.
The instant pot holds in the moisture. There is little to NO evaporation of juices in this recipe. So don't overdo the liquids. 2 cups is plenty! I tell you this because I STILL add too many liquids to my instant pot. Which is why this recipe has a lovely gravy. I refused to waste all that deliciousness left in the bottom of the pot!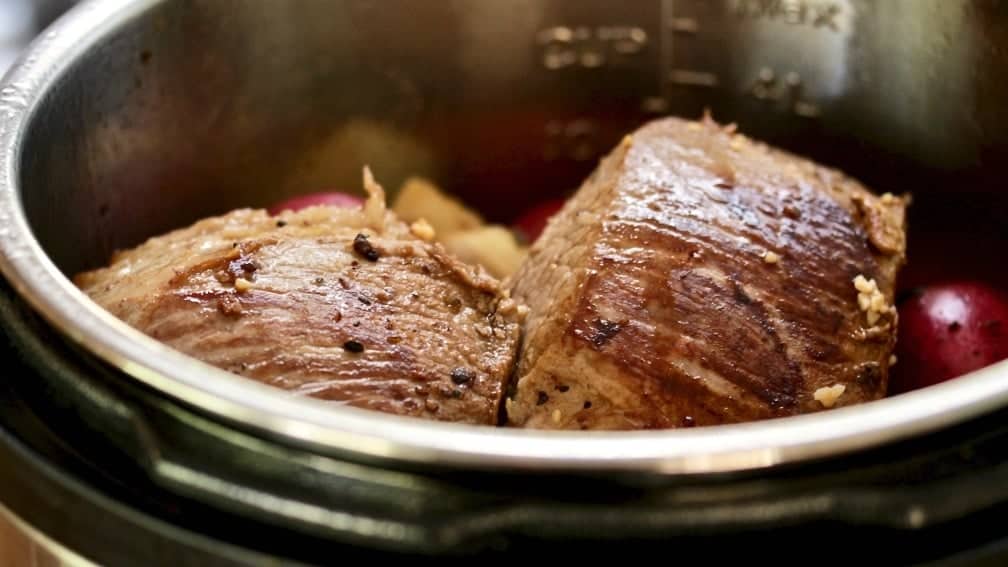 Here's All the steps of this Instant Pot Roast Beef dinner:
Braise the beef in oil
deglaze the pot with broth
add in the prepped veggies
cook it all under pressure.
finally plate the beef and veggies while making a brown gravy from the delicious flavorful broth left in the pot. Serve and enjoy.
I was really surprised the roast also held up well to slicing! I made Leftover Grilled Roast Beef sandwiches later with those slices. And I love Love LOVE the carrots and potatoes. they were so good!
All these steps happen right in the instant pot. EASY and just one dirty pot that cleans like a dream 🙂
But that's not all. The dinner itself is so good! Instant pots improve the flavor of the foods I have cooked in them. My theory is cooking under pressure helps seal the flavor right into the food because…yeah. No steam happens outside the pot. So all those yummy flavors get driven right into the food. Love that!
The results are a fork tender roast beef with cooked veggies and a flavorful brown gravy. This roast is so tender I did literally cut it easily with my fork.
I made the brown gravy right in the IP from the juices left after plating up the meat and veggies. I added just a touch of cornstarch to thicken it.(The Cornstarch step is completely optional) Serve the juices as a sauce if you want it thin but DO use those juices!
Those juices add so much to this meal.
If you are a wine person, replace one cup of broth with a cup of dark red wine to intensify the flavor of the juice.
Don't worry about too much fat either. I didn't see much fat in my juices. If you use a leaner chuck or other tough cheap meat the juices will NOT be coated with a large fat layer.
You COULD use a fat separator if you get too much fat in your juices and don't want it in your gravy.
The veggies actually held their shape and absorbed wonderful flavor from the roast (except the onions. They were delicious brown mush). Both the carrots and potatoes ( I used red boilers) came out just like they should. Full of flavor, tender, but still whole. Nummy! I don't like celery in this recipe but add it if you like it. And any other veggies you enjoy.
NOTE: If you prefer firmer veggies:
Hold back your prepped vegetables until After the natural pressure release. Remove the meat to a platter, cover it completely with foil to keep it moist and warm.
Add in your prepared veggies quickly and set them on Manual High pressure for 10 minutes and quick release.
Now remove the cooked veggies and make your gravy.
OR ROAST YOUR VEGGIES INSTEAD. This will intensify the flavor of your veggies give them a drier crustier texture and they will be wonderful with the gravy. Just follow our simple steps in this Roasted Asparagus Recipe. It will work with any vegetable. Just use a fork to determine doneness. They should be out of the oven in ten to fifteen minutes tops.
This method will cook your veggies more firmly and they will have more vegetable flavor and less beefiness. It will also increase the overall cooking time since you have to bring the pot to pressure twice!
Cooking Tip:
You want to use a natural release for large cuts of meat like this roast. A slow natural release (at least 15 minutes) allows the meat relax and continues to fill the meat fibers with flavor. I actually allowed mine to release naturally (it took over 30 minutes) and the veggies were still ok!