Freshly roasted Asparagus makes a delicious, healthy, springtime side dish the whole family will enjoy. Make this delectable side in just a few minutes.
Roasted Asparagus can be cooked in the oven. Asparagus finishes cooking in 10-12 minutes. This is an easy appetizer to make and pairs great with meats. Roasted Asparagus can be made with a variety of spices and seasonings. It's simple to dress this dish up and make it to your specific taste.
In this post we go over some common pitfalls that people run into when making roasted asparagus. This asparagus recipe is easy to make and can be finished quickly. We have an easy printable recipe to follow for delicious roasted asparagus.
What Part of Asparagus Do you Cut Off?
Before cooking Asparagus the pale end of the stalk needs to be cut off. This part of the stalk although edible, is woody and thick. It is not an appetizing part of the vegetable and is commonly removed before cooking. To remove the bottom part of the stalk, you can bend and snap the asparagus just above the pale portion. Another option is to use a large kitchen knife to chop the bottom part of the stalk off.
Do you Wash Asparagus Before Roasting?
Asparagus needs to be washed when it is brought home from the store. To properly wash Asparagus, rinse it under cold running water to remove dirt and debris. Cooking at high temperatures can remove bacteria from vegetables. However, you should always wash your produce before cooking in order to remove extra dirt from transit.
How do you Know When Asparagus is Done in the Oven?
Asparagus is done in the oven when it is tender enough to be pierced with a fork. If the asparagus is difficult to push a fork through, it still needs more cooking time. The asparagus should be cooked enough that a fork can pierce the skin without much effort. Carefully watch the asparagus and check it the last few minutes of cook time. Asparagus can quickly go from being done in the oven to overcooked and mushy. Never rely just on the oven timer.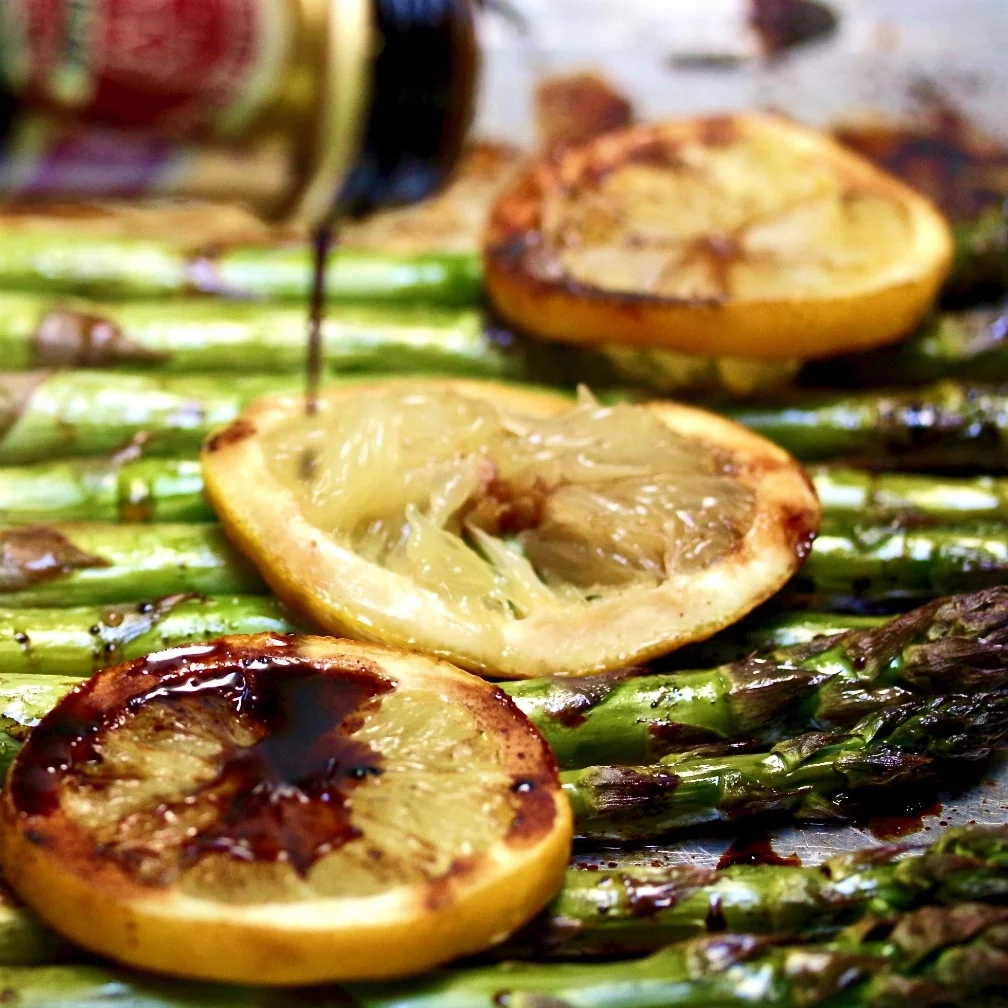 How do you know if Asparagus is Good?
Buying perfectly ripened Asparagus is important for best taste. You can tell an Asparagus is good by checking the stalks. Asparagus should have long firm stalks. There should be no obvious signs of bend to the stalk, the stalks should be rigid and not limp. Make sure to check the tip of the stalk for wilting or softness. The stalks should be smooth with no texture or signs of wilting.
Why is my Roasted Asparagus Mushy?
Roasted Asparagus gets mushy from overcooking it. Asparagus spears can quickly go from tender to mushy in the oven when overcooked. Asparagus cook very fast and need to be checked with a fork towards the end of the cooking time. When boiling asparagus, an ice bath can quickly cool them down and stop the cooking process.
How Long Does Asparagus Last?
Asparagus typically lasts 3-5 days in the refrigerator. Asparagus can last longer if it is stored in a glass jar with some water. Once the asparagus begins to get slimy, it needs to be thrown out. Asparagus can also be stored in the freezer. Properly frozen Asparagus last 8-12 months in the freezer.
To freeze asparagus stalks there are a few simple steps to follow.
Blanch asparagus stalks by boiling them for 4 minutes or until the stalks are bright green.
Quickly transfer the stalks to an ice bath to stop the cooking process.
Drain and pat the Asparagus stalks dry
Flash freeze the Asparagus by laying them in a single row on a paper towel on a baking sheet Freeze them for 1-2 hours of until stalks are completely frozen.
Remove stalks from the freezer and place in freezer bag
Label and Date the Asparagus stalks and return to freezer.
Here are a few Healthy reasons to fall in love with asparagus
Asparagus is full of
vitamin K,
anti-oxidants
anti-inflammatories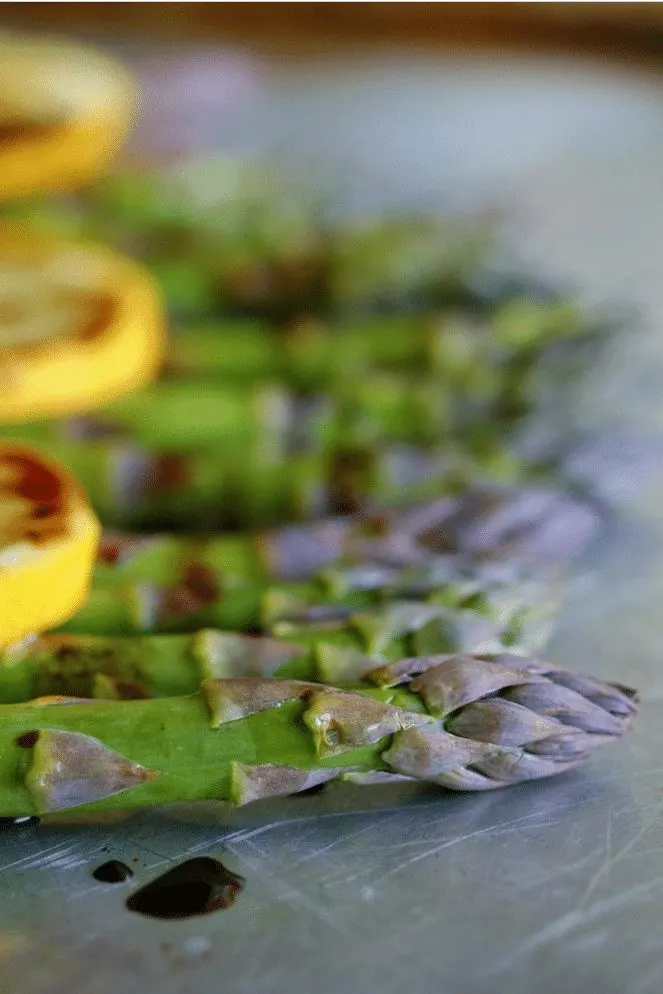 Other benefits of asparagus include:
it's anti-cancer agents,
digestive support and
blood sugar regulation.
For more on this interesting topic go here to WHfoods.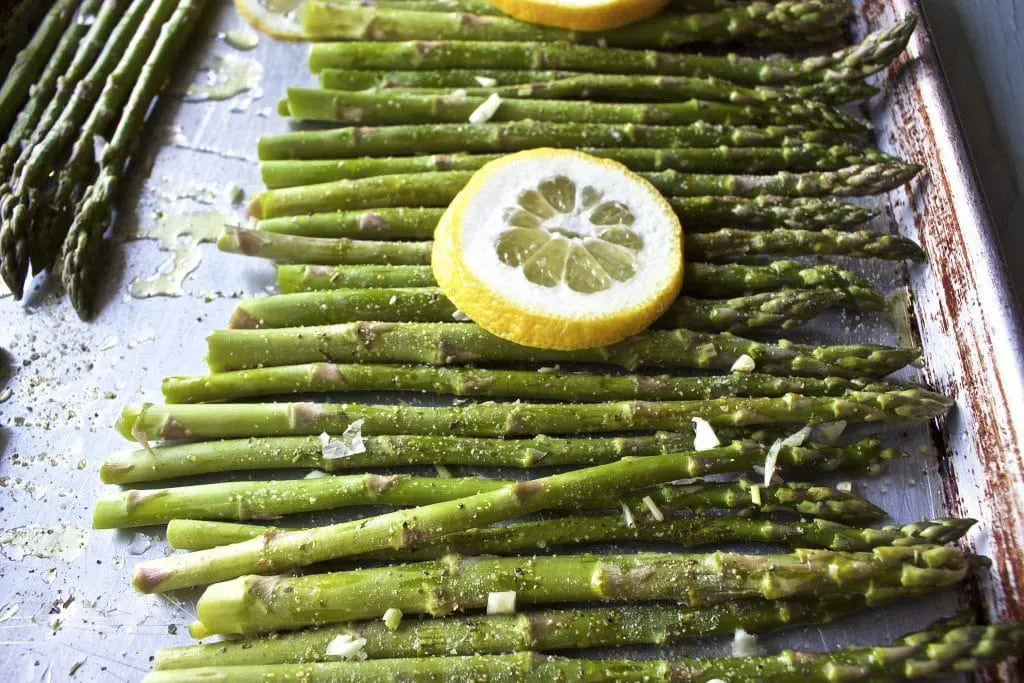 Roasted Asparagus Recipe
This recipe is a delicious way to change up asparagus and so easy to make! Your family will love it. Ready in only about 15 minutes from start to finish. Roasted asparagus is a perfect side for many main course entrée's. We love it as a grill side too!
Ingredients for Roasted Asparagus
Fresh Asparagus
Minced Garlic
Olive Oil
Garlic Seasoning
Salt and Pepper
Lemons
Balsamic Vinegar Glaze
More Delicious Recipes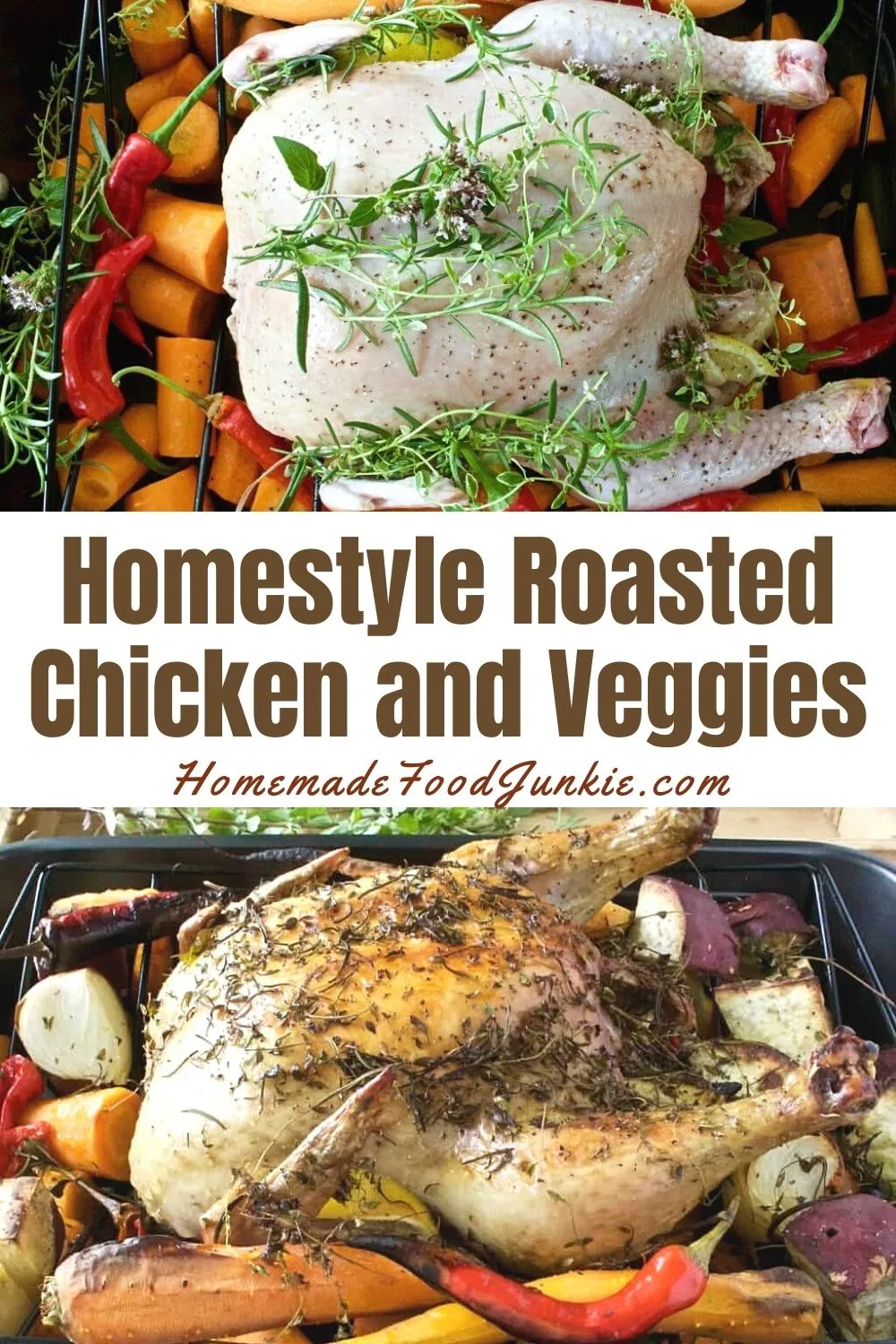 We have put together a printable recipe card so you can always have the recipe with you! Just hit the print button and save the recipe for the Roasted Asparagus.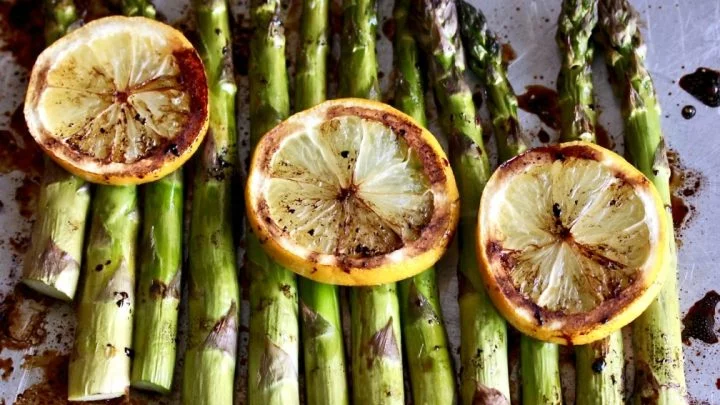 Yield:

8 people
Roasted Asparagus Recipe
Freshly roasted Asparagus is a delicious, healthy, springtime side dish the whole family will enjoy. Roast this delectable vegetable in just a few minutes.
Ingredients
2 lbs. fresh asparagus, washed and hard ends removed
4 cloves fresh garlic-minced
1/4 Cup olive or avocado oil, avocado preferred for high heat
2 tsp. garlic seasoning to taste, we used Johnny's
1 tsp. salt and pepper to taste
1 medium Lemon, sliced
1/4 Cup Balsamic vinegar glaze to taste
Instructions
Preheat the oven to 425 degrees (use the roasting setting on your oven if you have it)
Cut the hard ends off each asparagus stalk and arrange them on a baking sheet
generously drizzle with olive oil or even better for high heat roasting use avocado oil.
Sprinkle all the asparagus evenly with the garlic seasoning and salt and pepper
Sprinkle the minced garlic over the asparagus.
Cut 1/2 of the lemon into slices. Squeeze the remaining 1/2 lemon over the asparagus. Discard the rind.
Arrange the lemon slices over the asparagus
drizzle balsamic vinegar over the asparagus stalks and lemon slices.
Roast for 10 minutes or until the stalks pierce easily with a fork.
Notes
Roasted Asparagus is delicious with or without all the seasonings and condiments in this recipe. Mix it up and let us know how you like it best.
I love the balsamic vinegar roasted with mine.
This recipe is all about ideas. The proportions and calorie count will change as you experiment with it. Feel free to use just a few asparagus stalks as you see in some of these pics if you are only feeding two.
Nutrition Information
Yield
8
Amount Per Serving
Calories

88
Thank you so much for taking the time to stop by our website. We hope you enjoy the recipes as much as we do!
Follow Us:
We enjoy meeting you on our social networks. Follow us on Facebook, Pinterest, Instagram . Tag us with your pictures of our recipes and comment on how it went for you. We would love to see what you do with them.
We often like, comment and share your posts of our recipes on our daily Instagram stories.
Ask questions and rate the recipe in the comments section below. Please share what you did with this recipe. We are always looking for more and better ways to make homemade food. Other cooks love your ideas!
Recent Posts: