Roasted vegetables make a wonderfully healthy and delicious side dish for every occasion. By selecting fresh, seasonal veggies and the proper seasoning they can be inexpensive and a very satisfying way to feed your family and enhance your meals.
Sheet pan roasting mellows strong flavored vegetables, intensifies natural vegetable sweetness, and improves vegetables flavor all round. Cooking your vegetables will also aid in digestion by making them easier for your body to process, cutting down the strong acidity that can be found in some.
In this post we are discussing the best methods for preparing and roasting vegetables so that your family will love when you add them to the dinner table.
What vegetables can you roast?
The beauty of vegetables is that most can be eaten raw, and basically all can be roasted. The most popular vegetables for roasting include those found in the root family; parsnips, carrots, potatoes, beets etc…but other popular roasting veggies are cruciferous ones such as brussel sprouts, broccoli, peppers and cauliflower. With even some of the more delicate varieties such tomatoes, mushrooms, squash and onions making flavorful options as well.
Growing your own vegetables will ensure the absolutely freshest options and the highest nutrients. However, if you don't have a garden of your own consider visiting a farmers market, food co-op or even buying veggies from a nearby neighbor if they are looking to offload extras from a plentiful harvest.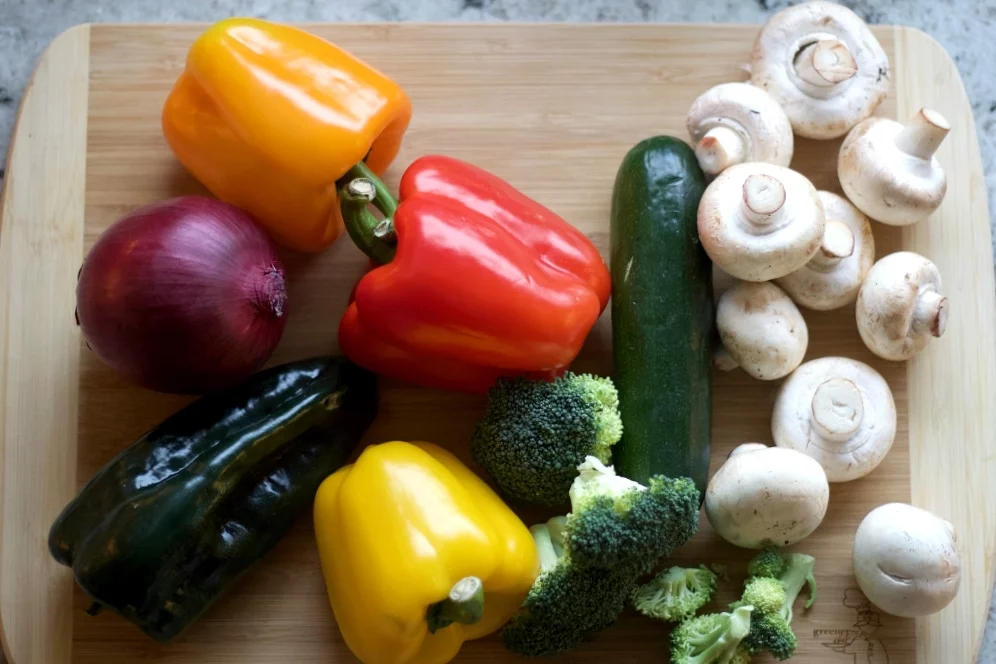 What temperature is best for roasting vegetables?
When roasting vegetables it's best to cook them at a high temperature. 400 degrees F will be a good temperature for most ovens. This allows for a crisp, slightly browned outer exterior that will enhance the flavor and seasoning, while cooking the inside of the veggies to a pleasant, soft texture without becoming overdone and mushy.
If you find your veggies are not browning enough, make sure you have drizzled enough oil on them and increase your oven temperature.
Do you cover vegetables when roasting them?
When roasting vegetables you do not need to cover them. If you cover your vegetables they will steam rather than roasting and developing that crisp exterior that adds depth of flavor and crunch. Simply toss your chopped veggies in a high quality olive or avocado oil and lay them on a baking sheet. Place the baking sheet in the oven, cooking at 400 degrees F for about 20 minutes.
Looking for more Roasted Vegetable Recipes? Try these.
Roasted Root Vegetable Recipes with main dish:
What is the best seasoning for roasting vegetables?
When it comes to seasoning your vegetables for roasting, you definitely don't want to overdo it with certain things like salt. Roasted veggies shine when herbs and spices enhance their natural flavor and are complimented by the natural flavors that are developed when roasting. Some seasonings to choose from are
An Italian seasoning blend
A sprinkle of salt and pepper
A dusting of garlic or onion powder
Thyme, rosemary, basil and sage
Paprika
Fresh parmesan cheese
Cajun seasoning
A drizzle of balsamic vinegar
Find the carb counts on many popular vegetables at a glance with the chart below.
All vegetables offer various amounts of vitamins and minerals, they are also an option for a lower carb diet.
Choose low carb vegetables for a healthy low carb roasted vegetable recipe
Low carb vegetables give you about 6 to 8 grams of carbs per serving. Adjust your roasted vegetable recipe to use any vegetable you prefer.
If you change how much of each vegetable you serve, the carbs per serving can remain low.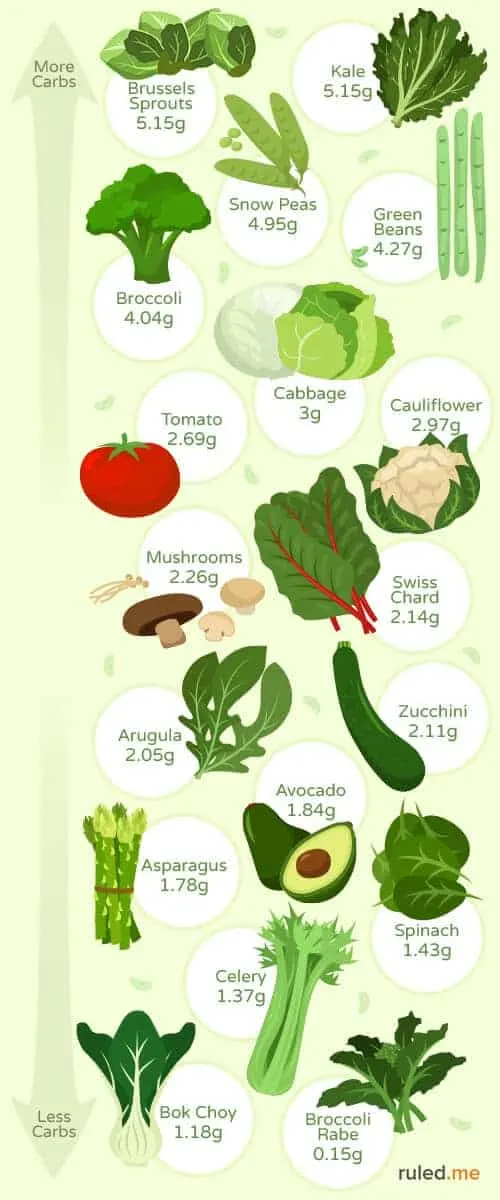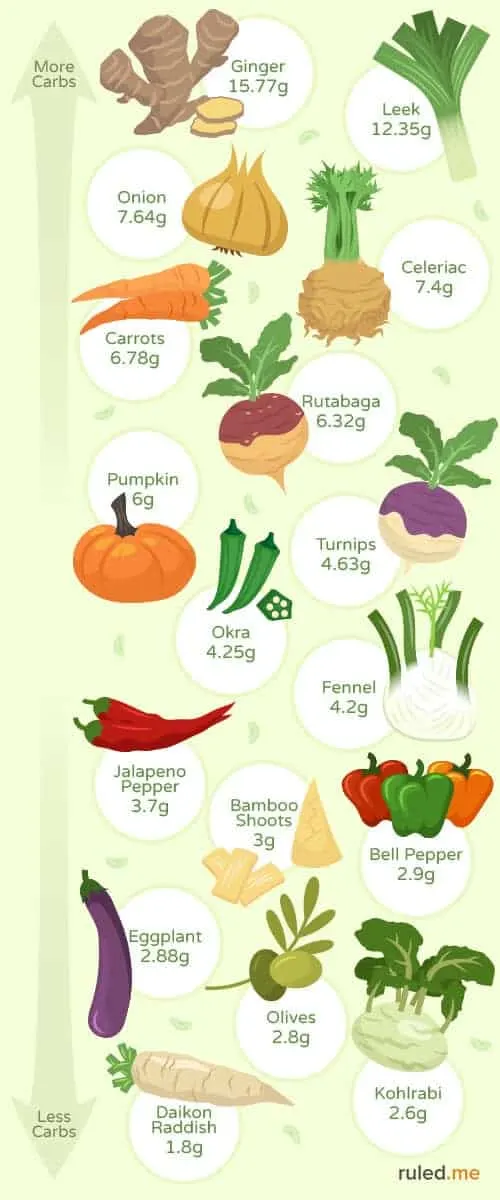 Chart reposted Courtesy of Ruled.me
Sheet pan Roasted Vegetable Recipe TIPS:
Choose seasonal veggies that will take about the same amount of time to achieve roasted perfection on your baking sheet.
Seasonings for roasting vegetables are a judgement call. For the sheet pan recipe we are highlighting today the seasonings are a large part of the recipe. The extra flavor is really astounding.
We recommend olive oil or avocado oil for this recipe. A good high grade olive oil will give you the best flavor. Avocado oil is very heart healthy and will easily withstand the high roasting temperatures called for in this recipe.
Sheet pan Roasted vegetables are an easy vegetable side dish the whole family will enjoy.
Your Printable Recipe Card: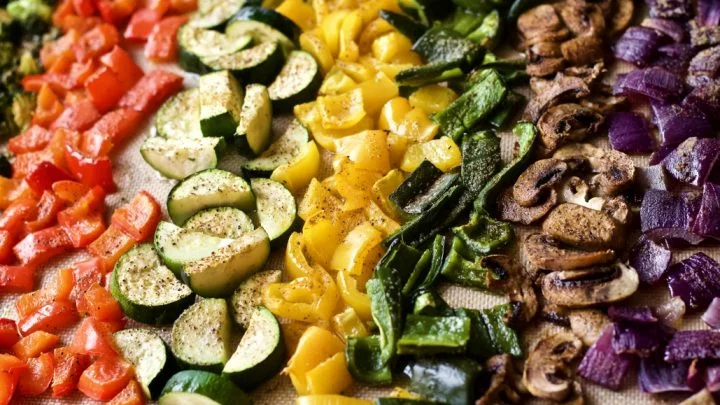 Yield:

4 servings
Roasted Vegetables Recipe
Many vegetables benefit from oven roasting. Roasting vegetables improves the vegetable flavor and texture. With proper seasonings and the correct roasting method vegetables become quite a delicacy for the dinner table.
Ingredients
1 red pepper
1 yellow pepper
1 green roasting pepper
6 mushrooms
1 crown broccoli
1 red onion
1 small zucchini
1/2 Cup Olive oil (OR avocado)
1 Tablespoon Creole seasoning
2 Teaspoons salt
2 teaspoons black pepper
Instructions
Preheat oven to 425 degree F.
Thoroughly wash the vegetables
Drain the excess water off and DRY the veggies on a paper towel.
Rough chop all the vegetables into fork sized (OR whatever size you prefer) pieces.
Prepare your baking sheet by oiling it or lining it with either parchment paper or a silicone mat.
Arrange the vegetables in colorful rows on your baking sheet.
Pour the oil over the vegetables to coat them evenly. Do NOT drown them but you will need enough to allow the seasonings to stick and help the vegetables cook evenly without burning.
Seasoning liberally and evenly with the salt, pepper and creole seasonings.
Roast for 20 minutes
Serve.
Notes
You can roast ANY vegetable you prefer including root vegetables with this method.Your roasting time will increase for firmer, more dense root vegetables such as carrots, potatoes, butternut squash.
Also the oven time may be impacted by the size of heavier vegetables. If you prefer to roast large halves of butternuts for example plan an oven time of at least 40 minutes to fork tender.
The seasoning I'm using are what we enjoy. Experiment with your favorites. You might like Montreal steak or chicken seasonings, poultry seasonings
Nutrition Information
Yield
6
Serving Size
1 cup
Amount Per Serving
Calories

195
Total Fat

18g
Saturated Fat

3g
Trans Fat

0g
Unsaturated Fat

15g
Cholesterol

0mg
Sodium

1252mg
Carbohydrates

8g
Fiber

2g
Sugar

3g
Protein

2g
Follow Us:
We enjoy meeting you on our social networks. Follow us on Facebook, Pinterest, Instagram . Tag us with your pictures of our recipes and comment on how it went for you. We would love to see what you do with them.
We often like, comment and share your posts of our recipes on our daily Instagram stories.
Ask questions and rate the recipe in the comments section below. Please share what you did with this recipe. We are always looking for more and better ways to make homemade food. Other cooks love your ideas!
Recent Posts: