Roasted vegetables of all sorts are intensely flavorful and make a wonderfully healthy side dish. This is a delicious way to eat your vegetables.
Many vegetables benefit from oven roasting. Roasting vegetables improves the vegetable flavor and texture.
With proper seasonings and the correct roasting method vegetables become quite a delicacy for the dinner table.
Sheet pan Roasting mellows strong flavored vegetables, intensifies natural vegetable sweetness, and improves vegetables flavor all round. And it's a REALLY easy side dish.
Our sheet pan oven roasted vegetable recipe makes a healthy side for chicken and pork. Recipes like our Best buttermilk fried chicken or other pan fried chicken recipes benefit from this light flavorful side dish.
This Roasted vegetable recipe has beautifully seasoned, bite sized (mostly low carb) veggies. Kids enjoy "Eating the Rainbow" and their parents enjoy that too. What a fun way to encourage the next generation to eat healthier, real food.
Easily double the amount of vegetables called for to make a LOT of roasted vegetables at once. The leftovers are handy for lunches throughout the week. A quick minute in the microwave and tada!
An easy healthy lunch is served. Add a piece of high protein cheese for a complete healthy lunch.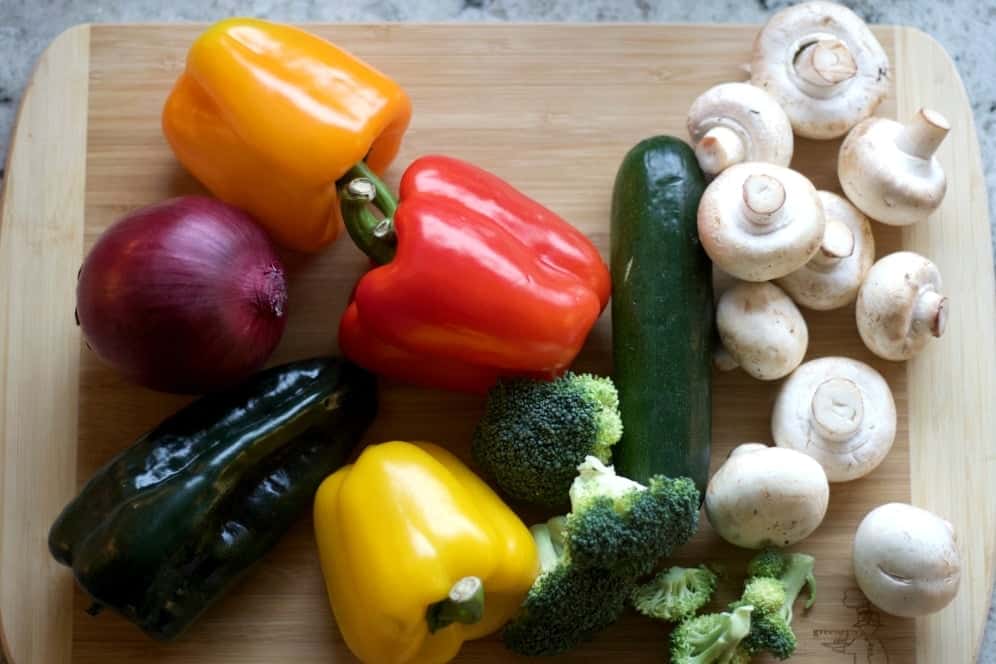 Dave and I are Gardeners. We enjoy planting our garden every Spring . We have a large garden with raised beds. Dave faithfully tends his garden plants. He gets a TON of satisfaction watching his garden plants grow.
We have a fairly long growing season, about nine months of the year, so we harvest and roast veggies a LOT. I've linked a few of our favorite farm to table roasted vegetable recipes below.
Looking for more Roasted Vegetable Recipes? Try these.
Roasted Root Vegetable Recipes with main dish:
Carb Counts for Veggies:
My brother is a diabetic and requires a diabetic diet. My sister in law is gluten free and on the low fodmap diet.
My daughter Amanda is on the ketogenic diet and for a while her sister followed a low carb vegetarian diet. They have taught me a lot about the needs of those seeking healthy low carb recipes.
Amanda taught me that vegetables are sneaky when it comes to carbs. Yes, vegetables are clearly good for us. But as a part of a complete low carb diet plan the carbs in vegetables must be considered. Some vegetables are pretty high carb!
Find the carb counts on many popular vegetables at a glance with the chart below.
ALL vegetables offer various amounts of vitamins and minerals. Strictly controlled carb diets like the keto diet (which only allow 30 net carbs per day) require low carb choices. Reap the very best health benefits from your roasted vegetables.
Choose low carb vegetables for a healthy low carb roasted vegetable recipe
Low carb vegetables give you about 6 to 8 grams of carbs per serving. Adjust your roasted vegetable recipe to use any vegetable you prefer.
If you change how much of each vegetable you serve, the carbs per serving can remain low. Balance is the key here.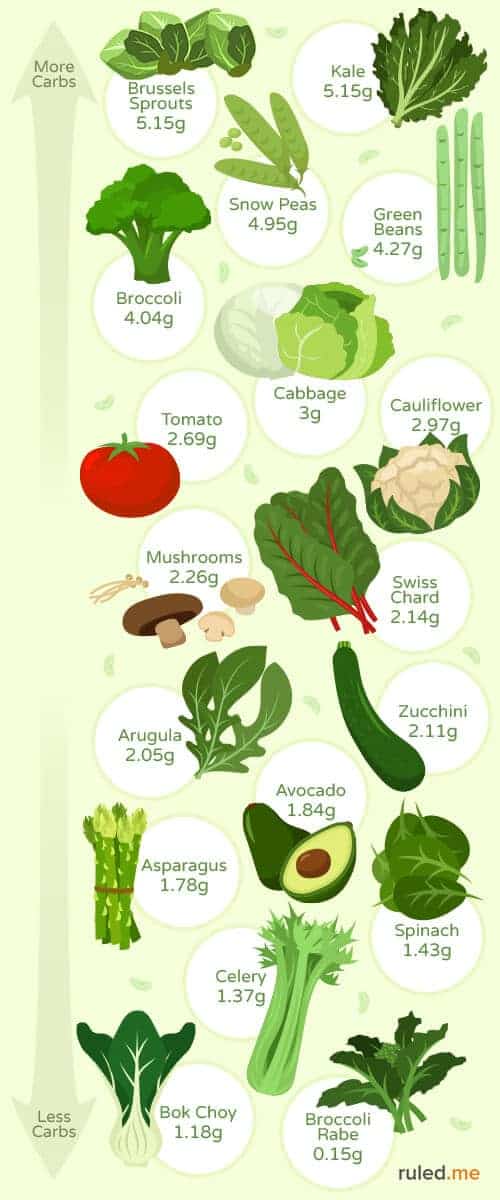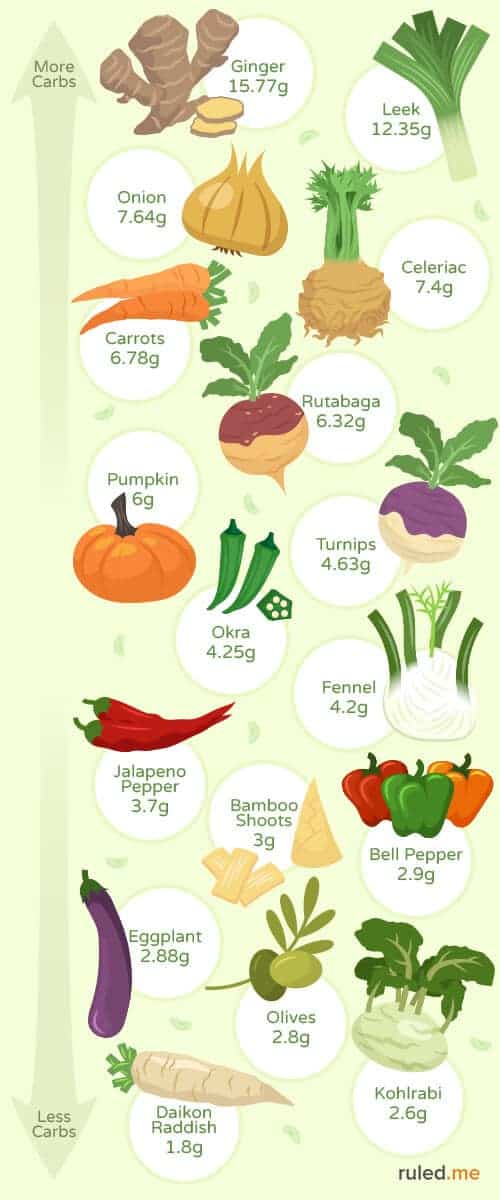 Chart reposted Courtesy of Ruled.me
Sheet pan Roasted Vegetable Recipe TIPS:
Choose veggies that will take about the same amount of time to achieve roasted perfection on your baking sheet.
Seasonings for roasting vegetables are a judgement call. For the sheet pan recipe we are highlighting today the seasonings are a large part of the recipe. The extra flavor is really astounding.
Avoid juicy vegetables like tomatoes in this sheet pan recipe. The tomatoes will burst juices all over the place. Not the best result.
We recommend olive oil or avocado oil for this recipe. A good high grade olive oil will give you the best flavor. Avocado oil is very heart healthy and will easily withstand the high roasting temperatures called for in this recipe.
Sheet pan Roasted vegetables are an easy vegetable side dish the whole family will enjoy.
Your Printable Recipe Card: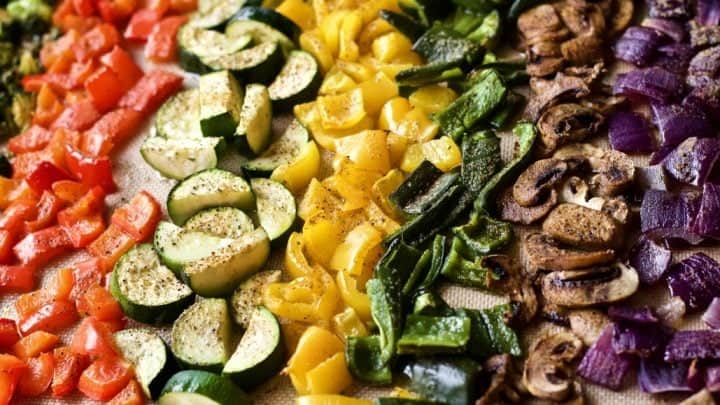 Yield:

4 servings
Roasted Vegetables Recipe
Many vegetables benefit from oven roasting. Roasting vegetables improves the vegetable flavor and texture. With proper seasonings and the correct roasting method vegetables become quite a delicacy for the dinner table.
Ingredients
1 red pepper
1 yellow pepper
1 green roasting pepper
6 mushrooms
1 crown broccoli
1 red onion
1 small zucchini
1/2 Cup Olive oil (OR avocado)
1 Tablespoon Creole seasoning
2 Teaspoons salt
2 teaspoons black pepper
Instructions
Preheat oven to 425 degree F.
Thoroughly wash the vegetables
Drain the excess water off and DRY the veggies on a paper towel.
Rough chop all the vegetables into fork sized (OR whatever size you prefer) pieces.
Prepare your baking sheet by oiling it or lining it with either parchment paper or a silicone mat.
Arrange the vegetables in colorful rows on your baking sheet.
Pour the oil over the vegetables to coat them evenly. Do NOT drown them but you will need enough to allow the seasonings to stick and help the vegetables cook evenly without burning.
Seasoning liberally and evenly with the salt, pepper and creole seasonings.
Roast for 20 minutes
Serve.
Notes
You can roast ANY vegetable you prefer including root vegetables with this method.Your roasting time will increase for firmer, more dense root vegetables such as carrots, potatoes, butternut squash.
Also the oven time may be impacted by the size of heavier vegetables. If you prefer to roast large halves of butternuts for example plan an oven time of at least 40 minutes to fork tender.
The seasoning I'm using are what we enjoy. Experiment with your favorites. You might like Montreal steak or chicken seasonings, poultry seasonings
Nutrition Information
Yield
6
Serving Size
1 cup
Amount Per Serving
Calories

195
Total Fat

18g
Saturated Fat

3g
Trans Fat

0g
Unsaturated Fat

15g
Cholesterol

0mg
Sodium

1252mg
Carbohydrates

8g
Fiber

2g
Sugar

3g
Protein

2g
Pin it: