Our homemade Roasted Red Pepper Sauce is a combination of fresh roasted peppers, parmesan cheese, sour cream and Greek yogurt; with a blend of spices and herbs that make a creamy, flavorful red sauce that is perfect for a variety of meals.
We include instructions to roast your own peppers, if you grow your own this is a great way to use up some of your pepper crop. However, this recipe also works well with jarred roasted peppers or you can use frozen roasted peppers too.
You can use any variety of pepper you love and change up the heat level to suite your meal and personal preferences. We are walking you through how to make the best Red Pepper sauce with all of our favorite techniques. Once you get an idea of how to make it, change it up and add your own flair, it's a great way to make your home cooking personal to you.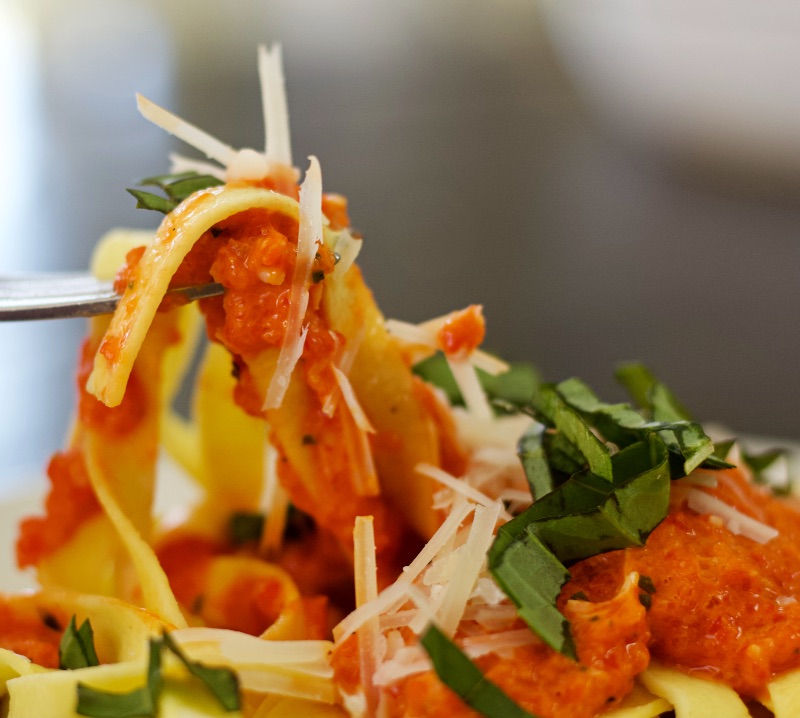 You can roast whatever peppers you wish. We chose Krimson Lee peppers because they are a roasting type of pepper and we grow them in our greenhouse.
Krimson Lees have some heat until they are seeded and cooked, then the heat disappears into an intense, sweet pepper flavor. Pasilla peppers would work as well, or even sweet bells, but the flavor may be less intense.
If you grow your own peppers here are just a few of our many recipes that use them up. We love peppers raw in salads like this Delicious Italian Chopped Salad, in homemade pastas and soups.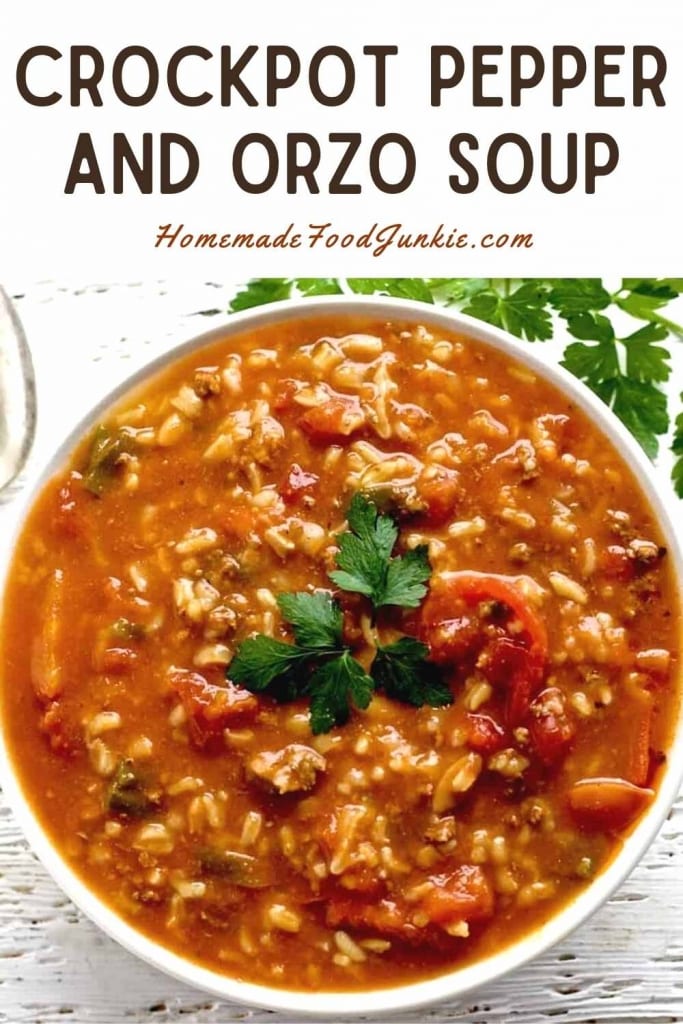 What is Red Pepper Sauce made of?
Like a typical red pasta sauce there are a variety of ways you can make yours. From the choice of ingredients to the method of cooking the choice is ultimately up to you. However, most Roasted Pepper Sauces include a variety of roasted peppers, vegetable broth or stock, aromatics such as onions and garlic, and a variety of Italian seasonings.
Once you have your base you can build on it and create a deeper flavor by adding basil and other fresh herbs. You can also make a creamier sauce by adding heavy cream, parmesan cheese and butter.
How do you roast Peppers?
Roasting peppers is a quick and simple way to bring a deeper flavor to your peppers as well as softening them and allowing the natural oils and flavors to release into your sauce. You can roast peppers on your stovetop if you have a gas stove with an open flame, or, if you are roasting a large batch you can assemble them on a baking sheet and broil them.
Cut your peppers down the side lengthwise.
Seed the peppers and lay them flat on a baking sheet.
Put them under your broiler on High for about 5 minutes.
Check the peppers after 5 minutes, they should be starting to cook, but not yet be blackened. Set the timer for another 5 minutes.
When the pepper skins are bubbling and blackened the peppers need to be removed from the oven
Transfer the peppers into an airtight container, immediately. The peppers will steam and the skins will loosen after about 10 minutes.
Remove the pepper skins and dice the peppers.
What can you do with Roasted Peppers?
If you love roasted peppers and need more ideas for how to incorporate them into your diet, we are sharing our favorites below.
Add them to your favorite pizzas
Throw some into pasta or green salads
Enjoy them in scrambled eggs or omelets
Use them to make fajitas
Make a homemade hummus with roasted peppers
Add to your favorite cheese dip
Stuff roasted peppers for a hot appetizer
Making Red Pepper Sauce
Chop your vegetables and preheat a 12 inch skillet. Add your oil.
Place all the prepared vegetables into the skillet and sauté until your onions are translucent.
Blend the vegetables up with sour cream and greek yogurt to give this sauce the richness you desire. Just blend it until you're happy with the texture.
Adjust the sauce by adding a bit of milk. You could replace the sour cream with all yogurt.
Finally, pour the blender contents back into your skillet on simmer.
Add the parmesan cheese and melt it into the sauce.
The roasted red pepper sauce is ready to serve once everything is melted and combined.
This recipe makes about a quart of delicious Roasted Red Pepper sauce. Enjoy!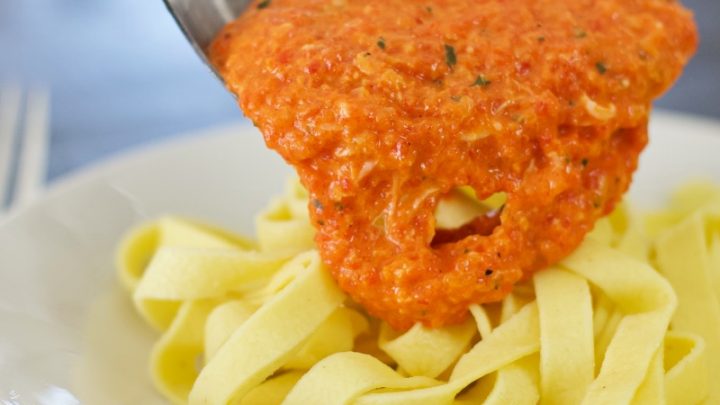 Yield:

4 servings
Roasted Red Pepper Sauce
Rich, thick as you like, roasted red pepper sauce. A flavorful condiment for your favorite pasta, meat or Mexican meal.
Ingredients
4 large red peppers-roasted (about three 12 oz. jars)
4 large garlic cloves (minced)
1/2 Cup onion (chopped)
1/4 Cup fresh basil (chopped)
1 Tablespoon olive oil
1/2 Cup sour cream
1/2 Cup greek yogurt
1/3 Cup parmesan cheese
1/4 tsp. salt
1/4 tsp. black pepper
Instructions
Instructions for roasting Peppers: (optional)
Turn oven broiler on high.
Slice peppers in half and remove seeds. Place peppers (skin side up) on baking sheet.
Put on middle rack in oven and set the timer to 5 minutes. Check the peppers. If not charred set the timer for another five minutes and check them in three. The skins need to bubble and be charred black in spots.
Remove peppers from oven and put into an airtight container for about 10 minutes.
Strip the skin from the peppers. They should remove easily if they are properly charred.
To make the roasted Red Pepper Sauce
Dice all vegetables together and simmer in skillet until garlic and onion are translucent.
Blend the pepper mixture with the sour cream and yogurt until smooth.
Pour back in your skillet. Stir in cheese and let melt on simmer.
Thicken the sauce by simmering, stirring occasionally until it reaches the consistency you desire.
Notes
Roasting Notes:
We offer the instructions for roasting your own peppers as an option. You can certainly buy jarred peppers for this recipe. However, if you grow your own peppers or buy a particular fresh pepper you can use our instruction to roast them.
Hot pepper Sauce:
You can easily make this into a hot pepper sauce with these adjustments:
Use jarred or fresh roasted HOT peppers. Anaheim, ghost peppers or other hot peppers are good choices.
If using fresh hot peppers leave the seeds in the hot peppers when cooking to really bring up the heat of this sauce.
Cook the peppers slightly less to really keep the heat in.
Seasonings:
This recipe is very good as is. However, make it your own with seasonings of your choice.
Add your favorite seasonings to bring out the flavors of the peppers as you choose. For example Chipotle or cajun seasonings or hot asian spices.
This will give the sauce a more targeted cuisine flavor for whatever use you have in mind.
Nutrition Information
Yield
6
Serving Size
1
Amount Per Serving
Calories

125
Total Fat

8g
Saturated Fat

3g
Trans Fat

0g
Unsaturated Fat

4g
Cholesterol

17mg
Sodium

211mg
Carbohydrates

10g
Fiber

1g
Sugar

6g
Protein

5g
Follow Us:
We enjoy meeting you on our social networks. Follow us on Facebook, Pinterest, Instagram . Tag us with your pictures of our recipes and comment on how it went for you. We would love to see what you do with them.
We often like, comment and share your posts of our recipes on our daily Instagram stories.
Ask questions and rate the recipe in the comments section below. Please share what you did with this recipe. We are always looking for more and better ways to make homemade food. Other cooks love your ideas!
Recent Posts: