Deviled eggs with bacon, peppers and dates really rev up the flavor of this old party friend. Put these little cuties on a platter and watch them go! Once around the crowd at our house and it's time for more of these delicious appetizers! This recipe is a Low-Carb, Low-Sodium, Low-Sugar and Gluten-Free appetizer.
Meet one of our family's very favorite appetizers. In fact I'm making these today for Father's Day. All the guys love these! When we have a family party these go on the menu. Along with Grandma Cashs Hamburger bean casserole and our favorite broccoli salad.
The gloriously yellow color of these deviled eggs is not all due entirely to the mustard. Home grown hens, raised on field develop an amazing deep yellow yolk.
Deviled eggs use a lot of eggs quickly and everyone at our house adores them! That's a win win for us because we often have a lot of eggs to use! A tray of these delicious egg bites will be welcome at the Sunday football game, family events, birthdays or any ole party! Go here for more appetizers. Our Low Carb Chorizo Spinach Filo Cups are another delightful, popular and healthy finger food that would look great on an egg tray.
Fresh cooked tiny Bacon strips, dates, peppers and Smoked Gouda Cheese make this old favorite recipe really shine! The actual filling is just three easy to find in your fridge ingredients. The toppings add so much flavor I hope you try them. The smoked gouda works really well with the peppers and dates.
Eggs filled with this filling without the delectable toppings are great for kids and other bland palates. Although I'm pretty sure even they will enjoy the flavors blended together in this yummy appetizer! Just remove the peppers or use lower spice peppers if need be.
I found these egg trays on Amazon for you. It's handy to have a travel tray and for display, I LOVE the heavy glass one from Anchor hocking. So pretty for the holidays! If you purchase an item from our affiliate links we may receive a small commision at no extra cost to you. Thank you for supporting Homemade Food Junkie.
Deviled Eggs with Bacon, dates peppers and smoked Gouda cheese Recipe Notes:
A crowd pleasing favorite. Deviled eggs with Bacon dates, peppers, smoked Gouda and crunchy bacon turn plain old hard boiled eggs into something special! Make this appetizer with healthy fats by making our Heart Healthy homemade mayonnaise. So yum!
NOTE:  I used Medjool dates, smoked Gouda Cheese and my garden frozen Bangkok Peppers for a bit of a kick in that smoke. Wonderful! I'm pretty sure your family will adore this recipe. Mine sure does!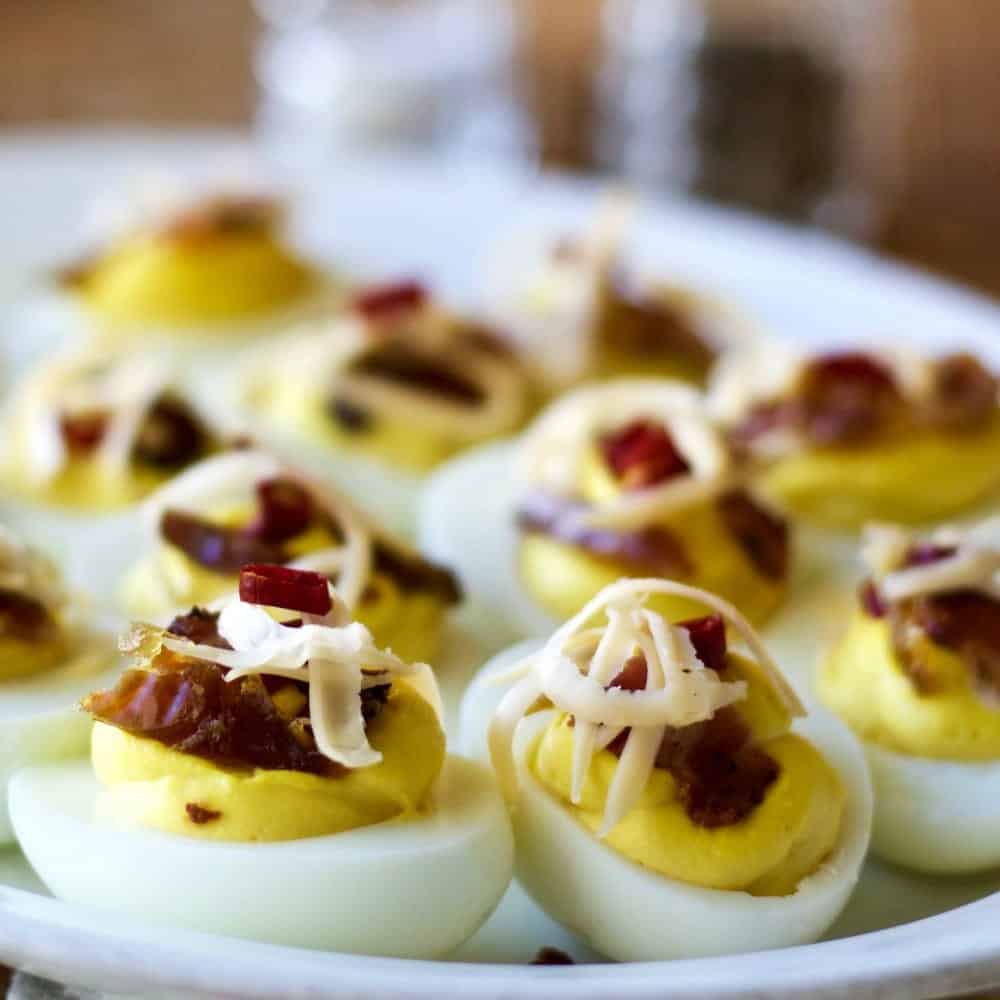 Ingredients
One dozen hard boiled eggs
3 strips of bacon, cut into quarter inch slices the short way. cooked and crumbled
1/2 Cup mayonnaise
2 Tablespoons brown or dijon mustard
2 bangkok peppers thinly sliced
3 dates sliced into thin slivers
1/2 Cup grated Smoked Gouda Cheese
1/2 tsp. Smoked Paprika to garnish as desired
Instructions
Make sure your eggs are hard boiled about 20 minutes. The yolk needs to be all the way cooked.
Cool the eggs and peel.
Cut the eggs in half and pop the yolk into a bowl.
Carefully place the white half shells onto a tray.
Cut the bacon into 1/4 inch slices the short way.
Cook the bacon slices to well done. Drain, crumble and cool.
Add the mustard and mayonnaise to the yolks. Stir well until thoroughly mixed.(you need to use an electric mixer to really get them smooth)
Put the yolk mixture into the egg white half shells by half teaspoons(Use a sandwich bag with a large hole decorator tip for best presentation).
Arrange one sliver each of bacon, dates and peppers on yolk filling.
Arrange strings of Gouda cheese over the other garnishes
Sprinkle with smoked paprika as desired
Pin it: